Moving to Charleston SC | 2022 Cost of Living and Relocation Tips


VanLines Inc
Secure Storage
Easy Booking Process
Fully Trained Employees
GET QUOTE

Colonial Van Lines
Storage Services
Long-Distance Moves
Corporate Relocations
GET QUOTE

Moving APT
Available Nationwide
Award-Winning Movers
Extensive Vetting Process
GET QUOTE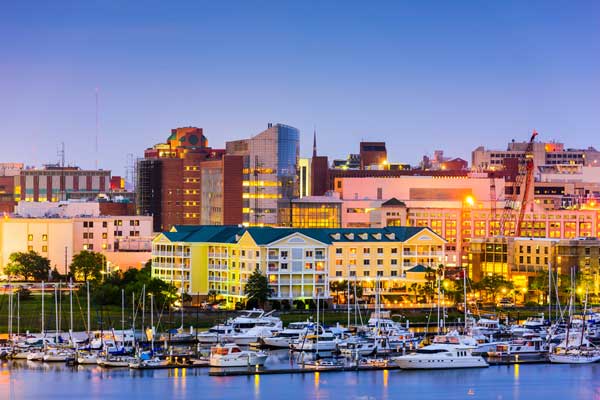 Charleston, SC is a hidden gem. It has amazing historic sites and the most beautiful cobblestone walkways. It is one of the friendliest cities in the United States. Charleston has miles of lovely beaches to enjoy. If you are considering moving to Charleston, you will enjoy top-rated restaurants and awesome southern hospitality.
About Charleston, South Carolina
The historic essence of the city of Charleston is breathtaking. It is the largest and first city of South Carolina. The city is located towards the southern part of South Carolina near the coastline. There are almost 140,000 people that reside in Charleston.
Before moving to Charleston, it is important to understand the area better. Charleston consists of six unique districts. The Peninsula is the downtown area. Downtown is the city center. The Cooper and Ashley river separates downtown Charleston.
The next district in West Ashley. This area is located west of the downtown area. This may be one of the areas you decide to move to, it is more of a residential area. Remember, Charleston is near the coast. The West Ashley district is bordered by the Stono River and the Ashley River.
Another residential area of Charleston is James Island. This is an extremely popular residential area because of its location. It is near the downtown area.
If you go east in Charleston, you will find the Cainhoy Peninsula area. If you would like to move to North Charleston, the Daniel Island area is an option. It is located north of downtown. The Johns Island area is located in western Charleston.
What is the weather like in Charleston?
The weather in Charleston is close to perfect. It has a subtropical humid climate. All throughout the year, the temperatures are moderate and warm. The hottest temperature ever recorded in the city was 104 degrees and the coldest was 7 degrees, which was in 1889.
The summers can get hot and humid (80 – 100 degrees). You can expect significant rainfall all year long in Charleston. The summer is the wettest time of the year.
June through September in Charleston receives almost half of the annual rainfall. Thundershowers are common in Charleston. During the fall months, the temperature remains mild. Temperatures start to cool down in the middle of November.
Winters in Charleston are mild. Don't expect to get super cold temperatures. Winter in Charleston is short and the winter months are rainy. If you are looking for snow, unfortunately, you probably won't see any here. Charleston only get snow a few times per decade.
You may not see snow, but freezing rain is common during the winter months.
Housing Market in Charleston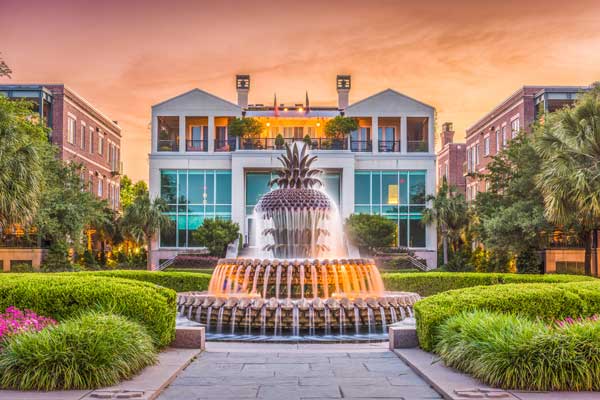 Are you looking to buy a house in Charleston SC? Home-buying in the Charleston area is expected to moderately increase in 2022. Prices are trajected to escalate. Nationally, rates are expected to climb at least 5 percent.
In Charleston, there has been around a 4.7 percent rise in prices. The rise in prices can be attributed to the cost of land, land regulations, and inflated materials cost. Lately, there has been a lack of inventory and this issue may continue throughout the year. There are not enough new homes being built to meet the demands of buyers.
To give you a better reference point, over the last month the average house sale price in Charleston was around $320,000. On average, you can expect to pay about $180 per square foot. The housing market in Charleston is slightly competitive.
Since the new year, there have already been around 3,500 properties sold in Charleston. Inventory fluctuates, but there are around 4,500 current property listings for Charleston.
Over the years, the historic trends of the housing market in Charleston has increased. Back in 2014, the median sales price was $215,000. In 2016, the average sales price was $240,00. Now in 2022, the average house sales price is around $320,000.
Renting in Charleston SC
Charleston offers a variety of apartments and rental units. There are both luxury and more affordable units. Rental rates and the type of unit available will depend on the specific location you decide to move to in Charleston.
The average size of an apartment in Charleston is around 970 square feet. The average rent in Charleston is near $1,382. Small studio apartments are the most affordable to rent. You can expect more square footage with 2 and 3 bedroom apartments.
More than half of the available apartments in Charleston fall in the rental price range of $1,00 – $1,500 per month. Approximately 9 percent of the apartments in Charleston are considered high-end or luxury and their monthly rent is $2,000 and higher.
If you are looking for more affordable options, about 17 percent of the apartments have a rental price range of $700 – $1,000. As with the housing sales prices in Charleston, the rental rates have steadily increased over the past 5 years.
Taxes
South Carolina has one of the lowest tax rates for homeowners. The tax rate is 0.55 percent. If you have an owner-occupied property you are exempt from certain taxes and this lowers the tax rate to 4 percent.
The individual counties in South Carolina collect property taxes. Therefore, if you move to Charleston, Charleston County is responsible for collecting your property taxes.
Each county is different, and they have their own way of collecting property taxes. Before moving, become familiar with the rules of the county to better understand when and how property taxes are collected for Charleston, SC.
Where to Live in Charleston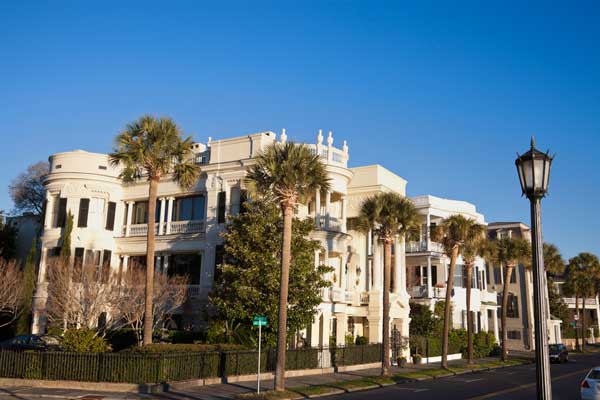 Now that you know a little more about the housing and rental rates in Charleston, what neighborhood should you move to? I will review a few areas in Charleston.
Downtown – Located in the center of Charleston. The neighborhood has a European feel with the cobblestone roads and church steeples. Everything in the downtown area is within walking distance. Homes near this area start in the mid $500,000 and can go over $10 million.
Grimball Gates – If you are looking for a quiet, gated community this is an option. This neighborhood is located on Johns Island. This is an ideal neighborhood if you like a laidback lifestyle. There are over 90 acres of nature preserve.
Harleston Village – Charleston's grandest hotel is located in this area, as well as the college. The residential areas are quiet and there are many great restaurants in this area. You can find medical services in this area.
Stilest Point – Located on James Island. This is a 200-acre neighborhood with over 200 homes. The area has state of the art architecture and is considered one of the most beautiful neighborhoods in Charleston. Properties range from $480,000 – $1.5 million.
West Ashely – This is a more affordable neighborhood in Charleston. Condos range between $100,000 – $200,000. This neighborhood is the oldest suburb in Charleston. The zoo is located in this area.
Summerville – this area has 20 neighborhoods. This area is known for its top school districts and high school football teams. I-26 borders this area making for an easy commute. Summerville is one of the most historic districts of Charleston.
Mount Pleasant – One of the best neighborhoods in Charleston to raise a family. This area has highly ranked public schools and great recreational programs. Properties in this area range from $400,000 to $2 Million. Many celebrities have their homes on this island.
Kiawah Island – There are nice low country homes in this area. Great restaurants, golf courses, and shopping centers are located on Kiawah Island.
Cost of Living in Charleston SC
The cost of living in Charleston is 4 percent higher than the national average. The cost of living can vary based on your personal circumstances. Your average salary, career, and the real estate market all effects the cost of living.
Housing expenses in Charleston is 2 percent lower than the national average. The prices of utilities are 24 percent higher than the national average. The overall transportation fares which can include busses and gas prices are about 6 percent lower than the national average.
If you are wondering about the price of your household bills, you can expect to pay around $200 monthly for your energy bill. This also depends on the size of your house or apartment.
Gas prices in Charleston average around $2.45 per gallon. The grocery prices in Charleston are 2 percent higher than the national average. The cost of healthcare in Charleston is 3 percent higher than the national average.
Transportation
Yes, there is public transportation in Charleston. The Charleston Regional Transportation Authority (CARTA) is the public transportation system of Charleston. CARTA offers free shuttle services in the city. The shuttles circulate through the peninsula to shops and major attractions.
There are also water taxis available in Charleston. To quickly get to your destinations, driving is always the quickest way. There are taxis and other driving services available in Charleston.
Charleston, SC Relocation Tips
Before you decide on a neighborhood to move to in Charleston, first consider the type of environment you prefer. Charleston offers beach living, downtown living, and suburban living. Once you decide on your preference, then seek out locations.
Visit the city and state government websites to learn more about property taxes and the way your county regulates them.
Identify the best companies for your utilities before moving. Compare rates and choose the best company.
Contact the local DMV in Charleston, to determine how to switch over your license if you are moving from a different state.
Create a list of fun things to do in Charleston. Moving to a new city can be overwhelming, and this can help you to explore the city at your own pace.
If you have school-age children, contact local schools and educational facilities in Charleston. Determine the protocol of enrollment and school policies.
Plan your packing! Give yourself time to pack properly. Contact moving companies that service the Charleston area.
Charleston, SC is a gem with a lot to offer. The weather, real-estate, and overall experience is highly notable in Charleston.
FAQs about Moving to Charleston SC
Is Charleston SC expensive to live?
Living in Charleston isn't overly expensive but the living costs here are certainly higher than the national average (4% higher to be accurate). The main expenditure i.e., the housing cost is 2% lower than the national average meanwhile the cost of utilities is 24% higher than the national average.
While transportation isn't that expensive (2% lower), the cost of food and groceries is 2% higher than the national average. One of the most important factors to consider while moving to any place is the healthcare situation of that place. The cost of healthcare in Charleston is 3% higher than the national average.
How much money do you need to live in Charleston SC?
A family of 4 would need approximately $83,210 (after taxes) annually to live comfortably in Charleston, SC. On the other hand, an individual needs to make roughly $26,522 (after taxes) to live comfortably in Charleston, SC.
What is a good salary in Charleston SC?
The average income of a Charleston, SC resident is $33,117 annually. A salary amount equal to above this particular amount is considered to be a good salary in Charleston, SC.
Is Charleston SC a rich area?
Charleston, SC is the second-largest community in South Carolina with a population of 137,566 people. Although the cost of living here is high, the community is high-earning, because of which it manages to live comfortably here.
The median household income of the residents of Charleston, SC is almost 6.4% more than the national median household income. In conclusion, the data suggest that not only is Charleston, SC an expensive area, but the community living here is wealthy as well.
Is it safe to walk in Charleston at night?
Most of Charleston is quite lively and upbeat even during the night, so it is quite safe to walk through the city. However, Charleston is a big city and it is obvious that some pockets of the city are not quite as safe as others. Make sure that you avoid walking through North Charleston alone at night as it has a high crime rate. Similarly, avoid roaming around in the area that's immediately off Interstate 26 at night.
Is it cheaper to live in South Carolina or Florida?
If you are confused about whether you should move to South Carolina or Florida, you could always base your decisions on the cost of living in both places. Let us tell you that living in Florida is 7.1% cheaper than living in South Carolina. The living costs in both states differ by a huge margin and there is a clear winner when you are looking for the cheaper option.
The median home cost in South Carolina amounts up to $316,500 which is 29% higher than the median home cost in Florida which is $245,400. Moreover, food and grocery prices are 4.9% higher and healthcare costs are 0.9% higher in South Carolina. Although transportation is cheaper in South Carolina (14.5% less), the overall cost of living in Florida is way lesser than living in South Carolina.
What is the cheapest city to live in South Carolina?
After you start earning, you really want to settle into a place that is beautiful but doesn't empty your pockets. South Carolina is one of the most affordable states to move to. The cheapest city to move to in South Carolina is Fountain Inn.
The median home price here is $207,160. Moreover, you can expect to pay anywhere in the range of $417 to $1.6K per month. After Fountain Inn, Laurens, Irmo, and Lake City are some of the cheapest cities to move to.
Does Charleston get snow?
Charleston, SC experiences mild winters along with some rain and rare snow falls that mainly occur in December and January. Charleston rarely gets snow, but if a snowfall occurs, it is not more than 6 inches per year.
What is the safest area in Charleston SC?
When you are moving to a new place, safety is your topmost priority. You wouldn't want to move to an area with high crime rates and endanger yourselves, right? Charleston is one of the most charming cities to move to and some areas of the city are safer than the others. Here is a list of the top 5 safest areas in Charleston, SC!
West Ashley
Riverland Terrace
Stiles Point
South of Broad
Wagener Terrace