Moving to Arizona | 2022 Cost of Living and Relocation Tips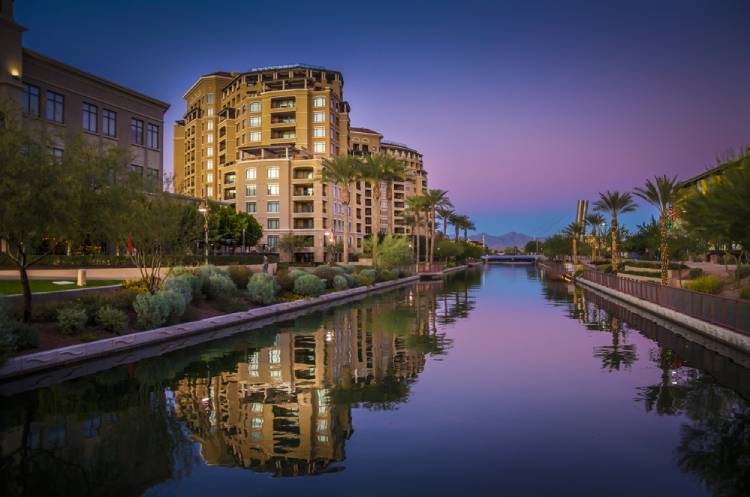 The state of Arizona sits on the southwestern wing of the map of the United States. If you asked us to give it to you straight, we'd say the state is a hot mess. To be more accurate we'd say it's triple the hot and minus the mess! Many people tend to know about the state's soaring temperatures but that doesn't stop Arizona from attracting more and more people who rush themselves to settle here.
Presently, even the census records show that the state is ranked among the top states that are growing faster than ever in the US. Which makes us wonder, is it the 320 days of summer that attract people here? Or could it be the beauty of pine covered mountain towns, cactus pastures and varied desert landscape? Well without doubt, it can't just be this.
All this pondering made us want to get knee-deep in to find out more about it. Fortunately for you, we've got answers that will help you understand if the grass could really be greener on the Arizona side of things for you. So without further ado, here's why the state is much more than the wonder of the Grand Canyon and what moving to Arizona is all about!
Weather In Arizona
Now, if you're considering moving here, you will want to prepare and understand whether you are ready to adapt to the weather conditions of the state. So let's just get right to it. The truth is, all year round, the weather in Arizona can fluctuate between feeling sunny, humid and dry without even the slightest of breeze to be a comforting companion. But in reality, the state has roughly 4 distinct seasons.
The summers in the state begin around the month June and end roughly by September. Summers in Arizona can be brutal, so be prepared to run from an air conditioned home to an air conditioned car. Do note that when the summers are in full swing in July, the temperature can hit and stay 100+ degree celsius for days. Naturally, we would highly recommend that you stay indoors as much as possible during the month of July. If you're visiting during the summers, you may take some time to get acclimatized to the heat. But it is manageable once you're used to it. Of course, it also depends on your resistance to hot weather in general.
Summers in Arizona could also mean that a 'haboob' is around the corner. Haboobs are a kind of a dust sand storm that quickly takes over areas and disturbs visibility. The winds of a haboob are occasionally calm, but at times it could flair up. Take our word for it and ensure you don't be way too casual about this because it's precisely when you should tread on the path of caution.
The weather is most pleasant during Spring (March-May) and Fall (September-November) months. It drops below 90 degree celsius and residents get a good break from the summers.
The winters on the other hand would begin by December and last through February. Winters in Arizona are very mild. The temperatures would range between 12-24 degree celsius with barely any snow. However, at times it does tend to rain during the winter months. Quite frankly though, it can make the weather even more pleasant. In December, Arizona also attracts a good deal of 'snowbirds', which are basically people visiting the state from colder Northern parts of the US to escape the snow. So the roads and attractions start to get clogged with tourists.
See also: Sunniest Cities in the USA
Key Takeaway – It's possible that you'll enjoy the sunny clear skies in Arizona from September to March. And as a newcomer of the state, you would probably take some time to get used to the summers in Arizona. We won't blame you if you detest the high humidity in the month of July. You may or may not find the heat manageable, but at the end of the day, it boils down to your personal preferences.
Transportation In Arizona
Light rail system
The Valley Metro Rail is a 45kmlight rail line serving the cities of Phoenix, Tempe and Mesa in Arizona. Since its inception it has been able to connect residents from the upper-central areas of Dunlap Avenue in Phoenix to downtown areas like the city of Mesa. Depending on the area you reside in, it is considered the most practical mode of transit to reach downtown Phoenix. 40 minutes approximately – that's all it takes. However, the entire journey from start point to finish is 85 minutes.
Interesting stops of the journey are – Downtown Phoenix, Sky Harbor International Airport, Arizona State University and Mill Avenue in Tempe. There are plenty other stops as well.
Fare – 1 day ticket cost for anyone from the age of 19-64 is $4, while it's half the cost for individuals outside this age group.
Roadways
The thousands of tourists that visit Arizona would agree that the roadways in this state are some of the easiest to figure, even if you're new to the state. The capital city of the state, which is Phoenix, follows a grid system with roads running either through north, south, east or west. Most of the city roads were actually laid out and planned for convenience of residents, with the exception of Grand Avenue.
Arizona 101 Loop is an outstanding example of this kind of master planning of the roads. This loop, as the name suggests, is basically a road that circles the city of Phoenix with a series of roads connecting you to the major suburbs of the Phoenix Metropolitan area like Tolleson, Glendale, Peoria, Scottsdale, Mesa, Tempe, and Chandler.
Arizona also happens to have the largest network of freeways, which is presently one of the nation's largest. Among them, Interstate 10 and Interstate 17 are the 2 major freeways. We've given you a bit of a lowdown on where these roads can take you:
Interstate 10 – This is the most expansive east-west connection in the US. Major cities that you can plug into are Los Angeles, Phoenix, Tucson, El Paso, San Antonio, Houston, Baton Rouge, New Orleans, Gulfport, Mobile, Tallahassee, and Jacksonville.
Interstate 17 – This road runs over Arizona in the north-south direction and connects Phoenix to Sedona, Prescott, Flagstaff and The Grand Canyon.
This allows you to prep for a bunch of road trips since the state also has 7 interstate highways that allow you to easily access the neighboring cities in states like California, Nevada, Utah, Colorado and New Mexico.
Buses
The Valley Metro agency that runs the light rail system in Phoenix also runs the bus service in the city. If you reside in downtown areas of Phoenix, the bus can be a budget-friendly way to get around. The Valley Metro has a trip planner section and the entire bus schedule on their website that helps you take the right bus to get to your destination.
Airports
The state's largest and most extensive airport is the Phoenix Sky Harbor International Airport, which happens to be the world's 7th busiest airport. The major cities namely Tucson, Mesa, Yuma, Prescott and Flagstaff also have their own commercial airports.
Job Market In Arizona
Currently, the population of the state of Arizona is 7.4 MILLION people! We can only imagine the millions of people needed to service a state with a population that's already this big and still growing everyday. So it should come as no surprise that jobs linked with the service sector of Arizona are the big industries that are constantly in need of employees.
Few of the industries that have a high demand for candidates are the transport & construction companies, healthcare & educational institutions, hospitality establishments and financial corporations.
Banner Health, The University of Arizona, Swift Transportation, U-Haul, PetSmart, Insight Enterprises are some of the big companies that have headquarters in the state of Arizona. If anything, these guys are the key players in helping old and new residents find lucrative job opportunities.
Renting in Arizona
It is considered that housing in Arizona is very affordable. Something that backs this is the amount of $1,495 as the median rent of homes in the state. Such a price range could look extremely attractive for those moving from the neighboring states like California. Depending on the state you're coming from, the rent prices of Arizona could seem more or less appealing to you.
To put things more into perspective, let's look at reports by HomeSnacks and Zillow.
The average median rent for:
1 bedroom home in Arizona – $1,191
1 bedroom home in California – $2,100
4 bedroom home in Arizona – $1,600
4 bedroom home in California – $3,150
In the case above, there's a higher possibility of renting a larger place in Arizona, considering how you would be getting more for your money. We recommend doing a similar analysis if you are thinking of renting a place in Arizona.
Cost Of Living In Arizona
To decide if Arizona is the right move for you, it is necessary to do a comparative analysis of the cost of living in your current hometown vs the city you choose to live in Arizona. In general, we'd like to share that there's a high chance you would need to pay more for utilities in the state of Arizona. Since you'll be dealing with temperatures well over 100 degrees, you're most likely going to be using that air conditioner for way more hours which ultimately means a high number on your energy bill. Average utility bills in Arizona are $128/month
Costs for transportation, groceries, healthcare and taxes in some of the biggest cities like Phoenix is actually on par with the national average cost in the US. However, in certain suburbs the cost of living can be far cheaper than the national average.
To put things in perspective here is a comparison of cities from 2 distinct areas –
Median value of homes in Phoenix – $283,594
Cost of utility bill for 1 month in Phoenix – $161
Median value of homes in Bullhead City – $224,984
Cost of utility bill for 1 month in Bullhead City – $148
These are just estimated costs to convey that depending on the city you're moving to, the cost can get higher. If you're not sure which city would be the perfect match for you, read further to find a list of the top cities of the state.
Education
Top-Rated Arizona Colleges
1. Arizona State University, Tempe
2. University of Arizona, Tucson
3. Embry-Riddle Aeronautical University, Prescott
4. Arizona State University – Downtown Phoenix Campus, Phoenix
5. Arizona State University – West Campus, Glendale
6. Arizona State University – Polytechnic Campus, Mesa
7. Northern Arizona University, Flagstaff
8. Grand Canyon University, Phoenix
9. University of Advancing Technology, Tempe
10. Arizona Christian University, Phoenix
Top-Rated Arizona Schools
1. Catalina Foothills Unified School District, Tucson
2Chandler Unified School District No. 80, Chandler
Vail Unified School District, Vail
3. Scottsdale Unified School District, Scottsdale
4. Gilbert Unified School District, Gilbert
5. Peoria Unified School District, Glendale
6. Tempe Union High School District, Tempe
7. Deer Valley Unified School District, Phoenix
8. Fountain Hills Unified School District, Fountain Hills
9. Glendale Union High School District, Glendale
10. Joseph City Unified School District, Joseph City
Top Cities To Move To In Arizona
1. Tucson
Tucson is presently the second largest city in Arizona and is recognised as the 'City Of Gastronomy' by UNESCO. Now doesn't that speak volumes about the city's culinary heritage? This part of the town is also home to museums, art galleries, The University of Arizona, historical landmarks and much more. Both Saguaro National Park and Sabino Canyon serve as recreation areas, giving you the opportunity to hike and camp by the scenic canyons. You also won't have to worry much about transportation, since Tucson has a single-line streetcar system known as the Sunlink. It's meant to help residents and visitors stay connected to the popular areas of the city.
Median price of homes sold: $219,800
Median rent: $950
Also read: Popular Neighborhoods in Tucson for Families
2. Chandler
The town of Chandler is part of the suburbs of the larger Phoenix metropolitan area. Students, professionals and families who move to this part of the state get to enjoy the perks of the big city Phoenix, but also take advantage of the vibrant community life and family-friendly nature of the suburbs. It is considered that Chandler is the perfect hub for professionals and those who are moving to Arizona with their families. All of this because the schools in this district have a good reputation. To add to that, Phoenix is just a drive away. The city has also been ranked as the second best suburb to live in Arizona and it is extremely common to find a ton of parks and coffee shops in the area.
Median price of homes sold: $368,266
Median rent: $1390
3. Scottsdale
The city of Scottsdale is considered the 'Beverly Hills of the Desert' because of the upscale and premium make of homes, shops and nightlife here. The grocery prices also round up to being 5% higher than the national average. A good deal of luxury homes, affluent shopping malls, fancy restaurants, spa resorts, golf clubs can be found in the area. Scottsdale could be a great option for those who can afford to live here since housing can be extremely expensive. Although Scottsdale is an expensive city in Arizona, the lifestyle is top-notch and it's possible that it could be an affordable luxury for few.
Median price of homes sold: $545,828
Median rent: $1598
4. Tempe
The town of Tempe is surrounded by the major cities of Arizona, with Phoenix in the west, Scottsdale in the north, Mesa in the east and Chander to the south. Tempe is centrally located and isn't far from all the hotspots. The dozens of parks, restaurants and nature trails are few of the advantages of living in this part of Arizona. You'll find that the North side of Tempe is populated by students, because of the close proximity to the university of Arizona. So there's definitely lots of college students occupying the town. However, the location works in favour of finding jobs in the big cities, enjoying the vibrant culture and affordability of the place.
Median price of homes sold: $331,288
Median rent: $1419
5. Buckeye
Buckeye is presently the fastest growing city of the state of Arizona. Thousands of people who consider moving to this state from all over the world have their eyes on Buckeye, which is why moving here would mean experiencing an extremely diverse culture. You can also get more for the bucks in this part of town since housing is comparatively cheaper. The city has some of the safest communities and drive time to bigger metropolitan areas isn't a hassle. Some of the most popular neighborhoods to consider are Sundance, Sun City Festival, Verrado and Festival Foothills.
Median price of homes sold: $271,716
Median rent: $1,106
FAQs about Moving to Arizona
Is it worth Moving to Arizona?
It's worth moving to Arizona if you're particularly looking to say goodbye to cold winters. Arizonans enjoy roughly 8 to 9 months of sunny days and rarely have to deal with freezing or single digit temperatures. They also have immense love for the mighty outdoors. A notable mention is that Arizona presently stands as the third fastest growing state in the nation. So by moving, you're practically going to be residing in one of the top-tier states of the US. Apart from that, the cost of living is also ridiculously low for all the modern amenities that one gets to enjoy in diverse cities like Phoenix, Tucson, Prescott and Mesa.
Is Arizona a good state to move to?
Arizona is a great place to call home if you like hot weather and wish to stay away from subzero temperatures. Relocating here would also mean that you'd easily detect multiple cities that are not only culturally diverse but also interspersed with people who just love being outdoors. All in all Arizona is a buzzing state that is catching up with the pace of states like California and New York. So, if you resonate with all that it has to offer you, it might be a good state for you to move to.
Is it expensive to live in Arizona?
One of the main reasons people choose to move to Arizona is the affordability of the state. Cost of living is modest, not exactly too high or too low. To give you a rough idea, things like taxes, transportation, groceries, entertainment and gas are going to be cheaper. On the other hand, aspects like housing and utilities stay on par with the national average. A single person would need roughly 45k to 55k salary to live comfortably. Also, do note things are priced higher in few of the most popular cities like Phoenix/Scottsdale/Flagstaff. The high costs is probably the outcome of a huge number of people flocking to these cities.
What should I know before moving to Arizona?
Arizona is home to the marvelous Grand Canyon, Colorado river and innumerable desert towns like Sedona. This makes it a haven for outdoor enthusiasts.
The state is also growing to be more and more diverse everyday, because of which Arizona is booming with people from different communities. Arizona possesses multiple cities with a cosmopolitan spirit. It is also among the largest growing states in the US. The cost of living here is modest, but do note that the average wages aren't too high.
As a transplant, you have to prepare yourself to get used to the brutal summers where temperatures regularly go beyond 100F. Apart from taking shelter in air conditioning, it is necessary to stay hydrated during the phase where you settle in. If you're moving for education, do note that University of Arizona, Arizona State University and Northern Arizona University are the top ones to attend.
What are the dangers of living in Arizona?
Arizona is a beautiful state to live in but there's a few things that you have to be careful about since it is a desert. One of the dangers are the occasional 'haboobs' (sandstorms) that make an appearance during the summer months. They basically disturb visibility, so it's best to stop if you see one pass by when you're on the road. The second thing you have to be aware of is encountering things that crawl to your home or in the surroundings. It is necessary to keep an eye out for rattlesnakes, poisonous bugs and tarantulas. Sunburn and dehydration are other worries, but they are dangers you can easily prevent.
What is a good salary in Arizona?
The average median household income in Arizona is $56,213. Ideally, if your paycheck rakes any figure between 45k to 55k annually, it is considered a good salary. This amount applies for a single person. It would be double these figures for a couple and even more so for those with kids.
Where should you not live in Phoenix?
The Phoenix metropolitan area is pretty massive in size and not all areas have the "yes, this is it" factor. Few of the areas to avoid mostly lie in the south side of the city. Guadalupe, Estrella, Maryvale village and Alhambra are the places you should not consider to live in Phoenix.
Why do people move to Arizona?
Getting to be part of progressive fast growing cities with an appealing cost of living is one of the main reasons people move to Arizona. Besides that, people love the fact of having 8 to 9 months of warm climate and remarkable natural marvels to explore in the state. Arizona is also well connected to big cities in California and Nevada.
What is the safest city in Arizona?
Florence, San Luis, Oro Valley and Gilbert are the names that constantly rank on top for the safest cities in Arizona.
What is a livable salary in Arizona?
The cost of living in Arizona is reasonable, with the exception of few popular hotspots in the Phoenix area. Typically, 45k to 55k annual income is a good salary to earn in Arizona for a single person. If you're able to earn figures beyond 65k, then you're probably way ahead of the game.
Why are houses so cheap in Arizona?
The median value of homes in Arizona is at $252,500. The desert landscape of the region is a contributor to the low costs of housing. There's no ocean front homes to increase competition. The state is also geographically a big region. It is the 6th largest state in the US but just the 14th most populous.
The population is growing in size because of which there are a lot of new developments in cities other than Phoenix. New residents can choose to live in Tucson, Mesa, Chandler and Glendale that have similar offerings. This helps disperse the growing population with more choices for affordable housing. A combination of these factors is the reason behind low housing prices.
How much money do you need to live comfortably in Arizona?
In most parts of Arizona, a single person can live comfortably with a salary that falls between 45k to 55k annually. This doesn't apply to the Phoenix metropolitan area, since the cost of living there is much higher than state average. If you choose to live near a more developed hotspot in Phoenix with newer apartments, then an annual salary of 60k or more would be more suitable.
Which part of Arizona is the best to live in?
Tucson, Scottsdale, Chandler, Tempe, Buckeye and Phoenix are some of the best parts to live in Arizona. The Northwest Phoenix area is a popular option for new residents. Tucson and Flagstaff are good options if you'd like to live a little away from the Phoenix area and have a mix of small towns too.
How long does it take to become a resident in Arizona?
According to Arizona guidelines, you are required to stay in the state for a minimum of 9 months to obtain residency. Applying for a new driver's license and registering your vehicle to the state, and getting employed in Arizona are few ways in which you get considered to be a resident of Arizona.
How hard is it to get a job in Arizona?
The state of Arizona has a population of 7.55 million people, so there is bound to be competition. But on the plus side, there are a large number of opportunities in the service and retail industry to cater to such a massive and ever growing population. The Phoenix metropolitan area is the hub for ample of lucrative job opportunities. It can be hard to find a job, but that depends on the industry you'd like to work in.
---
Our Take On Arizona
Arizona is currently the third fastest growing state in the US and is rapidly increasing in population along with a steady economy. Moreover, the state is also massive in size and incredibly beautiful with ridiculously nice weather most of the year. It's home to the marvelous Grand Canyon, Colorado river and innumerable desert towns like Sedona. We believe that Arizona has a huge deal of advantages, which is why it has attracted and grown to a population of 7.4 million people. Now that you know enough about Arizona, do you have reasons to call this state your home? If the answer is yes, you might want to take the next step and read about getting an Arizona DMV Change Of Address done if you plan to move with your own vehicle.
See also: 6 Largest Cities in Arizona