Moving to Phoenix | 2022 Cost of Living & Relocation Tips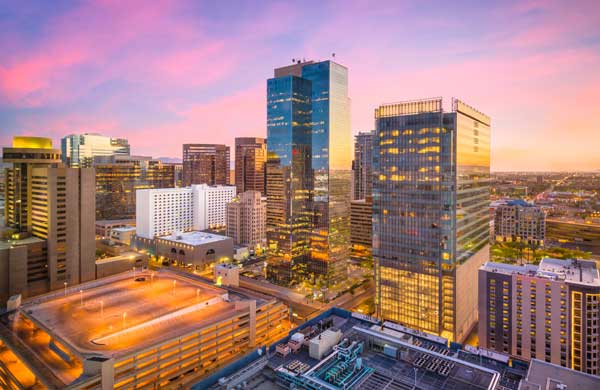 Moving to Phoenix can be invigorating – you get fresh scenery, new people to make friends with, new hangouts to discover and plenty of new sights and sounds to take in.
But all of this typically occurs after you have moved. While you are planning your move and when it is actually in progress, your move to Phoenix may start to feel pretty overwhelming!
That is why we have compiled the information in this article to help you coordinate, strategize and negotiate your move to Phoenix so you can get the moving part over as fast as possible and be on to the enjoying and exploring part.
What It Costs to Move to Phoenix
According to a recent news report, as many as 200 newcomers may arrive in Phoenix every single day.
Not only is this an increase in the number of daily new arrivals over the previous year, but it officially makes Phoenix the most popular city for newcomers in the nation.
But while every single one of these new Phoenix residents shares a desire to live in Phoenix in common, what is different is how much it cost them to get there.
The farther away you have to travel to move to Phoenix, the more your move is likely to cost you. As well, the more belongings, family members and pets you bring with you, the more your moving expenses will increase accordingly.
The more lead time you can build in to your move, the more flexibility you will have to try to control your moving costs. Here's a rough guide about "how much does a moving company cost?" Visit https://9kilo.com/national-moving/how-much-does-a-moving-company-cost to read the article!
Cost of Living in Phoenix
Overall, Phoenix is currently ranked as more expensive than the national average, with a total score of 113.4. This means Phoenix is 13.4 percent more expensive than the national average cost of living.
But there is some good news here. Living in Phoenix is slightly less expensive than living in other areas throughout Arizona.
Cost of Housing in Phoenix
According to Sperling's Best Places city database, housing is typically the number one expense for new Phoenix residents.
The average cost of a family home in Phoenix as of time of publication is just under $250,000. If you plan to rent, the estimated rent ranges from just under $800 per month for a studio apartment all the way up to $1,900 per month for a four-bedroom house.
One secret to controlling housing costs, especially if you are moving to Phoenix from a more affordable area, is to research specific neighborhoods before you arrive.
For example, downtown Phoenix (city center) is a particularly popular and vibrant area and is going to be more expensive for housing than living in the surrounding neighborhoods.
If you have fewer commute constraints or you work from home the majority of the time, you can also often find good housing prices in smaller neighboring suburbs such as Gilbert, AZ.
Transportation Costs in Phoenix
People who move to Phoenix from a city with expansive public transportation networks are often dismayed at the lack of options in their new city. There are many areas of Phoenix where public transportation services are limited or simply unavailable.
While ride sharing apps eases some of the costs of getting around over hiring traditional taxis, it is still one of those cities where most people really want to have their own vehicle.
Even if you ship your own vehicle to Phoenix or drive it in, you will need to budget for the cost of driver license and inspection fees, insurance in your new city and neighborhood and a likely increase in the cost of fuel and oil changes.
See also: Arizona DMV Change of Address
Taxes in Phoenix
Nationwide, there are only nine states that do not add state income tax on top of your federal income taxes. Sadly, Phoenix is not one of them.
Unless you are already used to paying both state and federal income taxes, this can be somewhat of a shock to your budgeting system.
Your employer can help you adjust withholdings to account for this additional potential tax burden. If you are moving in between filings, you may also find that hiring an accountant is helpful to prepare your tax filings for both areas of residence.
Sales tax in Phoenix is also higher than it is in many similar cities. At 8.6 combined sales tax (state, county and city), you can count on many goods costing more in your new city than they did in the city you left behind.
Cost of Airfare Into and Out of Phoenix
One bright spot for new residents of Phoenix (besides the endless burning sun) is the presence of a nearby international airport, Sky Harbor International Airport. Phoenix is a hub for both national and international travel, which can often make it both easier and more affordable to travel into and out of your new city.
Flight costs are competitive with other international hubs in major cities around the country and there is a wide selection of carriers and itineraries to choose from. The airport itself is the largest in the state and one of the largest in the country. It is spacious and has many amenities to choose from.
If you are seeking employment in your new city, the airport is also one of the biggest employers in the state and drives revenue for the entire state economy.
Family Activities in Phoenix
Phoenix itself has more than 30 neighborhoods that are quite family friendly and plenty of activities for residents of all ages to enjoy.
Of the more than 1.5 million residents of Phoenix, nearly half are married or divorced and almost 33 percent are single with kids.
This makes Phoenix a great place for families to enjoy life together. There are lots of kid-friendly activities and lots of free activities the whole family can enjoy.
As a major state hub as well an international airport hub, Phoenix boasts a wide array of cultural activities, including zoos, museums, waterparks, science and cultural arts centers, aquariums, amusement parks, local farms, state parks, petting zoos and much more.
To help keep your budget in check, look for free days (many museums and zoos offer these monthly) and discounts through associations you have joined, your employer, local credit unions and other service organizations.
Singles Events in Phoenix
Moving to Phoenix on your own can be a big adventure and also a big adjustment. The good news here is that Phoenix has a very active singles culture with lots of events, groups, culture and nature to cater to a wide variety of interests.
Phoenix offers plenty of freebies and low cost ways to socialize, make new friends, expand your hobbies and try new things. Golf is a huge hobby for many people in the city so if you like golf or want to learn, you will find a wealth of opportunities and some world-class golf courses in and around the area.
The average age of adults living in Phoenix is 37.4 years, and a full 36 percent of adults are single without kids or single with kids.
Phoenix Climate and Weather
One thing many newcomers to Phoenix cite as something they have to get used to is the heat and dryness. Phoenix itself is a state that sits right in the midst of the Sonoran desert and is also the largest of its desert cities.
The desert climate is very hot and dry during the day and can drop as much as 30 to 40 degrees when night falls. The winters don't get particularly cold and the temperature rarely falls below freezing.
Phoenix also doesn't get much rain, which is part of living in a desert climate, and the dryness can create a temporary adjustment period for your skin and your respiratory system. Young family members may benefit from a room humidifier during the transition.
If you are moving to Phoenix from a colder climate, this can entail a change of wardrobe. You may find you no longer need your heavy winter clothes and shoes at all and you need to stock up on sandals and shorts.
Luckily wearables are priced similarly to what you would find in other major cities with high demand and frequent turnover. If you own a lot of winter wearables, you may want to donate or resell those prior to your move to lighten the load and make a bit of extra cash!
While it is never possible to fully budget for a move to a whole new city, this article gives you a heads-up about what to expect in major areas, including housing, transportation, cost of living, taxes and basic living expenses.
As you can see, there is so much to see and do and experience in this sunny desert city that it is no wonder Phoenix is one of the most popular cities in the nation for welcoming new residents like you!
Are you planning to relocate to Phoenix, Arizona? Visit 9Kilo.com to get accurate moving estimate and quotes for your long distance move!
Related: Phoenix, AZ Surrounding Suburbs Guide |Top 5 Neighborhoods In Phoenix For Families | Best Neighborhoods in Phoenix for Singles and Young Professionals