Moving to South Carolina | 2022 Cost of Living and Relocation Tips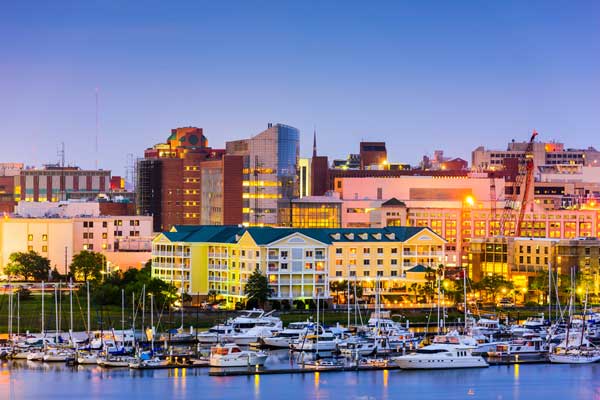 Looking for a slower pace of life? Wish to turn things down a notch and step out of the daily grind? Then South Carolina could be just the place for you. You can leave behind memories of congested roads, crowds, noise and expenses. South Carolina has a captivating way of making visitors embrace southern hospitality, warm climate, ample of green spaces, beach towns and the relaxing quiet neighborhoods. These are just the top areas where South Carolina won't disappoint you. The state is also naturally blessed with sun drenched beaches and mountain towns.
The natural landscape is hands down photogenic, charming and homely. It's probably sounding like we're giving the state friendlike qualities. But it's true that the warm, welcoming and friendly nature of the people occupying the Palmetto state is what makes up the state's personality.
The reason we're taking you through the vacation-ey character of the state is because even though the region is great, it could also be unfit for others who prefer a fast paced cosmopolitan manner of living. The lifestyle here is extremely different from big cities, which is why depending on where you live, you may be in for a culture shock. That being said, South Carolina is huge and still has its share of remarkable developing cities like Charleston, Greenville and of course the capital Columbia.
All things considered, moving to South Carolina is not an easy decision to make. So, let's take you over some other aspects of the state that you should definitely know about before you take the leap.
Weather In South Carolina
The state of South Carolina enjoys four distinct seasons. However, among them all, the subtropical humid heat that lasts for 4-6 months is the one that's the biggest concern for a majority of transplants considering moving here. To further emphasize on the seasons, below is a short description of the climate and average temperatures you can expect.
Summers (June to August) – Now South Carolina summers are famous all over the nation. Terms like 'inner circles of hell' and 'hotter than the devil's armpit' are frequently used to describe the humidity of the heat during these months. You would probably be using these terms too in the month of July, which is the hottest month of the year. Temperatures usually range from 90F-100F and occasionally go beyond 100s. On the plus side, if you've always wanted to be away from the cold, then you'll probably really enjoy the bright sunny and humid days.
Winters (December to February) – Since the state mainly has subtropical climate, the winters here are mild, never really getting destructive or severe. Residents still get to brag about getting sufficient sunlight. Snowfall is rare and even if seen, it is extremely light. Since January is the coldest month, you can expect temperatures to drop to single digits. However, for the rest of the winter months, temperatures range from 15F in the nights to 65F in the day.
Autumn (September to November) – Fall is one of the most comfortable conditions of the state. Temperatures range from 50F-80F, but it's never that hot like the summers. You can expect roughly 4-6 inches of rain during the autumn months, but they're usually short moments of windy rains that are not entirely destructive in nature. Note – Both spring and autumn are wetter inland than the coast.
Spring (March to May) – In the beginning of March the winters step down and the state welcomes the beautiful season of spring. The greenness of the landscape surely returns and sunshine is back in full swing. Temperatures during the spring range roughly between 60F-80F. Do note parts of the state are prone to occasional thunderstorms that come and go in the spring.
Overall, the state of South Carolina gets to enjoy a good deal of sunshine for 8-9 months. So, if you're someone who loves sunlight, wishes to embrace flip-flops and hates shoveling snow, then this could be the perfect place for you.
Also read: Sunniest Cities in The US
Transportation In South Carolina
South Carolina doesn't have a mass public transit system for commuters because of which 92% of residents preferably get around by driving. A small percentage of people choose to cycle or use the humble bus services of the state. Most of the bus services are scattered in the midland areas, a couple serving the coastal side and 'Pee-Dee' regions. However, since things are spread out, it is much more convenient to have your own private vehicle to get around. Below we've covered 3 of the largest modes of transportation of the state.
Roadways
The state of South Carolina shares its borders with just 2 states, that is North Carolina, to the southeast by the Atlantic Ocean, and to it's southwest lies the state of Georgia across the Savannah River. Now, to help residents conveniently plug into these regions, the state has an extensive network of roadways.
Below is a short description of where the major primary roadways lead you:
Interstate 20 – This is a roadway that cuts across South Carolina to link it with business hubs like Atlanta in Georgia and Charlotte in North Carolina.
Interstate 26 – Is the longest interstate highway in the state running in the east-west direction and connecting all the major counties.
Interstate 77 – A south-north traveling road connecting residents to North Carolina with an interchange at Interstate 26.
Interstate 85 – Most accessible for those residing in Anderson, Greenville, Spartanburg and Cherokee. This road helps these upstate regions stay connected to business hubs like Atlanta in Georgia and Charlotte in North Carolina.
Interstate 95 – This route runs along the majority of the East coast, all the way from Florida up to the state of Maine. From South Carolina you can access this road from Florence and Walterboro.
Airports In South Carolina
Some of the state's most extensive and largest airports are:
Columbia Metropolitan Airport – serving the Columbia region and midlands of the state.
Charleston International Airport – most accessible from North Charleston and is the busiest airport.
Greenville-Spartanburg International Airport – situated halfway between the cities Greenville and Spartanburg. Also, the second busiest airport.
Florence Regional Airport – approximately 3 miles east of the city of Florence.
Myrtle Beach International Airport – situated roughly 6 km southwest of the central business district of Myrtle Beach.
Hilton Head Airport – serves the barrier island of Hilton Head.
Rock Hill/York County Airport – this airport was specifically built to help relieve the traffic of passengers from an international airport in North Carolina.
Railways
Like most states in the US, South Carolina also gets its fair allocation of Amtrak railway stations. Out-of-state residents get access to Charleston (largest city) and Columbia (state capital) by taking the rail lines served by Amtrak.
Below is a short list of the Amtrak train lines that run in South Carolina. This ultimately also helps residents plug into some of the most notable big cities.
The Crescent Amtrak route – The route runs daily between New York City and New Orleans. The train stops at Greenville and Clemson in South Carolina. Major stops of the route include New York City, Philadelphia, Washington D.C.,Charlotte, Atlanta, Birmingham and New Orleans.
Palmetto Amtrak route – This line travels between New York City and Savannah daily. Stops in South Carolina are Dillon, Florence, Kingstree, Charleston and Yemassee. This route helps residents connect to junctions in Pennsylvania, Maryland, Virginia, North Carolina and Georgia.
Silver Meteor – A 28 hour train line travelling between New York City and Miami, solely in place to stop at vacation destinations and few cities like Philadelphia, Baltimore, DC, Savannah, Jacksonville and Orlando.
Silver State – Follows almost the same route as Silver Meteor. This line also runs between New York and Miami. However, the only difference is that it makes few additional stops in North Carolina and Tampa.
Job Market In South Carolina
The state of South Carolina has a world-class business environment, specifically because of its location. It is strategically located between the hubs of Charlotte in North Carolina and Atlanta in Georgia. In addition to that, it is also halfway between New York City and Miami. This gives companies seeking to set up businesses the upper hand, since they receive a skilled workforce and they are also in close proximity to diverse industries. This is probably the main reason why the state's economy witnesses a growth in plenty of foreign investments.
Many large corporations have moved their locations to South Carolina. Few of the top performing companies in the state are:
Prisma Health – healthcare service
BMW – automobile manufacturer
Walmart – retail and distribution
Boeing – largest manufacturing exporter
Medical University of South Carolina – an academic health science center
Joint Base Charleston – a defense base with 22,000 employees
In addition to these, the state's economy also has an echoing impact from the tourism industry that brings in $23.8 billion for South Carolina. The state definitely has a presence of national firms and especially has a reputation in healthcare, manufacturing, aerospace, education and tourism. These are the services that have a bigger reach in South Carolina and now you have a fair idea of the opportunities that await you.
Renting
According to reports by HomeSnacks, the average median rent of houses in South Carolina is $1,350, while the national average is roughly $1,650 (so that's a 18% difference in cost). This practically means that rent here is almost en par with the national average. At least in terms of rent, we'd say that you can expect the prices to be pretty high. But this gives you the insight that you could possibly have more money by buying a house than renting.
To put things into perspective for you, below is a list of tentative rent costs for a 1 bedroom, so you can compare things with a price point:
1 bedroom home in South Carolina – $1,249
1 bedroom home in North Carolina – $1,200
1 bedroom home in Florida – $1,399
1 bedroom home in Georgia – $1,365
So we can derive that in comparison to its neighboring states, South Carolina seems to be doing reasonably well with rent costs. We've also taken into consideration the state of Florida because South Carolina is becoming an increasingly popular retirement destination for folks from Florida.
We'd also like to mention that in certain neighborhoods like Mount Pleasant, Bluffton, Tega Cay, Goose Creek and Charleston, the cost of rent will be much higher.
Cost Of Living In South Carolina
Let's first take a look at home values, since that tends to be one of the bigger concerns. According to data from Zillow, the average median value of a home in South Carolina is $204,820. To put things into perspective, this means you could be paying approximately $170,100 for a home that would otherwise be $231,200, which is the national median home price.
But depending on the area and locality you choose to reside in, you can expect to pay much more for a house in S.C. For instance, the typical value for bigger homes in the Charleston area could be $308,100 – $348,489.
When it comes to utilities, the typical rough figures that you'd be paying for electricity is $145 and gas bill could round up to $100 and water bill $32. A single-person estimated monthly costs is $1,019. And to live comfortably, the median household income requirement is around $64,599 (according to Niche). However, on an average a good annual salary for most jobs in South Carolina is $54,672. This creates a gap and is a bit of bargain. However, ultimately the deciding factor would be your lifestyle choices. Based on that you may or may not find the cost of living appealing.
Must read: Cheapest States to Move To
Education
Top-Rated South Carolina Colleges
1. Clemson University, Clemson
2. Furman University, Greenville
3. University of South Carolina, Columbia
4. Wofford College, Spartanburg
5. Citadel Military College of South Carolina, Charleston
6. Bob Jones University, Greenville
7. College of Charleston, Charleston
8. Columbia International University, Columbia
9. Presbyterian College, Clinton
10. Winthrop University, Rock Hill
Top-Rated South Carolina Schools
1. Fort Mill School District, Fort Mill
2. Lexington-Richland School District, Irmo
3. Clover School District, Clover
4. Spartanburg County School District No.1, Campobello
5. Lexington County School District No.1, Lexington
6. Spartanburg County School District No.6, Roebuck
7. Spartanburg School District Seven, Spartanburg
8. Spartanburg County School District No.5, Duncan
9. Anderson School District No.1, Williamston
10. Dorchester School District No.2, Summerville
Top Cities To Move To In South Carolina
1. Greenville
The city of Greenville is the third largest urban area in the state. The residents here appreciate the balance of city and small-town charm. Greenville also boasts of phenomenal school systems and has tons of recreational opportunities. The city has a lively art scene and a vibrant downtown that is super pedestrian-friendly. The mountains are more accessible from here, but the beach could be a few hours away. It can be very easy to fall in love with the hospitable atmosphere and outdoorsy nature of this city.
Median price of homes sold: $273,100
Median rent: $937
2. Columbia
The city of Columbia is the capital and second largest city of South Carolina. It is situated smack right in the middle of the state. Due to this, you can easily make it to beaches, mountains and other hotspots in less than two hours. This is just one among the biggest perks of residing here. Columbia also has a rich history, friendly neighborhoods, great educational institutions and an upcoming food culture. If you are looking for a city like vibe, chances are you would find it in Columbia.
Median price of homes sold: $173,400
Median rent: $910
3. Charleston
Charleston is one of the biggest and most thriving cities in the state. It has a strong tourism industry and has been ranked a couple of times as the best city to live in. This city has some of the best schools in the state and enjoys a diverse culture. One of the downsides is that it is a very touristy area and the housing here is relatively way more expensive. However, on the plus side, people who reside here get to enjoy the good weather, miles of beaches, excellent restaurants, active job market and the lively nightlife.
Median price of homes sold: $308,100
Median rent: $1,208
See also: Moving to Charleston, SC
4. Aiken
The city of Aiken has got quite a reputation for being the best small to live in South Carolina. A simple walk in Aiken will reveal to you that it has plenty of small boutiques, a wide variety of restaurants, ample green space and local events. But do note that Aiken is a quiet and quaint town where things close down pretty early. This may be the reason retirees form a huge part of the population here. So, if you prefer things like a nightlife or bustling city vibe, it will not be easily found here.
Median price of homes sold: $180,300
Median rent: $875
5. Spartanburg
Spartanburg is among the affordable living areas in the Northern portion of the state. The city has excellent school systems and is home to a good number of top rated colleges. Spartanburg may come across as a small town, but it isn't a sleepy one. The tight-knit communities here keep the place active by putting forth events and family-oriented festivals year round. But overall, the perks that this town offers are more geared towards families.
Median price of homes sold: $116,800
Median rent: $770
FAQs about Moving to South Carolina
Is moving to South Carolina a good idea?
Its rich history, diversity in nature and an overall lower cost of living makes South Carolina an appealing place to move to. This is a state where the people are warm, typical of the Southern hospitality. But at the same time, the state isn't without its share of disadvantages.
Is South Carolina a good state to live in?
South Carolina is a state that's diverse both historically and culturally. Charleston, nicknamed the Holy City, is just one of the most prominent among them. The overall low cost of living in the Palmetto State makes it quite appealing.
While the unemployment rate is low, jobs may be a little hard to get when in South Carolina. Also, you need to keep in mind the relatively high crime rate and the lower quality of education. South Carolina ranks 43 when it comes to school systems. So, this may not be the best state for you to raise a family, but if you love the outdoors and are a history buff, then South Carolina is the place to be.
What should I know before moving to South Carolina?
Rich In History And Culture:The Palmetto State is where many major events of American history took place – be it the Civil War, the African-American history and the Native American history. With this history, a vibrant Gullah culture has also blossomed here, which is very unique to South Carolina.
Home To Beaches And Mountains: The unique location of South Carolina means that whether you're a beach or mountain person, you can have them both! Going westwards, you'll be spellbound by the mesmerizing Blue Ridge Mountains. Move eastwards, you'll get picturesque beaches to soak in the sun.
Lot Of Open Spaces: If you're an outdoorsy person, then South Carolina is the place for you. The many state parks make for great outdoor activities. Combine this natural beauty with cities steeped in history, and you won't be surprised as to why tourists love South Carolina.
Milder Winters: This may be a dampener for those who love snows, as winters in South Carolina are quite mild, especially near the coast. But speaking of dampeners, the summers can get quite hot and muggy.
Awesome BBQ Scene: South Carolina prides itself on its barbecue culture, and has its own unique mustard-based sauce. When you're here, there's no way you want to miss relishing the cuisine of South Carolina.
What are the dangers of living in South Carolina?
South Carolina has wide open spaces with state parks where you can be at one with nature. But with it comes its share of risks too!
Crime Rate: It's not just nature, the high crime rate in South Carolina is worrying too. According to NeighborhoodScout, the violent crime rate here is 3.90 per 1,000 people. This is higher than the US average of 2.50.
Bugs: Think fire ants, mosquitoes, flies and gnats. So wherever you go, make sure that you have a bug spray handy.
Also See: How to Get Rid of Gnats
Wildlife: You may encounter black bears and alligators when in South Carolina. A little bit of discretion and being careful can go a long way in keeping yourself safe.
Hurricanes: Especially if you're living in the coastal areas, this is something you need to be aware of. The spring season is also the hurricane season in South Carolina.
What is the most dangerous city in SC?
North Charleston, with a crime rate of 70 per 1,000 residents, is the most dangerous city in South Carolina – according to NeighborhoodScout. The violent crime probability here is one in 104, and for property crime, it's one in 17.
What are the Pros and Cons of Living in South Carolina?
Pros Of Living In South Carolina
Lower Cost Of Living: South Carolina boasts an overall lower cost of living compared to the US as a whole. If you're planning to buy a house, the median home value is about $170,000 against the US average of $231,200. For those planning to rent, you'll be paying $1,183 for a three bedroom apartment. The same goes for groceries, which are comparatively cheaper.
Healthcare: South Carolina boasts a great healthcare system, so if you're someone who is nearing retirement or have any health issues, then this is a big plus.
Tax Friendly: Sure, South Carolina's top income tax rate of 7% may be high, but the very low property and gas tax rates make up for it. Adding on to the state being ideal for retirees, the fact that South Carolina doesn't tax Social Security retirement benefits is another cherry on the cake!
Scenic Landscape And Slower Pace Of Life: Unlike the metro cities, life in South Carolina would mean getting more in touch with nature. The mostly-agreeable weather combined with the landscapes make the state a nice, relaxing place to live.
Cons Of Living In South Carolina
High Crime Rate: This is a problem that South Carolina has to deal with. The crime rate of South Carolina is higher than the US average. But of course, this depends on the city and neighborhood you're moving to.
Poor Quality Of Education: South Carolina ranks 43 in the US when it comes to quality of education. While there are good schools and universities in the state, the overall ranking can be quite worrying if you're moving with kids.
Slow Job Market: South Carolina has a low unemployment rate. But with most of them employed, you may have trouble finding a job when you've moved there.
Where do the rich live in South Carolina?
Tega Cay in York County is the richest city in South Carolina. The average annual income of an individual here is $44,179, according to BestPlaces. Zillow estimates the average home value to be $374,615, while the average rent for an apartment here is $1,247, according to RENTCafe.
What is the cheapest city to live in South Carolina?
Florence in Florence County is the most affordable city in South Carolina. The average home value here, according to Zillow, is $138,637. If you're planning to rent, it'll cost you about $1,143 per month. But you need to keep in mind the high crime rate in Florence.
See also: Largest Cities in South Carolina
Is it cheaper to live in South Carolina or North Carolina?
The overall cost of living in North Carolina is slightly higher than in South Carolina. This combined with the more tax friendly laws of South Carolina make it slightly cheaper to live there than North Carolina.
At what age do you stop paying property taxes in South Carolina?
Once you're 65 and apply for the Homestead Exemption, you'll be exempted from paying property tax on the first $50,000 of the value of your residence.
Is NC or SC better for retirement?
South Carolina is definitely a better choice for retirement for the following reasons:
Tax Friendly: While both North and South Carolina don't tax Social Security retirement benefits, in North Carolina, there's a flat retirement income tax of 5.25%. South Carolina, with no inheritance and estate tax, coupled with a low property tax rate, makes it easier on the retirees.
Free Tuition: If you're 60 and above, you can enroll at any state-funded college in South Carolina, and with no tuition fees! While North Carolina also offers free tuition to those above 65, it's only restricted to the University of North Carolina and the state-funded community colleges.
What is a good salary in SC?
According to LivingWage, for a family of four with both parents working, an average annual salary of $61,466 will be ideal.
Why is housing so cheap in South Carolina?
The average property tax in South Carolina is among the lowest in the US. Not just property in general, even owning property in South Carolina is affordable.
What is the best area to live in South Carolina?
Mount Pleasant, as the name suggests, is easily among the best places to live in South Carolina. The place boasts great schools, convenient shopping locations, and the proximity to the beach makes Mount Pleasant very appealing.
How long does it take to become a resident of South Carolina?
You must live in South Carolina for 12 consecutive months to be a resident. It's not just this, but you also have to change your registration on important documents to South Carolina.
---
Our Take On South Carolina
The Palmetto State is soaked in history, blessed with natural beauty and has an unsurpassed quality of life. Residents of the state get to enjoy a whole range of outdoor activities and touristy events happening year round, with the company of hospitable communities. If you desire to relocate to a place where the weather and people are warm, South Carolina could be just the place for you. Like we said earlier, the lifestyle here is great, but it isn't meant to be for everyone. So now that you have all the information you need about moving to South Carolina, you must have a better idea of whether you should start looking for a job here and get the ball rolling.
Interesting: 13 Reasons to Move to the Southeast