6 Best Places to Retire in Florida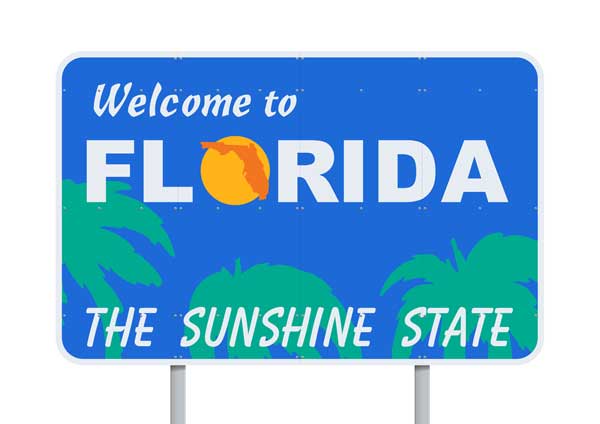 The idea of lying on the sand at a stunning beach only to doze off to the sound of waves is just one among thousands of reasons why people choose to retire in Florida. If you've been researching and scouting your options for a retirement destination in the United States, we bet that the Sunshine State has come up a couple of times during your search. Now, trust us, this is no coincidence. As a matter of fact, the state has a high concentration of retirement homes and gated communities.
But you're probably wondering, what really makes Florida so attractive for retirement? Well, if we had to name a few, it is tax-friendly, has 663 miles of beaches, 175 community parks for recreational activities, an eternal amount of sunshine all year round, golf courses and magnificent freshwater lakes. In addition to that, you would also enjoy senior citizens discounts, great healthcare facilities and affordable flights that make visiting relatives easier. This naturally makes it a retirement wonderland.
Thousands of people move to Florida everyday, but before you start to pack your bags, you'll need to pin down the region to settle in. We'll help you out with the options by sharing some of the best places to retire in Florida.
List of Top Places To Retire In The Sunshine State:
Sincerely speaking, the state is so vast that the vibe, communities and living conditions differ depending on the area you end up selecting. In this blog, we'll highlight the top 6 regions in Florida that offer attractive advantages for retirees.
1. Ocala
Now, Ocala is a town centrally located from the state's major attractions. It's located exactly in the middle of the state map. People love Ocala because a one or two hour drive would instantly connect them to some of the best beaches, boating spots and theme parks that Florida has to offer. You must have heard that although Florida has its sunny days, the coastline is very much prone to the occasional hurricanes. However, the city Ocala is at a good distance from the coastline which means you can enjoy the warm weather without having to bear coastal risks. This city in particular is rarely hit by a hurricane. That's why the people who move here enjoy the benefits of the nearby ocean without getting disappointed by the tropical storms that usually occur anytime between August and October all around Florida.
Do note that from the city of Ocala, it would take you roughly 1 hour to drive to famous coastal beaches like Daytona. Overall, it's easy to fall in love with the active lifestyle offered by this city.
Nearby attractions – The city of Orlando that's home to Disney World and Universal, Daytona Beach, Crystal River, Gainesville, Silver State Springs Park are all within reach from the town.

Average value of homes in Ocala – $161,044.
2. Naples
Naples has been ranked No. 1 on a list of 'Best Cities For Early Retirement' in the United States, and so it just had to make it on our list. It's probably why this city has a very high percentage of retired folks too. If you hate staying cooped up indoors when you retire, Naples is the place for you. The place encourages both visitors and residents to embrace the infinite options for outdoor fun. People enjoy playing Golf in Naples as it's also considered a way of life here. So if you've always been a fan of the sport, you'll find 80 championship golf courses where you can pass your time getting extremely good at it. It's pretty easy to walk around downtown Naples to enjoy the restaurants and art galleries with clear skies and sunshine accompanying you. This is all it takes to fall for this city.
Nearby Attractions – Village shops on Venetian Bay, Club Pelican Bay, Cape Romano, Everglades National Park and Gulf of Mexico beach.

Average value of homes in Naples – $342,652. This makes Naples a comparatively high-end option for retirement.
3. West Palm Beach
West Palm Beach is a bustling city with cultural events, boat shows and has some of the best spots to go to when the sun comes down. If the ocean is what you love, then West Palm Beach is just the place for you! Jet Skiing, snorkeling, kayaking, parasailing are some of the fun water adventures enjoyed at West Palm Beach by residents and visitors. The place also has some of the finest cycling routes and biking around is the ideal way to get acquainted with the streets. There's some beautiful murals and art installations on the streets which make the city even more aesthetic than it already is. People truly value the city for its lake trails and other recreational options that make retirement lively. It's easy to find something new to do everyday at West Palm Beach.
Nearby attractions – Flagler Avenue, West Palm Beach Fishing Club, Clematis Street, Palm Beach Zoo and Conservation Society.

Average value of homes in West Palm Beach – $254,564.
4. Clearwater
If you choose to live in Clearwater, you'll get some of the most scenic photos to send across to relatives and friends in postcards. The city is naturally picturesque which makes it perfect for hiking and nature trails. Clearwater can seem like an overly populated town, since it's next to the hot tourist spots like Tampa and St.Petersburg. However, it's not too bad because the town has its own quiet spots like the Moccasin Lake Nature Park where you can take a stroll to enjoy the aviary and gardens. This park is just 13 minutes away from the main town.
We'd like to mention that this city does have a strong vacation vibe and in it's own ways, the city manages to make you feel like you're on an endless vacation. The lifestyle here is pretty laid back with everyone joining in to celebrate a beautiful sunset (literally). It's common for musicians and performers to take over Pier 60 at Clearwater to entertain the people every night from 6pm to 9pm. It's truly tough to have a dull moment here when people all across the state come with the single goal of vacationing.
Nearby attractions – Pier 60, Clearwater Marine Aquarium, Sunset Party, The Fred Marquis Pinellas Trail and Clearwater Dolphin Trail.

Average value of homes in Clearwater – $221,179.
5. Sarasota
Warm weather, a slow pace of life, great ocean air, historical landmarks, art galleries and the opera has made the city of Sarasota a hub for retirees from all over the world. Which is why some of the best retirement communities are situated in this region. The town is buzzing with activities all year round and the farmer's market is surely the peak event in Sarasota. There's also sand sculpting competitions, live music events and craft shows that keep communities of the city busy.
Other than conjuring up events all year round, there are a great number of volunteering activities in Sarasota which is something retirees enjoy most here. The city faces the gulf of Mexico, so you can always enjoy the ocean air whilst never getting bored of the views.
Nearby attractions – The John and Mable Ringling Museum of Art, Marie Selby Botanical Gardens, Saint Armands Key, Marina Jack, and Sarasota Opera House.

Average value of homes in Sarasota – $287,207.
6. Saint Augustine
The beautiful quaint little town of St. Augustine is located on the Atlantic coast of Northeastern Florida. The town is appreciated for its rich history, the architecture, the cobblestone paths and cottages that make every walk around the streets pleasant. Saint Augustine also boasts of its live music that you'll find being played at local cafes to large open amphitheatres. Overall, it's a neat looking town where houses have enough backyard space and lawns to maintain gardens. The town does your body good because it has cycle paths, parks to walk in and plenty of options for outdoor sports. St. Augustine also has some cozy cafes, pubs and restaurants where it's fun to just engage in people watching. Beach clothes is all you need to live in, even when you head out of the town. Do note, it's quite easy to visit the growing town of Jacksonville from Saint Augustine because it is just a 45 minutes drive north.
Nearby attractions – Fort Mose Historic State Park, Castillo de San Marcos National Monument, St Augustine Lighthouse & Maritime Museum, Lightner Museum and Saint George Street.

Average value of homes in Saint Augustine – $296,220.
See also: Moving to Florida [Relocation Guide]
Things To Take Care of When You Retire To Florida
Avoid moving during the summers as the roads can be quite busy.
Find a reliable moving service and reserve the mover in advance.
After you arrive, take care of the paperwork. Transfering your social security number, registering your vehicle, opening a local bank account and applying for a Florida Homestead exemption are few of the administrative tasks to be managed if you wish to retire in Florida.
Create a moving budget so you can invest your funds efficiently in activities.
Once in Florida, there's a high chance that you will need a car to get around because city transportation isn't the best. So be sure to invest in one or bring your car along with you.
See also: Best Senior Moving Services
Frequently Asked Questions
Where can I retire in Florida on a budget?
Boynton Beach, Delray Beach, Ocala, Sarasota, and Lakeland are a few popular places in Florida where you can retire on a budget. The median home value in these areas ranges between $160,000 to $310,000. As per Numbeo, the monthly expenses excluding rent, for a single person would range between $1,000 to $1,500 in all these places. Overall, these areas offer affordable as well as active communities for you to retire and will also be able to provide a lifestyle that best suits your needs.
What is the best retirement beach towns in Florida?
If you're looking for some affordable beach towns to retire in Florida, Daytona Beach, Sarasota, and Jacksonville are few popular choices where the average home value ranges between $180,000 to $240,000. Siesta Key and Apalachicola are also some of the best retirement beach towns in Florida that offer a high quality of life to all their citizens.
How much money do you need to retire comfortably in Florida?
The annual cost of living in Florida is estimated to be around $35,000 to 40,000 on average and the average monthly rent in the Sunshine State ranges between $1,100 to $1,700. Keeping these figures in mind, you would have to save at least $175,000 to $200,000 before you plan to retire comfortably in Florida.
Is Florida a good retirement state?
If you like spending time at the beaches and are all up for recreational activities at community parks, Florida is surely a good retirement state for you. Along with boundless sunshine all year round, Florida offers great healthcare facilities and senior citizen discounts for various amenities as well. What's even better is the fact that Florida is a tax-friendly state which means Social Security income and pension income shall all be untaxed. All these features do make Florida a good retirement state for a number of people.
What is the most affordable beach town in Florida?
As per a study conducted by SmartAsset in 2021, Pensacola is one of the most affordable beach towns in Florida. Popularly nicknamed the 'Cradle of Naval Aviation', the median home value in Pensacola is around $182,800 and the monthly housing costs average around $940. Daytona Beach, Fort Pierce, and Fort Walton Beach are some of the other affordable beach towns in Florida.
What's the worst place to live in Florida?
As per data shared by NeighborhoodScout, Florida City ranks as the worst place to live in the Sunshine State. The total crime rate in Florida City is around 119.96 per 1,000 people, with violent crimes accounting for 28.46% and property crimes accounting for 91.50%. These figures are way above the state's average total crime rate as well as the national average. Florida City also does not rank well in terms of education, job opportunities, and affordability.
What is the most dangerous beach in Florida?
With shark-infested waters, New Smyrna Beach is considered to be one of the most dangerous beaches not just in Florida but all over the world as well. Going into the waters at this beach isn't really a safe idea even if you're feeling adventurous.
What is the cheapest and safest place to live in Florida?
Fort Meade is considered to be one of the cheapest and safest places to live in Florida. The median home value here is around $128,500 and the median income is around $51,000. Overall, the cost of living in Fort Meade is a little lower than the national average. The small town also has a relatively low crime rate compared to some other major cities, making it one of the safest places to live in Florida as well.
Where do most seniors live in Florida?
All the places that we've mentioned in our article – Ocala, Naples, West Palm Beach, Clearwater, Sarasota, and Saint Augustine are all popular hotspots for seniors and retirees to live in Florida. You will find a good number of oldies and seniors living in the neighborhoods of all these areas.
How much does it cost to live in a 55+ community in Florida?
The cost of a retirement home in a 55+ community in Florida ranges between $500 to $4,500 per month, with the median yearly costs running close to $20,000. The monthly costs of living in these communities lie between $2,800 to $4,000 which includes your rental cost as well as the average cost of utilities.
At what age do seniors stop paying property taxes in Florida?
Seniors aged 65 years and older are eligible for exemption on their property taxes in Florida. However, there are a few other requirements that must also be met for you to benefit from the exemption. You can get in touch with your local tax appraiser for more details about the taxes you'd have to pay.
Where do the most millionaires live in Florida?
Palm Beach is considered to be the place where most millionaires or rather billionaires live in Florida. The combined net worth of all billionaires in Palm Beach is said to be around $61.6 billion. Miami follows close behind with a combined net worth of around $23.2 billion.
At what age do you stop paying property taxes in Florida?
You have to be aged 65 years or older to be eligible for exemption on property taxes in Florida. However, there are a few other requirements that must also be met for you to benefit from the exemption. You can get in touch with your local tax appraiser for more details about the taxes you'd have to pay.
Where is the most affordable beachfront property in Florida?
Most people will easily be able to afford a beachfront property at Daytona Beach in Florida. The median home value in Daytona Beach is close to $160,000 while the average monthly rent is around $1,100.
What is the cheapest town to live in Florida?
Along with Fort Meade, Live Oak and Quincy are considered to be some of the cheapest towns to live in Florida. The median home costs in these areas range between $110,000 to $130,000 while the median annual income ranges between $38,000 to $50,000.
What is the nicest town in Florida?
Located in the Gulf of Mexico, the island city of Cedar Key is considered to be one of the most beautiful and nicest towns in Florida. The town has some picturesque beaches great for bird watching, fishing, and kayaking. Cedar Key is also one of the perfect spots to witness the charm of old Florida.
---
Conclusion
You can certainly use our guide as your homework on some of the best places to retire in Florida. The state surely calls for a luxurious retirement as it helps appreciate the intangible joys of life such as warm sun, laughter and good sleep. These are few of the things waiting for you in Florida and we hope you have a successful move there!
See also: List of 3 Best States to Retire | Moving from NY to FL | Moving From Massachusetts To Florida