Moving from New York to Florida: Expert Tips & Advice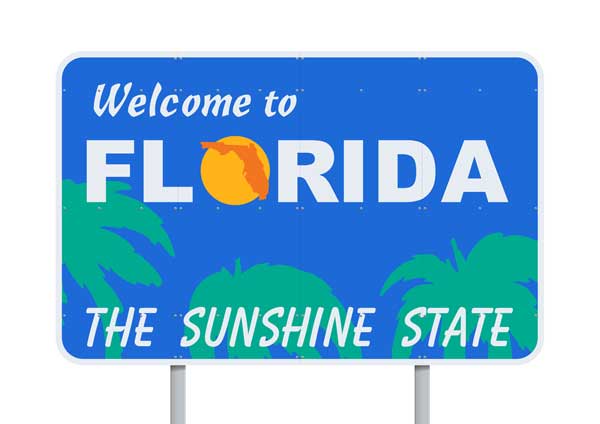 The beauty of the Sunshine State of Florida is tempting and travels far and wide (even upto the minds and hearts of New Yorkers). Today, Florida is the third most populated state in the US. Which could only mean one thing – there are several factors that make it appealing for transplants. Perhaps a tourism advertisement will do a pretty good job at showcasing those to you. But that never truly cuts it for when it's actually time to uproot your home, career and family to a new place.
Even if the perks of living in Florida have specifically touched your heart, there are a bunch of realistic things to consider before you relocate there. If only to avoid falling in love blindly. Therefore, we've compiled a list of factors you should confront yourself with before moving from New York to Florida. Don't worry though, you don't have to do any confronting yourself. We're here for all the advice, heads up and direction you should take.
Factors To Consider Before Moving From NY to FL
Weather Conditions
The fact that Florida is called the Sunshine State actually gives it all away. As a New Yorker, you can definitely say goodbye to shovelling snow out of your driveway, because you're definitely in for an eternal amount of sunshine. You would probably also need to donate all your winter boots and jackets before moving here.
If you've always been a fan of balmy weather, you can blindly mark out the climate as a big pro. But do note that although the state of Florida has its sunny days, it also has its share of occasional hurricane weather. It gets worse the closer you get to the coastline, so do keep this in mind when you're picking a neighborhood for your new home.
You must also factor in the damages hurricane season can bring and keep aside finances for extra insurance. You'll slowly begin to learn that Florida has flood and hurricane insurance too, both for different reasons. So make sure you pick an insurance plan wisely.
Cost of Living
The simple answer to this is that the cost of living in Florida is cheap. Could be dirt cheap too if you're a New Yorker that rolled in a 6 figure income annually. Overall, you'll find that your dollar stretches out way further in Florida. Property tax, housing, gas, food, entertainment and everything in Florida could be 10-20% cheaper. So, annually you're going to be saving a lot of mullah each year. This is simply because New York is on the expensive side of the spectrum.
To live fairly well in Florida, you would require to earn in the range of 40k-60k annually. Do note that this price bracket is considered to be an average and will vary depending on which part of Florida you choose to live in. It also depends on your individual spending habits and lifestyle. Just like costs of living get way higher in Midtown Manhattan, prices start hitting the roof the closer you move to Miami.
Housing costs are contributing factors to creating this huge margin of a difference. So, here is the difference you can expect:
Median Value of Homes in New York – $343,164 (according to Zillow)
Median Value of Homes in Florida – $264,149 (according to Zillow)
Lastly, Florida has no state income tax, so you'll also be able to save considerably because of this particular aspect.
Job Market
There are few obvious pointers that make New York stand out in terms of its job market. It just has a remarkable world renowned image for being the ideal hotspot for job opportunities. The spirit and cosmopolitan nature of business in New York is what makes it a dream city for people in the US and all over the world.
Think New York, you immediately think of the bustle, skyscrapers, multinational companies, Wall Street, business districts and much more. It's easy to come across gung-ho (highly motivated) people to build a network in New York. You have the tech, finance, marketing and media giants, all taking advantage of the fleet of enthusiastic workers in New York. The pay generally speaks for itself and is much higher than Florida. Typically, it could be 40-20% lesser than what you'd earn in New York. To give perspective –
Median Household Income In Florida – $53,267 (according to Niche)
Median Household Income In New York – $65,323 (according to Niche)
When it comes to the job market in Florida, the top three booming industries are real estate, tourism and health. If your line of work is closely tied to these sectors, there's a higher chance of raking in a higher income annually. The service sector is also poised to grow, which isn't actually surprising, since Florida has a population of 21.9 million people that need to be serviced.
Overall, we'd say that you can't let the low salary in Florida deter you completely, as the general cost of living in Florida is also way lower. It's true that it won't match up to figures in New York, but the state is huge with a plethora of job opportunities to take advantage of.
Transportation
Now, when it comes to transportation in both these states, it's like you're comparing two sides of a coin. In New York, you have the extensive subway system or even the bus, both are reliable and cost efficient ways to get around anywhere in the state. These modes are practically the lifelines of transit.
As a New Yorker, you'll probably be used to having all kinds of transit options at your beck and call. Beyond the cabs and intercity buses, New York also has commuter rails, water taxis and ferry services, which sure do bear testimony to that fact. But once you move to Florida, you would see a drastic shift in options.
In Florida, your options are limited and it's basically the complete opposite. This is mainly because the available modes of public transportation aren't as spread out and extensive as the ones in New York. For most parts of the commute you need a car.
In New York, however, you could basically ditch the car and still conveniently reach your destination. But on the plus side, most cities are walkable and bicycle friendly in Florida. So you could switch to sustainable modes to get around, which can also turn out to be quite fun. Although, there's no denying that a car would surely make sense in terms of practicality.
So if public transportation isn't Florida's strong points, what is?
Florida's Strong Points –
An average of 237 days of Sunshine with no bitter winters
663 miles of beaches to choose from
Extremely tax friendly
Laid back and slow paced
Wide array of recreational activities (theme parks, golf courses, nature trails)
Vibrant nightlife and strong vacation vibe
Low housing costs
Great cultural diversity
Booming restaurant scenes
Now that we've summed up the major differences between New York and Florida, let's look at some of the best cities in Florida and all that they offer to those relocating to the state.
See also: Moving to Florida [Detailed Guide]
Top Cities To Move To In Florida
1. Naples
If you hate staying cooped indoors, the city of Naples could be the perfect city for you. The city has a thriving job market, multiple vibrant streets with top-notch restaurants and entertainment. Naples also has a very lively nightlife and you get easy access to pristine secluded beaches. But do note that to an extent, it is a touristy town. That's not to say that you won't find enough residential corners. Naples is also a great choice for retirees. Overall, the city is growing in population and is making progress, so if you move here, you do get to be part of that momentum.
Median value of homes sold – $352,630
Median rent – $1,343
2. Tampa
The bustling little town of Tampa is located on the west coast region of the state of Florida. The most appreciated aspect of the city is the cosmopolitan atmosphere it imbibes. Tampa also has some of the best school systems and universities which makes it the ideal place for transplants relocating with family. The city is filled with neat little playgrounds, parks, bicycle paths and spots where multicultural events take place. If you're particularly interested in having the company of the typical Florida lifestyle, you're sure to find an irresistible slice of it here in Tampa.
Median value of homes sold – $272,167
Median rent – $1,082
See also: Moving to Tampa, FL
3. Jacksonville
Jacksonville is the most populated metropolitan city in Florida with lots of employment opportunities, big city amenities, fancy restaurants and a variety of stores. There's never a dull moment in Jacksonville, since the city is continuously bustling with activities, and probably even mimics the fast pace life of New York. Secret Cove, Deerwood, Greenland, Deercreek and Mandarin are few of the best neighborhoods within this city. Jacksonville is also home to three well-known universities and state colleges – The University of North Florida, Jacksonville University, and Florida State College at Jacksonville.
Median value of homes sold – $207,368
Median rent – $1,029
4. Orlando
The city of Orlando is one of the most exciting and adventurous cities of Florida. It is home to both Disney World and Universal Studios. Besides amusement parks, you also have access to the international airport and a thriving job market. Orlando sits at a central location in Florida, so this even makes it convenient to get around other big cities. All in all, Orlando is great for outdoor sports, events and is home to the renowned University of Central Florida.
Median value of homes sold – $272,605
Median rent – $1,139
See also: Moving to Orlando, FL
5. Saint Petersburg
The beautiful and aesthetic little town of Saint Petersburg is appreciated for its rich history, neat parks, scenic waterfront, quirky stores and much more. The city is naturally picturesque and is family oriented in nature. If you choose to relocate here, you'd be in close proximity to Tampa, which is considered to be the hub for job opportunities. Since St.Pete is a developing city, it is also easy to find new development projects. This surely counts as a perk if you're looking at investing in brand new property.
Median value of homes sold – $253,032
Median rent – $1,067
Things To Take Care Of When You Have To Move To Florida
Remember that this is a long distance move, so you have to be prepared to book movers well in advance. We suggest at least getting 3 in-person quotes from different moving companies before confirming a service.
Ensure that the estimate derived by your moving company is based on weight and not cubic feet.
Check for red flags in the earlier stages of confirming a moving company. We recommend looking up the USDOT number of the moving service provider, reading their testimonials on Better Business Bureau, and feedback on Google Reviews.
Consider the distance between New York and Florida, which is approximately 1,145 miles and ask yourself if you'd prefer to drive to your new location or fly. Choose the most feasible option.
If you're thinking of moving during the summers, ensure that you've booked your full service movers in advance, as it is peak time for transplants to move. The roads could be super busy and your favorite moving service could be booked out.
If you can afford to, we recommend flying down to your destination to set up a few things as this would ease your long distance move.
New York to Florida Moving Costs
Now, the average moving costs from New York to Florida could fall in the range of $3,000-$6,000. We suggest finding a quote in this bracket and not beyond. However, do keep in mind that this is just an average estimate and costs could vary depending on several factors. Before you lockdown on the quote, it is important to understand how much help you need. Depending on the number of services you need assistance with, your bill could amount to a larger sum.
For instance, if you're on a tight budget, you could choose to do the packing and unpacking of your belongings independently. This way you save on costs. However, if you take assistance with packing, unpacking, loading, unloading, hiring a rental truck with a driver, disassembling furniture, cleanup, storage and so on, your total costs will automatically fall in the average high range. Simply put, things would cost more if you don't have to lift a finger. The more you independently intervene with the move, the less costly it can get.
You should also be prepared to share minute details such as the exact zip code of your new home so that you get an accurate estimate. We also recommend understanding the breakdown of the fee so that you make an informed decision. Your quote would be affected by the smallest factors such as the time of the year, size of your house, number of staircases and even the number of bulky items like a piano, pool table and fridge among many others.
Lastly, determine the pick-up and delivery times so that you can plan out your moving schedule accordingly.
FAQs about Moving fro New York to Florida
Why do New Yorkers love Florida?
One of the major reasons why New Yorkers love Florida is because its residents do not have to worry about paying the state or personal income tax. But then again, corporations are subjected to pay the state income tax. In addition, Florida has warm weather, unlike New York, where winters can be pretty frigid. To add to that, Florida also has a lower cost of living compared to New York. Let's not forget the Miami beach and Walt Disney World in Orlando, which are the major attractions for New Yorkers and tourists around the world.
What's the cheapest city in Florida to live in?
Kissimmee can be considered one of the cheapest places to live in Florida. Buying a property isn't too expensive here as the average home value is approximately $248,550, as shared by Zillow. Moreover, the estimated household income is $39,841 which is relatively affordable than other cities in Florida. If at all you're not ready to own a house, the average monthly rent would be around $1,091 for a single person and around $1,729.30 for a family of four and hence quite affordable. The average cost of utilities is around $200.26 per month which is relatively cheap compared to other cities.
Why are houses in Florida so cheap?
Well first off all, there's no scarcity of land in Florida, which definitely plays a part. Then, there's also the case of Florida having a median household income of just around $50,883, which is fairly lower than the national median income of about $57,652, as shared by Census Bureau. Relatively lower wages tend to pull the real estate value down to an extent. Let's not forget, the Sunshine State also has relatively smaller houses compared to some other states. It's one of the big reasons why people choose to buy a house in Florida after their retirement. That and the warm weather of course. Do keep in mind that southern Florida can still be a bit expensive because the region faces a scarcity of land.
What is middle class income in Florida?
The 24/7 Wall St reports state that the middle class holds around 44.8% of the total share of household income in Florida. The analysis by 24/7 Wall St. carried out based on the 2018 American Survey by the U.S Census Bureau states that the average minimum household income of the middle class should be around $26,023 every month.
---
Conclusion
By moving to Florida all the way from New York, you swap your lifestyle with a state that has an overall lower tax burden, a slower pace of life, larger-than-life events and endless outdoor adventure. If these are few of the things that align with your interests and priorities, then Florida could be the answer for you. However, moving homes is a life-altering decision. Therefore, it's best to ask yourself if you're ready to embrace all the strong points of Florida before you take the leap. Now that you have a fair idea of all that Florida has in store for transplants, you can make a more holistic decision.
See also: Best Moving Companies in NYC | Best Cities in New York