Moving to Tampa | 2021 Cost of Living and Relocation Tips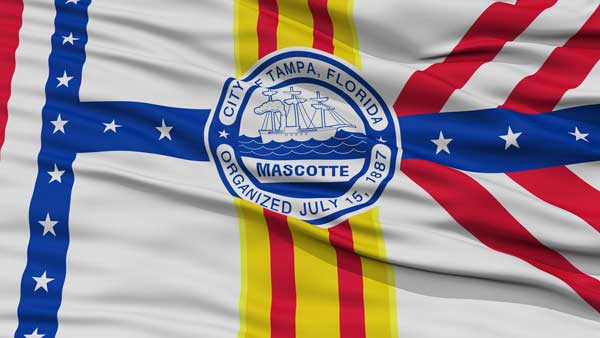 So you have decided to move to Tampa, Florida. Whether you are moving there alone or with your family, you are sure to have a great time. Tampa has lots of excellent education, employment and business opportunities. It also has spectacular scenic views of the ocean, beaches, rivers, lakes and amazing greenspaces. Plus, the city has a wide range of exciting, enjoyable, entertainment options for children, adults and senior citizens. Tampa also boasts a wide array of comfortable housing options that are affordable on any size budget and offer easy access to work, school and play.
Where It Is
The city of Tampa is located on the west coat of Florida near Tampa Bay, a mere stone's throw from the Gulf of Mexico. One of the southeastern United State's largest metropolitan areas, the Greater Tampa Area is made up of the cities of Tampa, Clearwater, Sarasota and St. Petersburg as well as their four surrounding counties.
Tampa is surrounded by water. The Gulf of Mexico along with Tampa Bay form Tampa's western border. The Palm River is on the city's east, McKay Bay is north of the city and the Hillsborough River passes through Downtown Tampa.
Florida's Largest Port
Florida's largest and most diversified port, Port Tampa Bay, is located near the Channel District in downtown Tampa. The port handles container ships, cruise lines and tank ships. It employs over 85,000 people and generates annual revenues in excess of $15.1 billion. Opened in 1924, Port Tampa Bay is operated by the Tampa Port Authority and is the region's largest economic engine. Total port-related salaries, wages and local consumption in the Greater Tampa Area is estimated at about $5.1 billion annually.
Size, Topography And Population
Encompassing an area of 175.3 square miles, 61.8 miles of which is water, Tampa has a low-lying topography that's only 48 feet above sea level at its highest point.. Just over 385,000 people live in Tampa, while the Greater Tampa area has about 4 million residents. Tampa transplants feel very comfortable because most of the residents moved there from somewhere else. The city is growing at a very impressive rate with individuals of all ages, couples and families being drawn there because of its diverse employment opportunities, great retirement communities, excellent quality of life and vibrant, wide-ranging arts, entertainment and culture scene.
Fantastic Weather, Beautiful Beaches
Many people also move to Tampa, Florida is because of its amazing weather and beautiful, scenic beaches and waterways. The city's average temperature in winter is a balmy 65.1 degrees. That makes Tampa very attractive. Plus, although the average summer temperature is almost 82 degrees, there's almost always a breeze blowing off a nearby body of water. Tampa transplants biggest concern is the city's summer weather with its daily rain showers, intense humidity and occasional hurricanes. But the easy access to the beautiful beaches nearby more than make up for it.
Low Cost Of Living in Tampa, FL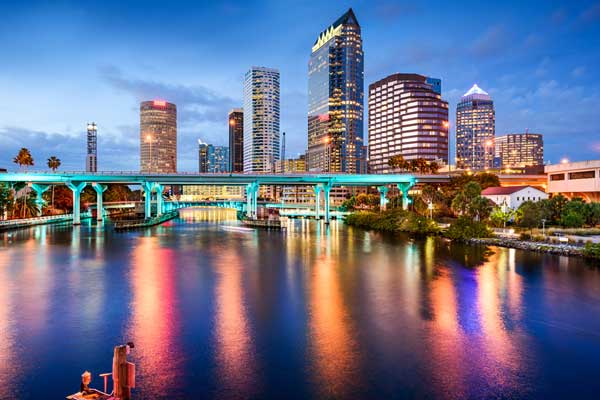 The median wage in Tampa, Florida is about $46,080 a year. But the cost of living is lower than the average American city of its size, so your money goes a long way. Housing prices are very affordable and there are lots of great housing options whether transplants are looking for a house, condo or apartment to rent, lease or buy. Commuting to and from work is breeze. The average daily commute is a little over 27 minutes. Plus, in the Greater Tampa area you can drive to work or take a bus, trolley, or streetcar into downtown Tampa, the Channel District, Ybor City or Harbor Island.
A Diverse Population
Tampa population is very diverse population when it comes to age, race, cultural background, sex, marital status and income levels. The median age of Tampa residents is 34.7. People under 18 make up 24.6% of the population, 18 to 24 year olds is 10%, 32.3% of Tampa residents are between 25 and 44, just over 20% are between 45 and 64 and people 65 and older make up 12.5% of Tampa residents. About 63% of the population is White, 26.2% is Black, 3.4% is Asian, 0.4% are Native American and 3.2% are of mixed race. In Tampa, the most common languages spoken are English, Spanish, French and Italian.
Sex, Marital Status And Income
There are 196,703 women living in Tampa, making up 52% of the population. There are 180,469 men there. That's 48% of the population. Just over 40.49% of Tampa residents are married, 41.1% have never been married, 2.71% are separated, 5.15% are widowed and 13.26% are divorced. The average man living in Tampa earns $40,461 a year and the average annual income of women is $29,868 and the unemployment rate is 3.4%. Tampa's median family income is $65,196. That combination makes Tampa very attractive to people from all over the country.
Relocation Tips
If you are serious about moving to Tampa, Florida, there are several important steps you should take before you begin to pack. First, you have to decide where in Tampa you are going to live and if you are going to rent, lease or buy an apartment, condo or house. You should look or a neighborhood in Tampa where you would be comfortable. You should make sure it's in a location you will enjoy, has all the amenities you need and is being offered at a price you can afford. It's important to research it thoroughly before making a decision.
Tampa's Best Neighborhoods
There are about 72 distinct neighborhoods in Tampa from which transplants can choose. The ten areas in Tampa that are considered the best for home buyers are:
Parkland Estates
Harbour Island
Bayshore Beautiful
Palma Ceia
Belmar Gardens
Sunset Park
Ballast Point
Bon Air
Virginia Park
Culbreath
Median home values in those neighborhoods range from $296,000 to $646,375 and the median income of the families living in there is between $73,000 and $142,082.
Tampa's Most Affordable Neighborhoods
If you have a modest income and are looking for a more affordable area to buy a home in Tampa when you relocate there, consider researching homes in the following less expensive Tampa neighborhoods:
West Riverfront
University Square
Highland Pines
Forest Hills
Tampa International Airport Area
Tampa-Bayshore Gardens
Northview Hills
Rattlesnake
Drew Park
Port Tampa City
In these neighborhoods, the median home value ranges from $21,625 to $165,000 and the median income of people living in those communities range from $22,667 to just over $65,000. These communities may not be in Tampa's prime locations, but they often provide more space for your money, a lower income to home value ratio and a cost of living that's more affordable.
Average Home Rental Costs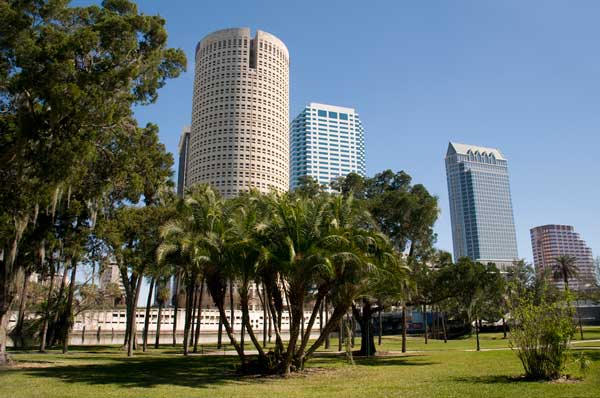 The median price of a home in Tampa is about $219,400, so many transplants often choose to rent a home or an apartment until they get settled. While it's possible to rent a home or apartment in Tampa for anywhere between $700 and $2000 a month depending on its size, location and amenities, the median price of a rental property in about $1,300. For that price people get all the modern conveniences and easy access to Tampa's diverse, dynamic, food, greenspace, entertainment, downtown area, waterways and transportation options. All transplants need to top it off is a friend with a boat.
Find A Good Job
Although the cost of living in Tampa is very affordable, transplants need a good job to provide them with the income they need. If your current job is not transferring you to their Tampa office, you should begin looking for a job in Tampa months before you plan to move there. Research shows Tampa had Florida's best job market in 2019 especially for tech and IT workers. The city's strong job market is bolstered by large employers like Publix Super Markets, BayCare Health System and other healthcare organizations, MacDill Air Force Base and the University of South Florida and other educational institutions. Plus, the hospitality and tourism industries are booming and employers are always looking for workers. Transplants should put them high on their job search list.
Find A Good Moving Company
Once you have found a job and a place to live in Tampa, the next step is finding a good long-distance moving company to take your things to Tampa. Reliability and excellent customer service are two important qualities to consider when looking for the best long distance moving company for your needs. That's because most long distance moving companies charge very similar rates. The key is to find a reliable mover with the proper certifications, that is licensed, bonded and insured and has a track record for showing up on time, protecting their cargo and satisfying their customers.
What To Look For
When trying to decide which long-distance moving company you should hire to move your things to Tampa, there are several things to which you should pay particular attention. Those things include:
Company History
Customer Reviews And Approval Ratings
Department Of Transportation Registration
Proper Registration And Certification
FMSCA And AMSA Special Certifications
Clear Pricing Models
24/7 Access To Customer Service Representatives
Better Business Bureau Rating
Responsiveness
Experience
Consider only companies that are properly licensed, bonded and insured, have properly certified staff, receive outstanding reviews, respond immediately to your calls and have years of experience successfully moving people from state to state without significant problems.
The Services They Offer
The last step in deciding on the long-distance company you should use is the list of essential services they provide for the price. A good full-service moving company will offer tailored moving services or custom relocation packages designed to fit your specific needs. Free short-term storage, a guarantee all items will arrive at your destination safely, help with packing, handling all loading and unloading, the ability to complete the entire move in the timeframe you need and communicate key information on the route and other important details in a timely manner are all important services.
Get Rid Of Unwanted Items
When moving to Tampa, Florida from another part of the country, you should begin the packing process several months in advance. This will enable you to carefully go through the things in your home and decide what you will keep and what has to go. By beginning this process months before you plan to move, you have time to sell, donate, give away and throw away all the things you don't want. This gives you significantly less items to move and can put some extra money in your pocket. The money can come in handy and dramatically reduce the number of things you have to pack and transport.
Packing Tips
When packing for a long-distance move, it's essential to use professional strength moving supplies. Long distance moves increase the risk of belongings being damaged. Using high-quality professional, packing and moving supplies can help your valuable items arrive without being damaged. Buy high-quality moving boxes from a company that specializes in moving supplies. Fragile items should not be put in used boxes. Wrapping items in packing paper or newsprint protects them from scratches or other damage. The protective air pockets of bubble wrap provides cushioning for breakables.
Industrial strength packing tape can secure boxes and prevent them from collapsing.
Labels And Inventory Lists
To make it easier to keep track of which items you have packed and which boxes the things you need are in, label the boxes and attach an inventory list of the things in them. Pack items like out-of-season clothing, knickknacks, books and DVDs you rarely use first. Items like toiletries, bedding, computers and cookware that you use every day should be packed last. Write 'Fragile' on the moving boxes that contain breakable, delicate and sensitive items. Label each moving box with the name of the room from which the items inside came. This keeps the packing process organized and will help make unpacking a breeze.