Largest Cities In New York


VanLines Inc
Secure Storage
Easy Booking Process
Fully Trained Employees
GET QUOTE

Colonial Van Lines
Storage Services
Long-Distance Moves
Corporate Relocations
GET QUOTE

Moving APT
Vetting Process
Award-Winning
Available Nationwide
GET QUOTE
Our Take
Price
Rating
Minimum Shipment Size
Storage
Booking Deposit
Cancellation Policy
Quoting Options
Discounts

Best Overall Value


GET QUOTE

2+ bedrooms




Free 30 Days




10%

Free up to 72 Hrs

Phone / FaceTime / Text

Senior / Same day Booking

Best Industry Reputation


GET QUOTE

1+ bedrooms




30 Days




20%

Free up to 72 hrs

Phone / Facetime

Seniors Discount

Best Customer Service


GET QUOTE

1+ bedrooms







Free up to 72 hrs

Phone / Virtual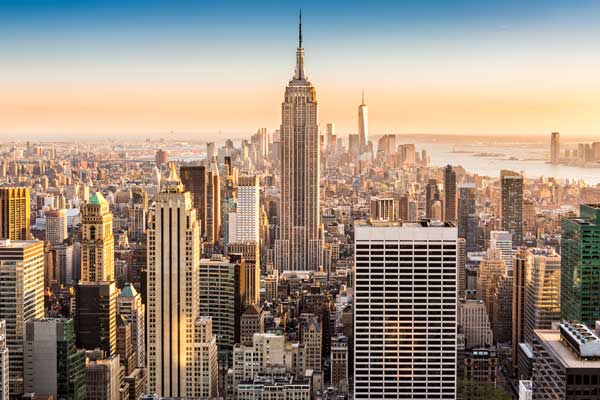 You'll agree that the Empire State's character is almost synonymous with NYC. For that reason when you think of the state – The Statue of Liberty, Times Square, and tall skyscrapers are what come to mind first. That's also why if you're thinking of moving here, your first option might be NYC. However, in reality, there's a list of other cities throughout the city that you can consider as well. Let's explore all the largest cities in New York, including NYC, and give you have an idea of them all. These are some of the largest cities in New York based on population.
10 Of The Largest Cities In New York
1. New York City
No prizes for guessing this, but NYC definitely deserves the first place on this list. After all, it is the City of Dreams and has an energy that can rarely match the likes of any other. The people of NYC are made up of go-getters and if you vibe with that, you might enjoy settling here. Keep in mind that the lifestyle of part of the state is fast-paced. And that's also the reason why one of the many pros of living here would be the enormous work opportunities! The city is a hotspot for business centers and startups alike. The business-friendly nature of New York City helps you build larger networks.
It's also a city where you can dream to live without a car because you'll have a wide variety of public transit options to choose from. You have access to the subway, which is the lifeline of the locals that live here. Besides that, you can also depend on buses and rail systems run by the Metropolitan Transportation Authority (MTA). Some of the best neighborhoods to reside within this city include Upper East Side, Greenwich Village, SoHo, and Battery Park City. If you'd like to be part of a diverse community, NYC could be the best choice for you.
Population – 8,177,025
Median Home Value – $737,699
Median Rent – $4,140/month
See also: Moving To NYC
2. Buffalo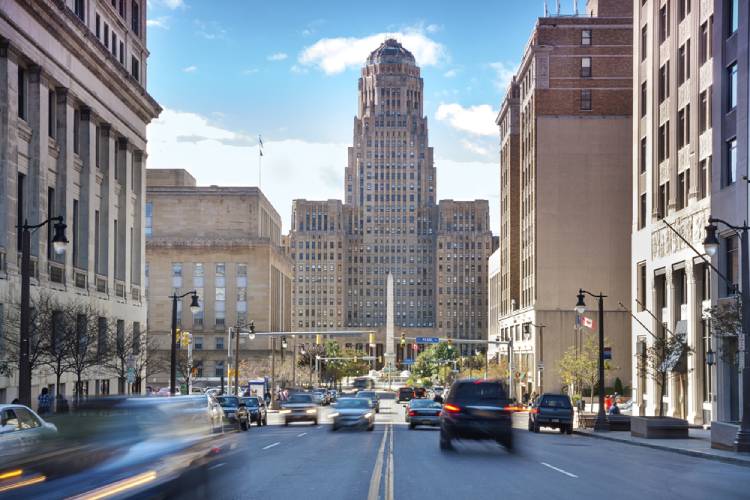 Buffalo is one of the more inexpensive cities to consider living within the state of New York. It's also the second-largest city in the state. The pace of living here is slightly tamer than the up and running pace of New York. The city is also home to beautiful recreational spaces and if that's a priority, you'd enjoy making the decision to move here. Buffalo also has a lengthy riverside, which gives you opportunities to step out to go kayaking, fishing, or just have a picnic.
Besides having green spaces, it is also easy to fall in love with the historic charms of the city. You'll have stunning cultural institutions like Albright-Knox Art Gallery, Shea's Performing Arts Center, and Buffalo Philharmonic Orchestra within your reach. If living in a city that has a good number of museums, galleries, historic and cultural sites matters most to you, Buffalo won't disappoint. The biggest upside to choosing to live in Buffalo is also the fact that Niagara Falls is just a 40-minute drive away. Some of the best neighborhoods within this city include Elmwood Village, Allentown, Central Park, and Downtown Buffalo.
Population – 253,793
Median Home Value – $194,109
Median Rent – $1,146/month
3. Rochester
Rochester is the third-largest city in population, so you'll find it to be less congested, quieter, and more residential in comparison to the likes of NYC or Buffalo. Rochester certainly delivers when it comes to offering residents a tight-knit community. This is mainly because the city is less crowded and people are known to be generally friendly too. Besides coming across as a big city with the vibes of a small town, you should also know that housing in Rochester is on the affordable side.
It can also be an enjoyable place to live because the city hosts a couple of interesting events all throughout the year. If you enjoy golfing for recreation, you'll be happy to know that the city has an average of 60 golf courses. All in all, the city is a great pick if you're looking for a place with a balance of work and play opportunities. To end with, here are some of the best neighborhoods to pick if you're considering moving to Rochester – Cobbs Hill, Park Avenue, Highland Park, and Southwedge.
Population – 204,768
Median Home Value – $198,158
Median Rent – $1,169/month
4. Yonkers
As you may know, the 'City of Seven Hills' is a phrase used towards the city of Rome because it was, in fact, built on 7 hills. Yonkers is also dubbed the 'City of Seven Hills' for the very same reason. So if you choose to reside in Yonkers, be assured that it will be far from a concrete jungle. After all, it has plenty of green spaces, and the 7 hills namely Park, Nodine, Ridge, Cross, Locust, Glen, and Church Hills contribute to that. As the hills form the backdrop of the city, you also have numerous options for hiking, camping, and treks.
The pros of living in Yonkers is that its in extremely close proximity to the five boroughs of NYC. It also is a city bustling with energy and is vibrant like the other boroughs of the state. So if you initially planned to relocate to one of the boroughs of New York but found prices to go way over your budget, you must consider Yonkers. It surely is far from a sleepy town and relatively inexpensive to the boroughs, which is something that you'd probably enjoy about living here. Overall, Yonkers is a terrific place and has a great number of diverse neighborhoods. Some of the best are Easthill, Scarsdale, Woodcliff Lake, and North Hills.
Population – 201,831
Median Home Value – $616,941
Median Rent – $2,149/month
5. Syracuse
Syracuse is among the most lively cities to live in the state of New York. This is probably owing to the presence of so many educational institutions within the city. To name a few, there's Syracuse University, State University of New York (SUNY) Upstate Medical University, SUNY College of Environmental Science & Forestry, and Le Moyne College. Due to this, the city certainly attracts a decent population of students. To keep its majorly young population on its feet, the city is home to dozens of entertainment spots, eateries, and hosts big events as well. So when it comes to food, drink, events, and entertainment, you'll be spoilt with choices in Syracuse!
In its essence, the city values community living and isn't as rushed as NYC. When you're in the mood to explore cities in the fast lane, you can always drive to Rochester or Buffalo, which lie in close proximity to Syracuse. The city is also reasonably inexpensive when it comes to housing. Some of the best neighborhoods to select if you choose to live in Syracuse would be Eastside, Strathmore, Washington Square, and Wescott.
Population – 141,076
Median Home Value – $150,589
Median Rent – $1,259/month
6. Albany
Albany is the capital of the state of New York, making it a dominant city to reside in. The upside of living here is you are in a prime location. For instance, NYC, Jersey City, and Boston (Massachusetts) are easily accessible. It would take you an average of 3 hours to get to these cities. So picking Albany would be an ideal choice if you wish to remain well-connected with the principal cities in and around the state of New York. You can also reach Montreal (Canada) within 4 hours. All in all, the location of this city gives you ample opportunities for day trips and weekend getaways.
Considering Albany is the capital, you can trust it to be a notable city for job opportunities. Some of the top-performing industries include healthcare, education, and technology. There's also a huge presence of government companies within the city since it's the capital of the state. Albany also has historical hotspots and beautiful parks for recreation. Washington, Ridgefield, and Buckingham Park are some of the popular ones. Some of the nice neighborhoods to live in Albany include Helderberg, Pine Hills, New Scotland, and Park South.
Population – 94,807
Median Home Value – $252,899
Median Rent – $1,392/month
7. New Rochelle
New Rochelle is situated on the southwestern side of New York state. It sits at a great location as it is just a 40-minute drive away from NYC. Your first impression of the city will be that restaurants, libraries, and markets are easily accessible. One of the upsides of living here is that the city is extremely walkable, you might want to leave your car in the garage for days and just bike around instead.
The city is also dotted with recreational parks. The Davenport and Five Islands Park within the city are among the most impressive. As New Rochelle isn't as populated as the central areas of NYC, it has more open spaces. It can also be considered a great choice for retirees and families with kids. Even though real estate is expensive here, the city is known to be diverse and is filled with different ethnic communities. Some of the more desirable neighborhoods to reside within the city include Beechmont, Paine Heights, Wykagyl Park, and Forest Heights.
Population – 77,762
Median Home Value – $784,588
Median Rent – $2,351/month
See Also: Top Long Distance Movers In New Rochelle
8. Cheektowaga
The charming little city of Cheektowaga is 15 minutes away from NYC and has the essence of quiet, aesthetic areas. If you're thinking of living here, you'd want to get the pronunciation right. The city name goes as Ji-ik-do-wah-gah (say it out loud and that should help you out). The pros of living here are that you're not too cut off from Buffalo, which is a vibrant city for entertainment and finding great eateries for bites to eat. There's also barely any presence of tension and congestion in Cheektowaga, which sets it apart from cities packed with crowds. You also have the Buffalo Niagara International Airport within city limits, which is a great upside if you travel often.
Population -73,740
Median Home Value – $226,354
Median Rent – $1,035/month
9. Binghamton
The calmness and warm friendly nature of locals in Binghamton can take you by surprise. This town also lies in close proximity to Syracuse, Rochester, Ithaca, and Buffalo. So when you want a break from the quietude of the city, you can also drive to more bustling towns in the vicinity. The city has a decent food, art, music scene and mimics the vibe of a small town even though it isn't.
You should also know that Binghamton lies on the border of Philadelphia and you reach the state in less than 3 hours by road. Interestingly, the overall cost of living in Binghamton is considerably lower than in the other parts of New York. Chenango Bridge, Vestal, and Apalachin are some of the best neighborhoods to live in Binghamton.
Population – 43,202
Median Home Value – $152,616
Median Rent – $746/month
10. Ithaca
Ithaca is situated in the Finger Lakes region of the state of New York. This portion of the state is surrounded by plenty of natural beauty. If you're looking for some peace, quiet and stunning scenery, then Ithaca is the place you'd end up falling head over heels with. You should also know Ithaca has some gorgeous waterfalls within the city. The most iconic ones are the Ithaca and Triphammer falls. You will also have breathtaking trails at your disposal such as the Black Diamond Bike Trail and Cascadilla Gorge Trail. Overall, you can be assured that there isn't any shortage of green spaces in Ithaca.
So if you choose to live here, you won't have a hard time finding parks, picnic spots, camping sites, and hiking trails. After all, the city is right adjacent to Cayuga Lake which is one of the recreational spots in the Finger Lakes region. Some of the best neighborhoods to live in Ithaca include Collegetown, Fall Creek, and Belle Sherman.
Population – 31,317
Median Home Value – $260,244
Median Rent – $1,650/month
Also See: Cheap Places to Live in New York
FAQs On Largest Cities In New York
What Are The 4 Largest Cities In New York State?
New York City is the largest city in the Empire State in terms of population. It is closely followed by Buffalo, Rochester, Yonkers, and Syracuse.
Which City Is The Best To Live In New York?
New York City is considered the best to live in the state of New York because of the vibrant energy, diversity, transit options, and work opportunities. Albany is also rising through the ranks to be a phenomenal city to live within the state.
Which Cities Are In Upstate New York?
Binghamton, Albany, Syracuse, Rochester, and Buffalo are some of the major cities in the Upstate side of New York.
Also See: Top Listed Out of State Moving Companies in the USA | Moving From Texas to New York – Expert Tips & Advice | Moving From Chicago To New York – Expert Tips & Advice