Moving From Chicago To New York – Expert Tips & Advice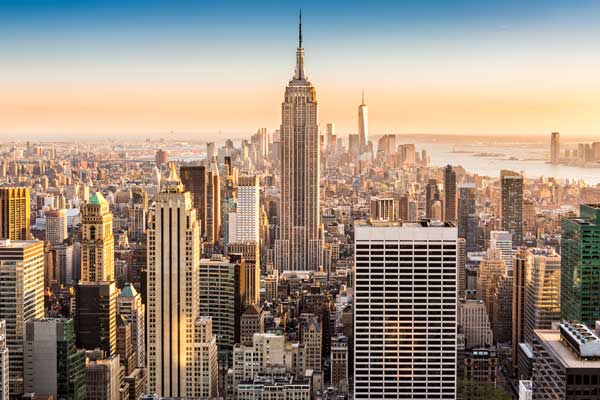 The midwest metropolis of Chicago, Illinois, is known for its towering skyscrapers more than anything else and ranks well in the livability index. Tell you what, Chicago's going to miss you. And the one thing you're going to miss the most about Chicago is walking along the spectacle called Lake Michigan.
So you want to move to the state of New York from Chicago but can't decide where exactly to take up residence? No problem! We can definitely help you here. The biggest common ground these two places share is that both are among the most desirable places to settle down in. Apart from this, both offer crackerjack entertainment options, public attractions, great food, and amazing public transportation.
Firstly, it would be helpful to stop imagining New York as a concrete jungle just because of New York City. This might come as a shocker but the state is more about lakes, rivers, forests, farms, mountains, and beaches. Home to nearly 20 million people, New York is known for its rich history, diverse culture, nightlife venues, etc. There will never be a dearth of options since there are so many different things and places to cover. Let's have a look at the factors that will play a part when you're moving from Chicago to New York.
Factors To Consider Before Moving From Chicago To New York
Weather Conditions
The city of Chicago and the majority of the state of New York have a continental climate with bone-chilling and windy winters, while its summers are hot and humid. While Chicago gets around 190 sunny days in a year, New York gets 225 days. The former experiences 35 inches of snow every year whereas the latter gets 25 inches of snow annually. When it comes to rainfall, New York (47 inches) beats Chicago (38 inches).
Let's look at the difference in temperatures during peak winters:
January is the coldest month in Chicago and the average temperature is 19.2°F.
January is the coldest month in New York with an average temperature of 26.1°F.
Here's the difference in temperatures that you can expect during peak summers:
July is the hottest month in Chicago with an average temperature of 83.9°F.
July is the hottest month in New York and the average temperature is 84.2°F.
From severe summers and winters to beautiful spring and a colorful fall, the people of New York get to enjoy the different types of weather right through the year. Don't forget the fact that New York's summers and winters often go to extremes. You'll see temperatures over 100°F during the months of June, July, and August and you'll also get to experience freezing temperatures of around 15°F in the months of December, January, and February. Prepare accordingly.
Cost Of Living
For most people, the most important factor in the whole process of moving from one place to another is the cost of living. Although Illinois is below the national average (100) with a score of 94.5 which means that people of Illinois spend less than the average US citizen, Chicago has a different story. The city is above the national average at 107 in the cost of living index.
However, your expenditure on groceries, healthcare, transportation, house, electricity, etc. is going to increase by quite a bit when you reach New York. It's the third most expensive state in the US with a cost of living index of 139.1 which is way above the national average. The biggest reason behind this is the high prices of real estate in the state. Continue reading to know how much is it that people are required to spend to buy a house in New York.
Buying A House
The biggest challenge for anyone who is moving to New York will be buying a house. According to Zillow, the median home price in the state is a massive amount of $377,190. This rate has seen a jump of 13.5% from January 2021 to January 2022. It might be helpful for you to know that the median home value in the entire country is $325,677. And finally, it is $306,098 in your current city of Chicago which is below both New York and the national average.
Renting A House
Bravo on the decision of living as a renter in New York. It's always the preferred choice for most people. The monthly average rent for a studio apartment in New York is $1,364 while for a 1-bedroom apartment and a 2-bedroom apartment, it's $1,460 and $1,717, respectively. Some of the best places in New York to become a renter are Riverdale, Hamburg, Sunnyside, Glens Falls, Bay Ridge, etc.
In Chicago, the monthly average rent for a studio apartment is $1,645, for a 1-bedroom apartment, it is $2,065 and for a 2-bedroom apartment, it is $2,560.
Utilities
What are utilities? The basic services that are required to keep your home and business running smoothly like water, gas, electricity, internet, cable TV, etc. The average utility bill for the citizens of the US is $236 per month. Although the cost of living index shows that New York sits well above the national average, the difference is not much when it comes to utilities. The average utility bill in the state is $235. But it's a little more than $225 which is the average in Chicago.
Job Market
New York is the third-largest contributor to the growth of the country with a GDP of $1.893 trillion while the state of Illinois is in the fifth position with a GDP of $956.36 billion. The robust job market in New York is the biggest reason why the state attracts people in large numbers. More than 8 million people have stable jobs in around 500,000 business entities all over New York State. Some of the fastest-growing industries in the state are retail, real estate, consulting, technology, construction, transportation, food service, and healthcare. And some of the most in-demand jobs are software developer, marketing assistant, data analyst, accountant, registered nurse practitioner, etc.
The state's medical centers, private and public hospitals have over a million people working for them. If you're someone who is looking for a job in the government sector, you'll be delighted to know that the state government has more than 1,500,000 positions all over the state. With more than 200,000 teachers already at work, the education sector also has a great number of opportunities.
While the median household income in Chicago is $58,247, it's $68,486 in New York. The unemployment rate in New York is 2.4%, much better than the unemployment rate in Chicago which is 5.4%.
Transportation
The Chicago Transit Authority (CTA) offers its citizens so many options of efficient public transport that it's extremely convenient for anyone to get to any point in the city. You can either use the L trains, CTA bus services, Metro Rail, or opt for bicycles and cabs. Chicago has the second-largest public transportation system in the country but at the same time, people love to walk as well.
The New York State Department of Transportation is responsible for the development and operation of the state's railroads, highways, aviation facilities, etc, and has always done a commendable job. Greyhound is an intercity bus service provider that serves the entire North America including the state of New York. In addition to this, a CoachUSA subsidiary called MegaBus provides residents with intercity trips within New York.
If we talk about the railways, there are three separate commuter railroads in operation — the Long Island Railroad, Metro-North Railroad, and the New Jersey Transit. Amtrak operates multiple passenger trains like Maple Leaf, Empire Corridor, Adirondack, Ethan Allen Express, Acela Express, and Lake Shore Limited.
Is the dreamlike New York City your new place of residence? The most popular mode of transportation among the people of the city is the subway. It's the largest subway system in the entire world and it runs 24 hours a day.
Of course, you must have heard of the airports in New York City — John F. Kennedy International Airport, LaGuardia Airport, and Newark Liberty International Airport. But the large state is well connected to the rest of the world through airports in other cities as well like Buffalo Niagara International Airport, Greater Rochester International Airport, Albany International Airport, and Syracuse Hancock International Airport.
New York's Strong Points
Entertainment: A plethora of indoor and outdoor activities await you in New York. With options as exciting as skiing, hiking, museums, live music, and festivals, you'll forget what it feels like to get bored.
Low Crime Rate: The crime rate in the state of New York is low and below the national average. The state constantly features in the list of 15 safest states in the US.
Dynamic Culture: Since New York has a diverse culture, it's always full of sparkle and energy. The state offers the best options for entertainment, food, art, music; you get to meet people from different corners of the world and learn about their cultures.
Job Opportunities: The state has a booming job market and the number of opportunities is huge. There are as many different fields and work opportunities in New York as you can think of.
Top Cities To Move To In New York State
Who hasn't dreamt about living in New York City or at the least, visiting it at some point in their life? No one! It's not possible. Also known as The Big Apple, the city has a population of around 8.5 million people. It consists of five boroughs — Brooklyn, Manhattan, Queens, Staten Island, and The Bronx. New York City is one of the most energetic cities in the world with diverse culture, arts, music, rich history, architecture, great job opportunities, countless entertainment options, food, and amazing nightlife. Tall and stylish buildings along with historical landmarks are aplenty in the city of dreamers. It has violent and property crime rates of 5.80 and 20.00 per 1,000 residents, respectively.
Median Home Value: $741,622
Monthly Median Rent: $3,250
Also See: Top Neighborhoods To Live In Manhattan | Best Movers In Queens, New York
If someone is on their way to see the stunning Niagara Falls, they're bound to cross New York's second-largest city, Buffalo, which is just 20 miles away. Buffalo lies to the east of the scenic Lake Erie and is New York's second-most populous city as it's home to 278,349 people. You'll love the city a little more than others if you're interested in skiing, kayaking, and hiking. Also, it's a sports town just in case you're a football or hockey fan. People have a big lot of stuff to choose from — concerts, events, nightlife, restaurants, coffee shops, bars, parks, etc.
Buffalo attracts large numbers of people because of its affordable housing, education, and job opportunities. It has violent and property crime rates of 9.43 and 29.02 per 1,000 residents, respectively.
Median Home Value: $195,614
Monthly Median Rent: $1,146
Albany
Why would you think that New York's capital is New York City? It's Albany. Home to more than 100,000 people, Albany will be there on every list whenever you search for the best place to live in New York. It's located 150 miles to the north of New York City along the Hudson River. Among all the cities in the state, Albany is considered more affordable because of its comparatively lower cost of living and real estate prices. It also offers a booming job market, higher education, history, architecture, and rich cultural heritage. It has violent and property crime rates of 8.85 and 27.57 per 1,000 residents, respectively.
Median Home Value: $253,575
Monthly Median Rent: $1,392
Syracuse
There are around 150,000 people living in the city. Are you the kind of person who would rather stay away from the hustle and bustle of a metropolitan city? Well, Syracuse is the place for you. You're going to love everything about it. Having said that, you still have a lot of entertainment options for yourself like amazing festivals, cafes, restaurants, sports, live music, etc. The snow lovers, in particular, are in for a treat as Syracuse gets approximately 120 inches of snow every year.
The city is considered one of the best places to live for a number of reasons, some of which are its central location, affordable housing, great quality of life, and excellent education. It has violent and property crime rates of 8.22 and 28.79 per 1,000 residents, respectively.
Median Home Value: $171,872
Monthly Median Rent: $1,259
Rochester
There are 211,328 people living in Rochester. Known for its kind citizens more than anything else, the city is located to the south of Lake Ontario. This upstate town of New York is counted among the best places to raise a family. The great quality of education is a strong point for the city as it is home to institutions like the University of Rochester and the Rochester Institute of Technology (RIT). It's a hub for science and technology, and research and development. Rochester has violent and property crime rates of 8.01 and 32.65 per 1,000 residents, respectively.
Median Home Value: $204,857
Monthly Median Rent: $1,169
Things To Take Care Of When You're Moving From Chicago To New York
The most important thing to do when researching moving companies is making sure that the company you're shortlisting is a long distance mover and not just a local mover. Many companies tend to not mention this. Get quotes from at least three different companies and then decide. Read customer reviews to get a clear understanding of the companies and their possible shortcomings.
Ensure that the company you choose is registered with the US Department of Transportation.
The moving company that you hire will most probably charge you based on the weight of your shipment. So the first you can do is list down the items which can be discarded, particularly the heavy ones.
Create a detailed inventory of all your belongings. It helps you stay organized and keep track of everything. You'll thank yourself for doing this when it's time to unload your belongings.
Keep all your important documents, valuables, and paperwork safely with you. These you cannot afford misplacing.
Chicago To New York Moving Costs
The distance between Chicago and New York state is approximately 800 miles. Our advice would be to start researching the moving companies as soon as possible and spend a lot of time there. Selecting a good moving company will solve so many problems for you. The cost of your move will depend on factors like the weight of your cargo, the distance between your current and target locations, the number of movers and packers, time of the year, etc.
Here is the approximate cost of moving a two-bedroom apartment from Chicago to New York:
Professional Moving Company: $1,935 to $3,465
Moving Container: $1,928 to $2,605
Freight Shipping: $1,680 to $2,375
Rental Truck: $925 to $1,250
Conclusion
Forget Americans, people from every part of the world would be ready to give an arm and a leg in exchange for becoming a resident in the state of New York. Not that anyone wants your arms or legs but still, just for the impact. The state experiences four seasons, a strong job market, a low crime rate, a magnificent public transport system, infrastructure, quality educational institutes, people from all walks of life, and an ever-growing economy. So get started with the process. We hope this article will be a major point of reference for you.
FAQs About Moving From Chicago To New York
How Much Does It Cost To Move From Chicago To New York?
Hiring a professional moving company to move a two-bedroom apartment from Chicago to New York should cost somewhere between $950 and $3,500. This amount does not include any additional services you might want like packing, unpacking, and packing materials.
Is New York Safer Than Chicago?
Yes, New York is safer than Chicago. According to NeighborhoodScout, Chicago has a violent and property crime rate of 9.69 and 25.49 per 1,000 residents, respectively. This is worse than the national average which is 4 for violent crimes and 19 for property crimes.
On the other hand, New York's violent and property crime rates are 3.48 and 13.50 per 1,000 residents, respectively. It's better than the national average in both parameters.
Is New York A Good State To Settle Down In?
New York State is one of the best places to settle down. It has got everything from plenty of job opportunities, top-quality education options to magnificent art, diverse culture, nightlife, music, and all four seasons in a year.
Also See: Moving from Houston to New York