Moving from Houston to New York – Expert Tips & Advice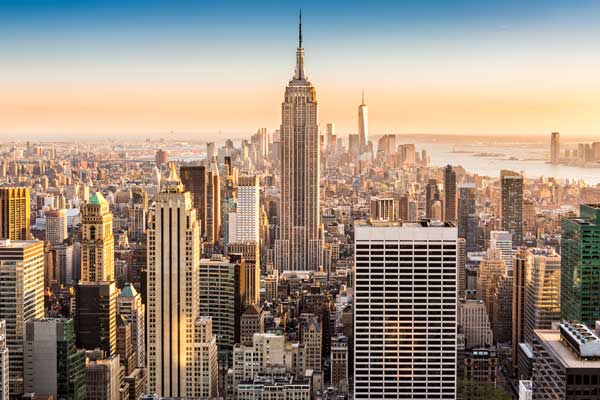 Many people relocate from Houston, TX, to New York for various reasons, including school, a new job, or to enjoy all that the Big Apple has to offer. Whatever your reasons for undertaking such a large-scale relocation, it is critical that you select a reputable mover who can meet your specific requirements.
Relocating can be an overwhelming experience, especially if you're planning a 1,600-mile journey from Houston to New York. Hiring dependable, professional movers to assist you can alleviate a significant amount of stress.
Houston has long been known as a very affordable city, far less expensive than New York in almost every way. Many argue, however, that Houston is now significantly less affordable than New York. When transportation costs are considered, Texas' major metropolitan areas aren't as cost-effective as they claim to be. So, if the cost of living in New York prevents you from relocating there, you have little to fear.
New York is a lovely place to live, thanks to its world-class public transportation system and strong economy and the fact that you'll never run out of exciting things to do. When you move to this concrete jungle, the opportunities for education, career, and adventure are endless.
With that in mind, it's no surprise that so many of our customers are making a move from Houston to New York. We know you'll enjoy living in the Empire State, and we'd love to help you get there!
How Is It Like to Live in New York City?
Everything in New York is bigger and bolder, from Broadway shows to concerts, pubs, and dining that keeps its 8.419 million residents busy day and night. Because of its central connectivity on the Eastern seaboard, New York City is easily accessible by train, bus, or car to nearby cities like Philadelphia, Boston, and Washington, D.C. Furthermore, the area's three international airports transport residents globally, and the subway keeps the city connected 24*7.
New York City also has a lot of history to offer. In 1624, the Dutch established the city along the Hudson River as an important trading center. Barnum, the circus legend, marched elephants across the Brooklyn Bridge in 1883 to prove it was safe to use. The town received the Statue of Liberty from France with great fanfare in 1885. On April 30, 1789, the city hosted the first presidential inauguration when George Washington took office.
New York City's cost of living is exorbitant
Since the cost of living in New York City varies depending on where you live, it is well-known for its exorbitant prices. A one-bedroom apartment should cost around $2,014, and a two-bedroom apartment should cost about $2,120. Rents in New York City increased by 5 percent last year.
To live comfortably in a single-bedroom apartment in New York City, you should budget at least $80,555 per year or $41.31 per hour. To afford a two-bedroom apartment, you'll need at least $84,800 per year or $42.40 per hour.
Also Read: Where to Live in NYC in Your 30s
Taxes are levied in New York City
New York City has a city income tax and a state income tax. The rate varies depending on your income and filing status. If you choose to live in New Jersey and commute to Manhattan for work, you must pay New York City taxes.
See Also: Top 17 Interstate Moving Tips
The Economy and Job Market of New York City are Diverse
New York state's GDP is steadily increasing and will reach 1.5 trillion U.S. dollars in 2020, making it one of its largest economies. The New York City economy also includes the largest municipal and regional economies in the United States, with newcomers establishing careers in financial services, healthcare, professional and business services, retail, education, and entertainment.
In New York City, Public Transportation is Available Everywhere
People travel from the five boroughs and the Hudson Valley, New Jersey, and Connecticut. It's not uncommon to meet lifelong New Yorkers who have never learned to drive or have a driver's license. Instead, they rely on the city's complex subway and bus systems and ferries, rideshares, and taxis. Although the subway is the most popular mode of transportation, train lines that connect to Grand Central Station and Penn Station help commuters in the Tri-State area connect.
Despite the abundance of public transportation, many New Yorkers own cars, which accounts for the city's nonstop gridlock. Parking is scarce, though some borough residents make do with free street parking.
Weather in New York City Gets Extreme
Snow and slush do not deter New Yorkers from walking to the subway or to work all year. Summers in New York City are hot, humid, and rainy, and winters are snowy and windy. There is some cloud cover year-round, and the temperature ranges from 28°F to 85°F. Locals should, however, brace themselves for the occasional sub-zero temperature or heatwave.
Although newer buildings may have central air or mini-split systems, most apartments in New York City have A.C. window units. To stay cool, newcomers should plan to buy one for each room in their apartment. During the winter, steam boilers typically heat the entire apartment building via a centralized control system. Heat rises, so plan accordingly if you want accurate results.
New York City Attractions are World-Class
New York City is a veritable playground of entertainment, arts, culture, dining, and natural wonders. Here are some of the sights to see throughout New York City.
Theater
NYC is synonymous with Broadway shows that play to sold-out crowds all year. On the other hand, Off-Broadway productions frequently develop a cult following and attract theatergoers. Among the 41 Broadway theatres are the Majestic, the Nederlander, and the Belasco.
Museums
Museum enthusiasts will feel right at home in New York City. The city's first museum was established in 1804. Changing exhibits at the New York Historical Society feature artifacts and stories from four centuries. Other notable museums and galleries include the Museum of Modern Art (MoMA), the Guggenheim Museum, the Metropolitan Museum of Art, and the Frick Collection.
Music
The eclectic venues of New York City attract musicians of all genres, including opera and experimental performance art. The Bowery Ballroom, Barclays Center, and Carnegie Hall are just a few places in New York City where you can see a live act.
Historical Stops
New York City is steeped in history, with roots dating back to the 1600s. The most well-known historical sites are Ellis Island and the Statue of Liberty. Of course, the city also has the Empire State Building, the magnificent New York Public Library, the house of a vast collection of books and artwork, and Rockefeller Center.
Outdoors
New York City is a concrete jungle; however, that doesn't mean it's devoid of green space. The city has Central Park, Riverside Park, Prospect Park, and over 1,700 parks. Hidden gems are also found in the garden of the Cathedral of Saint John the Divine and the resident peacocks.
New York Nightlife
With around 25,000 establishments to select from, New York City's nightlife is a significant economic and cultural driver. Trivia nights are popular in bars and clubs throughout the city. Locals flock to Paul's Cocktail Lounge for hip cocktails amid an A-list crowd. Le Bain has a disco and a rooftop bar with views of the Hudson River. Elsewhere, crowds are entertained in a warehouse that has been transformed into a multi-concept venue and restaurant.
Combine culture and nightlife by attending a performance at Carnegie Hall or purchasing tickets to the New York City Opera. Regular evening performances, lectures, and small concerts are available at MoMa, the Bronx Museum of the Arts, and the Whitney Museum of American Art. New York City is also well-known for its iconic museum night.
New York City is a media and entertainment mecca. Attend a taping of a T.V. show, such as Late Night with Jimmy Fallon, Good Morning America, or Late Night with Seth Meyers. Saturday Night Live is another popular option, though tickets are notoriously difficult to obtain.
What New York City Neighborhoods Should You Live In?
There are numerous neighborhoods in New York City, ranging from trendy to historic and residential. Here are some of the best places to live in New York City's five boroughs.
Manhattan
Manhattan has a surprising number of neighborhoods for such a small island. The West Village, Upper East Side, Financial District, Chinatown, Soho, and Chelsea are trendy neighborhoods. There are multiple areas to choose from, and locals frequently select based on their commutes and favorite hangouts.
Also See: Best Neighborhoods To Live In Manhattan
Brooklyn
Brooklyn was once a sleepy neighborhood that grew into a trendsetting borough. Locals prefer trendy areas such as Williamsburg, Park Slope, DUMBO, Carroll Gardens, Prospect Heights, and Bay Ridge. Each neighborhood has its vibe, with varying access to the subway and bus. Check that your commute meets your expectations.
Queens
Like Long Island City, some Queens neighborhoods are just minutes from Manhattan. Astoria, Sunnyside, Ridgewood, and Bayside are also popular choices for a little more space.
Bronx
Riverdale, Morris Park, Throgs Neck, and Spuyten Duyvil are among the best neighborhoods in the Bronx. However, some distinct enclaves, such as City Island, which has the best seafood and a cozy, communal vibe.
Staten Island
A free ferry ride from Manhattan will take you to the shores of Staten Island. The borough is more relaxed and appealing to families seeking more space, with a mix of single-family homes, townhouses, and apartment buildings. Todt Hill, New drops, Huguenot, and Great Kills are desirable neighborhoods.
Conclusion
There is nothing like living in New York City, where 8.4 million people live in a densely packed metropolitan area. Aside from the sense of being in a big city, living in New York City is like being in a completely different world. The living experience is marked by its extraordinary diversity, historical roots, and limitless opportunities.
Frequently Asked Questions
How is the weather in New York City?
The weather patterns in New York City allow residents to experience all four seasons. Summers are super hot and humid, while winters are cold and wet. The seasons of autumn and spring are as expected. The cityscape of New York City makes every season look picturesque, even when you're slogging through slush.
What time zone is New York City in?
Depending on the time of year, New York City's time zone is Eastern Standard/Daylight Time (EST and EDT). It is also three hours ahead of San Francisco on Greenwich Mean Time – 5 (GMT-5).
What should you do in New York City?
In your free time, visit some well-known tourist attractions that locals avoid. Visit the Metropolitan Museum of Art, take a ferry to the Statue of Liberty, stroll through Central Park, etc. If you want a unique experience, check out local dives to find a great place to eat and possibly sing karaoke.
Also See: Top Out of State Movers in the USA | Moving from Houston to California