Top 17 Interstate Moving Tips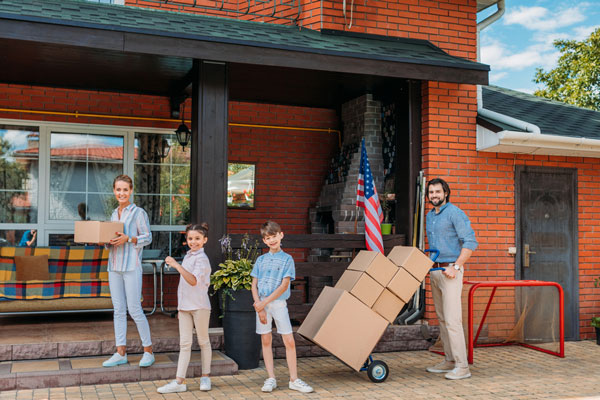 Moving can be an arduous process. However, moving long distance from one state to another can be time-consuming, difficult, costly, and even dangerous if not done in a planned manner. For instance, as I have learned moving multiple times from state to nearby state, it is important to take into considerations such simple things as the distance between gas stations and proper storage of belongings while in transit. However, as I have also moved across the country more than a few times, I have also learned–sometimes the hard way – that is important to consider such things as time zones, laws on gun transportation, and temperature zones.
In fact, I have found that long distance moves are much more enjoyable if I follow strategies in four broad categories.
Logistics
Safety
Legal Compliance
Process of Establishing Residence
Logistics
1. Importance of Route
An extremely important aspect to consider during interstate or long distance moving is the route. The route I choose can have a big impact on the level of stress I may have to endure. For instance, the shortest route may not be the best route because things like road work and detours can have a significant impact on the time it takes me to reach my destination. Additionally, the shortest route might be via back roads while the fastest route might be via the highways.
Another reason to research the best route is for safety. Again, the shortest route may not be the best because I may unwittingly drive through high crime areas, putting myself in a very unsafe situation if I need to pull over to rest. Failure to plan can be even worse if I happen to break down.
2. Departure and Arrival Times
Whenever I am faced with interstate moving, I always consider the effects my departure time will have on the move as a whole. Depending on my own personal sleep requirements at the time and the distance I will be driving on a particular day, my departure time can have a good or bad impact on my driving experience. With that in mind, I have found that leaving early in the morning, before sunrise, gives me a big jump start on the day. However, I must also balance my need to get going early with the fact that waking too early can cause me excess fatigue, resulting in a potentially dangerous driving situation.
As with departure time, my arrival time is equally important. Knowing when I will arrive, mid-day or perhaps after sunset, will determine such things as when I will begin to unload my belongings from the truck and when I will return the truck to the rental place.
If I am on a budget, even one extra day with the moving truck can be very costly. Planning ahead helps me to budget wisely and has even saved me extra, unwanted fees.
Additionally, I sometimes have to coordinate my departure to ensure I arrive according to the schedules of self-storage facilities, which are often necessary if I cannot move everything immediately into my new residence. Finally, I have found when moving into condominiums and apartments that moving in can only be done during certain hours. Consequently, I have to ensure I arrive with enough time to at least unpack and move-in essentials, such as beds, couches, and clothing.
Safety
3. Moving truck
Because I do not own the moving truck, I am not privy to all of the maintenance and safety records. Before moving out, I always check such things as the headlights, oil level, and windshield washer fluid. I also make sure to check the safety of the vehicle by testing the brakes, the taillights, and the blinkers. I even test the horn.
I always keep in mind that even if the rental store gives me a seal of approval, mistakes can and do happen. Taking a bit of extra time for an in-depth inspection can help prevent little annoyances, such as a dirty windshield due to lack of wiper fluid, as well as serious issues, such as a crash due to problem brakes.
In terms of testing brakes, when renting a moving truck, I always test drive the truck and take it up to local roads outside of town. Discovering a truck has faulty brakes is always safer in your local town than it is on a mountain-top road.
4. Driving Speed
Driving a moving truck is not the same as driving a car. In fact, in my experience, driving an over-sized, extremely heavy vehicle, filled to the brim with my valuables and belongings, is entirely different from my daily driving experiences.
Because it is so vastly different, I always drive 10 miles per hour under the speed limit. Driving faster than the posted speed limit puts me in a dangerous situation as larger, heavier vehicles do not stop quickly. Similarly, they do not maneuver as easily as a car.
Additionally, driving speed can impact the stability of the load. Driving slowly, for instance, will ensure the load stays as packed. Driving too fast can cause items to shift, resulting in broken belongings. You will notice that reputed moving companies take due care while moving big loads.
However, the most important aspect of speed is that with a moving truck, if objects shift to the back of the truck, I can end up with an off-balance load that can cause whip-lashing of the trailer. Driving at slow speeds ensures my load remains where I packed it–upfront.
5. Nighttime Driving
I personally do not like to drive at night. That said, if I do choose to drive at night, it is important that I keep in mind when bars let out as this will increase the likelihood that drunk drivers are on the road with me.
I also remind myself that other drivers may be very tired. As such, I always maintain a proper distance from other vehicles to allow me the time to avoid an erratic driver or avoid a collision.
6. Mountains and Desserts
Interstate relocation typically involves part of the route including either mountain or desert terrain–sometimes both. When I drive through the mountains, I keep an eye on the weather. Sudden snowstorms can cause dangerous snowdrifts and road closures. I also make sure to bring extra blankets, food, and water in case I get stuck on a road.
In terms of dessert terrain, in addition to food and sunscreen, I make sure to bring water–lots of it. Dehydration in the desert is a serious risk factor that can easily be addressed by bringing a couple of gallons of water.
In terms of mountains, however, it is crucial to be very aware of the safety zones for runaway trucks. These are provided in case my truck's brakes burn out and can allow the truck plenty of room to ease off the main road and slow to an eventual halt.
7. Cell Phones
Of course, I always have my cell phone with me, but it is of utmost importance to have a cell phone when driving a moving truck, especially when driving out of state in unfamiliar areas. Just as important as a phone is the charger. I always charge my phone before I depart and make sure to keep it on the charger throughout my trip. It is vital to keep the phone on the charger because in the event that something goes wrong, I will have a fully charged phone to allow me to reach the help I need.
Another important thing about the cell phone is that it allows me to notify loved ones of my progress. Doing so maintains safety for me in case something happens. It also prevents loved ones from worrying.
Legal issues
8. Gun Transportation
Different states have different laws regarding the transportation of guns. Because I used to hunt, I had to research the laws various states had on whether I could bring a gun into the state. If the state allowed guns, I also had to ensure the gun was packed according to their laws. For instance, most states that allow guns require the gun to be unloaded and out of reach of the driver. As such, I usually travel with my gun in the trunk or the backseat. I keep bullets in the glove box.
However, some states that allow guns have cities with their own local ordinances. Consequently, it is important to know that if I drive through a city, such as New York City, I can end up in jail if I transport a gun. In instances when I travel through a city or state with strict gun-transportation laws, I usually take the gun apart and have a local gun shop ship it to my final residence as only licensed gun dealers can mail gun parts through the mail.
9. Noise Ordinances and Move-in Restrictions
Although the issues of noise ordinances and move-in restriction are related to arrival time, it is important enough to itemize this as sometimes, on Sunday's, for instance, move-ins are not allowed. Prior to departure, I call ahead to the apartment, condominium, or HOA board to determine when move-ins are not allowed.
Establishing residence
10. Utilities
In any interstate move, it is best to call ahead and establish utility service to be turned on prior to arrival. Doing so will ease the transition as moving in when the house is dark and without water can be a trying experience–which I discovered when I failed to do this.
Sometimes, however, getting the gas turned on prior to move-in can be impossible because the gas-service technician usually requires access to the house. In these instances, I make sure to schedule the service to be turned-on on the day of my arrival.
11. Location to Essentials
Googling grocery stores and gas stations in the city of my final destination can help immensely. Especially when I have people helping me move, I like to park the truck and immediately go for supplies as it is important to thank my friends and family with enough food to keep them nourished and motivated.
12. Packing and Unpacking
Depending on when I arrive at my new residence, my budget regarding the truck, and the amount of help I have on hand, I may or may not get to unpacking the truck that day. Regardless of when I start, I always make sure to move my boxes into their corresponding rooms. To ensure I can easily do this, when I pack, I label each box to denote the room and the items within the box.
I also make sure to put the boxes that contain the items I will not need for a while toward the back of the room. Regarding boxes that contain things I need, I place these as close to me as possible.
Unloading my truck in this organized fashion helps to make unpacking less stressful. Additionally, I do not try to attempt to unpack my stuff all in one day. Moving is stressful. Relocation is stressful. Unpacking, in conjunction with these activities, is too tiring. Instead of exhausting myself further, I unpack a little at a time across several days.
See also: Checklist for Moving to Another State
13. Returning the Truck
Returning the truck is usually a simple affair, but it can be expensive if I forget to save the gas receipt. Keeping the gas receipt shows, I refilled the tank and can save me extra charges. Additionally, I ensure the trailer area is swept and that the entire cab is clean.
Hiring a Company
14. Insurance
One of the main things about hiring interstate moving companies is making sure my belongings are insured for replacement value. Some companies advertise replacement value insurance and guarantee that if something is broken or damaged, it will be replaced. However, other companies have indemnification clauses written into the contracts, and these clauses usually limit the liability to a dollar amount based on the weight of whatever was damaged. Consequently, when one company damaged a valuable antique, I was only able to recover approximately a hundred dollars because the item did not weigh much. If a company only offers protection according to weight, I find it worthwhile to acquire moving insurance from an insurance company.
Update: We recently published a detailed article about moving insurance. Click here to know more about the same!
15. Interstate Moving Companies
Interstate moving companies have their schedule, so I make sure to pack the essentials, like clothes and personal belongings, in my truck. Doing so ensures that when I arrive, I have what I need, and I do not have to wait three or four days in misery, waiting for the moving truck to arrive. Here's a list of top 10 interstate movers in USA, all these moving companies offer affordable and professional out of state relocation services.
16. Loading and Unloading
Interstate movers are people. That might sound obvious, but they are, and I like to remind myself that people like their jobs to be as easy as possible. When I hire movers, I ensure my belongings are boxed and ready to go. Similarly, I ensure I have water for them–just in case.
Finally, I always ask them ahead of time–before they begin–should the tip be made out in check or offered as cash. Movers never know if they will get tips, and they rely on them. When I ask this ahead of time, they are usually extra careful to not jeopardize a guaranteed bonus.
Update: Read this article to know more about tipping movers – https://9kilo.com/national-moving/how-much-to-tip-movers
17. Reviews
Put, read the online reviews. Although one review or another might be subjective and not applicable, I have found that the overall level of reviews is always on target. For instance, if the majority of customers warn against a moving company because its workers are lazy and careless, I keep looking for a company with better reviews.
If you are planning to relocate to another state, use the moving price calculator from 9Kilo Moving to get accurate moving quotes and estimate from best moving companies in USA!