Moving to Buffalo NY | 2022 Cost of Living and Relocation Tips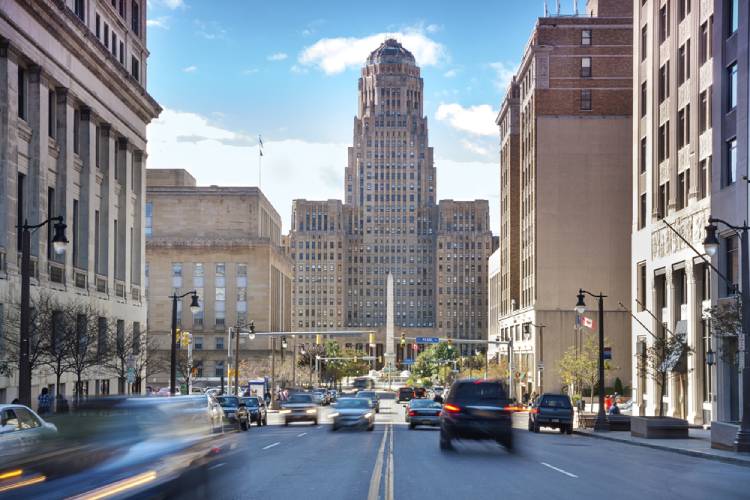 A city that is known to be the 'city of good neighbors' is understandably warm and inviting. Buffalo, New York, has a little bit of something for everyone, and its diversity and dynamism add unrivaled vivacity to the place. Nestled on the eastern shores of New York's Lake Erie, you're sure to find your fill of nature without having to look too much. Founded in 1789, it has its share of history, while downtown Buffalo adds its modern-day zest. Plus, who can get enough of the Buffalo chicken wings? Read on for the ultimate guide on moving to Buffalo, New York to see what more lies in store.
Transportation In Buffalo
The Niagara Frontier Transportation Authority (NFTA) runs three lines of transportation in Buffalo. The Metro Rail runs through the city along Mainstreet, ending at the University at Buffalo's South Campus. The train is free when above ground, but you'll have to pay a small charge when going past Theatre District into the subway.
With 53 bus routes, the buses run across the city and bus stops are easily found. However, some buses are on-demand, meaning you can get off right where you need to, while others stick to the stops on their route. You can find bus schedules at transportation centers and local banks, or look at the NFTA website for bus and metro schedules. The bus and metro services run all seven days of the week.
Buffalo is also a great city for those who like walking and cycling. However, hailing cabs has proved to be troublesome. You're better off using cab-hailing services like Lyft and Uber, both of which work well in the city.
The Buffalo Niagara International Airport ensures easy flight connections to the city. It is located fifteen minutes east of downtown Buffalo, and averages 100 daily flights. The city is easily accessible by road via the New York State Thruway (I-90), and also from Canada via the Queen Elizabeth Way (QEW). Amtrak passengers can reach Buffalo via Chicago and New York City.
Weather
Buffalo falls in the humid continental climatic zone and its weather is impacted by its proximity to Lake Erie. Summer season is warm and dry, and Lake Erie ensures it never gets too hot to bear. Temperatures have an average high in the 80s. Fall brings about pleasant weather and one can enjoy the astounding foliage and cool nights. The one thing that may deter some is the winter – Buffalonians, as the residents are called, are used to snowy winters. Make sure you have those warm woollens all packed – the lowest temperature rarely goes below the 20s.
Residents enjoy various activities in the different seasons, which is a great part about Buffalo. Summer time is perfect to go visiting the zoo, the parks, or the Buffalo and Erie County Botanical Gardens. Winter season on the other hand sees a low of snowy fun – go sledding, ice skating, and attend the annual Larkinville Ice Festival.
Jobs in Buffalo NY
Buffalo's economy is a diverse one, not relying on one particular industry like Silicon Valley's San Jose does. Industries which are prominent here are tech, education, financial services, healthcare, and light manufacturing. Buffalo's big employers are M&T Bank, Rich Products, Emedco and Kaleida Health, with its biggest employer being the State of New York. Home to several great schools and a university, those in the field of education have ample opportunities to look for employment.
Buffalo Neighborhoods
With 31 different neighborhoods, you certainly have some research to do when it comes to picking one to call your home. We've listed down some of the great neighborhoods in Buffalo, ranging from the popular hotspots to the homely hubs, along with statistics from niche.com.
Allentown
Allentown is great in general, but people with a penchant for art and visual art will simply fall in love with it. Huge murals are splayed across practically every wall and there's a number of galleries for those cultural weekend excursions. The homes here are stylistically different and only add to its charm – there's a range of contemporary apartments to contrast the Victorian-style cottages, and mansions complement the historic homes. Allentown has some good schools, and that, coupled with a low crime rate, makes it a good place for families. Renters will feel at home as well, since the majority of homes here are rented out more than they are owned.
Median Home Value: $249,016
Median Monthly Rent: $761
Parkside
Designed by the landscape architect behind the parkways and parks of Buffalo, Parkside is thus named as it rests right beside Delaware Park, on its east. Frederick Law Olmsted envisioned curving streets lined with trees, and that's what gives Parkside its almost dignified vibe. The Parkside Community Association can boast of being Buffalo's oldest and largest neighborhood association, and sure is an active one. With a quarter of the residents being families, it certainly is a great place to raise a family. Housing the Buffalo Zoo is simply an added benefit for the young'uns, as is the proximity to Delaware Park.
Median Home Value: $228,005
Median Monthly Rent: $894
University Heights
Home to the University at Buffalo's South Campus, University Heights is crawling with young, college-going boys and girls. This gives the neighborhood a great, dynamic vibe.
Eateries, shops and bars cater mainly to the young crowd, but definitely attract the older generations as well. With four Metro Rail stations, eight bus lines and great walkable streets, the public transportation here makes life easy, especially for those without their own private vehicles. There's a number of amenities easily available as well. Those looking for jobs are sure to find luck in the fields of education and health & social services.
Median Home Value: $117,541
Median Monthly Rent: $972
Elmwood Village
Elmwood Village is a fantastic little place to live, and it has been recognized by the National Planning Association as one of the best neighborhoods in the USA. A stretch of Elmwood Avenue stretching to one-and-a-half miles is home to a number of bars, restaurants, galleries and boutique stores. The community is welcoming and their attention to detail and thoughtfulness is seen in the clean streets, public art, promotion of independently-owned franchises and seasonal decorations.
Median Home Value: $328,716
Median Monthly Rent: $1,005
Downtown
Lastly, the lively, throbbing heart of the city – Downtown. This district happens to be the oldest in the city, but you'd never be able to tell with the number of restaurants, distilleries, bars, venues with live music and independently-owned artsy boutiques that dot the streets. There's always a performance, a band or a festival to catch, and you'll never get bored or live the same weekend over and over in Downtown Buffalo. Around 80% of its residents live on rent, soaking up the vivacity of the district against its historical background.
Median Home Value: $243,573
Median Monthly Rent: $901
Living in Buffalo: Figures And Statistics
Buffalo is the second-largest city in New York state, preceded of course by New York City. The population of Buffalo is around 256,304, and the median age of its residents is around 33 years old. Unfortunately, one of its challenges is a high crime rate, with a large number of property crimes. While certain neighborhoods are known to be dangerous areas, most others are perfectly safe. Learn about them and research well before finalizing your move.
Median Home Value In Buffalo NY
The median home value (middle price tier of homes) in Buffalo is currently at $116,033, with a predicted 8% rise over the next year. Buffalo does indeed hold a lot of promise, which is why an increase in the home value is justifiable.
Rent
Around 60% of the residents in Buffalo have rented out their own places – a number that the young college students have definitely contributed to. The rent in Buffalo is fairly reasonable, fluctuating within the bracket from $1,100 to $4,760.
Cost Of Living In Buffalo, New York
The cost of living according to data from numbeo.com is $909.70 per month for a single person. Certain basic amenities and their costs are listed down below so you get an idea of what your expenditure looks like:
Litre of milk: $0.66
Loaf of white bread: $1.97
A dozen eggs: $1.68
Basic utilities (Electricity, Heating, Cooling, Water, Garbage): $181.11
One-way ticket on local transport: $2
FAQs about Moving to Buffalo NY
Is it expensive to live in Buffalo NY?
When compared to other major cities in the state of New York, one would not find it expensive to live in Buffalo, NY. As data on Numbeo suggests, the monthly expenses, excluding rent, for a single individual would be around $946 and the same for a family of four would be around $3,348, in Buffalo. You can also save a good chunk on housing expenses and healthcare, when living in Buffalo.
What should I know before moving to Buffalo?
As the second largest city in the state of New York, Buffalo has its fair share of fascinating history and thriving art. And with its affordable cost of living, the Queen City does attract a lot of people who call it home. Located close to Lake Erie, the weather in Buffalo is usually pleasant, except for the winters when you would experience a good amount of snowfall.
For a city this size, the tax rates and crime rates are comparatively on the higher end of the spectrum in Buffalo. Even though the median income is lower than the national average, so are the living expenses as well. With a handful of architectural gems and vibrant neighborhoods, Buffalo is a welcoming place for many.
Is Buffalo NY affordable?
Yes, from your housing expenses and utilities to healthcare and transportation, Buffalo will easily tick all boxes when it comes to reasonable costs. To give you a price perspective, the median home value in Buffalo is around $109,488. A doctor's visit in the Queen City would cost you around $93.44, while a gallon of milk would cost only around $1.84.
What is a good salary in Buffalo NY?
With housing costs and utilities, both being lower than the national average, a salary between $32,000 to $45,000 would also be considered good enough to live comfortably in Buffalo, NY. The median household income in Buffalo is around $37,354, according to the US Bureau of Census.
What percentage of Buffalo NY is black?
A good 36.5% of the total population of 255,284 in Buffalo is black or African American. While 47.1% of the Buffalo population is white, 5.9% is Asian and 12.3% comprises of Hispanic and Latino inhabitants.
Is Buffalo safe at night?
With a total crime rate of around 44.12% per 1000 residents, Buffalo does not hold a very good spot on the list of safe cities in New York. While some neighborhoods are safer than the lot, there would be some areas like Emerson, Grider and Masten Park that you might want to avoid. Even though this could not be generalized for all parts, we suggest that you avoid wandering at night in Buffalo.
Why is rent so high in Buffalo NY?
Even though more and more people are locating to Buffalo, the housing supply does not seem to be able to catch up. With higher demand and shortage of supply, rent prices in Buffalo can seem high when you consider how affordable real estate is in the city. That being said, when you compare it with other big cities, renting in Buffalo NY isn't all that expensive, with the price being $1,096.
---
Conclusion
Overall, Buffalo has tons to offer, and all that matters is whether you vibe with it or not. Make sure that no matter where you decide to move, you have the right movers for the job. The local moving company may not be your best bet for an interstate move, but can certainly help you navigate the block to a new house with a high level of familiarity that no interstate movers can. Contact us for any help with finding the right moving company.