Moving From Texas to New York – Expert Tips & Advice


VanLines Inc
Secure Storage
Easy Booking Process
Fully Trained Employees
GET QUOTE

Colonial Van Lines
Storage Services
Long-Distance Moves
Corporate Relocations
GET QUOTE

Moving APT
Available Nationwide
Award-Winning Movers
Extensive Vetting Process
GET QUOTE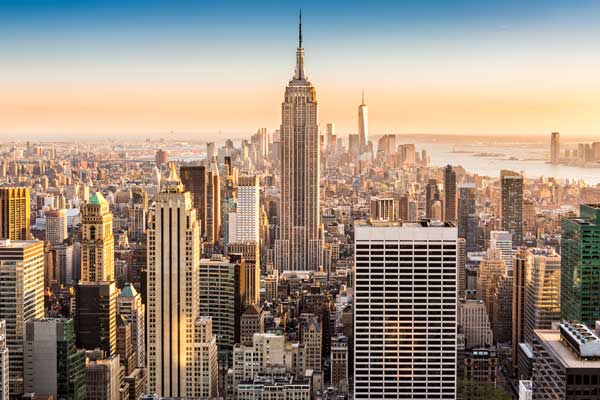 So we heard you're moving from one awesome place to another. Now that's the kind of headache most people would love to experience. Wanna trade lives? Wish we could at least know the reason why you're considering leaving one of the fastest-growing states in the country.
But then, you're moving to New York, probably the most sought-after place to settle down in the WORLD. What a gala time you're going to have there! And don't you worry. Beaches, lakes, rivers, forests, farms, and mountains occupy a lot more land in the state than the high-rise buildings. The state with a rich history also happens to have a diverse population. Allow us to make the decision-making process easier for you as you think about moving from Texas to New York.
Factors To Consider Before Moving From Texas To New York
Weather Conditions
Since Texas is the second-largest state in the US, it should be no surprise that there are different types of climate like arid, semi-arid, humid, continental, and subtropical in different parts of the state. While the weather can change on a daily basis, the overall climate is humid continental with hot summers and wet, cold winters.
New York, on the other hand, has a generally continental humid climate. You'll get the best (or worst, depending on what you like!) of summers and winters both! Expect hot summers and cold winters here!
While the average temperature of Texas is 65.97°F, it is 48.17°F in New York. Both the states remain sunny for an average of 60% of the year, but the difference in the amount of snowfall is huge. New York enjoys around 25 inches of snow during the year but Texas gets only 2 inches.
Let's look at the difference in temperatures during peak winters:
January is the coldest month in Texas and the average temperature is 35.8°F.
The coldest month in New York is also January with an average temperature of 26.1°F.
Here's the difference in temperatures that you can expect during peak summers:
August is the hottest month in Texas with an average temperature of 94.5°F.
July is the hottest month in New York and the average temperature is 84.2°F.
From hot summers and chilly winters to beautiful spring and a colorful fall, New York gets to enjoy different types of weather right through the year. An important point to note is that its summers and winters often go to extremes. You'll see temperatures over 100°F during the months of June, July, and August and you'll get to see bone-chilling temperatures of around 15°F in the months of December, January, and February.
Cost Of Living
Moving to a different state is a big deal as your whole life is about to change. Particularly in a country like the US which is one of the largest in the world, life is drastically different in each and every state. When you decide to move from one state to another, the cost of living is the most crucial aspect among many others. So if and when you leave Texas to settle down in New York, your expenses will increase significantly. The cost of living index for Texas is 91.5 and that means that in comparison to the average US citizen, you have been paying lesser for groceries, healthcare, transportation, house, electricity, etc.
We hate to be the bearer of bad news but New York is the country's third most expensive state with a cost of living index of 139.1 which is way above the national average of 100. The biggest reason behind this is the high cost of housing in the state. Read on to get an idea about how much you'll need to spend on your house.
Buying A House
This will be interesting if you have a plan to buy yourself a house in New York. Up by 13.5% from January 2021 to January 2022, the median home price in New York is $377,190 according to Zillow. On the other hand, Texas where you're living right now has a much lower median house price of $282,726. The cost of living index that we talked about in the previous section will reiterate itself here as the median house price in the entire country is in the middle of the two states at $325,677.
Renting A House
Not ready for homeownership? No problem. It's not that rent is low but it's always a better option in New York which is relatively expensive to buy a house in, as we discussed. The monthly average rent for a studio apartment in New York is $1,364 while for a 1-bedroom apartment and a 2-bedroom apartment, it is $1,460 and $1,717, respectively. Some of the best places in New York to become a renter are Riverdale, Hamburg, Sunnyside, Glens Falls, Bay Ridge, etc.
In Texas, the monthly average rent for a 1-bedroom apartment is $1,134 and for a 2-bedroom apartment, it is $1,296.
Also See: Best U.S. Cities to Rent in for 2022
Utilities
The average utility bill for the citizens of the US is $236 per month. Although the cost of living index shows that New York is well above the national average, this will come to you as good news that the average utility bill in the state is $235. But it is still more than the average in Texas which is $223.
Job Market
Texas and New York both have the highest GDP in the US, only behind California. While Texas saw massive growth and a GDP of $2.006 trillion in 2021, New York is not far behind at $1.893 trillion.
A major reason for people to flock to New York is its flourishing job market. There are roughly 500,000 business entities in the state where over 8 million people are working. Some of the best industries in New York are retail, real estate, consulting, technology, construction, transportation, food service, and healthcare. The fastest-growing jobs include software developer, marketing assistant, data analyst, accountant, registered nurse practitioner, etc.
More than one million people are working only in the state's medical centers, private and public hospitals. If you're someone who is looking for a job in the government sector, let us tell you that the state government has more than 1,500,000 positions all over New York. Also, the education sector is a good one to look for a job with 200,000 teachers already at work.
The median household income in Texas and New York is $61,874 and $68,486, respectively. With both the states performing incredibly well in almost all sectors, it's no surprise that some of the numbers are really close to each other. For example, the unemployment rate in Texas is 2.3% while for New York, it is 2.4%.
Also See: Moving From California To New York
Transportation
A number of cities in Texas like Dallas and Austin have commendable public transportation. The state has one of the largest light rail systems in the country. However, it will be difficult to manage if you don't have your personal car.
The New York State Department of Transportation looks after the development and operation of the state's railroads, highways, aviation facilities, etc, and has always done a brilliant job. Greyhound is an intercity bus service provider that serves the entire North America including the state of New York. Apart from that, MegaBus, a subsidiary of CoachUSA, provides the residents with intercity trips within New York.
As far as New York's railways are concerned, there are three separate commuter railroads in operation — the Long Island Railroad, Metro-North Railroad, and the New Jersey Transit. In addition, Amtrak operates multiple passenger trains in New York like Empire Corridor, Maple Leaf, Adirondack, Ethan Allen Express, Lake Shore Limited, and Acela Express.
If New York City is going to be your new place of residence, here's some information. The favorite mode of transportation of people in the city is the subway. Operating round the clock, it's the largest subway system in the world. And in case you're moving to Buffalo, your best bet will be the Buffalo Metro Rail.
New York's Strong Points
Low Crime Rate: The crime rate in the state of New York is quite low and below the national average. You'll always see its name among the 15 safest states in the US.
Dynamic Culture: New York is full of zest. The state offers the best options for entertainment, food, art, music, and you get to meet people from different corners of the world and learn about their cultures.
Job Opportunities: The state has an extremely healthy job market and the number of opportunities is huge. Whether you're starting something new or want to build on what you already do, you'll succeed if you put in the hard work.
Entertainment: New York is overloaded with awesome indoor and outdoor activities. You'll never be bored when you have options like skiing, hiking, museums, live music, festivals, etc.
Top Cities To Move To In New York State
Do we really need to say anything about this dreamlike city? Okay, here it is. Home to around 8.5 million people, New York City is also known as The Big Apple and comprises five boroughs — Brooklyn, Manhattan, Queens, Staten Island, and The Bronx. It's one of the liveliest places in the world with diverse culture, arts, music, rich history, architecture, great job opportunities, countless entertainment options, food, and amazing nightlife. All of these come at an insane cost of living, however!
The city is full of beautiful, tall buildings and historical landmarks. Often referred to as the city that never sleeps, New York is where people come to fulfill their dreams. It has violent and property crime rates of 5.80 and 20.00 per 1,000 residents, respectively.
Median Home Value: $741,622
Monthly Median Rent: $3,250
Also See: Top Movers In Queens, New York
Buffalo
New York's second-largest city, Buffalo, lies to the east of the stunning Lake Erie and is only 20 miles away from the famous Niagara Falls as a result of which many tourists cross the city. It is New York's second-most populous city as it is home to 278,349 residents. If you're into kayaking, skiing, and hiking, Buffalo is the place to be. It also happens to be a sports town just in case you're a football or hockey fan. People of Buffalo enjoy numerous concerts, events, nightlife, restaurants, coffee shops, bars, parks, etc.
The super-friendly people of the city love to help each other and strangers. Buffalo attracts large numbers of people because of its affordable housing, education, and job opportunities. It has violent and property crime rates of 9.43 and 29.02 per 1,000 residents, respectively.
Median Home Value: $195,614
Monthly Median Rent: $1,146
Albany
Albany is the capital city of New York State and has a population of a little over 100,000. Always rated among the top cities to settle down in, Albany is located along the Hudson River and around 150 miles to the north of New York City. Due to the relatively lower real estate prices and cost of living, Albany is known as one of the most affordable places in the entire state. The real estate prices and the cost of living are 40% and 13% lower than the state average, respectively. In addition, Albany offers a booming job market, higher education, history, architecture, and rich cultural heritage. It has violent and property crime rates of 8.85 and 27.57 per 1,000 residents, respectively.
Median Home Value: $253,575
Monthly Median Rent: $1,392
Rochester
With a population of 211,328, the city of Rochester is located south of Lake Ontario and is known for its welcoming, warm, and kind citizens more than anything. Considered among the best places to raise a family, this upstate town of New York has something for all age groups. Another of its highlight is its top-quality educational institutions like the University of Rochester and the Rochester Institute of Technology (RIT). The city is a hub for science and technology, and research and development. Rochester has violent and property crime rates of 8.01 and 32.65 per 1,000 residents, respectively.
Median Home Value: $204,857
Monthly Median Rent: $1,169
See Also: Largest Cities In New York | New York DMV Change of Address
Things To Take Care Of When You're Moving From Texas To New York
While researching moving companies, the most important thing is to make sure that the company you are shortlisting is a long distance mover and not just a local mover. A lot of websites don't mention this basic feature. Get quotes from at least three different companies and then decide. Also, spend time reading customer reviews.
Make sure that the company you finalize is registered with the US Department of Transportation.
The moving company that you hire is likely to charge you based on the weight of your shipment. So the first you can do is list down the items which can be discarded, particularly the heavy ones. For example, if you were thinking of replacing your television because it has served you for a long time, you can leave it behind and save a little money.
Before the moving date, make a complete inventory of all your belongings no matter how big or small they are. This is for the time your shipment arrives at your new house. You can check if each and every item is there or if something is missing.
Keep all your important documents and paperwork safely with you all the time. You cannot afford to misplace any of it.
Texas To New York Moving Costs
Both Texas and New York are quite large in terms of area. Hence the distance is going to be different depending on which cities you are moving from and to. Let's assume the distance to be around 2,000 miles. It's highly recommended that you spend as much time as possible and select the best possible moving company for your move. The cost of your move depends on a number of factors like the weight of your cargo, the distance between your current and target locations, the number of movers and packers, time of the year, etc.
Below is the approximate cost of moving a two-bedroom apartment from Texas to New York:
Professional Moving Company: $2,445 to $4,450
Moving Container: $2,500 to $3,150
Freight Shipping: $2,578 to $3,255
Rental Truck: $1,215 to $1,535
Summing Up
The state of New York is a place where people dream of living. And not just the people in the rest of the US but people from all over the world. The state enjoys four seasons, a robust job market, a low crime rate, great public transport, amazing educational institutes, people from all walks of life, and a flourishing economy. It's a culmination of all these factors that makes New York one of the most sought-after places to live in. Found this article helpful and planning on moving to New York? Then enjoy Texas while you can.
FAQs About Moving From Texas To New York
How Much Does It Cost To Move From Texas To New York?
Hiring a professional moving company to move a two-bedroom apartment from Texas to New York should cost somewhere between $1,500 and $5,000. This amount does not include any additional service you might want like packing, unpacking, and packing materials.
Is New York Safer Than Texas?
Yes, New York is safer than Texas. According to NeighborhoodScout, Texas has an overall violent and property crime rate of 4.50 and 22.62 per 1,000 residents respectively. On the other hand, New York's violent and property crime rates are 3.48 and 13.50 per 1,000 residents respectively. If you want to compare these numbers to the national average, it is 4 for violent crimes and 19 for property crimes.
Is New York A Good State To Settle Down?
New York State is one of the best places to settle down in the US. It has got everything from great job opportunities, high-quality education options to magnificent art, diverse culture, nightlife, music, and all four seasons in a year. The beautiful landscapes just add to the charm of the state.
See Also: Best Interstate Movers in the USA | Moving From Chicago To New York | Moving from Texas to Florida