Moving From California To New York – Expert Tips & Advice


VanLines Inc
Secure Storage
Easy Booking Process
Fully Trained Employees
GET QUOTE

Colonial Van Lines
Storage Services
Long-Distance Moves
Corporate Relocations
GET QUOTE

Moving APT
Vetting Process
Award-Winning
Available Nationwide
GET QUOTE
Our Take
Price
Rating
Minimum Shipment Size
Storage
Booking Deposit
Cancellation Policy
Quoting Options
Discounts

Best Overall Value


GET QUOTE

2+ bedrooms




Free 30 Days




10%

Free up to 72 Hrs

Phone / FaceTime / Text

Senior / Same day Booking

Best Industry Reputation


GET QUOTE

1+ bedrooms




30 Days




20%

Free up to 72 hrs

Phone / Facetime

Seniors Discount

Best Customer Service


GET QUOTE

1+ bedrooms







Free up to 72 hrs

Phone / Virtual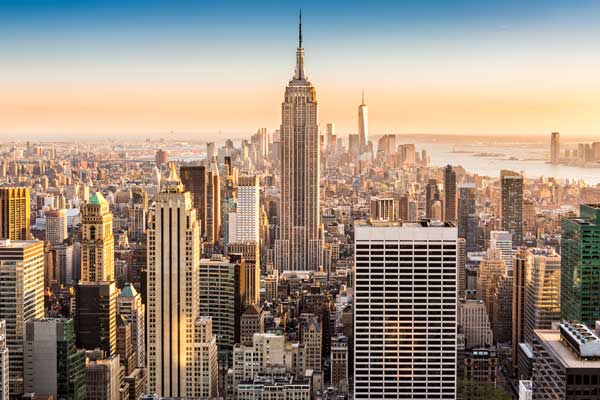 Look how happy you are, all set to move to one of the world's dream destinations to live in. We understand your excitement of going from one end of the spectrum to the other, nearly 3,000 miles! And it's not like we're jealous. Nope. Zilch. So what happened? Did you get a new job opportunity or are you being transferred by your current company or just want a change in surroundings and lifestyle? Maybe you're just done with California's traffic. But the traffic is not any better in New York either, so that one is out.
Whatever it is, we are sure that it's for the best. Contrary to the picture of the concrete jungle that pops in your head thinking about New York, most of the state's total area is occupied by forests, farms, mountains, rivers, lakes, and long beaches. If you have any confusion, this article about moving from California to New York will help you make a well-rounded decision!
Weather Conditions
Most of the state of California experiences a Mediterranean climate which essentially means that winters are mild and wet while summers are warm and dry. Since California is the third-largest state in the country, the weather also keeps changing as you move around it. The northern part of the state is usually wet and cool in contrast to the warm and sunny weather in the south. Also, California often has to deal with a number of natural calamities like droughts, earthquakes, fires, etc.
On the other hand, the state of New York, also known as the Empire State, gets to enjoy the different types of weather throughout the year – right from hot summers and springs to chilly winters and colorful falls. The only downside (for some of you) is that the summers and winters go to the extremes. While the summer months can show temperatures over 100°F with high humidity levels, winters can be as bone-chilling as 5°F with heavy amounts of snow.
Cost Of Living
When you're moving to a different state altogether, this is perhaps the most important aspect as the rules and expenses are different in each state. Since you're looking to relocate from California and settle down in New York, we're glad to tell you that you'll be able to save a little more money. While California is the country's third most expensive state to live in, New York is fifth on the list. The cost of living index for California is 149.5 and for New York, it is 120.5. While both are significantly over the national average of 100, you definitely wouldn't mind saving a little more money after moving, yes?
Also See: Where Should I Move After Leaving California
Buying A House
Although the overall cost of living is less in New York, the property taxes are higher than those in California. The average property tax rate in California is 0.73% which is even lower than the national average of 1.07%. In New York, this average goes up to 1.69%.
But when it comes to buying a house in New York, you'd be amazed at how much money you'll save after moving to the East Coast. The comparison below will really help you put things into perspective:
Median Home Value in California (According to Zillow): $745,200
Median Home Value in New York (According to Zillow): $377,190
However, do keep in mind that if you're planning on moving to New York City, the difference in the cost of real estate won't be as prominent!
Renting A House
When you think of rent in both California and New York, the first places that come to mind are definitely Los Angeles, San Francisco, and NYC. We wouldn't be surprised if automatically assume that rent in these states is extremely high. While the average monthly rent in these states is indeed higher than the national average, you could rent a house in one of the more affordable cities!
Monthly Median Rent For A Three-Bedroom Apartment In California (According to BestPlaces): $2,641
Monthly Median Rent For A Three-Bedroom Apartment In New York (According to BestPlaces): $2,171
Utilities
The basic services which you need to keep your home or business running are known as utilities. Some of the utilities are water, gas, electricity, etc. Even services like internet, cable TV, and phone recharge are included in utilities.
The average utility bill for the citizens of the US is $316 per month. While both California and New York are above the national average rate, they are extremely close to each other. The average monthly bill for utilities in California is $346 and in New York, it's $345.
Job Market
Before we talk about the job market, let's talk a little about some related staggering numbers. California has had a GDP of $3.124 trillion in 2021, contributing 14.7% to the US's entire economy. New York stands at number three with $1.705 trillion. California has an area that's thrice the size and with a population that's two times the size of New York.
No matter what, with more than 8 million people working at over 500,000 business entities, there's no dearth of business and professional services in New York. The job market is always booming. A few of the top industries in the state are retail, real estate, consulting, technology, construction, transportation, food service, and healthcare.
Are you someone who wants to work in the healthcare sector? New York's medical centers, private, and public hospitals have more than a million people working for them. This indicates the kind of demand that there is. If you're looking for jobs in the government sector, you'll be delighted to know that the state government has more than 1,500,000 positions for different kinds of roles all over New York. Yet another sector with a huge number of jobs is education with over 200,000 teachers already working.
The median household incomes in California and New York are $75,235 and $68,486, respectively. Another notable difference between the two states is the unemployment rate. California has an unemployment rate of 3.7% and New York has it at 2.4%.
See also: 10 Tips For Moving To A New State Without A Job
Transportation
While San Francisco has among the best public transportation systems in the state (Bay Area Rapid Transit trains, Muni, etc), other areas may not necessarily have the best options. To put it shortly, California is primarily a car-driven state.
New York State is quite good when it comes to public transportation too. Greyhound is an intercity bus transportation provider serving the entirety of North America including the state of New York. Next up is a subsidiary of CoachUSA known as MegaBus. It facilitates intercity trips within New York State. In addition, MegaBus offers scheduled bus services from Albany, Buffalo, Rochester and Syracuse to New York City.
At the moment, as many as three separate commuter railroads are operating in the New York metropolitan area— the Long Island Railroad, Metro-North Railroad, and the New Jersey Transit. Some of the names of passenger trains that are operated by Amtrak are Empire Corridor, Maple Leaf, Adirondack , Ethan Allen Express, Lake Shore Limited, and Acela Express.
If you're moving to New York City, you'll probably end up using the subway and buses to commute, much like the millions in the city! Going by the number of stations, the New York subway system is the largest in the world. Also, it runs 24 hours a day.
On the other hand, if you're moving to Buffalo, you're likely to use the Buffalo Metro Rail, which you can travel for free if your route is aboveground!
New York's Strong Points
Dynamic Culture: One of the world's most sought-after places and a dream destination, New York is full of zest. The state offers the best options for entertainment, food, art, music, and you get to meet people from every corner of the world.
Low Crime Rate: The crime rate in the state of New York is quite low. You'll find its name in the top 15 states of the country with the lowest crime rate.
Job Opportunities: Regardless of whether you want to start a new profession or build on what you are already doing, there are countless opportunities in New York State in any field you can think of.
Four Seasons: You're getting multiple options not just to keep yourself entertained all the time, but also for the seasons. Four seasons in 12 months is a pretty awesome deal if you ask us.
Top Cities To Move To In New York
Of course, there's New York City but everyone already knows everything about it, right? New York State has a lot more to offer.
Albany
Serving as the capital city of New York State, Albany is rated among the top cities to reside in. It's located along the Hudson River and around 150 miles to the north of New York City. The picturesque city has a population of just over 100,000 with a median income of $45,334. Due to the relatively lower real estate prices and cost of living, Albany is regarded as one of the most affordable cities in the entire state. The real estate prices and the cost of living are 40% and 13% lower than the state average, respectively. Plus, the job opportunities are massive in the city.
Median Home Value: $252,899
Monthly Median Rent: $2,179
Syracuse
Median Home Value: $150,589
Monthly Median Rent: $1,259
Rochester
The city of Rochester is located south of Lake Ontario and is known for its welcoming, warmer, and kinder citizens more than anything. Considered among the best places to raise a family, this upstate town of New York has something for everyone. Another of its highlight is its top-quality educational institutions like the University of Rochester. The median income in Rochester is $32,945 and its population is over 210,000.
Median Home Value: $198,158
Monthly Median Rent: $1,169
Buffalo
Buffalo lies to the east of the stunning Lake Erie and is a mere 20 miles from the famous Niagara Falls. It's not for nothing is the city known as 'The City Of Good Neighbors'. The friendly people go out of their way to help a stranger. Buffalo is New York's second-most populous city as it is home to more than 260,000 residents. The median income is $34,845 and the cost of living in Buffalo is lower when compared to the state average. People look forward to moving to this city because of its affordable housing, education, job opportunities, nightlife, and food options. Thinking about Buffalo wings?
Median Home Value: $194,109
Monthly Median Rent: $1,146
Related: Largest Cities in NY
Things To Take Care Of When You're Moving From California To New York
Hire a long distance moving company. We know this one is quite obvious, but still, while researching moving companies, we advise you to double-check that the company you are shortlisting is not just a local mover. Don't forget to check out the customer reviews for a clearer picture.
Make sure that the company you finalize is registered with the US Department of Transportation.
The moving company that you hire is going to charge you based on the weight of your shipment. So the first you can do is list down the items which can be discarded, particularly the large-sized ones. For example, if you were thinking of replacing your dining table because it has seen better days, you can leave it behind and save a little money.
Before the moving date, make a complete inventory of all your belongings no matter how big or small they are. This is for when your shipment arrives at your new house. You can check if each and every item is there or if something is missing.
Keep all your important documents and paperwork safely with you. You cannot afford to misplace any of it.
The Most Awaited Subject Of Moving Costs
Almost 3,000 miles from the extreme west of the US to all the way east, this is perhaps the longest distance in the US anyone can cover. Do not settle for an online quote from any company. Call them to your house for a thorough assessment of all your possessions so that they can give you a reasonable quote. Consult at least three moving companies and analyze which one meets your requirements and budget. The cost of your move depends on a number of factors like the weight of your cargo, the distance between your current and target locations, number of movers and packers, time of the year, etc.
See also: 10 Best Coast to Coast Movers in the USA
Here's the approximate cost of moving a single bedroom apartment from California to New York:
Professional Moving Company: $2,600 to 4,790
Moving Container: $2,940 to $3,720
Freight Shipping: $2,665 to $3,370
Rental Truck: $2,225 to $2,810
Conclusion
As we said in the beginning, New York is a dream destination to live in for people not just in the US, but around the world. The biggest attraction is the state's stable job market with countless opportunities. Along with this, factors like low crime rate, amazing public transport, and the spirited culture contribute to making it a highly desirable place to settle down. Hope this article helped you understand better the whole process of moving from California to New York!
FAQs On Moving From California to New York
How Much Does It Cost To Move From California To New York?
Hiring a professional moving company to move a two-bedroom apartment from California to New York should cost somewhere between $3.900 and $5,675. This amount does not include any additional service you might want like packing, unpacking, and the packing materials.
Is New York Safer Than California?
When compared to California, New York State has a much lower crime rate. According to NeighborhoodScout, The Golden State has an overall violent and property crime rate of 2.87 and 4.26 per 1,000 residents respectively. On the other hand, New York's violent and property crime rates are 2.30 and 0.97 per 1,000 residents respectively. Another feather in the cap of New York when it comes to crimes is that the rates are also lower than the national average, which is not the case for California.
Is New York A Good State To Settle Down?
New York State is one of the most sought-after places to settle down. It has got everything from great job opportunities, high-quality education options to magnificent art, diverse culture, nightlife, music, and as many as four seasons in a year. The beautiful landscapes just add to the charm of the state.
Also Read: Moving from California to Florida | Moving from California to Idaho | Moving From Texas to New York | Moving from Houston to New York