Moving from California to Florida: Expert Tips & Advice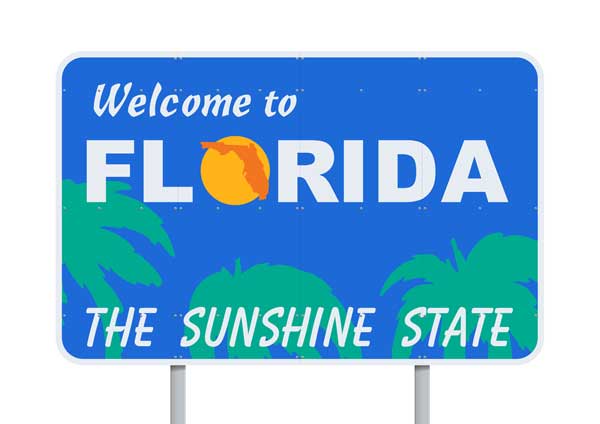 For many Californians, the state of Florida is just like a home away from home. These states are tied to the hip when it comes to sharing a love for sunshine, sand and sea. So, you don't have to worry about having a shortage of those aspects.
Other than that, Florida also delivers if you're looking to step back and escape high taxes and a burgeoning cost of living. The state of Florida might be a fresh change of scenery, but before you take a leap, here are few things you should know about moving from California to Florida.
Factors To Consider Before Moving From CA to FL
Weather Conditions
As you might already know, the state of Florida is popularly recalled as the 'Sunshine State. This nickname surely does the job of taking away any suspense about the weather conditions in Florida. One can categorize the dominant climate into high humidity and abundance of sunny days. In this aspect, it is pretty close to what you'd have in California, but trust us, there's some variations in humidity. By this we mean that the heat in California is close to comfortable temperatures with the cool ocean breeze that filters down the humidity. But in the case of Florida, humidity can be quite high, and as a transplant, you might need to give yourself some time to get used to it.
Here's the difference in temperatures that you can expect during peak summer time –
Florida in June – average high temperatures fall in the 88°F (31.1°C) and 90°F (32.2°C) zone.
California in June – average high temperatures fall in the 75°F (23.9°C) to 85°F (29.4°C) zone.
So even though Florida gets plus points for having year round balmy weather, you have to be prepared to deal with high humidity. Aside from that, it also has its share of rough weather in the form of heavy rains, thunderstorms and occasional hurricanes. This is something that you're most likely not used to experiencing in California where rains are a rare occurrence. But keep in mind that in Florida, you're going to be dealing with rain perhaps for days on end or even weeks. So, it's best to be prepared with a light raincoat and umbrella when a clear sky turns cloudy at any point during spring or summer.
Just a heads up that the conditions are worse the closer you reside to the coastline, so do take this into account during your house hunt. It is also worth noting that hurricanes can bring in a considerable amount of damage to homes, which is why you have to keep an eye out for such weather warnings.
A majority of residents invest in flood or hurricane insurance and this is something that you would perhaps need to consider when you live in Florida. In terms of winters, you have nothing to worry about as conditions are mild, never freezing and almost on the same tangent as California.
Cost of Living
There's no two ways about it, but the cost of living in Florida is drastically low in comparison to that in California. The state of California is among the most expensive states to live in the nation and this is the main driving factor behind people fleeing the state. Real estate prices, taxes, entertainment, food and gas can start to look insanely low in Florida when you simply put it up against the costs in California.
For instance, gas is over $3 a gallon in California and could even be $4 in certain cities. In Florida, you can expect this figure for a gallon of gas to drop to a dollar or two. All in all, costs in California are basically double of what it would be in Florida. This is a great news since there's more chance of your dollar stretching and you getting more for the money you put down.
To give you a perspective on just how much you would save on housing, see below:
Median value of homes in California (according to Zillow) – $609,757
Median value of homes in Florida (according to Zillow) – $264,149
See also: 15 Cheap States to Move to
There's a little more than 50% difference in housing prices between the two states. This makes it possible to afford a bigger house in Florida for less than half the price of what you'd have to pay for it in California. If investing in a bigger property and having more savings for yourself is one of the goals you wish to accomplish, you may see scope to execute it in Florida.
Lastly, Florida also doesn't have state income tax and this is one of the biggest factors that largely contribute to saving a load of money. California has the highest state income tax in the country, so if that's what makes you want to escape the financial burden, you surely can take sanctuary from it in Florida.
Job Market
In terms of the job market, California is far superior to Florida. The Golden state is a landmine of opportunity. It is home to tech giants, thousands of financial firms, notable multinational corporations, Fortune 500 companies and much more. The job market is cosmopolitan in nature, so you have a wide variety of fields to choose from.
Florida also has its share of well established companies and booming trades, but they do lie on a different tangent from where California stands. Just like tech is California's dominant performing industry, Florida has certain key industries that contribute largely to the health of its economy.
Few of the booming trades in Florida are:
Healthcare
Insurance
Finance
Construction
Hospitality
Real Estate
If your field of work is closely tied to these sectors, then there's a high chance of raking in a higher income. These are also by far the easiest fields to target for jobs.
In terms of income, you will see a dip in figures. See below to understand the huge margin in median annual income:
Median annual income in California (according to Niche) – $77,228
Median annual income in Florida (according to Niche) – $53,267
However, you probably don't have to be taken aback by the difference in income, because even the cost of living is fairly low. So, if you look at the bigger picture, you'd most likely have a great income to cost of living ratio. For instance, reports state that an annual income of 45k to 65k is sufficient for a single person to live comfortably in Florida. On the other hand, with California, you have a wide array of jobs and career nurturing opportunities to choose from. Then again, it's all at the expense of a high cost of living and insane taxes. Therefore, it narrows down to your personal preferences.
Transportation
In the state of Florida, most residents have a high dependence on their four-wheeler to get around. For the most part, the state is car centric. In California, you'd probably be used to relying on several public transit systems like the metro rail, MUNI metro, RT Light Rail, ACE, BART, SMART and VTA services. But the public transit in Florida is reduced to bus systems, people movers serving key cities and a commuter rail service (SunRail) that caters to the Greater Orlando area.
The bus systems have the most coverage among the other modes, but in terms of practicality, it still isn't the most ideal. This is because they don't really have the best frequency and based on weather conditions like extreme heat or rain, it wouldn't be wise to always rely on the bus for commuting. But on the plus side, most cities are walkable and bicycle friendly in Florida. The state has a good number of dedicated bike lanes, and depending on where you have to get to, this might seem feasible. Apart from that, you can always rely on car sharing programs like Uber and Lyft.
Florida's strong points:
No state income tax
Low housing costs
Sun, sand and sea
Year round tropical climate
Home to hotspots for outdoor recreation (theme parks, golf courses, nature trails)
Lively, vibrant, action packed cities
Slow paced lifestyle
Diverse culture and communities
Top Cities To Move To In Florida
1. Orlando
The city of Orlando has a social personality. It is home to theme parks, water parks, places for entertainment, restaurants and much more. If you're looking for an active bustling city where you will never run out of things to do, then Orlando is the place to be. The real estate is on the affordable spectrum and the city has several newly developed residential areas. There's shopping areas, beautiful beaches nearby and a bunch of places where you can attend live events. Orlando also has an international airport within it which makes it convenient if you have to travel or visit relatives often.
Median value of homes sold – $217,800
Median rent – $1,139
See also: Moving to Orlando FL
2. Tampa
The city of Tampa has a huge concentration of schools, universities, tall business buildings, museums and affordable housing. It has a large percentage of young professionals and students that contribute to the buzzing atmosphere of the place. The city lies in close proximity to the waters, so you have riverfront areas and beautiful places to set up a picnic. It is easy to find warm, friendly and diverse communities from all walks of life here. It's a great city for families and those looking for job opportunities. If you choose to live here, you'll have accessibility to the beach, waterfront areas and top-quality school systems.
Median value of homes sold – $217,400
Median rent – $1,082
See also: Moving to Tampa FL
3. Jacksonville
Jacksonville has a slice of everything one looks to find in Florida. Residents here enjoy the laid back lifestyle and have access to modern amenities. The city is filled with water parks, playgrounds, golf courses and several other places for entertainment. Few of the perks of living here is that you have easy access to major airports, you're always connected to the beach and there's a significant number of established companies here. The food scene is also stellar and you'll find a good blend of towns with small town charm and bustling metropolitan areas.
Median value of homes sold – $160,900
Median rent – $1,029
See also: Moving to Jacksonville FL
4. St Augustine
St Augustine is among the best places to live in Florida. It lies in close proximity to Jacksonville and the weather here is temperate, as it lies in the northern part of the state. It really never gets too hot here, so this could be a good choice if you're not a fan of the heat. The city is full of culture, clean beaches and recreational spaces. St Augustine is extremely picturesque and has a rich history too. The only downside is that the area attracts a ton of tourists during peak season so the place does get busy.
Median value of homes sold – $260,800
Median rent – $1,030
5. Naples
Naples is a compact city with a mix of unique buildings, top-notch restaurants and convenience stores. The city is relatively quieter than other cities on this list and is an ideal spot for retirees and families. Close knit communities, a good number of playgrounds, parks and golf courses is what makes up the atmosphere of Naples. It is a haven for outdoor enthusiasts, since the culture is extremely outdoorsy and encourages you to take up an activity like cycling, swimming, running, hiking or playing golf.
Median value of homes sold – $352,630
Median rent – $1,343
Things To Take Care Of When You're Moving From California To Florida
Remember that this would be a long distance move, so take your time to understand if you'd like full-service movers to intervene with the big move to reduce the stress of relocating.
Decide if you want to book flights to Florida or drive to your new home. If you choose to drive, keep in mind that it would take you a minimum of 3 days or a maximum of 5 days to reach your destination. You would also need to factor in lodging costs, gas and food stops which might increase the budget of the move.
If you attempt to drive, ensure that you're well rested and plan out all the road stops you'll eventually take.
See your move as an opportunity to downsize your belongings. Sell, donate or purge items to reduce the overall weight of the items you're taking along. Trim down the weight as much as possible.
Make sure if you've taken at least 3 in-person quotes before confirming a moving service.
Spend some time on reading testimonials and reviews on Better Business Bureau and Google Reviews to develop an understanding of what people think of the movers you've found.
Find out the window frame within which your belongings will be delivered and plan your move around that date.
If possible, avoid moving during peak summer months (May through August) because it is the most popular time to move and also for tourists to visit Florida, so roads could be clogged.
See also: Moving to Florida [Detailed Guide]
California to Florida Moving Costs
The average costs for full-service movers will fall in the price bracket of $4,000 to $8,000. The average high applies for bigger homes while the low applies for 1-bedroom houses or studios. Hiring a full-service moving company can be expensive because the movers would handle the packing, loading, unloading, driving the truck, gas and much more as per the requests of their customers. There are various other elements that will impact the quote you receive from your movers.
You can choose to reduce costs by independently loading and unloading the truck or managing the packing of your belongings yourself. We suggest to put forward your demands and customize the quote as per the budget you have in mind. Don't forget to read the fine print and discuss everything thoroughly before confirming a moving company.
FAQs about Moving from California to Florida
Is it better to live in Florida or California?
In a situation where both the states of Florida and California have amazing weather, world class beaches and a relaxed lifestyle to offer, it isn't really easy to choose where to live in. But there are a few clear cut benefits either state has over the other. While California surely has a better economy, and finding a job here could be easier, the overall cost of living and especially the housing costs are way expensive in comparison to many other states in the US.
On the other hand, Florida offers really affordable housing and the cost of living is also reasonable. Besides, the Sunshine State also offers a lot of tax benefits, including no tax on personal income. However, public transportation is not readily available in Florida and at the same time, the crime rate here is more than that of California. Basically, living either in Florida or California has its own pros and cons, but the bottom line is that whichever state you chose to live in, you're sure to fall in love with it.
What state are most Californians moving to?
Living in California, for the most part, is expensive. That's also the main reason why more and more Californians are making a move out of the Golden State. And these Californians are moving to more affordable states like Texas, Arizona, Nevada, Washington and Oregon. The most popular choice among people moving out of California is the Lone Star State, mainly because Texas has no state income tax and has highly affordable housing available.
Is Florida or California safer?
Out of 50 states in the US, Florida is ranked as the 39th and California has been ranked as the 31st safest state, as per FBI reports. So, even though the crime statistics are high for both the states, when you compare the two, California will account to be safer than Florida.
Why do so many retirees move to Florida?
Florida is among the very few states in the US that have a no state income tax policy for all its residents. Not only that, you will also find other tax benefits in the Sunshine State as their property taxes are very reasonable and they have no inheritance or estate tax as well. And this is why so many retirees prefer to move to Florida. It gives them the leisure of spending their hard earned retirement money for things that they would like and not solely on state taxes.
Interestingly, Florida also has many special communities or 'retirement villages' that are specifically suited for people above a particular age, who would like to live around similar individuals. And of course, it goes without saying that the amazing weather and sun-kissed beaches are also reasons enough for not only retirees but for anyone to move to Florida.
What is the cheapest way to move out of state?
For most people, the entire process of moving can end up burning a hole in their pockets. And if you're moving long distance or out of state, you're sure to look out for ways to keep your budget in place. While many people think that going the D-I-Y way can be the cheapest, that may not be the case always. So, you could probably get multiple quotes from professional moving companies and choose only the services that you require. You can save a few bucks by renting a moving container or a POD, or you could also consider using a freight trailer. If your luggage or belongings is under 250 lbs, taking a bus would be the cheapest way to move out of state.
What are the benefits of moving to Florida?
From all year round tropical weather to an abundance of sand and sea, Florida can surely make you fall in love with it. Some major benefits of moving to Florida include no state income tax, low housing costs, diverse culture, vibrant city life and umpteen outdoor recreational activities. If that wasn't enough, Florida also has some of the best educational institutes in the US, and at the same time, is also a popular place to move to after you retire.
Why are people moving out of California?
California as a state has a lot to offer, but there are still people moving out of the Golden State in large numbers. The main reasons behind that are the high taxes, skyrocketing housing prices and also politics to some extent. At a time when many people are finding it tough to make ends meet, the extremely high costs of living is what is making people move out of California.
What is the nicest town in Florida?
What has consistently been termed as the nicest town in Florida is Apalachicola, a picturesque little town located in the Gulf of Mexico. Quite often referred to as the 'Oyster capital of the World', Apalachicola has heavenly seafood offerings and old historic structures to charm you. A few other amazing towns in Florida include the Cedar Key and the Crystal River.
What is the most dangerous city in FL?
As per FBI statistics, Florida City has been ranked as the most dangerous city in Florida. The total crime rate of Florida City is around 120%, per 1000 residents, with around 28% accounting to violent crimes and 92% accounting to property crimes, according to neighborhoodscout. The city's crime statistics are way above the national average, not only making it a dangerous city in Florida, but also among the most dangerous cities of the United States. Opa Locka and Lake City are also some of the dangerous cities in Florida.
What is the cheapest city to live in in Florida?
Live Oak has been rated as the cheapest city to live in Florida by HomeSnacks. With a median home value of around $111,000 and median income of around $48,000, it isn't difficult to see why. Located in northern Florida, Live Oak surely has really affordable housing, and the transportation, utilities and grocery costs are also among the cheapest in Florida. Some other affordable cities to live in Florida are Fort Meade, Quincy, Lake Alfred and Maccleny.
Are Florida or California beaches better?
Well, there isn't any surprise in the fact that both Florida and California are home to some of the best beaches in the world. While California beaches are spread across the west coast and have more powerful waves, beaches in Florida are more prominent on the east coast and have warm temperatures year round.
If surfing is your passion, then you will definitely find the California beaches to be better. However, if you would enjoy more aesthetically calm blue waters and white sand, then you're sure to love the beaches of Florida.
What is a good salary in Florida?
Keeping in mind the average cost of living in Florida, which as per Bestplaces is very close to the national average, an annual salary of around $55,000 – $60,000 would be considered good enough in Florida. To give you a perspective, a family of 3, with one earning adult and one child, would need approximately $58,000 as an annual salary to live a comfortable life. The median household income is around $53,000 in the Sunshine State.
---
Conclusion
There are several reasons why Florida is worth the switch to the east coast. From no income state tax to diverse communities, the state surely has a lot to offer transplants from California. Overall, thanks to the affordability of the state, one can probably reach out to executing dreams of a slow pace lifestyle or a fuller standard of living. If Florida has won your heart over, make sure to plan this journey well in advance so as to ease the stress of a long distance move.
Also Read: Moving from California to Nevada | Top-Rated Movers in San Francisco