Moving from California to Arizona: Expert Tips & Advice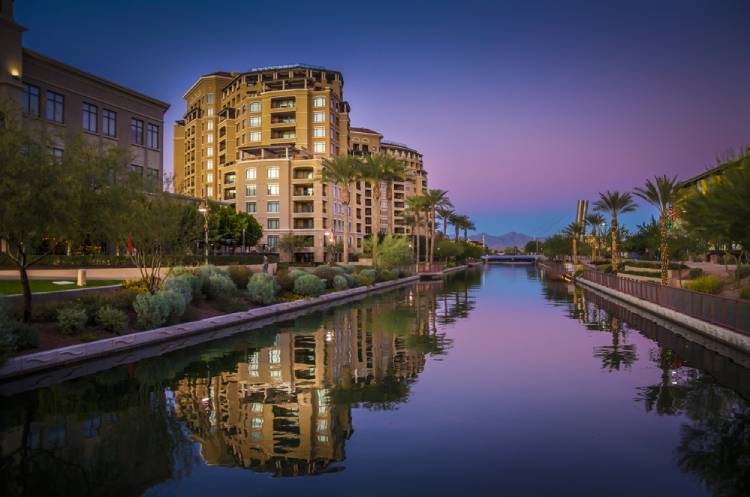 California and Arizona are next door neighbors that don't have much in common. And believe it or not, this really isn't a bad thing for quite a few people. After all, you get to escape from high taxes, a notoriously high cost of living and expensive real estate. You're then left with temperate weather, affordability and a place to start afresh.
But that's not all there is to living in Arizona and everything it has in store for you when you leave the greener pastures of California behind. Save yourself some time from doing homework on weather, costs, transport, and the best cities as we've covered everything under the sun for a move from the Golden state of California to the beautiful state of Arizona.
Factors To Consider Before Moving From CA To AZ
Weather Conditions
If there's one aspect where California and Arizona aren't poles apart, then it would have to be the weather. The clear skies and year-round comfortable temperatures is something that you won't be sacrificing by making the switch to your neighboring state Arizona. In fact, Arizona has no shortage of sunny days and enjoys a longer summer than California. This is good news because you don't have to spend time or money on a winter wardrobe, but make use of all the flip-flops, tees and shorts you already own.
On an average, the state of California (especially Los Angeles) enjoys roughly 288 days of sunshine, while Arizona (especially Phoenix) gets 299 sunny days annually. The only difference is that there would be a slight variation in temperatures and you might take some time to adjust to the severe heat.
Here's the difference in temperatures that you can expect during peak summer time:
Arizona in June – average high temperatures fall in the 81°F (27.2°C) to 108°F (42.2°C) zone.
California in June – average high temperatures fall in the 75°F (23.9°C) to 85°F (29.4°C) zone.
So how hot does it really get? Summers in Arizona experience temperatures that regularly touch 100 degrees fahrenheit or more. To explain it in simple words, this means it's best to always carry a water bottle with you and never walk barefoot outside during the summers. As a transplant, you'd most likely take your time to get acclimatized to the heat because it lacks ocean breeze like California and is high in humidity. For your first summer in Arizona, you may find yourself craving air conditioning all the time, and this is not an unusual reaction to living in a desert, so allow yourself to get adjusted to the brutal heat.
Just a heads up that you'd also have to be careful about occasional 'Haboobs'. These are basically sand storms that are witnessed during the summers. It disturbs visibility and that's the reason you have to be slightly careful about them.
Spring and Fall are the seasons when you can get a good break from the scorching heat. And winters in Arizona are mild just like they are in California. Temperatures are comfortable and fall in the range of 46°F (7.8°C) to 69°F (20.6°C). Snowfall is rare and only the northern parts of the state get to experience a decent amount of snow.
Cost of Living
Like we mentioned earlier, Arizona and California lie on two completely different grounds when it comes to the costs of living. California is among the most expensive places to live in the nation, while by the looks of it, Arizona hasn't entered that province yet.
There's a massive difference in costs between the two and this makes it possible for you to get way more value for the dollar you put down. To give you a perspective on just how much you would save on housing, see below:
Median value of homes in California (according to Zillow) – $609,757
Median value of homes in Arizona (according to Zillow) – $303,230
This proves that there's a 50% margin in housing costs, meaning that you could probably purchase a bigger apartment/house in Arizona without really drowning in an ocean of mortgage loan. If this is one of the goals you wish to achieve with the move, then Arizona won't disappoint for sure.
Moreover, you also don't have much to worry much about in terms of transportation, food, healthcare or even entertainment. These figures would be roughly 40 to 50% lower than the costs in California. But keep in mind that energy bills will be higher because 99% of places must have AC to survive the brutal summers. Average electricity bills in California are $80 to $100. However, this amount would most likely bump up to $130 to $150 a month or more in Arizona because of running the AC often. Then again, it would be your usage that would eventually determine just how much you end up paying in utilities.
Job Market
We like to call a spade a spade. So we're not mincing our words when we say the job market in Arizona and California aren't exactly on the same page. But perhaps it's getting there since Arizona is among the fastest growing states in the US. In terms of income, both states stand miles apart. See below to understand the huge margin in median annual income:
Median annual income in California (according to Niche) – $77,228
Median annual income in Arizona (according to Niche) – $56,213
It's a no brainer that you would receive a higher income in California, but the downside is that the cost of living is also pretty high. So you don't get to see your dollar stretch out, unless you earn in six digit figures.
In Arizona, you may earn a salary that's 20k to 30k less than what you would earn in California, but at the same time you save enough to dream of an upper middle class lifestyle and beyond. All in all, a 45k to 55k annual income is sufficient to live comfortably and save for a single person in Arizona, so keep this bracket in mind while on a job hunt.
In terms of the job market, the booming trades in Arizona are retail, healthcare and government jobs. There's a mixed bag of industries that contribute to the growth of the economy, but service related jobs are specifically booming because of the increase in population. The state is also seeing a ton of development because of which construction, development and retail related jobs are by far the easiest fields to target.
Few of the top employers of the state of Arizona are:
Banner Health
Walmart Stores
The Kroger Company
Wells Fargo & Company
CVS Health
ON Semiconductor
University of Arizona
Transportation
In its entirety, the modes of intra city commute in Arizona is pretty car centric. Being car-less is only possible in a handful of cities that have good public transit systems. But most places are spread out, so in terms of practicality, a car is a must to get around.
In California, you may have been accustomed to systems like the Metro rail, MUNI metro, BART, SMART, VTA, RT Light rail and more for commuting. But in Arizona, your options are limited to buses that have good coverage but can't always be relied on for frequency.
One of the most reliable transit systems is the 'Valley Metro Rail'. This is a 45 km light rail line serving the cities of Phoenix, Tempe and Mesa in Arizona. Overall, if you live near a bus line or light rail you can opt to commute sans car. Biking and walking is also an option but don't really count as convenient options if your place of work is far. Also, remember that Arizona's summers are brutal, so there's not much you can cover by walking or cycling. Overall, it's clear that Arizona's transit system isn't its forte, so what exactly is?
Arizona's strong points
Low cost of living
Outdoorsy weather for 8-9 months
Lots of diversity
Natural marvels like the Grand Canyon, Antelope Canyon, Cathedral Rock, Slide Rock
Laid back lifestyle
Abundance of metropolitan cities with modern amenities
Well connected to big metropolitan areas like Los Angeles, Las Vegas and San Diego
Top Cities To Move To In Arizona
1. Scottsdale
'Beverly Hills of the Desert' is the term used to describe what it feels like to live in Scottsdale. It's easy to feel reminded of Los Angeles in this city of Arizona. The town is filled with upscale restaurants, top-notch places for entertainment and premium houses. Real estate here is on the expensive side of the spectrum, but in exchange, you get the quality you seek. Areas are extremely well-maintained and you have ample of space for recreational activities like jogging, walking and cycling. It ranks as the number one city to retire in America (as per Niche).
Median price of homes sold: $545,828
Median rent: $1598
2. Tucson
The city of Tucson has a big character that really adds to its appeal. People are drawn to the city because of its culture, vibrant nightlife, art communities, culinary and much more. There's tons of things to do in this part of Arizona and you're never left feeling bored. This makes Tucson an ideal place for young professionals and families. You're surrounded by national parks, mountains and get to enjoy various cultural events. Tucson is also the first UNESCO city of Gastronomy and this speaks about the food scene here. Peter Howell, Catalina Foothills, Old Fort Lowell are some of the best neighborhoods to consider in Tucson.
Median price of homes sold: $219,800
Median rent: $950
3. Chandler
The city of Chandler is a suburb of Phoenix and is one of the best places to consider if you wish to stay in close proximity to Phoenix. It is home to the top performing school districts, career nurturing companies and plenty of places for recreation. This suburb has the perfect balance of places to work and play. It is an ideal choice for students, young professionals and families. The city is relatively safer, clean and cut off from the hustle and congestion of the greater Phoenix area.
Median price of homes sold: $368,266
Median rent: $1390
4. Mesa
Mesa is presently the third largest city of Arizona. The greatest pro of choosing to live here is that you get to enjoy the perks of its location. You have easy access to entertainment options in cities like Tempe, Chandler, Gilbert and even the Phoenix metropolitan area. Residents also get to take advantage of the light rail station which makes commuting back and forth easy. The area has everything – Target, Walmart, Home Depot and a ton of other chain stores. For leisurely experiences and recreational activities, you can also always head to the two rivers that are part of the city of Mesa.
Median price of homes sold: $209,700
Median rent: $988
5. Tempe
Tempe is a college city that lies in close proximity to the airport. It enjoys a central location and has a ton of tech companies setting up their headquarters here. Residents here also get to enjoy having a riverside which is great for kayaking and picnics. Tempe is also home to the University of Arizona because of which it has a large percentage of college students that keeps the city atmosphere vibrant. You have a little bit of everything such as coffee shops, shopping areas, resorts, restaurants and more. Real estate here is also relatively affordable.
Median price of homes sold: $255,800
Median rent: $1,114
Things To Take Care Of When You're Moving From California To Arizona
Set deadlines to find a house, job and get administrative work in order before your moving date even if this is a short distance move.
Create a list of things you have to tackle in terms of moving costs and how much professional help you would need.
Ensure you've taken quotes from a minimum of 3 moving companies. You can get an accurate estimate of your move by sharing the exact zip code of your prospective house.
Donate, sell and get everything you don't need to take along with you. See the move as an opportunity to minimize junk from essentials.
Decide whether you'd like to fly or drive to Arizona. The drive isn't too strenuous and might help you save on costs, but ensure you've rested well before the big day.
See also: Moving to Arizona [Detailed Guide]
California to Arizona Moving Costs
The average costs for this interstate move is $2,500 to $3,500. This rough estimate applies for a single bedroom home and full-service movers. If you choose to do the packing, loading and unloading yourself, a rental truck would cost you somewhere between $850 to $1,200. Do note that the larger the home, the more expensive the estimate will get. But overall, you shouldn't expect moving costs to go beyond 4k.
We'd also like to give you a heads up that quotes will be much more expensive in the summer because of high demand for movers. Winters are off season for a move, so you might get a good deal with a moving company at this time. But keep in mind that if you do choose to move during the summer, you have to stay hydrated at all times and take precautions because of the heat. Bear in mind that you would be dealing with temperatures way above 100 degrees Fahrenheit.
Before you confirm the estimate, make sure you confirm whether your new home has parking facilities for your moving truck. If your mover has to walk a block or so with your belongings, your quote might be on the higher scale of things. This even applies in the case of an extra flight of stairs. It is absolutely necessary to discuss all the fine print before you settle with a moving company.
FAQs about Moving to CA toAZ
Why is everyone moving to Phoenix?
Most people, especially Californians, are thinking about moving to Phoenix, Arizona, because the cost of living is super affordable and low in Phoenix as compared to the rest of the nation. If that's not enough, Phoenix is the best place to work and start a business because of its low taxes.
Let's not forget, Phoenix has great weather almost throughout the year which attracts people who are looking to escape harsh climatic conditions. Lastly, Phoenix has several golf courses, outdoor activities, delicious food, an active and beautiful nightlife, and a range of cultural entertainment options that keeps its residents busy throughout the year.
Why are houses so cheap in Arizona?
There is a reason why the housing rates are so cheap in Arizona. In order to stabilize its GDP, the government of Arizona injected inflation into its economy. In addition to this, they also reflated the housing market of Arizona and this led to a stable GDP. Additionally, Arizona has a lot of land which isn't useful for agriculture. Because of this, land rates are low and people can avail themselves of affordable housing options.
What state are most Californians moving to?
The original inhabitants of California have constantly been moving out of the state for several years now. Most Californians move to Texas because its residents do not have to pay a state income tax and the economy of the state is in great condition. After Texas, most of the Californians either move to Arizona, Washington, Nevada, or Oregon.
What's the most dangerous city in Arizona?
Following are the most dangerous places to live in Arizona.
Globe: Most dangerous city in Arizona, chances of being a victim of violent crimes is 2 out of 100.
Tolleson: 2nd most dangerous city in Arizona, chances of being a victim to property crimes is 1 in 10.9.
Page: Although crime is on the decline, it still is the 3rd most dangerous city. The chances of being a victim of violent crime are 1 in 95 and the chances of being a victim of property crime are 5 in 100.
Winslow: 4th most dangerous city, almost 20.9% of the population lives below the poverty line. The chances of being a victim of violent crime are 1 in 98.
Tucson: Violent crime is on the decline here, chances of being a victim of property crime are 1 in 20.2.
Is it cheaper to live in Nevada or Arizona?
Living in Arizona is about 13% cheaper than living in Nevada. This is so because there is a vast difference between the housing costs in Arizona and Nevada. The median home value in Arizona is $239,400. Meanwhile, the median home value in Nevada is $326,900. In addition to this, food and groceries are 7.6% more expensive and transportation is 3.1% more expensive in Nevada. So Arizona is definitely cheaper than living in Nevada.
How long do you have to live in Arizona to be considered a resident?
There are a couple of requirements you need to fulfill before you can be considered a resident of Arizona. You must stay in Arizona for a purpose that is not temporary or transitory, and if you are staying out of Arizona temporarily, ensure that you are domiciled in Arizona. To be considered a resident of Arizona, you must stay there for at least 6 months and then establish your domicile there.
Is Arizona a good place to retire to?
Arizona is one of the best places to retire. Financially speaking, it makes a lot of sense to move to Arizona after you retire. This is so because Arizona is a tax-friendly state. Your Social Security and pension amounts are deducted from your taxes, and you don't pay gift, inheritance, or estate tax as well.
In addition to this, Arizona offers its retirees amazing weather and year-long opportunities for outdoor activities like boating, hiking, fishing, golfing, biking, etc. Lastly, there are numerous restaurants, art galleries, museums and other sources of entertainment which keep your evenings busy. So we believe that retirees should certainly consider moving to Arizona.
What city in Arizona has the best year round weather?
Arizona is known for its year-long beautiful weather. In fact, its weather is primarily why people love moving to Arizona. On average, Arizona has 286 sunny days in a year. The city that experiences the best year-long weather in Arizona has to be Scottsdale. It is the suburb of the city of Phoenix and offers a laid-back and quiet lifestyle to its residents. Here, the temperatures in winter can range between 66° F (highest) to 43° F (lowest). Similarly, the temperature in summers here can range between 104° F (highest) to 81° F (lowest). Thus, Scottsdale enjoys pleasant weather throughout the year as a result of which it is one of the best places to move to.
---
Conclusion
The state of Arizona possesses more than a handful of fast growing metropolitan areas with modern amenities. This makes it easy to find cities that resemble the lifestyle followed in California. But Arizona stands out because of its affordability. This aspect is not just inviting, but it also allows you to execute things that would otherwise remain a dream in California. Just remember if you decide to move, don't fear the heat and organize your move well in advance to get the best rates!
Also read: Moving from California to Florida | Top Moving Companies In Arizona | Top 5 Neighborhoods in Tucson for Families