Moving from California to Idaho – Expert Tips & Advice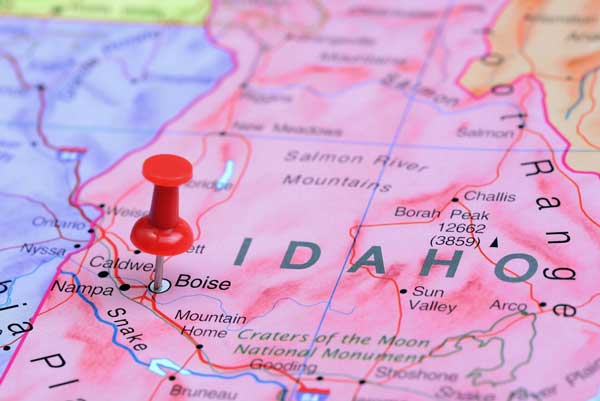 If you plan to move from California to Idaho, it's surely going to be a significant life change; of course, positively! Idaho would not be the first place that springs to mind when considering fascinating places to move in, but this hidden jewel has a lot more to offer than one would ever assume.
With its breathtaking scenery, proximity to magnificent national parks, moderate climate, and low cost of living, no wonder why Idaho is known as 'The Gem State'. In this article, we'll go through the many natural and economic benefits Idaho has to offer. We'll also look into the cost and requirements for moving from California to Idaho.
Weather
While California's year-round warm and sunny environment is difficult to surpass, Idaho provides a diversified climate with which you can experience all four seasons in one place. Residents get to enjoy mild summers, which are between 79°F to 95°F in peak seasons and snowy winters where the temperature falls into 26°F to 43°F, with an average of 20″ to 30″snowfall. Temperatures at night range from 36 to 60 degrees Fahrenheit. So maybe, you won't need to bring an extra set of sweatshirts or jackets. Idaho features many woodlands, lakes, and mountains in all sections of the state that turn hues and blossom spectacularly before your eyes in the fall and spring seasons.
Cost of Living
As a newcomer from California, one of the first things you'll recognize is how low the cost of living is in Idaho. The cost of living in any given location is determined by five factors: utilities, housing, healthcare, food, and transport. We looked at the overall cost of living in Idaho in light of these characteristics and compared it to the state average and the cost of living in California. Take note that the cost of living in urban areas is generally higher than in rural areas and small towns. In the largest cities, the cost of living in Idaho is approximately 5% lower than the national average, while it is over 10% lower in smaller communities.
On the other hand, California is one of the most expensive places to live in the US, with nearly all small towns and rural villages above the national average and big urban areas exceeding the national average by up to 90%. Moving to Idaho will, without a doubt, lower your living costs in half or perhaps one-fourth of what they were in California.
Taxes
Though the cost of living in Idaho is low, you will find the taxes here a bit on the higher side. Idaho's income tax rates can range from 1.125 percent to 6.925 percent. As a result, the more you earn, the more you will be taxed. Furthermore, the typical sales tax rate ranges from 6.00 percent to 8.50 percent.
On the other hand, property taxes will be easy on your wallet because the average effective rate (0.63 percent) is lower than the national average (1.07 percent ). That indicates an Idaho resident would pay $1,616 per year on average.
Housing Rates
Idaho has seen a dramatic surge in population due to the start of the work-from-home lifestyle, which was made possible by the COVID-19 pandemic. The demand for real estate soared due to the unexpected boom, pushing property prices higher than typical in this state.
Idaho's typical house value is $398,900, compared with the national average of $291,700, according to BestPlaces. This is a 36% increase over the national average. If purchasing a home in Idaho is out of your price range, renting is a viable option. The cost of living depends on where you live in the state. A 1-bedroom apartment costs roughly $778 on average, while a 3-bedroom unit costs around $1,379.
Also See: 6 Best Big Cities for First-time Homebuyers
Crime Rate
Idaho is ranked 5th in the US in terms of public safety. Residents are unconcerned about violent crimes, according to a SafeWise assessment, because the rate was lower than the national average.
The state's violent crime rate was 2.2 incidences per 1000 people, compared to the national average, which is 4.49 incidences per 1000 people. Some of Idaho's safest cities to move in includes Moscow, Preston, Weiser, and Rexburg.
Economic and Employment Opportunities
Idaho has a thriving employment market, with Boise recently named one of the fastest-growing job hubs. Its success is partly attributed to the state's rising technological presence, including corporations like Micron Technology and HP. Agriculture, healthcare, and public sector jobs are among the state's other important industries.
Idaho's economy has been flourishing despite the outbreak. Along with a GDP of $74.08 bn in 2020, you can be confident that you will be able to find rewarding employment in this state. Ranked 8th in GDP growth, Idaho has some of the best industries that are now developing and can bring you the job of your dreams in the following sectors:
Science and Technology
Semiconductor Manufacturing
Tourism
Agriculture
Education
Idaho is noted for its excellent schools and universities, with the country's third-highest graduation rate. Nearly every city in Idaho has a college or university, and some of the notable colleges like:
Brigham Young University-Idaho, Rexburg
Northwest Nazarene University, Nampa
The University of Idaho, Moscow
Boise State University, Boise
The College of Idaho, Caldwell
See Also: 10 Best Cities for Business Graduates to Move
Traffic and Transportation
Idaho's public transportation system is inefficient when compared to California's. It is strongly advised to get a vehicle; otherwise, it can get difficult moving around in Idaho. Because Idaho's public transit infrastructure is sorely deficient, it almost feels non-existent. Also, Uber and Lyft are unavailable in some rural areas of the state, limiting your ability to travel independently and quickly.
Boise is the only city in Idaho with an international airport. Also, you will only see a touch of public transportation in Boise, Moscow, and Idaho Falls. Steep gradients, switchbacks, and precipitous mountain roads are all common sights. But when it comes to other towns and cities, the roads are fairly twisting, making daily commuting a hardship, especially when the weather is bad.
Best Places to Live in Idaho:
Though cities such as San Francisco, Los Angeles, and San Diego may receive more attention, many people consider Boise to be the place to be. You get the benefits of a big metropolis without the high cost of living in California. You can also enjoy gorgeous landscapes, good schools, pleasant people, and a nearly non-existent crime rate. Boise is nestled between the Rocky Mountains to the west and the Great Basin Desert to the north, making for spectacular landscapes. River floats, kayaking, and whitewater rafting are all available on the Boise River, which passes through the middle of the city. Boise is among the fastest-growing job markets across the country, and citizens flock to the city because of its low unemployment rate and inexpensive cost of living.
Moscow
Moscow could be your destination if you prefer a small town to a major city. Because small shops and eateries constitute the community's lifeblood, there is no large towers insight. Moscow is an excellent place to start a family because the median property value is just over $200,000. A strong school system, which ranks 27th in the state for public education, adds to the advantages of a family-friendly municipality.
While Moscow lacks the buzz of a huge city, it does provide excellent small-town neighbors in a secure neighborhood.
Pierce Park
Pierce Par is a perfect combination for those who find Moscow too remote side and still want a big city atmosphere. Shops, parks, and community activities are all within a ten-minute drive. This Boise suburb has the impression of a little village while being only a short distance from a large city. In Pierce Park, you can find low- to moderate-cost housing, so families on fixed monthly earnings will have no trouble finding a place to live and keeping their costs down.
Sugar City
One of the most compelling reasons for people to relocate to Idaho is the availability of affordable homes. Sugar City features some of its most reasonably priced housing in the area. For new families, the typical property price of $168,300 is ideal. What's amazing about Sugar City is that there are no limitations when it comes to obtaining affordable housing. The schools are of excellent quality, and the crime rate is also minimal.
Like many other places in Idaho, Sugar City has a quaint small-town atmosphere. The lack of activities is the sole drawback. Sugar City, a small sleepy town, doesn't have a lot of things to do. However, if you really want a high-quality property at a low price and don't mind a short commute for family outings, Sugar City is the place to be.
Idaho Falls
For young professionals and even families that enjoy diversity, the atmosphere of a college town is a huge draw. All of this is available in Idaho Falls and reasonably priced homes. This academic hub of Idaho also offers plenty of entertainment, including a big zoo, dining establishments, movie theatres, and even some of the best bowling lanes in the state. The greatest thing is that hosing expenses hover around $255,000, with even better options available if you search hard enough. Idaho Falls continues to attract new visitors because of its diverse range of activities for all ages and its cultural center.
Cost of Moving from California to Idaho
There are many factors to consider when considering moving costs, as you might expect. The size of your household determines the cost of relocating from California to Idaho, the number of boxes, furniture, and personal goods you wish to move, as well as the route and gas expenses between your old and new residences, among other factors. A move from California to Idaho costs, on average, $4,301.
Also Read: Where Should I Move After Leaving California
Summing Up
Idaho, without a doubt, has certain drawbacks, but its advantages would exceed them all. Idaho has a low cost of living compared to California, so you won't have to make any drastic budget adjustments; the economy is thriving, so there are plenty of work prospects, and also the landscapes are immaculate. If such features appeal to you, moving to Idaho could be the wisest move you've ever made!
FAQs
Is Idaho a good state to move to from California?
Is Idaho a better state than California? It's not. But If you ask is Idaho a better place to move in, it definitely is! Idaho is the nation's fastest-growing state. Also, some cities like Boise and Idaho falls do offer the same lifestyle as California that too at a low cost of living. 
What is the cheapest city to live in in Idaho?
With a median property price of approximately $128,100, Burley is undoubtedly Idaho's cheapest city. Rent is also reasonably priced; at roughly $669 per month, $184 is far less than the state average.
Is it cheaper to live in Idaho than California?
Idaho has a lower cost of living than California. Residents in Idaho can afford much more in terms of housing, energy, food, and almost everything else.
What state are most Californians moving to?
According to Stacker's analysis, the majority of citizens who left the country's most populous state that is California, in 2019, relocated to Texas, which is the second most populated state in the country. According to Stacker, 82,235 Californians relocated to Texas in that year.
What are the dangers of living in Idaho?
Both violent and property crime rates are lower than the national average. Idaho has a violent crime rate of 2.7 crimes per 1000 people, which is lower than the national average of 4.5 crimes per 1000 people. Idaho also has a property crime rate of 21.3 offenses per 1,000 persons.
Also See: Best Cheap Moving Companies in the USA