Moving to Boise Idaho | 2022 Cost of Living and Relocation Tips


VanLines Inc
Secure Storage
Easy Booking Process
Fully Trained Employees
GET QUOTE

Colonial Van Lines
Storage Services
Long-Distance Moves
Corporate Relocations
GET QUOTE

Moving APT
Vetting Process
Award-Winning
Available Nationwide
GET QUOTE
Our Take
Price
Rating
Minimum Shipment Size
Storage
Booking Deposit
Cancellation Policy
Quoting Options
Discounts

Best Overall Value


GET QUOTE

2+ bedrooms




Free 30 Days




10%

Free up to 72 Hrs

Phone / FaceTime / Text

Senior / Same day Booking

Best Industry Reputation


GET QUOTE

1+ bedrooms




30 Days




20%

Free up to 72 hrs

Phone / Facetime

Seniors Discount

Best Customer Service


GET QUOTE

1+ bedrooms







Free up to 72 hrs

Phone / Virtual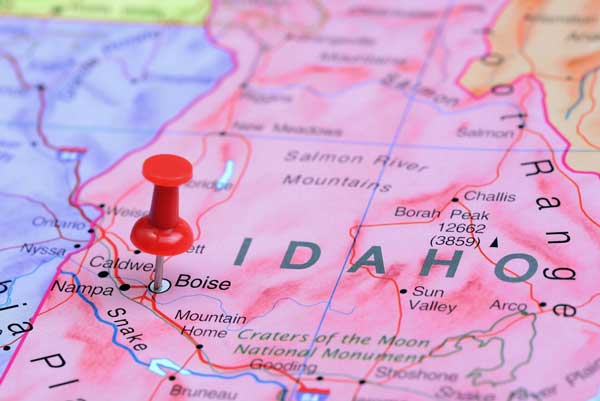 Any move, whether local or long distance, requires you to consider a variety of things to ensure you are making the right decision. Additionally, you must ensure the move goes well. Finally, once you arrive at your destination, it is important there are no unpleasant surprises. Of course, moving to Boise is no different. Whether you are planning to move to Boise by yourself or with your family, things like cost of living, things to do, and job opportunities must be considered. However, once considered, you will, no doubt, be packing up and on your way.
1. Nature
Whether you are moving alone or with your kids, if you love the outdoors, you are going to love Boise. One of the best features of this area is the Boise River. It winds its way through the city, providing beautiful views and peaceful settings for picnics or a quiet moment with a friend or loved one. Visitors and locals alike enjoy floating down the river on hot summer days.
Boise also offers year-round adventures to choose from, including skiing at Bogus Basin Ski Resort, boating on nearby reservoirs, and cycling on the Boise River Greenbelt. For the really adventurous, there is also the opportunity to experience white water rafting.
2. Boise Idaho Cost of Living
The cost of housing plays a big part in the cost of living for any city. With a median home price in Boise landing in the $300,000 range, housing costs are higher compared to the average median home cost in the US. Although housing costs are just a bit higher than the average home cost in the Unites States and just a little bit higher compared to Idaho as a whole, Boise residents pay less for utilities, groceries, and transportation in comparison to the US average. Finally, the cost for health care also comes in below the national average.
3. Relocation Tips
Because the market is rather competitive as of late, finding housing in Boise can be a challenge for renters or buyers alike. Additionally, because it is competitive, it can be expensive. Therefore, it is a good idea to have already acquired employment and been approved for a lease or mortgage before actually moving.
If you are looking to rent or buy, the best place to search for your new home is online. If you are in the market to buy, you should be aware that home prices have increased quite a bit in the past few years. For instance, most homes sell for just under $300,000 or just over this median amount. Although someone conducting a diligent search should be able to find a home in the $200,000 range, finding a house below that price point might prove difficult.
4. Moving and Shipping Costs
On average, if you are going to be making a local move to Boise, your costs will come in around $1,250. However, if you require special services, the cost will increase based on the specific services. Regarding a long-distance move, the average cost is around $4,890. However, you should keep in mind that the cost is based on both the distance and the weight of your items. Therefore, if you are moving enough stuff to fill a one-bedroom apartment, your costs could be lower than average. If you are moving enough stuff for a four-bedroom house, your costs will likely be higher than average.
If your move includes the help of professional movers, you will typically pay around $25 per hour, per mover. Therefore, a local move could cost upwards of $100 per hour. For a long-distance move, the rate is typically the same, however, as it is long-distance, the total cost will increase dramatically. In fact, a long-distance move can cost up to $3,000 as the movers will be employed throughout the entire move.
If you would like the convenience of packing services, such as quilt-padded wrapping for your fragile items, you will most likely be charged a minimum of $30. However, this cost for accessories can vary across moving companies.
Finally, when budgeting for your move, it is recommended that you have a surplus of money available to cover things like insurance and unexpected expenses. As these extra expenses will vary from person to person, it is up to you to consider your specific needs. However, on average, the sudden need for extra moving funds can range from as low $150 to as high as $2,000.
If you do not have furniture or large appliances, you might want to consider shipping your items. This approach can cost considerably less. For instance, some companies will ship your boxes for under a dollar per pound. Additionally, discounts may be available as the number of boxes to be shipped increases.
However, enjoying the best available price in your area might require you to take your boxes to the shipping company, but the overall savings can make this worth it. Finally, although shipping your belongings can be quite cost effective, you may have to wait up to 10 days to receive your boxes at your new address.
5. Taxes in Boise, Idaho
For the year 2022, the combined state, county, and city sales tax for Boise is 6.01 percent. Regarding income, Idaho's tax rates range from 1.125 percent to 6.925 percent for taxable income. Additionally, a wonderful benefit of moving to Boise is property tax. For instance, Idaho offers some of the lowest property taxes in the nation. In fact, Idaho ranks in as the 14th lowest state.
Ada county, where Boise is located, has a tax rate of .795 percent. However, if you live in your home, you are eligible to enjoy a homeowner's exemption. Referred to as an owner-occupied exclusion, this benefit exempts 50 percent of your house value. It also includes an exemption of up to one acre of land. This incredible exemption, which you must file for, means that you could end up reducing your taxes by hundreds of dollars per year.
For those considering relocating to Boise for retirement, Idaho, in general, is a tax-friendly state, but how friendly depends on your specific circumstances. For instance, retirees who plan to rely mostly on their Social Security benefits will experience a rather tax-friendly Idaho. This is because Idaho does not tax Social Security. This, in combination with low sales and property taxes, makes for a nice retirement.
6. Education
If you are moving to Boise with your children, you are undoubtedly interested in the quality of education this city has to offer. Fortunately, there is good news. In fact, Boise has received praise for its high-quality schools. For instance, in 2016, the Washington Post included several local high schools on their list of the most challenging high schools in the country.
In terms of higher education, Boise State University is known for granting more undergraduate degrees than any other university located in Idaho.
7. Boise Weather
If you enjoy all four seasons, you will love living in Boise. In fact, you could reasonably say that Boise's weather is quite pleasant as summers average around 71 degrees Fahrenheit, and winter temperatures tend to hover around 32 degrees Fahrenheit. With about 200 days of sun each year, residents do not have to deal with much rain. In fact, the average rainfall is just about 12 inches per year. Finally, although snowfall in Boise is typically minimal, residents are just a mere 25 minutes away from the local ski resort.
8. Job market
Boasting an unemployment rate of 2.3 percent, Boise scores better than the national average of 3.3 percent. Hailed as having one of the fastest-growing job markets, a good portion of this growth can be attributed to Boise's growing presence in the technological field. In fact, a variety of big-name tech employers are among this trend, including HP, Inc. and Micron Technology, Inc. Additionally, Boise is also known for its strong hold in hospitality and health care. For instance, both St. Alphonsus Health System and St. Luke's Health System play a large role in employing Boise residents.
9. Museums
There are a variety of great museums to enjoy in Boise. For instance, if you are interested in visual arts, you will enjoy exploring the Boise Art Museum. The museum is known for its exceptional collections, exhibitions, and educational opportunities. Another standout is the Idaho Botanical Gardens. Visitors can enjoy the fifteen-acres of vibrant splashes of color and shaded areas. Providing something for everyone, this museum is a popular spot for tourists, garden lovers, and horticultural education. Additionally, it is a great place for weddings, community events, and school tours.
FAQs about Moving to Boise Idaho
Is It Expensive To Live In Boise Idaho?
The cost of living in Boise is 8% lower than the national average, and groceries cost 10% lower than the national average. A family of 4 will spend around $2,863.59 a month on expenses, while a single person will spend approximately $814.55. All these things considered, Boise is an affordable city to live in.
How Much Money Do You Need To Live Comfortably In Idaho?
According to recent data from Business Insider, the living wage for the state of Idaho is $66,486, and the average annual salary is $58,478. You need to have around these figures to live a comfortable life in Idaho.
What Is A Livable Wage In Idaho?
Around $60k annually is a livable wage for people in Idaho. The livable wage for two adults with two kids where one works is $31.29, and $19.27 when both are working. The living wage for one adult with no kids is $13.95.
What Is The Most Common Job In Idaho?
Retail jobs seem to be the most common jobs in Idaho, while technology, healthcare and hospitality are three of the biggest industries.
What Is The Highest Paying Job In Idaho?
People in the medical field earn the highest wages in Idaho, with entry level salaries that start at $21,430 and average out at $202,230 a year.