Moving to Idaho | 2022 Cost of Living and Relocation Tips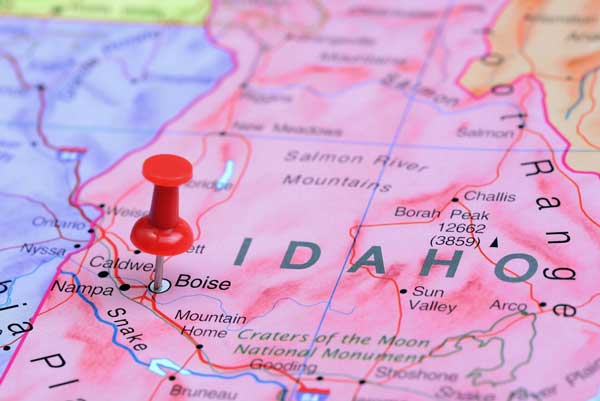 Idaho is often compared to a hidden gem or Northwest Pacific's best kept-secret. However, the word is out that it is one of the most desirable places to live. Although locals truly wish this was confidential, the news eventually slipped out. Well, special thanks goes to Forbes that spilled the facts about this gem of a state being a progressive fast-growing metro.
Post the reveal, the state saw a huge influx in population, particularly from California and Washington. Presently, the state has grown to a population of 1.75 million people and recent estimates show that Boise, which is the state's largest city, is what's attracting more people. This is probably why when people imagine moving to Idaho, they simultaneously also mean they wish to find a safe haven in the city of Boise. Being the state's capital, the city has even gained quite a reputation for its thriving downtown area, walkable spaces and job prospects.
Besides the appealing aspects of living in Boise, some of the top attributes that make Idaho a superior place to live is the attractive cost of living, relatively low sales tax and property tax, work-life balance, safe communities, clean neighborhoods and healthy outdoorsy lifestyle. Idaho also has lower crime rates than most in the nation. So with minimal crime, it's no surprise that people find it a great place to retire and raise a family.
See also: Most Outdoorsy Cities in America
Now that we've briefed you with an overview of the perks, let's dive deeper into the rest of the peculiarities so you have a full-fledged perspective of the state.
Weather In Idaho
The state of Idaho enjoys four distinct weather patterns which we've explained in brief below:
Winters (End October to end of March) – Now, most people who are considering moving to Idaho are unsure about how cold it gets in the state. So we thought of tackling this first. When it comes to temperatures, the average high is 47F and average low would be roughly 20F. And on an average, you can expect 5-18 inches of snowfall, but keep in mind that homes set up on higher elevated regions receive way more snowfall. January is the coldest and the peak winter month, so be sure to acquire basic winter driving skills and winter gear to make it through this time. Yes, winters can seem pretty lengthy, but it isn't severe in the southwest where a majority of cities are located.
Summers (early June to end of August) – The summer months begin around the month of June with temperatures ranging 85F and drops as low as 65 F. During peak summer months such as the month of July, temperatures can soar to 90 F or above, but even high temperatures are not a worry since the summers in Idaho are pretty dry with rarely any sign of humid days. This makes the heat comparatively bearable, although you would need to resort to lotion most of the time. Do note the state also deals with a couple of mild thunderstorms during the summer months.
See also: Most Sunniest Cities in America
Spring (April to May) – Springs in Idaho are a mix of everything, and for the lack of a better term, we'd say it's quite bipolar in nature. For instance, it could turn out to be a cold morning, a summer hot afternoon and you can also expect to experience a spring snowstorm all on the same day. However, on the plus side, springs are the most beautiful time of the year and bring in the long awaited warmth, daylight, clear skies and fresh air that uplifts the atmosphere of the state after the long winters.
Autumn (end August to October) – Nights in fall can get cooler but the rest of the day, residents enjoy the pleasant 70F-80F degree weather. Visiting pumpkin patches, corn mazes and driving to the Sawtooth mountains are few of the top things to do during these months.
Transportation In Idaho
It's true that in the state of Idaho, there aren't any viable non-car modes of transportation. To a large extent, residents have to depend on private cars to make their way around the state. Not all areas of the state are strung together with transportation systems. However there's just a handful of cities that have some form of public transportation. For instance, cities like Idaho Falls, Pocatello, Moscow, Boise, Nampa and Meridian have local bus services run by ValleyRide. But even with this bus system, residents truly feel the need of a car because of the lack of choice in routes in such modes of travelling. Below are few of the major modes of transportation.
Roadways
Idaho shares its border with Montana to the northeast, Wyoming to the east, Nevada and Utah to the south, with Washington and Oregon to the west. To help connect residents to these 6 neighboring areas, Idaho does have an extensive network of both state highways and interstate roadways in place.
Below is a short description of where the major interstate highways lead you:
Interstate 84 – Claimed to be the busiest and longest interstate road that helps connect residents to the state lines of Oregon in the northwest to Utah in the southeast. In Idaho, it passes through cities of Boise, Mountain Home, and Twin Falls, basically linking the state's largest metropolitan areas.
Interstate 86 – This highway is the one that breaks off from its parent highway I-84 so that it can provide access to the city center and sparsely populated regions along the south side. This road runs in the east–west direction.
Interstate 15 – Gives easy access to San Diego in California to Sweetgrass in Montana and vice versa. This road is part of Pocatello and Idaho Falls, the fourth and fifth largest cities in Idaho.
Interstate 184 – Located in the city of Boise, interstate 184 also breaks away from the parent road (Interstate 84), so that out-of-state visitors can easily reach Downtown Boise, hence it's also known as the 'Boise Connecto'.
Also read: Idaho DMV Change of Address
Airports
Since Idaho is a fairly rural state, the airports don't see much traffic in comparison to bigger cities. However, the state still has its own share of busy international airports. Few of the most extensive airports are:
Boise International Airport – convenient for those occupying the southwest portion of the state
Spokane International Airport – most accessible for those in the northern side of Idaho
Idaho Falls Regional Airport – located in the northwest region
Friedman Memorial Airport – serving South-central Idaho
Railways
Once again, residents and visitors aren't spoilt with choices when it comes to taking a train. There is just one Amtrak train that goes by the name of 'Empire Builder' running in the state of Idaho. This train stops at Sandpoint that's popularly recalled as the nation's most beautiful small town. Some of the big cities that you can connect to by taking the Empire Builder are Seattle, Portland and Chicago.
Job Market In Idaho
Idaho for a long period of time was a rural state and some of the agricultural sector services that boomed in the past are still very important to the economy of Idaho. For example, the state is still the leading producer of one-third of the potatoes grown in the nation and grows a wide variety of wheat. It also has large factories for producing paper products, food processing items, lumber and wood products, silver and other mining as well.
Apart from dependence on the agricultural sector, Idaho has impressively grown to have its own urban clusters. In today's time, the large industries contributing to the state's economy are linked to the science and technology sector. To give you a rough estimate, it is considered that these high-tech sectors account for 25% of the state's revenue and over 70% of the state's exports.
If we take into consideration some of the other largest employers of the state, it also proves that there's a variety of other multinational companies. All these are also working towards uplifting the economy and providing lucrative job opportunities for residents. Few of the leading companies that have their headquarters in Idaho are:
Albertsons (a grocery chain)
Micron Technology (the only U.S. manufacturer of dynamic random-access memory (DRAM) chips
Blue Cross of Idaho (health insurer)
Hewlett-Packard aka HP Inc (has a plant in Idaho for LaserJet printers production and more)
IDACORP Inc (provider of hydropower)
Costco (retail)
Walmart (retail and grocery)
Saint Alphonsus Health System (healthcare network)
Now that you have a gist of the massive successful businesses that are headquartered in Idaho, you know that the city sure is ripe with job opportunities in various sectors. Depending on the job role you fancy, you should have enough reasons to be enticed by the thought of getting a job in Idaho.
Renting
According to reports by HomeSnacks, the average median rent of houses in Idaho is $1,400, while the national average is roughly $1,650. However, in comparison to the neighboring states, the average rent for houses in Idaho are definitely much cheaper.
To put things into perspective for you, we've compiled a list with the tentative rent costs for a 1 bedroom in the other states so you can compare things with a rough price point:
1 bedroom home in Idaho – $930
1 bedroom home in Washington – $1,678
1 bedroom home in Nevada – $1,090
1 bedroom home in Oregon – $1,420
1 bedroom home in Montana – $1,295
1 bedroom home in California – $2,100
Do note that we've taken into account the average rent in California for comparison, since many reports declare that a majority of people from California have their eyes on the state of Idaho. We'd also like to mention that in certain neighborhoods such as Kuna, Star, Meridian, Eagle and Ammon, the cost of rent will be much higher since these are the slightly high-end areas with higher rent prices.
Also Read: Moving from California to Idaho – Expert Tips & Advice
Cost Of Living In Idaho
Now the first concern that most people have while moving houses is the value of homes, so let's start off with that. According to Zillow, the average median listing price of homes in Idaho is $323,274, which makes housing here more expensive than the national average. Zillow reports show that the median home prices have increased by a whooping 21% in 2019 with a strong rush to buy a home in Boise.
Just to make things easier and convey things to you from a price perspective – this means you would approximately be paying $263,900 for a home in Idaho, while the national average for the same home would be around $231,200. Now we all know why the locals wished to keep Idaho a secret!
In addition to that, the average median household income needed to live a comfortable life in Idaho is roughly around $53,089 (according to Niche), while the national average is around $55,322. This proves that the cost of living is increasing and is now almost equivalent to the rest of the country, but the silver lining is that it isn't completely there yet and there are a variety of affordable areas in the state.
Do note that for the cost of living, we are providing a rough figure so you can see things at a price point. However, the funds you spend could definitely vary depending on the locality, house size and lifestyle you adopt. For instance, you could probably save a lot of money by finding a space in the suburbs instead of the center of Boise.
Education
Top-Rated Idaho Colleges
1. University of Idaho, Moscow
2. Northwest Nazarene University, Nampa
3. The College of Idaho, Caldwell
4. Boise State University, Boise
5. Brigham Young University, Rexburg
6. Idaho State University, Pocatello
7. Lewis Clark State College, Lewiston
8. New saint Andres College, Moscow
9. Stevens-Henager College, Boise
10. Boise Bible College, Boise
Top-Rated Idaho Schools
1. McCall-Donnelly School District, McCall
2. Nezperce Joint School District, Nezperce
3. Moscow School District, Moscow
4. Troy School District, Troy
5. Boise Independent School District, Boise
6. Cottonwood Joint School District, Cottonwood
7. Blaine County School District, Blaine
8. Genesee Joint School District, Genesee
9. West Side Joint School District, Dayton
10. Kootenai School District, Harrison
Top Cities To Move To In Idaho
1. Boise
You murmur Idaho and Boise is the first thought that impulsively hits you. This city has developed quite a positive reputation for itself over the few years. High quality school systems, friendly people, clean streets, aesthetically pleasing views and extremely low crime rate are few of the factors of the city that give reason to be optimistic. The city of Boise also provides transplants with excellent job opportunities, since it's home to the state's largest employers. HP, Micron, Walmart, Wells Fargo & Company are surely the top dogs but there are quite a number of locally owned progressive businesses too.
Median price of homes sold: $230,800
Median rent: $910
See also: Moving to Boise, Idaho
2. Moscow
The city of Moscow shares its borders with Washington and is home to the University of Idaho, which is the city's largest employer. Moscow is on the quiet side of things and is popularly recognized as a college town. It's believed that the students and small communities bring life to the city. Moscow is also ideal for walking, cycling, hiking, camping and much more. You'll find very limited chain restaurants or stores in this small quaint town. However, it has its own perks like great recreational options, central location, tight-knit communities, family-centric neighborhoods and lots of open space.
Median price of homes sold: $224,400
Median rent: $695
3. Eagle
Many newcomers choose to relocate to the city of Eagle because it allows them to enjoy living in close proximity to Boise. Residents here also have the opportunity to retreat back to the quiet neighborhoods of Eagle. This town is located just 20 minutes from downtown Boise and has been ranked as one of the humble places to raise a family. The city boasts of good school systems, parks, relatively new modern homes. In comparison to the other cities on this list, housing in Eagle is on the higher end of the scale.
Median price of homes sold: $383,700
Median rent: $1,091
4. Lewiston
One of the most attractive and appealing factors of living in Lewiston is the affordability of housing. In addition to that, the city is also extremely close to some stunning water bodies like the Snake and Clearwater rivers. So, if you're particularly drawn to fishing, boating or simply camping by a lake, you'll have it here in Lewiston. There is a lot of nature in this part of town and you'll enjoy scenic views of the mountains. Lewiston is also a very safe place to reside with little to no traffic and lots of retirees choosing it to call it home.
Median price of homes sold: $178,500
Median rent: $720
5. Meridian
Meridian is the state's fastest growing city and has plenty of stores, restaurants, local businesses and modern well-planned communities. Since the town has recently started getting alot of attention, it is easy to find relatively new buildings, lots of construction and upcoming corporations slowly choosing to set up their headquarters here. In other words, we mean the city of Meridian is expanding and along with the growing population, things like traffic and crowd are few of the tiny downsides. But on the plus side, the quality of the lifestyle here still remains uninterrupted.
Median price of homes sold: $242,000
Median rent: $1,045
FAQs about Moving to Idaho
Where should I move to Idaho?
Boise is the most popular choice for new residents who are moving to Idaho. It is the state capital and home to a large number of well established companies. There's also lots of opportunities for outdoor enthusiasts and tons of newer developments happening in the city of Boise. Moscow, Eagle, Lewiston and Meridian are other areas you can also consider moving to in Idaho.
Is it expensive to live in Idaho?
If put up against packed cities like San Francisco, Seattle or New York, then the state of Idaho is not expensive. Transportation, utilities, groceries and health facilities are typically way lower than the national average in Idaho. On an average, a single person could live comfortably with an annual salary of 45k to 55k. But do note that housing is the only factor where prices are on the rise. The influx in people moving to Idaho is driving up the real estate prices and this is especially the case in the city of Boise.
Why are people moving to Idaho?
People are moving to Idaho because it lacks the urban sprawl of big cities. It has lots of open spaces for recreational activities and is ideal for those who seek this. Idaho also gets plus points for affordability and safety. It ranks among the safest places to reside in the United States. Lastly, Idaho has the city of Boise. The capital city which has gained quite a reputation for itself and attracts thousands of people to it for economic opportunities.
How much money do you need to comfortably live in Idaho?
The cost of living in Idaho dramatically differs from city to city. Anywhere between 45k to 55k a year can be considered a good salary for a single person. But if you choose to live in the city of Boise, it is more suitable to annually earn somewhere between the 55k to 60k bracket.
What is the most dangerous city in Idaho?
Garden City and Pocatello are the most dangerous cities in Idaho. Besides these neighborhoods, the crime rate in Idaho is pretty low in comparison to the national average. Most of Idaho gets a good reputation for safety and this is also one of the reasons people are drawn to the state.
Where in Idaho should you not live?
Garden City and Pocatello are some of the areas that have a bad rap in the state of Idaho. Since, the city of Boise is the most popular choice for new residents, we'd also like to mention that not all areas of the capital are up to the mark in terms of quality. We suggest avoiding suburbs like Caldwell and Nampa in Boise.
What is a Liveable wage in Idaho?
45k to 55k is considered to be a good salary in Idaho for a single person. The cost of living in Idaho is quite low so even if you would be making less than 45k a year, it would still be possible to have a good cost of living to wage ratio.
What is the highest paying job in Idaho?
Management, architecture and engineering are few of the highest paying jobs in Idaho. Besides this, job roles linked to the field of science and technology are also taking over the state's economy by storm. Do note that as far as career growth is concerned, you'd most likely have better luck in the city of Boise.
Why is Idaho so boring?
The term boring is a pretty subjective term. Idaho may be boring to few but can't really be held out for it altogether. Unfortunately, the state of Idaho got stuck with the tag after a study done by the website Zippia (a career company). It's true that things are slower paced in Idaho but that can't possibly be an indicator of it being boring. Idaho has tons of culturally active cities. The cities in Idaho probably don't mimic the amplified versions of events one finds in LA or New York, but it still has its own peculiar way of life.
What are the benefits of living in Idaho?
Limitless outdoor activities and a low crime rate are few of the biggest perks of living in Idaho. Few other things that make Idaho appealing to new residents is the attractive cost of living. Depending on where you'd be relocating from, you'd be paying less for utilities, transportation and groceries. Most of Idaho's up and coming cities like Boise, Meridian and Eagle aren't as densely populated so you have the city feel along with the comforts of a small town.
What is the racial makeup of Idaho?
Idaho's population is at 1.82 million. The largest group of people living in Idaho are white, since 81% of the state's population falls in this category. The second largest ethnic group is Hispanic in Idaho (at nearly 8%). While the black population of Idaho is at 0.7%.
What is the most common job in Idaho?
Job roles linked to the tech and science industry have a major presence in Idaho, with companies like Oracle, Hewlett-Packard and Micron Technology having set up bases in the state. But it can be tough to find jobs linked to these fields that pay competitive salaries compared to other areas. The health of Idaho's economy also largely depends on the agricultural sector, so you'd find that jobs tied to this field come under the typical jobs one can find in Idaho.
What is the cheapest city to live in Idaho?
Idaho Falls and Lewiston are some of the most affordable cities to live in Idaho. Median value of homes here is roughly between $153,600 to $178,500. Moscow could also be a good choice if you're looking for an area with a university atmosphere and affordable housing.
---
Our Take On Idaho
Overall, Idaho is certainly a land of opportunity that hasn't fully reached its point of saturation. And maybe that's a good thing, because it protects the essence of what makes up Idaho. It has a diverse economy, progressive cities, dramatic natural landscapes, hot springs and several other undiscovered gems. The state sure is one of the most underrated in the US. It can truly surprise those who wish to move here in a positive way.
Related: Planning to Relocate? Top-Rated Professional Moving Companies to Hire