When Should You Call Movers?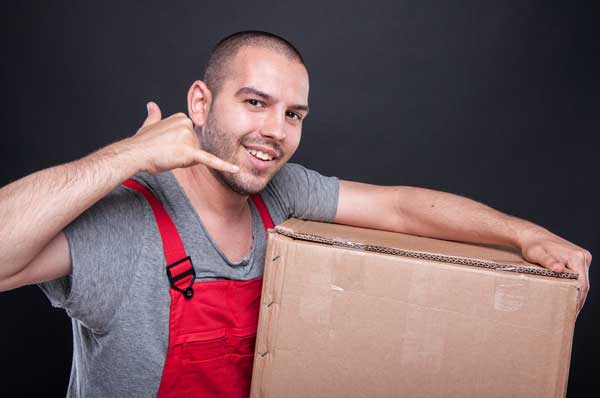 You've probably heard it said that the sooner you can begin planning your move the better. Does this advice apply to booking a moving company as well? How far in advance should you contact one? If you too are asking these same questions, you'll find our answers to them very useful.
The Case for Contacting Early
You should generally contact a moving company as soon as you are aware of your move. This is true even if the relocation will not take place for at least six months or more. By getting in touch with a mover early, you can reserve your spot with the moving company of your choice. You can also get a heads up on any issues that might affect your move such as the need to pack things that are in storage.
Should you contact a professional moving company if you know you will be moving in a few months but are not quite sure of the exact date? The answer is that you do not have to know the exact date of your move during the first meeting. They can still perform a walk-through and narrow down the scope of services you desire. Once you get a firm date, their scheduler will then go ahead and pencil you in.
Dealing with Last-Minute Moves
Not everyone has the luxury of knowing about their move far in advance. Many people are faced with unforeseen circumstances that force them to move with only a very short notice. What happens if you are suddenly faced with the prospect of having to move? Is it too late to contact a moving company if you only have a one or two-week window?
The fact that you have only a very short notice does not mean movers will not be able to help you. However, there is always a chance that moving company's schedule is already booked, particularly if you are calling them during peak moving season. At the same time, they also understand that last-minute moves are often due to urgent situations that require immediate action. Accordingly, the moving company will do it's best to accommodate your request. Give them a call right away so that they can begin hammering out the details as quickly as possible.
Seasonal Moving Considerations
The U.S. Army reports that more than 60,000 soldiers will encounter a Permanent Change of Station (PCS) move between May 15 and August 31 each year. Unofficially known as "PCS season" it is the time when more service members are planning a move than during any other period. However, the busy moving season is not limited only to the military. Statistics show that most moves take place between the months of May through September, regardless of whether you are military or civilian.
Whenever possible, you should avoid moving during the summer months. That's because the demand for movers is already so high that scheduling a firm could be a challenge. Not only does this mean that last-minute moves will be more challenging, but it could also limit the number of other services that are available.
If you can't avoid a summer move, schedule moving services as early as possible. Most of the moving companies in USA prefer at least a 12-week notice for relocation taking place between May 1 and September 30. However, they will make every effort to assist you if you suddenly become faced with a last-minute move during that time-frame.
Moving in Winter
You'll have more leeway when scheduling your move during winter since companies tend to be less busy during that time. Even so, you could still experience delays due to weather. Since snow and ice storms often cannot be predicted, you should maintain flexibility in your scheduling whenever possible. This is especially true when you are moving a very long distance.
Consider using vacation or personal days so that you can allow the movers to come a few days earlier or later as needed. Moving companies will constantly monitor weather conditions in order to provide you with the timeliest service possible.
Factors that Affect Time
The time of year in which you are moving is not the only factor that can affect scheduling. Here are some instances in which early planning could be especially helpful:
When planning a long distance or cross-country move
In cases where there is a large amount of household goods to pack and ship
When you have very large items such as a piano or pool table to move
In situations where items are located in more than one place. For example, when you have household goods secured in an outside storage location.
Time of Month Matters
Aside from the summer months, there are other times when you should avoid scheduling a move. One is at the beginning or end of every month. Near the end of a month, movers are busy with people trying to vacate their homes before a lease expires. At the beginning of the month, those who have left their old residences are busy trying to get settled into their new place.
Many movers are booked up at the beginning and end of every month. As such, you are more likely to find openings if you schedule your relocation between the 5th and 25th of every month. Moving in the middle of the month can be especially beneficial if you are moving into an apartment or condominium. That's because you will not have to worry as much about your neighbors moving in and out during that same time-frame as well.
Moving During a Holiday
Many people will time off from work on holidays and will want to make the most of it. Accordingly, major holidays are another time when movers tend to be busier than usual. This goes for winter holidays as well as those in the summer. So you are just as likely to encounter snafus if you are moving during Thanksgiving or Christmas as you are when trying to relocate near the Fourth of July.
More travelers are on the road during holidays as well. Accordingly, the movers are more likely to encounter unforeseen delays due to road hazards or accidents, especially when transporting your goods across several states.
A General Timeline for Moving
Keeping the above factors in mind, a general timeline for contacting a mover would be:
Four to six months when planning a long-distance move during summer
12 to 16 weeks if you are moving a long distance during the off season
6 to 8 weeks for a short-distance move during the peak moving season
2 to 4 weeks when moving across town during the off-peak season
See also: Short Distance Movers – Tips & Cost
Of course, this is only a guide as a number of other factors can affect the scheduling of your move. It is actually never too early or too late to begin planning your move. Give the moving company a call whether your move is some time off in the future or right around the corner. The sooner you contact them, the better they are able to help you plan.
Helping your Move go Smoothly
Even when moves are planned well in advance, situations may occur that might cause delays. The good news is that there are a few things you can do to help your move go as smoothly as possible:
Maintain a clear path from your driveway to your front door. This will allow the moving team to have easy access in and out of your home.
Clear ice and snow from sidewalks if you are moving during the winter months. Keep grass and debris off of walkways in summer.
Contact the moving team at least a week in advance to confirm your reservation and ensure we are both on the same page.
Have boxes packed and labeled if you are doing your own packing.
Crate pets. This will keep the moving team from worrying about your animal escaping while they are going in and out.
Locate keys to all storage areas and/or buildings so you are not fumbling around trying to find them at the last minute.
Empty fluids such as gas and oil from lawn equipment and generators so they will be ready to pack.
If you live in an apartment complex, advise your landlord as to the day and time of your move. That way, you can ensure there are no issues such as parking that would prevent our movers from getting close to your unit.
There is no time like the present to contact a moving company near you. Whether you are planning to relocate in the near future or several months down the road, get in touch with us now. The sooner you begin planning, the greater the odds are that your move will go off without a hitch.