Moving Timeline – Week by Week Moving Checklist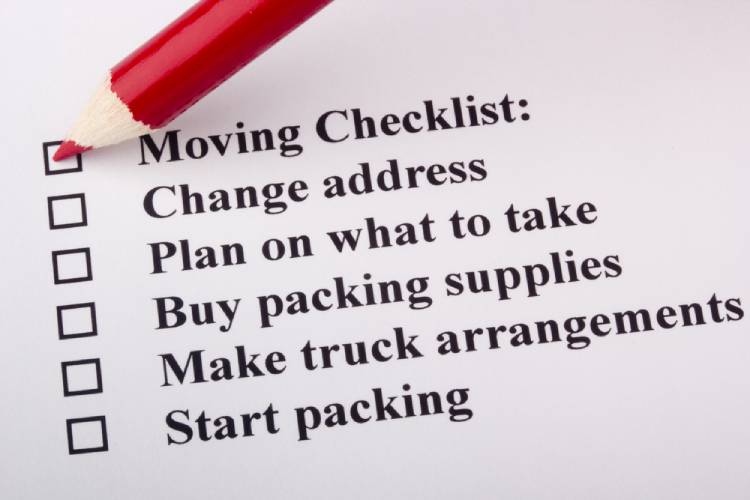 Moving houses is never easy, and is all too often chaotic and confusing. The upheaval is not just physical but also mental; apart from the stress of rewiring your brain to adjust to a new location, there's also the stress of packing and whatnot. This also makes it a terrible time to just rely on your memory to get things done. The one thing that can help bring clarity is organization. And creating a moving timeline brings a sense of organization to this mammoth task like nothing else can. Read on for the ultimate moving timeline, that is sure to make moving a lot easier on you and your family.
The Importance Of A Moving Timeline
With tasks spaced out you can go about getting them done one by one instead of diving headfirst into the confusion.
You can prioritize tasks and figure out which ones need to be done when, saving you the hassle of too much running around at the last minute.
A moving timeline also helps you tackle your preparation as best as you can, within the ideal time frame for tasks to get done. This way, even when something gets delayed or goes wrong, you have adequate time to put it in place before the move.
If you're relocating for a new job, you want to avoid staying up late unpacking the night before your first day at all costs. Or perhaps your kids will be shifting to a new school, which demands some organization the night before their first day. Charting out your move helps decide when to make the move for it to best line up with your other plans.
Overall, you drastically reduce the stress load on yourself, and everyone else making the move with you, by being organized with a moving timeline.
When Should You Start Planning Your Move
There's tons to do when moving, apart from the obvious task of moving itself. And often, it's things like changing addresses and informing the right authorities that slip our mind. This is why it's best to start your moving timeline at 8 weeks prior to the move. This is enough time to get everything done, plus a slight buffer in case tasks get extremely delayed. This timeline breaks tasks down into weekly schedules, giving you the time to get them done in a systematic manner.
8 Weeks Before The Move
8 weeks or 2 months before the move is when your timeline should start. So if you're reading this now, it's a good time to plan the timeline and keep it ready. Take down notes and apply it to your move, and you can have a timeline that best fits your schedule.
Informing the landlords – If you're renting a place, inform the landlord about the move and put some pins into a new house to move into. Also tell them the date of the move once that is finalized.
Informing your employers – Now's a good time to give in that 2 months' notice to your current employers if you're quitting for the move. If you're moving for a new job, however, make sure you know your way around a job relocation package.
Organization for your spouse and kids – Your spouse will need a new job and your kids a new school when you're done with the move. Start to look into these right away.
Create a moving budget – Creating a budget gives you an estimate on how much you can actually spend. You may want the best movers the country can offer, and splurge a bit for the new house, but this will help prioritize.
Deciding on the move – You have to decide if you're going to DIY the move, or hand over responsibility to the professionals. Ensure you have the time and help to spare if you want to DIY it, and remember, it sure takes effort! You'll still need to hire a truck to move all your boxes. If you're paying movers, make sure you choose the right kind according to your move. While some are perfectly equipped for a cross-country move, others are ideal for inter-city or intra-city moves.
Finalizing movers – After adequate research, narrow down on 2 to 3 movers that catch your eye. Request in-house estimations so you can compare prices across the board. A handy tip is to ask for a written estimate that is binding: several moving companies offer this. Look into moving insurance as well.
Inventory items in your house – Now's when you walk around your house creating a detailed room-wise inventory of all your items. List out which items will need to be packed, and look into donating or dumping items that are old, broken, or otherwise worn out. Remember, the less there is to pack and move, the better! You can also start to keep things ready to pack.
Create an online folder – Sometimes, you may want to keep things right where they belonged when unpacking in your new house. A good way to remember what went where is to take photographs of it all. Instead of leaving it all on your phone where it tends to take up space, get mixed up or deleted, create moving folders on online storage sites like Google Drive or Dropbox. Organization all the way, even with photographs!
Set up a packing list – We promise, there's no more lists waiting in surprise! A packing list helps you solely with the packing process of the move, and trust us, you'll be grateful for the help it provides. This too needs to be room wise.
6 Weeks Before The Move
You've had 2 weeks to finish everything listed above, and hopefully it's all done. Now it's time to move on to phase 2.
Moving supplies – Moving can be an expensive task, and one of the costs you'll incur is purchasing moving supplies. An easy way to save up on this is by getting free cardboard boxes. Approach grocery and office supply stores, and look up UsedCardboardBoxes.com to purchase lightly used boxes at a cheap price. Ask family and friends if they have any boxes to spare from previous moves, and look into getting specialized dish barrel boxes for glasses and other fragile items.
Booking a moving truck – By now, you ought to have done your research and finalized a truck company for the move if you're going the DIY way. Call them up and fix the appointment.
Labels – Your moving boxes will need to be labelled to make unpacking easier. Make sure you mark it room-wise, so the movers can place them in the right rooms when unloading the boxes. This makes unpacking that much easier for you. Purchase permanent markers and moving stickers for the same, or create your own by printing them out on adhesive paper.
Medical records – Visit your doctor and get a copy of your medical records, as well as the records of your other family members. Also look into a health care provider in the new location, and possibly ask around for recommendations.
Address change – An important task to get done is changing your address wherever needed. The USPS website makes this a convenient process, as they even let you choose the date on which you want your mail to be forwarded to the new address. Update your voter registration as well, and contact other places like the banks to notify them about the address change.
Dimensions – Try to measure the dimensions of the elevators, doors and rooms of the new house to ensure there's no trouble of furniture not fitting on moving day. Preparing for such problems in advance is the best way you can take control of the chaos instead of the chaos controlling you.
Care for pets – This one is for the fur and feather parents. If you own a pet, it's a good time to get a health checkup done and make sure their vaccines are all done. Chances are it'll be a while till you find a reliable vet in the new location so best not take any chances. Also find out what is to be done for their care if your relocation journey is long.
Service the car – This has to be on your list, especially if you're moving far or cross country. Clear out the car of all items if you have to ship your car to the new location.
4 Weeks Before The Move
Officially a month to go! If you've maintained your schedule so far, you'll sail through this next part with ease. There's also a little buffer time between now and the day of the move in case tasks spill over into these two weeks. But prioritize them and ensure there's no more spilling over.
Contact your friends – If you're going the DIY route for the move, you'll definitely need some help with all the packing and shifting around. Now is a good time to tell your buddies to free some space in their schedules to help you out with the move. Remember to throw in free beers and pizza as a thankyou!
Care for kids – If you're moving with young kids, remember that they'll be opened up to a world of chaos with the moving, and that they'll have to suddenly adjust to a whole new environment. Explain to them what is happening, and involve them with some of the packing so it becomes fun for them, like packing their own clothes and toys.
Gather the important documents – Not just medical records, but dental, financial, legal, and all other important documents should be neatly organized if they weren't already. These will be kept in a bag that remains on your person at all times on moving day, so maybe keep a backpack allocated for this purpose ready from now itself.
Gather packing supplies – Now is a good time to check all those packing supplies off your list. Apart from cardboard boxes, you'll also require things like bubble wrap, packing tape, wrapping paper for glass items, and markers. We recommend starting to pack in this week.
Forbidden items – Every moving company has certain items they will not transport, like flammable liquids and other hazardous items. Contact your selected company for the list of the same so you can start to get rid of them.
Shipping the car – Now's when you should look up auto transporters and contact them if your car needs to be shipped. There's some surprising prep to be done, so get a start on this task this week.
Cancel subscriptions – Cancel your memberships to local gyms, swimming pools or other clubs, as well as local delivery services. Look into whether you can change your address to the new location, or if they are available there.
Travel arrangements – Whether it's flight tickets or renting a car for the journey, make your travel arrangements for the relocation journey. The closer you get to the date the more chaotic things will get. Tick these things off your list so there's less to worry about later.
Label the boxes – If you haven't already done this, use those markers and stickers to start labeling the boxes.
The essentials box – There's always a chance the truck could get delayed when you've shifted into your new home, and you don't want to be stranded with nothing. Thus, set aside an essentials box that you can keep with you. Additionally, pack other essential items into one or two boxes and mark them 'Open First'. This way you don't have to frantically tear open every box looking for the things you most need for your first few days in the new house.
2 Weeks Before The Move
Catch up with family and friends – If you want to have a small farewell party, now's the time to do it.
Contact the movers – It is always good to contact your movers to reconfirm your moving date and make sure things are up to schedule.
Cable and internet – Disconnect your current services, and look for providers in the new location to order your service and schedule an installation appointment.
Check parking permit for the moving truck – Find out if you need to apply for a parking permit for the moving truck and apply for the same. Also inform the building management of your move and reserve the elevator if you live in an apartment.
Check the dry cleaners – make sure you haven't left any clothes at the dry cleaners, watches to be repaired and so on.
Food prep – Try to prep two weeks' worth of meals and store them in the freezer. Try to finish off all the food supplies you won't be taking with you.
Start to pack – Start to pack up items like glass and jewelry as they tend to take up time. Also tackle rooms like the attic, basement and garage.
Kids and pets – If you have children and pets, you'll want to arrange for someone to care for them on moving day. If the move is local and nearby, check if a friend or relative can babysit for the day.
1 Week Before The Move
Seven days to go! This is crunch time, and the time to make sure everything is set up for moving day.
Return borrowed items – Whether it's a nook from the local library or a movie from a friend, check and return all borrowed items.
Disassembling – Start to disassemble the larger pieces of furniture like the beds and desks. You can always hire professionals who can get the job done for you if it seems tiring or difficult.
Wrap up all the packing – You should be nearly done with packing up all your things. If there's still a lot left to do, hire packers to hurry it up. You don't want to be rushing around shoving things into boxes on moving day.
Get rid of unopened food – You can either donate food that isn't spoiled and is in good condition. Alternatively, ask family or friends if they can help you clear out the fridge.
Cleaning up – Another main reason you should get done with your packing is so you can adequately clean the house. Schedule all the cleaning that has to get done so it's ready for the new owners.
Clearing out machinery – Drain out oil and gas from machines like the lawn mower, snow blower and heater. Also drain out water from hoses around the house, particularly the ice maker and the washing machine.
Final walkthrough – If you're renting, you'll have a final walkthrough with your landlord where they will inspect the house to see if there's any damage done. Make sure the house is ready for this.
Pay all the bills – Ensure there are no bills to be paid or overdue and pay them all off. Save the receipts as always.
Withdraw some cash – You don't want to make a run to the nearest ATM on moving day, for whatever the need. Withdraw some money so you have it on hand, particularly if you need to tip the movers.
2 Days Before The Move
Packing – There should be nothing left to pack up, and all your boxes should be correctly labeled by this point. If there's still things to be done, don't lose hope, just refer to this guide on how to pack quickly.
Check the house – Walk through the entire house checking for items that have given you the slip. Make sure bulbs are unscrewed and shelves and closets are empty. Remember to also check rooms like the attic, the basement and the garage.
Double check the essentials box – Make sure you do have everything you could need for your first few days in the new house.
Check the weather – Be prepared if it looks like snow or rain.
Call the movers – Remind them about the move and reconfirm the time they're supposed to arrive.
Deal with leftover packing supplies – You may have packing supplies lying around the house and adding to the mess. Either donate these or stash them at a friend's place to be used for a later move.
Unplug the fridge – The night before the move, unplug your fridge to defrost it. Lay a towel out so any water that leaks is absorbed.
Check your valuables – Make sure all your important documents are all filed and kept into a bag. This bag should ideally be a backpack: something you can comfortably haul around on moving day. You may also have a travel jewelry roll with you, containing your most precious jewelry and heirlooms. Securely pack these and ready the backpack for moving day.
Get some rest – You'll need all your energy for the biggest day of all: moving day. Ensure you get as much rest as possible on these last two days. The packing schedule should have helped with getting everything ready, so you have time to gather yourself for the final day.
Moving Day
The big day is finally here. But if you've kept to the schedule, this should go as smoothly as possible. Don't get worked up if things seem to go awry as there is usually some confusion or the other to navigate through.
Get recharged – Remember to charge your phone the previous night, and keep a portable charger on hand. Additionally, make sure you recharge yourself with a good night's rest.
Get an early start – The earlier the better! Getting an early start gives you a good buffer in case of any delays that come your way.
Be on time – We can't stress this enough. Be ready for the movers at the scheduled time, and show them around the house so they get to work as soon as possible without delays.
Kids and pets – Make sure the kids and pets are away from the chaos with whoever you've arranged for the day.
Keep the binder on hand – Remember the binder meant for important documents? Keep it around. Immediately file whatever is handed to you, and be mindful of where you sign to what – always read before signing.
Double check the address – Make sure the moving crew has the right delivery address and your phone number. Take down the number of the head of the crew as well.
The final walk – Take one last walk through the entire house to make sure every last thing has been packed and dealt with.
2 Days After Moving Day
By now, you've probably realised unpacking is just as tedious as packing! Apart from all the unboxing to do, there's a bunch of other jobs to get done, which we've listed below.
Unpacking – Naturally, unpacking is all you'll be doing for a while. Go for the boxes you've numbered to be unpacked first so your life becomes that much easier.
Childcare – If you've got a toddler or a child around, do what you can to childproof the new house. Look up a babysitter to watch them in a room of the house while you spend time unpacking.
Driver's license – If your move has brought you to a new state, you have to register your car and renew your license. There is a limited time-frame to do this, so look it up and head to your local DMV office as soon as you possibly can.
Security systems – Installing a new security system should be one of the first things you do when you move in.
Get to know the neighbors – Knock on their door and say hi, have a friendly chat so you start to make friends with your new neighbors. If you're managing the unpacking well, you can even throw a small housewarming party to get to know people around you.
Deducting expenses – In some cases, you can deduct moving expenses from your taxes. Refer to the IRS website to know more.
Get to know the neighborhood – Take occasional breaks from the unpacking and head out for a stroll to familiarize yourself with the new neighborhood.
Leave a review – Take out the time to leave a detailed review on the moving company's website.
Key copies – Make a few copies of the house keys for whoever needs them. Also give a set to your neighbours if you've built up a strong rapport, so you have backup in case of an emergency.
If you follow this timeline, moving is no longer some giant task that anyone should dread. Remember that a moving timeline is only a tool to help you. You will gain the most organization and least stress if you make it a priority to stick to the schedule diligently.
See also: How to Get Organized for a Move