How to Find a Handyman or a Plumber When You Move


VanLines Inc
Secure Storage
Easy Booking Process
Fully Trained Employees
GET A QUOTE

Colonial Van Lines
Storage Services
Long-Distance Moves
Corporate Relocations
GET A QUOTE

Moving APT
Available Nationwide
Award-Winning Movers
Extensive Vetting Process
GET A QUOTE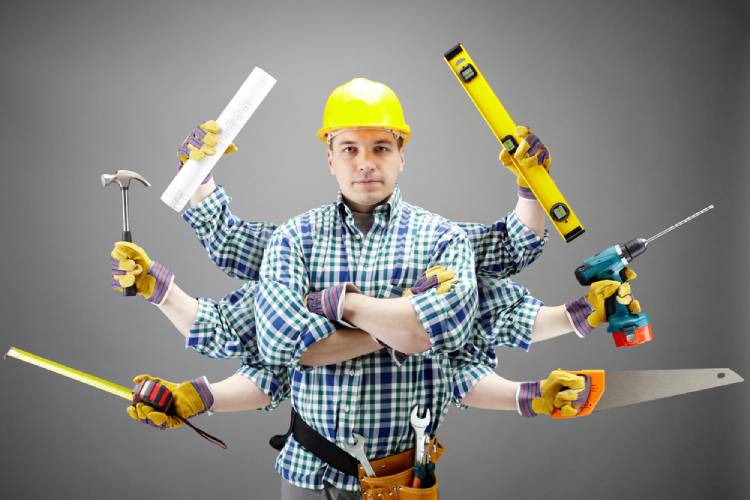 Moving to a new house comes with its own set of challenges. The people who have moved recently might agree with the fact that the new place might seem unfamiliar because of which you might not feel very comfortable staying there for the first few days. The new house might not instantly feel like 'home'! What can you do in such a situation? It's simple, you can personalize your house. Changing the environment so that everything inside your home matches your preferences will help you feel more at home.
You might ask, how do you get that done? The answer is simple. All you have to do is get a good handyman and fix up your entire house according to your liking. Now that you have moved to a new place, it's possible that you don't know of any reliable handyman and plumbers who can actually help you fix your house and make it feel homely. Trying and testing different professionals might seem tedious and frustrating at this point. Let us make your life easier by telling you how and where to find a good handyman or a plumber when you move!
Finding A Good Handyman Or A Plumber When You Move
As we mentioned before, some things in your new house would have to be fixed so that you can feel comfortable while living there. The following must-dos will certainly help you to find a good handyman or a plumber for your new house.
1) Determine Your Own Needs
Finding the right person to do the job is the most important thing of all. You wouldn't expect your barber to stitch your clothes or your tailor to cut your hair, right? There might be multiple things that you might want to get done around the house and you need to find the right person to do each job.
If you need someone to take care of a couple of simple problems in your house, you will probably just have to hire a handyman and get done with it. For instance, a handyman can help you out with simple tasks like furniture assembly, small painting jobs, fixing doors, cleaning gutters, installing some hooks for paintings, etc.
On the other hand, if the job is a little bit complicated, you are better off choosing to hire a professional or a special contractor who has a lot of experience in that specific area of work. Let us explain this to you with a bunch of examples.
If your toilet is broken or if the leaking pipes need to be replaced, you should certainly call for a plumber. If you need some work done with your floors, you should call a flooring installer. Similarly, if the air conditioner stops working, an HVAC professional might be able to help you out the most, and so on. Finding the right person for the job becomes crucial if you want to get the job done properly.
2) DIY Vs Professional Help
Consider the job and see whether it's simple enough and you can go the DIY route. Whenever you are browsing on social media, you might have seen many home improvement videos that might make these jobs look easy. Quickly search for an online tutorial as doing the job yourself might save you a lot of time that's wasted on finding the right person to do the job. Not to mention the money you would end up saving just because you decided to step up.
Now, there are several scenarios in which you might not be able to DIY. The job might be too complicated, you might not possess the necessary skills, you might not have time to do the job, or you might not be willing to do the work. In case you can't do the job due to any of the previously mentioned reasons, you will have to hire a professional to do it for you.
3) Asking Around For Referrals
Hiring a random professional that you found from a random source could potentially be disastrous and let us tell you why. If you hire someone who isn't really good at the job, they could end up complicating the situation more instead of solving the problem. If you want quality work done, you are responsible for doing your own research and finding the right person for the job.
The best way to find a handyman or a professional like a plumber is to ask your neighbors or family members/friends who live near the house for recommendations. The people from your social circle might have previously faced similar problems and hired professionals to solve those problems. You can even ask your realtor for help in this situation.
Asking for recommendations is the best way to go ahead as not only will you find the right people, your neighbors or friends might even help you stay away from some rogue contractors.
4) Find a Reliable Professional Online
There are several reputable online websites (which will be covered in the latter part of this article) that will put you in touch with multiple professionals and companies that will be able to take care of various home improvement jobs. All you have to do is shortlist a few companies/professionals who have the highest ratings on the website.
Take some time out and note down what credentials are carried by each company/ professional and what kind of work they specialize in. Do make sure that all of them are licensed as this indicates that they might not be scammers and they abide by the state's laws. Read the reviews that have been posted for each of the companies/professionals. You might find their reviews on other third-party review websites like Yelp as well. Read a lot of reviews to make sure that all the companies/professionals are trustworthy.
5) Comparing Different Professionals/Companies
Once you have a list of companies/professionals, make sure that you call each one of them. Discuss and let them know what the job is. Once that's done, ask them for a quote for the job. Not only this but also ask them whether they can provide you with the contact details of at least 3 of their past customers. Talking to past customers will help you ensure that the professional you are talking to is trustworthy.
Once you have all the details, compare different companies and professionals. After all, you have to choose the person who seems to be the best out of all the people you have on your list. Have a look at the quotes and see whether they seem fair. Call up the references and ask for reviews. Once all this is done, you can choose a professional that has received the best reviews, offers the best prices, and suits your needs.
6) Don't Forget To Give Feedback
Now that you have employed the services of a particular handyman, professional contractor, or company, it's only fair that you write a review for them. If they did a good job, a positive review from your side will ensure that they continue getting hired by other people. If they end up causing problems for you, your negative review will serve as a warning for the people who wish to hire that particular professional in the future.
See also: Setting up Home Services and Utilities in Your New Home
Where to Find a Handyman or a Plumber When You Move?
Whether the source from where you got into contact with a handyman or a plumber is reliable determines whether the people you handled for the job are trustworthy. Here are some of the best sources to find trustworthy and reputable home improvement professionals.
1) Angi
Formerly known as Angie's List, Angi is one of the best websites to look for professionals who will provide you with good quality home services. You can find a crowdsourced online directory on the website that contains feedback, ratings, and reviews for professionals from various fields, be it home improvement companies, handymen, pet services, or even doctors.
You should know that it is a members-only website. These members essentially grade different companies on a scale that ranges from A to F. The website claims that these grades are based on the reviews that are submitted by real past customers. Angi also proudly claims that good ratings cannot be bought by companies. You should know that the companies that are labeled as 'Certified Pros' tend to be extremely reliable and good.
2) Yelp.com
You might know of Yelp.com as one of the best places to find restaurants, shopping centers, or other entertainment venues. But did you know that this website can also help you find a good handyman or a plumber? You simply have to put in your locations and you will be able to find authentic user reviews for handymen, plumbers, and other home improvement services companies that are located around you.
3) HomeAdvisor
HomeAdvisor is the household name for many Americans. From carpenters, lawn maintenance services, plumbing services, to handymen, you can find them all on HomeAdvisor. The website rigorously pre-screens all the professionals and then these professionals receive verified reviews.
In order to find professionals for yourself, you need to select the right categories and answer the questions asked by HomeAdvisor. Once you do that, you will find a few pre-screened and certified professionals that fit all your needs. You are then free to choose any one of those professionals.
4) Thumbtack
Thumbtack is essentially an online marketplace that will put you in touch with all kinds of professionals. All you need to do is put in your location and name the services you need. Once that's done, you will need to answer some questions. Based on all this, Thumbtack will then send your contact to some professional located in your area. These professionals will then send you a message that will include their quotes, reviews, contact information, and business profile.
5) NextDoor.Com
NextDoor.com is best for those who have moved to a new place. That's because this website lets you sign up with your address, connect with your local community and neighbors and obtain recommendations from them whenever you purchase anything. If you need to find a handyman or a plumber, simply click on the 'recommendations' section on the website and find the professionals of your choice.
6) Houzz
You can always find additional home improvement services on Houzz despite it being an online interior design marketplace. Houzz provides you with various professionals who can deal with jobs ranging from fixing lights, fixing toilets, maintaining lawns, painting houses, etc. Search for the type of service you need and you will find a list of service providers along with their ratings and reviews. All you have to do is hire the one that you like the best.
7) Local Hardware Stores
What shop do you visit whenever you need tools and equipment to take care of home repairs? Of course, it's the hardware shop! However, don't forget that the people who sell tools for home repairs actually might know those who use these tools. That means that they would know good professionals who provide services in the local area. If your luck is good, the employees of the local hardware store also might turn out to be handymen. Do visit the local hardware store to find handymen, plumbers, and other home improvement service providers.
8) Recommendations
As we mentioned before, trusting a handyman that was personally recommended by someone you know is easier than trusting someone you hired off the internet. Ask your neighbors, acquaintances, or friends who live nearby whether they required the services of any handyman or a plumber recently. You might be able to find a professional through the reviews you get from these people. Even if you don't find anyone, these people might warn you against hiring some people and this works out to your benefit.
Final Thoughts
A move is certainly difficult but it might just become more frustrating if you do not find the right people to fix up your new house. Hiring a handyman or a plumber is like hiring a professional for any other job. You have to do your research, read up on reviews, compare different professionals, and find the right person for the job. That's the only way to go about it if you don't want the whole thing to turn into a nightmare. Following the tips given by us and searching at the right places will certainly ensure that you find a good handyman or a plumber when you move.
FAQs
What Are The Most Common Handyman Services?
A handyman is known to provide people with the following services:
Basic plumbing
Door and window repairs
Drywall repairs
Electrical wiring
Deck construction and repair
Painting
Gutter cleaning and repair
HVAC maintenance
Replacement of tiles
Flooring improvements
Assembling furniture
Setting up smart appliances.
How Do I Choose A Handyman?
Before you choose a handyman, list down all the things that need to be done in your job. Then, find the person who is qualified to do the job based on the quotes, reviews, and recommendations received by you. Keep in mind that you must ask for written guarantees of work and a written contract whenever you hire a handyman.