Moving During The Peak Season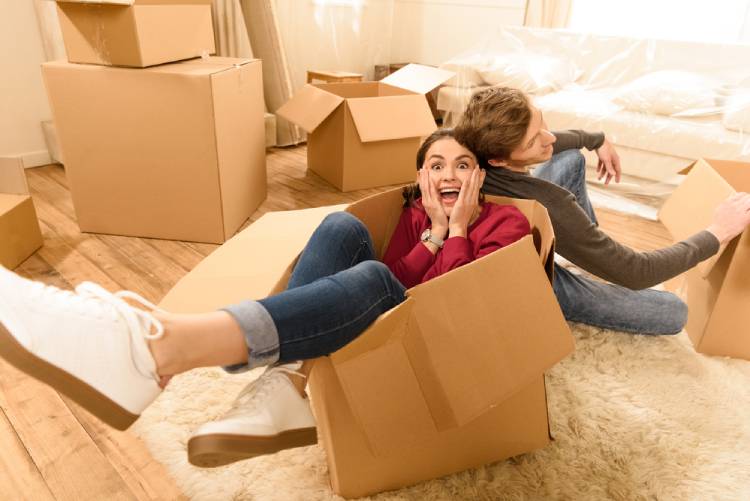 April to September is the peak season for moving and believe it or not, there's equal amount of chaos with the moving industry as your home. Most moving projects are time sensitive because of which employees have to run around the clock.
To add to the stress, it's summertime! In other words, your movers and you would also be dealing with high humidity, muggy weather or dry heat while at work. And we can all agree that when it's miserably hot, it can be challenging to run endless errands. Plus the sun's ultraviolet rays blazing down on you doesn't make it any easier.
Financially, you have got to be prepared to receive relatively higher moving quotes because of the huge influx of people on the move. There's several other things along these lines that you should be aware of when moving during the peak season, so read on to learn more about it.
What You Need To Know About Moving During The Peak Season
Quotes Are Higher
Most moving companies have different pricing strategies in place during the peak season to maximize their sales revenue. Unfortunately, the consequence of this is that you're going to pay at least 20% to 30% higher than what you'd pay in the fall or winter season.
All moving companies don't follow the same algorithm for pricing, which is why prices would vary from company to company. This also means that you're going to need to shop around to get a good deal. We suggest beginning the hunt for the right mover as early as possible so that you can avail a moderately priced quote. A useful rule of thumb is to get at least three in-person quotes before confirming a moving company.
Lease Ends Creating A Spike In Customers Moving Out
Just like when a class of students graduate all at the same time, there's suddenly a large number of young professionals hunting for jobs. In a similar way, most people move in during the summer because of which a large percentage of lease agreements end around the same time. This is one of the main reasons for the spike of people moving.
You would also know that since most leases terminate at the start or end of the month, it's best to cross out these dates because there would already be a huge demand for rental trucks and full service movers at that exact time. If it is feasible for you, try to pick a mid-month weekday as you'd then ideally have better luck with reservation.
Holiday Rush
Summers for the moving industry is peak time. However for the rest, "'tis the season to indulge in a vacation!" With both schools and colleges getting a summer break, most people have the opportunity to take a vacation. This means you're bound to see more rush on roads. This is especially going to be the case if you're moving to a state that already gets a lot of tourists. So what does this mean for your move? Clogged roads, delays with moving trucks and newer trucks being booked out.
This is also another reason behind the high quotes from moving companies. Basically, if your truck is stuck in bumper-to-bumper traffic, it's going to burn more fuel, making costs add up. Even if you choose to drive your own vehicle to your new place, you're going to be in a similar situation where you shell out a ton of money on fuel. Unless you strategically map out the route and avoid rush hours completely, you're not in for a good time!
Like we said before, many people have holidays planned for the summer. So you can expect flights to be expensive. If you plan on flying to your new destination, we recommend getting your tickets booked in advance so you're able to save on costs.
See also: Best Time to Move
You May Have Less Control Over Quality
We know this isn't the most positive thing to hear about moving in the summers, but realistically speaking, not all moving companies manage to meet customer expectations during the peak season. This is mainly because most companies have to hire seasonal staff to handle the huge demand for their service.
Top tier companies would have more control in training the seasonal employees, but there's a chance of lower quality and performance if the people loading your truck have just entered the business.
Brace Yourself For The Heat And Unpredictable Weather Conditions
Being up and about, answering calls, keeping an eye on boxes and juggling these tasks when it's 86 degrees or even more is no child's play. Thanks to global warming, most states also experience thunderstorms in the summers so you may or may not need to be prepared for the same. We suggest keeping a backup date ready if you have a slight indication of the weather going south close to moving day.
How To Prepare To Move During The Peak Season
Book In Advance
Like we've mentioned earlier, things are going to be hectic at most moving companies. It's similar to what happens to stores on Black Fridays, so it's ideal to reserve and keep following up on your reservation. At times moving companies tend to overbook as well which is why it's best to have a backup plan in a worst case scenario where your moving company bails out on you.
See also: When Should You Call Movers
Do Your Research
It is necessary to spend enough time doing research on the company you select because they are going to be leading your moving project. We suggest reading Better Business Bureau reviews and testimonials on Google to get a gist of what other customers have to say.
Once you have a reputable company to fall back on, you can always count on them to communicate with you about issues that pop up. This way your belongings and you aren't left stranded in the scorching heat. Another booklet that will help you get familiar with the moving industry is the guide that goes by the name 'Your Rights and Responsibilities When You Move'. It's a short read that you can get from your mover and is also easily accessible online.
Also Read: How to Hire a Mover
Lock In Your Moving Date
We know it can be tough to select your moving date because it all depends on your work schedule and a day off that's comfortable for you and your family. But in case you can work things around, it's ideal to select a weekday over the weekend. Most people utilize the weekend to move and hence there's less availability of movers at that time.
Also like we've said earlier, a huge majority of people move out on the first or last day of the month because that's when their lease would be up. So, if you can avoid these days, you're inevitably adjusting to make things work in your favor. We'd also like to give you a heads up that it's best to skip moving on days where there's an event or federal holiday around the corner (such as Labor Day, Independence Day or Memorial Day).
Start Early In The Day And Stay Hydrated
At times the summer heat can be brutal and it only gets worse when you're on your toes. This is why it's necessary to keep a water bottle handy with you. It can be tough to stay on top of everything when you're dehydrated so ensure you've either set a reminder on your phone to drink water, because it can slip your mind.
Also, avoid being out for long periods of time when the sun is at its worst (we're referring to the blazing afternoon heat). Other ways to beat the heat is to keep a cooler around stacked with Gatorade, soda and some snacks like sandwiches. This also keeps you from buying junk food when you're hungry and tired.
Evaluate Your Load
By being strategic with your packing, you can save items that don't do well in the back of a heated truck. Perishable food items, wine bottles, batteries, electronies, medications and cosmetics won't survive and must be kept out of the moving truck. Make sure you're not packing anything that's combustible as well. The moving van can get really hot in the summers and during peak hours, the truck could also be sitting in traffic for long. Ensure you've taken this into consideration while packing.
Make Appointments For Administrative Tasks
Moving isn't just about the furniture and getting your belongings into the truck. But there's also tasks like visiting the bank, setting up accounts for utilities like the Internet and electricity. You'd also need to visit a DMV to get your car and license registration done. Since all this can add up to the truckload of things to do, it's best to make appointments and schedule a time by when you'll get this done. This way you're not stressing yourself out in the heat and there's minimal chaos on moving day.
Get A Helping Hand
Get help either from friends or professional friends (movers) to assist you with big furniture. Lifting heavy items in the heat and taking multiple trips up and down the stairs could be a task and take a toll on your body. It's best to think about getting a professional to intervene so that you can reduce the amount of things you have on your plate. Navigation is also much easier with movers in the picture and they could be your saving grace in a building without an elevator (Pivot! Pivot! Pivot!). Once you're all done, be sure to have chilled beers and pizza for your friends and family for all their help!
Tips To Save Costs When Moving During The Peak Season
Reduce Load To Reduce Costs
Think of the move as a cleansing period for yourself and your home. Don't move more than you need to. The lesser stuff you have the quicker your move could be. Since quotes would be high during the peak season, you could save on costs by reducing the load of the truck. Identify pieces you can donate or and get rid of in the early stage of packing. Be super aggressive about purging things out, especially when it's not worth the weight. You can always take advantage of sales and holidays deals later to replace the home items you purged.
Shop Around For Affordable Supplies
You can have success with supplies from retail shops, especially for corrugated boxes. A grocery or liquor store could also give you a good deal for a ton of boxes that are still in good shape. Even T-shirts, towels and pillowcases act as good buffers for fragile items like glass plates.
You can be a little creative by making a Facebook Marketplace post and asking around for second-hand supplies in the community. Most leases are up during peak season so people would be willing to help with extra boxes for a low price. By taking a few hand-me-down boxes near college dorms, you could reduce your supplies budget by a whopping $100!
Don't Rush To Turn On The Air Conditioning
Once you've moved into your new home, it can be tempting to immediately turn on the AC unit. But try to avoid doing that since the doors would most probably be left wide open for all the boxes to come in.
Be it at the unloading or loading process, it's best to wait that period out since you'd just be seeing a surge in your utility bill if you don't try to save then. Keep the windows open, fans on and cold drinks nearby instead to cool yourself and the atmosphere. It is necessary to watch your consumption of utilities from Day 1 to avoid being hit with a surprisingly high bill.
Frequently Asked Questions
When is peak moving season in the US?
More than 65% percent houses in the US move between the months of April to September. There's a high demand for movers at this time because of which things are much more expensive and roads are also busier.
When is the best time to move during peak season?
Ideally, it is best to move during a weekday. We know not everyone has the liberty to take a leave from work. But if you can, try to avoid weekends. Also, don't select the start or end of the month since that's when leases end and there's an even higher demand for movers.
What is the most popular month to move homes in the US?
April is usually the first choice for moving homes in the US. It all begins in April and then the peak season slowly declines in the month of September. Most people move in the summer so you'd only get inexpensive deals in the winter months.
What are the busiest months for moving?
In the US, April to September is considered the peak season for moving. Especially during the months of June, July, and August when movers tend to be in high demand.
What is the cheapest time of year to move?
Winters are the cheapest time of year to move since it is considered off season for moving. This is mainly because of factors such as school and college breaks, holiday seasons, festivities and the fact that a bunch of states get hit by snow which make transportation tricky. The low demand for moving during the season is what makes it the cheapest time of the year to move.
What are popular moving seasons?
June, July and August are considered to be the most popular moving seasons here in the US. This is the period when demand for movers, apartments and prices are high. This period tends to be at least 20% to 30% more expensive than the rest.
How far in advance should you schedule movers?
Ideally, you should aim to schedule your movers 2 months in advance. Scheduling your move in advance not only gives you more time to pack, settle bills, plan your work or school leaves, but also have a concrete deadline to work up to. When you book in advance, you have the extra time to modify your schedule in case of any changes in plans, rather than hurrying at the last moment.
Why do people move in the spring?
The period between March, April and early May, better known as spring, generally experiences much less demand in the moving industry. As a result, there are increased chances of your ideal moving company being available. Plus you are also more likely to get lower moving prices as compared to other seasons. This is why some individuals choose to move in spring.
What is the luckiest day to move into a new house?
Thursday is considered by some to be the luckiest day of the week to move into a new home. Feng Shui also recommends a number of auspicious moving days and dates based on varying factors.
What is the best time to move into a new house?
Around the globe, a number of cultures regard specific days, months or time periods as being the perfect time to move into a new house. Whether you prefer to consult a Hindu calendar, a Chinese Almanac, the phase of the moon, or your zodiac sign, your very first task when planning a residential move is to make sure that you will be moving on a lucky day or the day that is simply the most convenient for you and your family.
What time of year do most people move house?
Summers in the United States are the most popular time for individuals to move house. This is because schools and colleges are out and the weather is great.
Does it cost more to move on the weekend?
Yes it does. Simply because more people are free and have the time to move as compared to weekdays when they are usually tied up at work, school or college.
How do I choose a moving date?
When choosing a moving date, you should ideally consider factors like your work schedule, your children's school, your availability, festivals or public holidays and the urgency to move.
What day of month do people move?
Typically, May 30 through June 1 is often recorded as the busiest moving days in the United States. These dates also happen to fall during the peak moving season of May through September.
Is it better to move in winter or summer?
Moving during the summer will be not only busier but also more expensive as compared to winter. Summer is the peak moving season as you probably might know. Winter on the other hand experiences very little demand, so moving companies tend to offer several discounts and money saving deals. Plus the weather can deter people from moving during this period, which is why winter is always cheaper. Depending on where you stay, it might not be the best idea for you. So ideally, the second half of March, first half of April and October could be a good time to move.
See also: Best Moving Deals
---
Conclusion
Moving during peak season means that the costs would be just like the temperatures, high! There's a big demand for movers from April to September because of which trucks get sold out like hot cakes. But don't worry if you strategically begin things in advance, your moving project can all come together nicely.
Having success with a peak season move is all about having your ducks in a row. If your tasks are organized well enough, the summer heat or the costs won't cause much hindrance to your big move.