How To Hire A Mover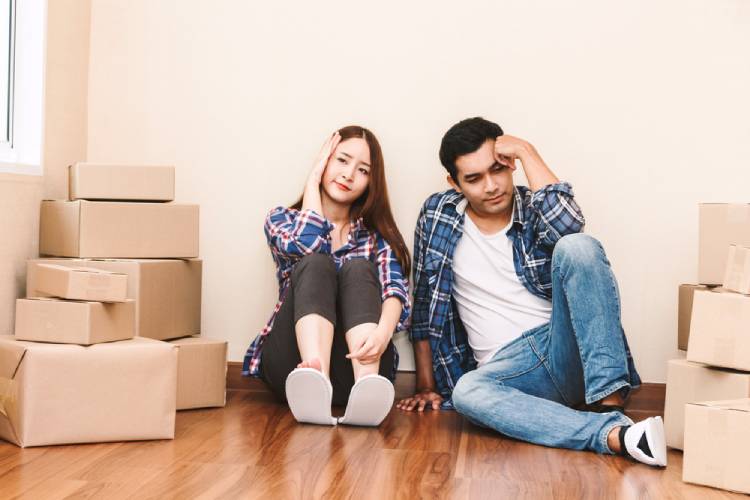 When you don't have the energy or time to stress about your move, then hiring movers is surely the easy path to take. They help you with both the logistics and physical demands of your move. But on the flip-side, if the wrong kind of movers get hold of your belongings, you'd have a very chilling story to tell around a campfire and nobody wants that.
Even though there's a vast majority of good moving companies, the bunch of hinky ones have instilled a bad image for movers. This makes the task of finding reliable movers slightly challenging. It can also be hard to tell the truth from a tale when you're bombarded with convincing sales calls and names of thousands of companies when you search the Internet.
But worry not, as we're here to help you learn all about the things you should know about when it comes to hiring a mover.
What To Look For When Hiring Movers
The Estimate Provided Is Based On Weight Of The Inventory
The quote you receive for a move is based on several factors. The two primary factors are the distance and weight of the belongings that need to be moved. There would also be additional charges for add-ons like disassembling large furniture, managing the packing of electronics or any other complex tasks that's beyond what the original offer includes.
If you have special requirements that you'd like the movers to take care of, then the quote would automatically increase. Each extra service will have an extra fee to it. This is the usual structure behind the calculation of the quote.
But if your mover tries to charge you based on cubic feet, then you should take it as a sign that they are trying to trick you into a scam. If the weight of the inventory is not measured well enough, the final estimate suddenly exceeds the amount agreed upon when it's time to deliver your goods to you. It's best to keep a safe distance from such movers.
See also: How Do Moving Companies Charge
Tip – Don't trust movers that constantly revise the initial quote with no sound rationale behind the extra charge. It is a standard practice that the charge is always based on the weight of belongings. Ensure your belongings are weighed before they enter the truck and then after it's all packed into the truck as well. This way you're sure that there was no extra weight added on the truck with your boxes.
The Movers Proactively Make Sure To Ask You Questions
Sometimes you can tell a lot about a mover by the way they talk and the questions they ask when they come home for a walk-through. If they don't probe into details like how many flights of stairs they need to prepare for or ask you about whether you're comfortable with the delivery window they have available, then they aren't covering all bases of your move.
The more questions they ask, the more informed they want to be about the size of the move.
For instance, did they ask you if the front door is far from the sidewalk? If they didn't, they'll probably pick on this later and then charge you when it's time to deliver only because they have to walk an extra block while unloading. This not only increases your budget at the last moment but also speaks low about the moving company for not covering this matter while calculating the estimate.
Good movers get into the nitty gritties of the move to avoid misunderstandings later. If they've been in the moving industry for long enough, they're aware that not all customers have sound knowledge about the fine print. For instance, a reliable mover would make efforts to upfrontly inform you that if there's no parking space in front of the building, there would be extra charges to lift the heavy furniture for a block. They would be happy to provide you with reasoning behind every fee and this helps them and you build a reasonable quote.
See also: Questions to Ask a Moving Company
Tip – Good movers would cover all bases of what affects the quote. They'd warn you about surcharges so that you're not slapped with a new bill after the unloading process.
The Movers Possess A Good Fleet Of Trucks And The Right Moving Equipment
Another sign that you should look for when you're hiring movers is to confirm whether they have the right type of moving equipment along with them. If they arrive without any tools, they take longer to load the truck and eventually charge you more for the length of time and people it took to get that bulky couch onto the truck.
If you're personally visiting the office, try to look around or ask questions if the moving company is using dollies, straps to keep things in place and moving blankets. Confirm if there is an extra price for this. If they're ready to converse with you on this subject, you automatically understand that they care about the efficiency of the move and hence have all the tools required.
For your own peace of mind, it's also a good practice to pick movers that have sufficient numbers of trucks so that you don't have to worry about availability. More trucks also means you have more choice when it comes to picking a truck size as per the size of your home. If they have a good fleet of drivers and trucks, you know that they would be capable of accommodating your move without compromising on quality or outsourcing a truck just to keep you invested in their service.
Tip – Preferably pick companies that have an extensive and moderately sized network of professional drivers and trucks.
Payment Is A Deposit Via Credit Card
A reputable moving company would never take the full payment after you sign a deal with them. Instead, they would ask a small upfront deposit preferably via credit card. The final payment must be done only once all your goods have been delivered to you.
If they insist or are pushy about only accepting payment in cash or money order, again this is something fishy and isn't the way a reputable moving company would deal with transactions. It's safer for you to send the deposit via your credit card as there would still be a chance for that amount to be reversed to you if things go south. When a company is happy to take credit cards, it shows they have nothing to worry about.
Tip – Stay away from movers that demand big deposits in cash.
Willing To Let You Speak To Satisfied Customers
Getting a referral could actually be the best way to get a list of good movers you can depend on. This is a go-to method of hiring a mover. But if that's not possible, you can always ask the moving company that you found by yourself, to let you have a conversation with customers who have used their services in the past.

This way you would get firsthand knowledge about what to expect and can gauge the service based on the remarks past customers make. You'll practically be in the know-how of the structure they used for building the quote from old customers. This ultimately reassures you of your decision to invest in the mover. This also reduces the risk associated with hiring movers and if the response you get is positive, it means your mover is in the good books.
Tip – Ask friends, family, coworkers for names of moving companies they trust. This can help you make an informed decision.
Ready To Go Over The Fine Print Of The Quote
Movers that are ready to sit down and work on the quote according to your needs is a sign that you've hit the jackpot. Before you sign the contract it is important go over all the terms and conditions that are usually looked over by both customers and movers. Spend some time clarifying points you don't understand so that you don't find yourself in a bind.
Tip – Spend time to go over the fine print of the contract and everything it excludes. Make sure there's no hidden charges and ask questions about conditions that are not very clear.
Do Your Homework
A large part of finding the right movers is to do your own homework about the background of the company. Google and Better Business Reviews are good places to start with reading reviews. Find out whether the company has a large pile of complaints on various platforms that's just left unattended. If they do, it shows that they don't care enough about the company reputation or customer satisfaction for that matter.
When you finecomb through the reviews, it is necessary to take comments with a pinch of salt. For instance, if there's a ton of good reviews and a few negative ones it doesn't necessarily mean the company is a complete no-show. Focus on comments that speak about things like if all items got delivered safely or if most customers were happy but faced delays.
If the company responds to complaints you know you can count on them to respond too. Also, make a note of how long the company has been in the moving business because this would speak more about their position in the industry.
Tip – Once you have your eyes set on a company, do a mini background check of their reviews and USDOT number to make sure they are licensed.
What To Avoid When Hiring Movers
Suspicious Sounding Business Name
Fraudulent movers in most cases merge their company name with legitimate businesses to share the fame of top tier moving companies. If you even get the feeling that this is the case upon Googling them a couple times, then it's best to trust your instincts.
You can tell apart these companies when the trucks have labels of another name and the website you visited states something else. At times trucks could also arrive with no company name on it. These are all red flags you should be aware of.
A Surprisingly Low Offer
When the advertised offer is much lower than the average quotes elsewhere then you must immediately take it as a sign that you're being reeled into a scam. This is why it is best to get at least 3 in-person quotes so that you more or less know what your expense should look like.
You Don't Get A Bill Of Lading
The bill of lading is the most important document you need after you confirm the move with a company. It is the official legal contract that must be provided to you and if this is missing, you must see it as the biggest red flag that you're dealing with fraudulent movers.
See also: How to Avoid Moving Scams and Frauds
Types Of Movers You Can Hire
There are three categories of movers you can opt for depending on the size, distance and budget of your move.
Full Service Movers
Ideal for those who are low on time and would like professionals to take care of loading, unloading, packing, driving and additional requirements. A full-service mover also works best when you are moving long distances but it is the most expensive option.
Self-move Or DIY Move
Ideal for those you wish to handle the move independently including driving the rental truck themselves. This falls in the budget bracket and is the least expensive approach to take. In a DIY move you take care of the packing, loading, unloading, driving and much more.
Also read: Risks Of A Self Move
Hybrid Move
A hybrid move is a combination of a few elements of a DIY move and full service move. It's a customized option where you handle the packing, loading and unloading as well if you like and let the professionals take care of the driving.
Top Tier Moving Companies To Consider:
Bonus Tips
Always try to get a minimum of 3 in-person or virtual moving quotes.
If you hire a full-service mover, take the option of full value replacement liability insurance. It is more expensive but works in your favor when things are damaged during transit.
Look up the DOT license number of your mover. If you're not sure how to do proper research on this, read our blog – USDOT Number – What Is It And How To Check It?
Read the booklet titled 'Your Rights and Responsibilities When You Move'. It is a short PDF that is available online.
Look at Better Business Bureau grade ratings and Google Reviews.
Keep contact information handy so that you can contact movers at any time.
Also See: Hiring Movers Vs. DIY Move: Which is Best For You?
Frequently Asked Questions
What is the typical cost to hire movers?
It could cost you $600 up-to $12,000 for a long distance move. But a smaller local move could be somewhere between $500 to $2000 depending on the distance, size of the move and how much professional help you're actually taking. If you just rent a truck and do the loading, unloading, driving independently, you can expect to be roughly between $130 to $1780.
Is it affordable to hire movers by the hour?
Hiring movers by the hour is ideal if it is a short distance local move. You can expect the charge to be somewhere between $50 to $160 for an hour.
How to strike a good deal with a mover?
Shopping around for quotes is one of the best ways to find better estimates for your move. We suggest getting 3 to 4 in-person or virtual quotes and then crossing off companies that are way beyond your budget.
How do I find a mover?
Finding a good mover definitely isn't that difficult, provided you know exactly where to look. You can start off by surfing the web for any recommendations based on your area, budget, distance of the move etc. Go through any reviews by happy and more importantly dissatisfied customers in order to get a balanced view on the company. You can also question family members or friends who have moved recently to get suggestions or learn about any obstacles they encountered along the way.
Is it worth it to hire movers?
Moving is a stressful time, so having a moving company take care of the majority of the heavy lifting, transportation as well as packaging, is certainly an offer few can resist. Unfortunately, the bill isn't always so kind. If you have minimal belongings and only have to shift a couple of miles, then doing it yourself is much cheaper than hiring an entire moving crew. Especially if you do have the time to organize, plan and carry out tasks like packing yourself. But otherwise, hiring movers can really be worth it if you choose the right one.
Is it cheaper to hire movers during the week?
Normally, the demand for movers is greater during the weekend, due to most individuals being out of school or work. So the rates are a bit higher than during the weekdays. Depending on the season though, the rates can easily fluctuate again.
How much does 2 guys and a truck cost?
Depending on whether you live in a more rural or urban setting, the moving rates and overall local moving cost will vary between $60 to $120 per hour depending on the amount of stuff, time and of course, labor.
How much should I pay movers per hour?
Movers charge an average of $50 to $160 depending on the distance and size of the move, the equipment needed, the season as well as labor required to carry out the move. We suggest hiring movers by the hour if it is a short distance or local move.
How far in advance should I hire movers?
Ideally, you should aim to schedule your movers 2 months in advance. Scheduling your move in advance not only gives you more time to pack, settle bills, plan your work or school leaves, but also have a concrete deadline to work up to. When you book in advance, you have the extra time to modify your schedule in case of any changes in plans rather than hurrying at the last moment.
How do you find a mover you can trust?
Here are a couple of tips to keep in mind when choosing a mover:
Learn from the past mistakes of friends or family
Make yourself well acquainted with the company by visiting their website, reading reviews, speaking to the customer service representative and asking questions, etc.
Cross check state rules and guidelines as well as industry standards with the ones offered and showcased by the mover.
Ask questions. The best way to learn anything about a moving company is by investigating the type of equipment they use, any extra charges and their rates per hour or mile, among other such things. Most probably they'd have a ton of questions for you as well, so as to assure no mishaps in the future. But it's highly recommended to ask and get reasonable as well as justiciable answers in return.
Can you negotiate with movers?
Negotiating with movers is actually more common than some people realize. Shopping around for quotes is one of the best ways to find better estimates for your move. Many companies have price matching policies and negotiate on their prices with you depending on the quote you receive by a competitor. We suggest getting 3 to 4 in-person or virtual quotes and then shortlisting those companies that are within your budget.
Why is hiring movers so expensive?
The saying, you get what you pay for, is definitely true in the case of moving. If you've opted to move the majority of your furniture as well as have them packed, assembled and reassembled, it's no wonder packaging and labor costs increase. Some items may require specialists to take care of them or even go into storage. On a long distance move, you're not only paying for the vehicle but also the fuel, and for a driver who's licensed to handle commercial trucks. Majority of trustworthy full-service movers also include basic liability moving coverage that protects your belongings for $0.60 per pound.
How can I save money when hiring movers?
There are a multitude of ways to reduce the costs of your move.
First up, avoid peak season and make sure to book way in advance to get the date of your choice.
Shop around different companies in your budget before settling with one.
Shortlist the things you actually want to move. Don't move heavy items like appliances, weight sets and large grills unless really necessary. Basically, purge whatever is necessary. Sell them with your home or during a yard sale, this will lower your labor and transportation costs.
Look up discounts and check whether you're eligible for them. Many moving companies tend to offer discounts to students, senior citizens and first time customers. To add to that, some companies also offer special discounts for AAA members.
Do as much of the packing by yourself, save boxes, stock up on wrapping materials etc. Not only does this reduce the cost of labor but also the cost of packaging materials.
How do I prepare a for a full service move?
Make sure to designate items that only YOU want to pack, by creating a detailed moving itinerary. Get started by unplugging, unhooking, emptying and disassembling whatever you can. This is a good way to prepare your home before moving day arrives. Label all the flammable as well as fragile items from the house. Most importantly, be there to supervise the moving crew but at the same time allow them to just do their job.
---
Conclusion
There are reliable movers in the moving industry, but you just have to be able to pick them out from the rest. Now that you're familiar with red flags you should steer clear of and things you should look for in your mover, you can easily distinguish the ideal ones. If you still find the task challenging, you can leave it to us to find you the most trusted moving companies.