Wheaton World Wide Moving Review


VanLines Inc
Secure Storage
Easy Booking Process
Fully Trained Employees
GET A QUOTE

Colonial Van Lines
Storage Services
Long-Distance Moves
Corporate Relocations
GET A QUOTE

Moving APT
Available Nationwide
Award-Winning Movers
Extensive Vetting Process
GET A QUOTE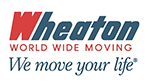 With headquarters in Indianapolis, Wheaton World Wide Moving is among the top tier moving companies in the nation. By this we mean that the potential of you hearing about them or seeing their moving trucks could be high. This is also because the company has been in the moving business for 75 long years, they now have enough expertise to practically help you with any kind of move.
75 years in the industry also means repeat customers, and the company name is among the most trustworthy ones in the moving industry. If you're looking for professionals with more than sufficient experience, this is a good enough choice, but let's actually learn more about the company and what it has to offer its customers in our Wheaton World Wide Moving Review.
Overview
Wheaton World Wide Moving was founded in the year 1945 and they've been expanding their network ever since. Presently they work with 400+ agents and cater to 95% of the US. Their website states that they still consider growing their agent network. Overall, the company can help you with local, national and an overseas move.
If you hire Wheaton, your move will be handled by a Wheaton local agent who would act as your point of contact and consultant from the start till the end of the move. These local agents help Wheaton expand their business. You can find the local agents that work with Wheaton by simply putting in your zip code on the website. Post that, you would get a list of all the other moving companies associated with the alpha company – Wheaton.
Keep in mind that the agents are independent companies who work in partnership with Wheaton. So, don't be surprised if you see a truck that doesn't have the word 'Wheaton' on it. Depending on your location, you might be served by a partner company. The headquarters of Wheaton World Wide Moving is situated in the city of Indianapolis, but by branching out with agents, they are able to help clientele all over the nation.
Wheaton also manages 4 other companies for which it serves as a parent company. They are namely – Bekins Van Lines, Arpin Van Lines, Clark & Reid Company and Stevens Worldwide Van Lines. These 4 companies run under the management of Wheaton World Wide Moving, but act within their own domain. To an extent, they could be seen as the 4 supporting pillars, that in a way strive to improve the position of Wheaton in the moving industry.
What Services Do Wheaton World Wide Moving Provide?
1. Household Moves
Depending on whether you need to move from one neighborhood to another or even if you need to cross state lines, Wheaton could be of help for your move. Besides helping with the packing, hauling out the boxes and transporting it, you can also count on them for consultation.
Once you're a Wheaton customer, you can expect them to help you with all the logistics. They would ask you a ton of questions to understand your residential move and provide you with sufficient advice on how to tackle the most complex matters of the move. Every minute detail of the move would be discussed with you, so that the moving project is simplified. These are the following services that they provide for a household move:
● Packing
● Loading and unloading
● Transportation in a truck
● Hauling speciality items like a grand piano or pool table
● Policies to protect items incase of any damage
● Storage unit
Within household moves, there's 3 types of services they provide –
Interstate: These are for long distance moves.
Local: Assistance for a move within the same state.
Priority Move: An urgent last minute move.
2. Corporate Moves
If you're moving for work, you're going to need a moving company that's ready to work with the management of the place you're employed. A corporate move is a whole different ball game where you want professional movers to do the talking and make sure things work in your favor.
This is a type of move that Wheaton specializes in and so they can do the talking with the HR and you don't have to. As Wheaton has dealt with the formalities of such a move in the past, they could be of huge help as you move to a whole other city for a job. To a degree, having the support of a moving company that handles this kind of move helps to get the relocation affairs in order.
3. Commercial Moves
At Wheaton, you could also get assistance with moving your entire business. So, if you need help to transfer your machinery like computers, printers or even hospital machinery, they could be able to take care of it.
For instance, if you run a successful salon, you're bound to have a truckload of things to pack when it's time to move. Things like the heavy hydraulic chairs, huge mirrors and electronic appliances would all be packed and loaded for you by professionals. So you get to sit back and not lift a finger but have a smooth transition for your business.
Let's face it, commercial moves are triple the burden of a residential move. So by opting for such a service, a weight could possibly be lifted off your shoulders.
4. Military And Government Moves
Wheaton could certainly be seen as a company developed to serve a niche market. Besides commercial and corporate moves, they are also seen as a top pick for any military or government type of move. Not all moving companies have the capacity to help with a military move, since the demands of such a move is completely different. For instance the administrative work and documents needed are not the same as a standard non-military move.
So in that regard, Wheaton gets the upper hand since they are an approved company by the GSA agency (General Services Administration). They are also part of the CHAMP program (Centralized Household Goods Traffic Management Program) which works towards making a military more affordable.
Key Takeaway
Wheaton can help you with any kind of move. Be it local, national or international. They can also help with commercial and job relocation moves. Lastly, they specialize in military and government moves. It's almost like they've left no 'move' unturned.
How To Contact Wheaton World Wide Moving?
Option 01
You could fill the online form available on their website so that they can contact you. Once you leave details such as your name, phone number and email address, a sales representative shall get in touch with you. They claim to respond within 24 business hours.
Option 02
You can directly write them an email at – wheatoncustomercare@wvlcorp.com
OR
Give them a call on 1-866-799-8992
Option 03
If your hometown is Indianapolis, you could choose to visit their office in person. Their office is situated on the following address:
Wheaton World Wide Moving Office Address
8010 Castleton Road
Indianapolis, IN 46250
Do note that their office timings are from 8am to 5pm from Monday to Friday. They are closed on Saturday and Sunday. So ensure you ring them up for an appointment before dropping by.
Why Choose Wheaton World Wide Moving For Your Move?
If you're on the hunt for a professional company that has been in the industry for long enough, then Wheaton is a company that fits the bill. The company also makes immense efforts to provide guides to their customers about the moving industry. You can easily find a good number of write ups dedicated to providing a kind of 101 session to customers.
Yes, there's also so much information on the website that it's almost like getting a systematic induction training on the moving industry. They also have a glossary to explain all the technical terms used by members of the moving industry.
Few of the things you'd probably find appealing about Wheaton World Wide Moving are –
The Upsides
● Wheaton is a professional and recognizable company in the moving industry.
● They help with all types of move – local, international, interstate, commercial, military and government.
● They have the expertise to move speciality items.
● You would have someone to consult with for guidance when it comes to logistics.
● They respond responsibly to almost every negative Google Review which shows that they care about the criticism they get.
Now that you have a good idea of the plus points, let's also look at some of the drawbacks of the company.
A most spoken aspect of the company is that they offer various discount programs that you could possibly take advantage of. The discounts are surely exciting, who doesn't like discounts? But the downside is that you have to meet certain criterias that they've set to actually claim that discount.
For instance, only those customers who move during the off season get a $150 discount on the total quote of the move. Now, most other moving companies also offer discounts during the off-season, so it's not really a pretty enticing one. You also have to be part of certain organizations to be eligible for discounts, so to an extent the discounts aspects could be a marketing gimmick.
Another problematic area is that they work with several different agents. Like we said earlier, agents are just other independent moving companies that associate themselves with Wheaton. The issue here is that not all the agents would provide the same quality of service. There have been ups and downs on their Google reviews and this could possibly be one of the reasons why.
Overall, the few not so attractive aspects are –
The Downsides
● They serve 95% of the US. So few of the areas where they don't have local agents are Jacksonville, Buffalo, Pittsburgh, Cleveland, and Denver. So, if you live in these cities, you won't be able to hire a Wheaton associated company.
● Some of the reviews point out that they had a bad experience with a certain independent moving company. This proves that not all agents are upto the Wheaton standard of working.
● There are few cases where extra money was asked to customers post the decided estimate. This again is probably an outcome of the previous point that not every agent is as transparent as the good ones.
Wheaton World Wide Moving – Fee Structure
According to the platform My Moving Reviews, the average cost for an interstate move with Wheaton World Wide Moving is roughly $2,619 (lower average) to $6,487 (higher average). Now the standard costs for an interstate move usually falls in the bracket of $3,000 to $6,000. This basically means that the quotes you receive would more or less be in line with the market costs.
But in all honesty, the quote depends on the season, distance and how big the move is. To truly know the actual amount you'll pay, it's best to ask for a quote from the company itself. It's always good practice to take at least 3 quotes before closing in on a mover, so there's no harm in trying to get an accurate quote.
To give you a perspective in terms of costs, we've gathered a few examples of how much you can expect to pay:
| | | | |
| --- | --- | --- | --- |
| Moving From | Moving To | No. of Rooms | Full Services Costs |
| California | Texas | 2 Bedroom | $6500 |
| Pennsylvania | California | 4 Bedroom | $8000 |
| Wisconsin | Florida | Partial Service | $5000 |
| Georgia | New Jersey | 4 Bedroom | $9500 |
| Indiana | Indiana | 4 Bedroom(local move) | $3700 |
A full service move would be more expensive and comprises of the following aspects:
Weight
Distance being covered
Loading and unloading
Full packing charges (you can opt for partial to bring down costs)
Keep in mind that you can always ask for additional services such as a storage unit if you require. If you have complex pieces of furniture or some heavy equipment that needs to be moved, there would be extra charges.
Also, we'd like to mention that you should consider the table above to display rough estimates. In case you want a figure, just out of curiosity, you could click on the 'Ballpark estimate' button on their website to know the quote you'd receive.
---
Our Take On Wheaton World Wide Moving
Wheaton World Wide Moving is not doing too bad in terms of the rating it has received on various platforms. They have a 4.4 on 5 rating on Google Reviews and an A+ grade on Better Business Bureau with 11 complaints in the last 12 months. Their customer reviews tend to be on extreme ends of the positive or negative spectrum, almost like a pendulum.
It is a renowned company to consider in the moving industry. However, they work with various different independent moving companies so it can be difficult to gauge whether you'll have hiccups with the move or no.
If you're considering picking Wheaton, we highly suggest researching the Wheaton local agent that you get assigned. Overall, Wheaton World Wide Moving is a good company to consider if you're looking to hire professionals that have a big enough standing in the industry.
See also: Best-Rated Affordable Movers in the U.S.
FAQs
Is Wheaton World Wide Moving an affordable moving company?
For an interstate move with Wheaton World Wide Moving, the costs would typically fall in the range of $2,619 (lower average) to $6,487 (higher average). These costs are almost on par with the market rates and to an extent they do maintain competitive pricing.
Is Wheaton World Wide Moving a good company?
Wheaton World Wide Moving has a handful of credits to its name. They've been in the moving industry for 75 years, proving that they have gained enough expertise about all kinds of moves.
They work with 400+ agents and run 4 subsidiary companies namely – Bekins Van Lines, Arpin Van Lines, Clark & Reid Company and Stevens Worldwide Van Lines. They have a good reputation in the moving industry making them a company worth considering.
See also: Allied Van Lines Review | How Much Does Two Men and a Truck Cost