How Much Do Two Men and a Truck Cost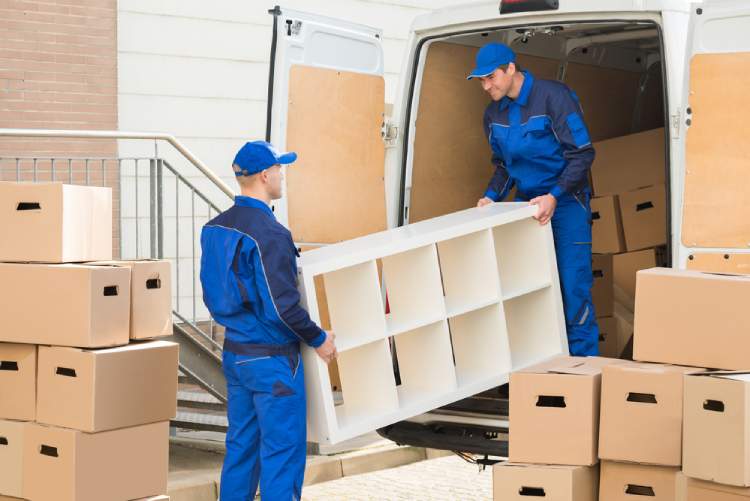 Want help controlling the seemingly unending costs and physical strains of a move? Hiring moving labor is an ideal alternative to doing everything yourself. The industry of moving labor and moving truck rental continues to grow in both service options and the number of companies that offer such services.
With moving labor at two men and a moving truck companies, you determine how much or how little our professionals move on your behalf. The amount of service and the size of the team you secure will determine your overall costs and convenience. And they continue to add more services to make the experience just a little bit more enjoyable.
How Much Does it Cost to Hire Two Men and a Truck?
It costs $80 to $100 per hour to hire Two Men and a Truck for a relocation which is less than 100 Miles. However, the overall cost mainly depends on the size of your house. For interstate moves or relocation of more than 100 miles will cost between $2,200 to $4,700. It's around $.50 per pound for two men and a truck.
What's Moving Labor?
Moving labor is a service that offers partial or full moving assistance when you move from one location to another. This can be either residential or commercial. You can choose either partial or full-service moving options, such as packing, equipment and labor.
However, you choose the level of services that help make the moving process easier, including moving boxes and loading and unloading trucks. It is your decision regarding exactly which services you wish to use and the number of items our expert team moves.
With moving labor, you can still help with the moving, too, as a way to reduce expenses. Some people might prefer to move all of the smaller items themselves and hire moving labor for the larger items, such as beds and sofas.
Other people might prefer to allow moving labor to move every single box. You can also elect to have the companies offering two men and a truck services pack for you or to provide durable packing materials to make the move easier for you and the team.
PRO Tip
One of the best pro tips for using moving labor is to ensure you have completed all packing and preparation before they arrive if they are not packing for you. This will save you money and make the life of the movers and you far more convenient. It will also help keep the movers on schedule for the rest of the day as you are unlikely to be their only client for the day.
Be sure to use easily transportable boxes, tubs, etc. Use boxes of quality material and secure the bottoms properly. Wrap breakable items securely with the proper materials to prevent damage in the move. And do not overload boxes as it can slow down the process and potentially cause injury to movers or yourself.
How Does Hiring Moving Labor Work?
The way the moving labor process and the service selection works is relatively the same for each move. You should call or email at least a few weeks in advance of your move to secure a moving appointment. During peak moving times, it is best to call at least a month in advance.
It is possible to receive an estimate before you book an appointment. Be sure to prepare a list of all of the items you anticipate to have moved on your behalf. We will break it down by room, the number of boxes and the larger items you have to move. With a two men and a truck company, you can even get an at-home consultation for a more accurate estimate. Once you have the quote and make the appointment, start packing. Remember to label boxes so the movers can put them in the appropriate rooms when they unload. It is also a good idea to label the doors of rooms in your new home so the movers know which boxes go in which room.
Also do not forget to set aside essential items you will require up until the move, such as a few dishes, clothes and daily hygiene items. Before the movers arrive, make sure you have the keys to your new place and cash for a tip if you so choose.
If you plan to assist with the moving process, start moving boxes outside or to the lobby a few hours before they arrive. This part will likely take longer than you think. Once the moving labor arrives, let them load the truck as they know what is easiest and most convenient for them to work efficiently and safely.
If you plan to let them do all the loading, leave them to it and try to stay out of the way. And tip each mover at the end if you are a tipper.
Moving Labor Services
Packing and unpacking – Whether you have your own business, a large home or you are simply too time-constrained, you can choose from several different moving labor services, including packing and unpacking. This is a full-service option. Most of the two men and a truck companies allow you to make an appointment in advance for the packing, as well as to select a bundled service for packing and moving to save a bit of money.
They will pack, move and unpack all of your belongings. It makes the moving experience far more convenient. At the same time, it typically costs significantly more than other types of move labor services. It is important to note that not all moving labor companies offer these services.
Loading and unloading – Loading and unloading can be just as daunting and time-consuming as packing and unpacking. This process can also be hard on your body, particularly if you have any time of physical disability or if you live on higher stories of buildings without elevators.
Our professional movers will load and unload your truck in less time while handling everything with great care. And our team often can carry heavy pieces of furniture far more easily, quickly and safely.
Disassembly and reassembly – Larger items may need to be taken apart to fit through doorways, such as tables, bed frames, etc. We help to take apart such items, particularly if you do not have the tools or the strength to do so on your own. The team will also help carry the heavy and large items safely into and out of the truck and reassemble the pieces upon arrival at your new location.
Special care – Many of the best moving labor companies will often offer additional special care services. If you have important art, oversized objects or other valuables or fragile pieces, you can secure add-on services to ensure greater protection for these types of items.
How Much Does It Cost to Rent a Moving Truck?
We offer both local move options and one-way moves across the country. Keep in mind that the cost of these services will depend upon the number of hours or days you require the truck and any add-ons you might need to secure. Rental moving truck prices will also vary based on whether it is a local move or a one-way move over a longer distance.
Local Moves
A local move typically means when you move from one home to another within a town, city or metro area. You will be charged a standard base fee, which will vary depending on your location. It is possible that you may also have to pay for mileage.
With rentals, standards fees might include a variety of coverages, including gas, a deposit, insurance, environmental fees, taxes and damage protection. Keep in mind that if you want to use company equipment, tools, packaging, etc., these will be additional costs. The cost of moving services will also vary in the number of people in your moving team.
One-way Moves
One-way moves use a dedicated team of drivers that do not return the truck to the original rental location. The truck is picked up at one location and returned to another location closer to your new home. The distance for a one-way move can vary.
The charges will be quite similar to that of a local move, including gas, taxes, deposit, etc. Most one-way moves are longer distances, from town to town, city to city or state to state.
PRO Tip
If you wish to save money during a move, it is best to do as much of the work yourself as possible. There are certain times of the year when people are more likely to move.
The off-season is a great time to plan a move to save money on both moving labor and rental trucks, including February, March, April, October and November. It can also be less expensive if you can plan a move during the week rather than over the weekend and in the middle of the month rather than at the beginning or end of the month.
Do I Need to Worry About Extra Fees?
Two men and a moving truck companies offer a number of unique added features and services to make your life more convenient and to provide a more enhanced overall moving experience. For additional fees, you can secure any of the following:
Storage – Whether you have planned home renovations, you are transitioning between homes, you need temporary storage or long-term solutions, These companies offer on-site storage, self-storage and portable storage. You can choose between storage lockers and storage containers.

Home Staging and Rearranging – If you need help arranging furniture to stage for a showing, to make room for a party or to simply remove or move a large piece of furniture, you have options. two men and a moving truck can perform any of these tasks regardless of your reasons.
See also: Best Home Staging Tips

Late Fees – Keep in mind that you may experience additional expenses, such as late fees, if you keep equipment or trucks from longer than you have reserved them. It is important to work with our experts to determine the exact amount of time it will take for moves, packing, etc.

Be sure to share absolutely everything you can think of that requires moving before you finalize the appointment. You will also have to cancel the appointment at least a few days in advance to avoid additional fees and charges if something unexpected arises.

Pickup and Delivery – One of the greatest additional services they offer is that they will pick up and deliver over-sized, heavy objects and items on your behalf. For example, if you buy a new furniture set and the company or individual does not provide delivery and you do not have a truck, just call a two men and a moving truck company and they will pick it up and deliver it for you.

Expedited – The expedited delivery service offers 24-7 GPS tracking so that everyone knows where your belongings are at all times. This service also ensures your items are the only items on the truck rather than to share it with other customers. And expedited services guarantee that the team that loads your items into the truck and then immediately drives your items to your new home whether it is across town or across the country.

Value Flex – The Value Flex service allows you or the delivery labor team to load a 16-foot portable box on your premises at your convenience. It will then be transported to your new home with other portable boxes. Once it arrives, the delivery team will unload the items on your behalf.
FAQ section
What are the important items to keep with me until the last load?
It is a great idea to keep a few items easily accessible while you move, including toothbrushes, toothpaste, toilet paper, chargers for essential devices, necessary medications, critical documentation, jewelry, credit cards and cash. Place them in a backpack or an easily transportable bag for easy access.
How far in advance do I need to make a moving appointment?
Ideally, you will book an appointment at least one month before your move date. Reach out to few two men and a truck companies to discuss availability as soon as you know you are moving. We can help you determine the best day, week, time, etc., for your specific needs.
Conclusion
Two men and a moving truck companies are most affordable options in any city or town. You can use them for local and long-distance moves, storage, pickup and deliveries of large items and more.
Their teams are friendly and professional. And you can choose the level of service you prefer based on your needs and your budget.
See Also: Budget Truck Rental Review | Two Men and a Trick Review