How Do Moving Companies Charge


VanLines Inc
Secure Storage
Easy Booking Process
Fully Trained Employees
GET QUOTE

Colonial Van Lines
Storage Services
Long-Distance Moves
Corporate Relocations
GET QUOTE

Moving APT
Available Nationwide
Award-Winning Movers
Extensive Vetting Process
GET QUOTE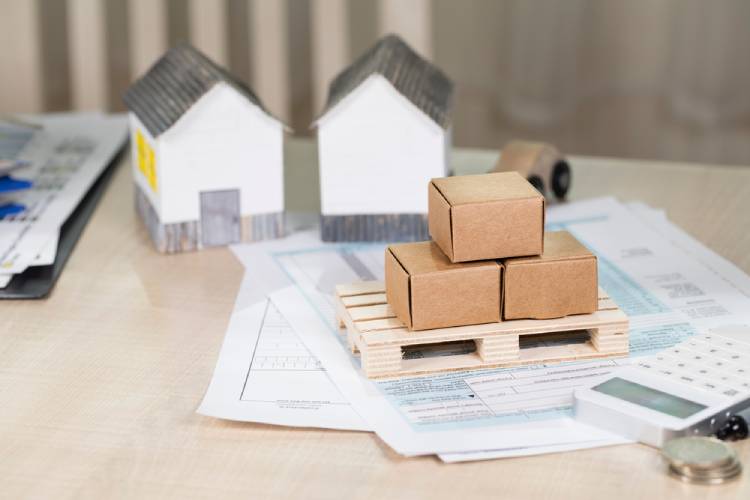 It can be hard to tell if you're being overcharged when you're unfamiliar with how moving companies derive the quote they present to you. It's almost like being a tourist who pays double the price than what a local would simply because of being foreign to the place.
Trust us, you're not alone and it is okay to feel bajiggity while figuring out the grand total you'd pay for your move. Even if you love staying on top of all your expenses, your own spreadsheet calculations could show you something that doesn't really match with what movers charge. If you want clarity on the estimates you should set, it's best to learn about how moving companies charge. And this is the mystery we'll be tackling in this article.
Types Of Moves And Costs
The pricing format followed by moving companies varies largely on the size of the move. To get a better understanding of the charges, you must first ask yourself if yours is a short distance or long distance move as both have contrasting price structures.
Below is an overview of pricing structures followed by these two primary types of moving.
Short Distance Moves
What Is A Short Distance Move?
A short distance move is one that covers a distance of less than 100 miles. It applies for cases where you're not moving too far from your current city and probably also remain in the same state. Some popular ways people efficiently organize their short distance move are:
By hiring a rental truck.
By booking PODS (they're portable storage containers)
Hire a truck with manpower to help with loading, unloading and driving.
How Do Moving Companies Charge For A Short Distance Move?
If you wish to hire professionals for your short distance move, you would be charged based on the manpower you hire. For instance, if you hire two men for roughly two hours, then you can expect costs to be $40 to $80 (lower average) or between $80 to $100 (higher average) per hour. If you require 4 movers because of the size of the house, costs would be $200 per hour.
Do note that most moving companies have a minimum two-hour charge policy, so if you have less stuff that gets loaded within an hour, be prepared to still bear the costs for 2 hours. This is called 'minimums', which is nothing but the minimum costs that customers have to bear for small local moves.
Costs To Expect When Hiring Short Distance Movers
The total for a local short distance move can round upto to a cost of $1,500. Prices can go beyond this in rare situations where the load is extreme or you've requested additional help. The lower average for a local move is $500.
Most movers include fuel costs and other small charges into the quote but it's best to confirm if they have.
Key Takeaway: When it comes to cost, the lower average for a short distance move is $500 and the higher average is $1,500. The bigger the move, the more time consuming it is to load and unload so the higher the costs would get.
See also: Moving Companies Near Me
Long Distance Moves
What Is A Long Distance Move?
A move where the rental truck is going to cross state lines or cover a distance of over 400 miles from your original home.
How Do Moving Companies Charge For A Long Distance Move?
Calculating the bill of a long distance move can be complex and we understand that it can feel like you're made to decode some matter on a doctor's prescription.
To keep it simple and easy to understand, here is a breakdown of how moving companies build a fixed estimate for each customer. They take into account the following aspects:
The first aspect that directly impacts the estimate is weight. This is a no-brainer but the more the items, the higher the cost will be. You could be paying roughly 50 cents per pound, but the price would vary depending on total pounds.
The second is distance. On an average, movers charge 79 cents per mile. But once again, the mover could come down on cost per mile the farther away the move is.
Movers also determine the estimate based on fuel costs and the wage they would need to pay the driver.
Post that, moving companies analyze your inventory for complex items (TV set, pool table, huge dresser). They would put a higher cost for heavier items since it requires more manpower.
Customers are also charged extra for a flight of stairs and if there's no parking available near the apartment. If your mover has to walk the street with your bulkier belongings to reach the building entrance, there will be additional charges for this service.
If you require additional help with disassembling furniture or a cleanup post the unloading, then these add ons will have a fee to them.
In certain cases, you may also need a storage unit if you like to pack in phases or your new home isn't completely set up yet but your lease is up. If you request for a storage unit, things would be looking way different on your bill.
The valuation coverage you choose to take in the event of goods getting damaged will also have an impact on the grand total. If you don't take one, you're entitled to 'free coverage' which is nothing but 60 cents for every pound of item that got damaged.
We all know that no bill is complete without taxes being factored into it and this is one of the costs you'd also have to bear.
Lastly, the time of the year you choose to move will also impact the estimate. If you pick peak season (April to September), quotes you receive are bound to be way higher than off season months (winter).
See also: Moving During the Peak Season
This a summary of all the things you can expect to pay for when you're hiring a long distance movers. Overall, we'd say it's best to take this structure into consideration to get a rough estimate of which direction costs would be going. We'll also be sharing a rough estimate of average costs to expect, but do note that to reach a point of accuracy, you would have to contact a moving company directly.
Costs To Expect When Hiring Long Distance Movers
Like we've mentioned earlier, it all zeroes down to a huge list of variables that impact the estimate you will receive. If you'd like an absolute accurate understanding of the grand total you see on your bill, make sure to contact at least 3 moving companies for quotes.
Having said that, if you need an average figure for reference, do note that quotes for a long distance move falls between $2,500 to $5,000. This is the standard average for moves beyond 400 miles.
Keep in mind that you could be dealing with higher figures if you're moving to a state that is far off from the current one you reside in. For example, New York and California lie on two different coasts, one is on the east and the other is on the west. Because of the vast distance between the two, your move could cost somewhere between $3,000 to $7,000 for full-service movers.
Also read: Moving From New York To California
For long distance moves, customers are charged a fixed rate and not by the hour, which is a pricing format only applied to short distance moves. Some companies could also make a judgment by weighing the amount of work involved for the move and then provide you a take-it-or-leave-it flat rate.
Key Takeaway: The lower average quotes for long distance moves are roughly $2,500-$3,000. On the other hand, the higher average can be anywhere from $5,000 to $7,000. Long distance moves are calculated based on a range of factors like – weight, distance, complex speciality items, additional requests, time of the year, flight of stairs, insurance and tax.
See also: Best Long Distance Movers
The quote will vary from company to company; but now that you know everything about how moving companies derive the quote, you will more or less be able to know the estimate you should receive, preferably by getting quotes from three moving companies.
Types Of Moving Estimates
Non-binding Estimate
A non-binding estimate is when you get a ballpark estimate of how much your move costs. The figures can exceed or decrease once the move is completed. We suggest not signing up for such an estimate because there's too much room for conflict and misunderstandings.
Binding-Estimate
If you wish to get an accurate estimate that doesn't fluctuate even after your goods are delivered, then request the moving company for a binding estimate. This is ideally the best way to keep track of your expenses. It also ensures you don't have to deal with a conversation where words like 'hidden charges' suddenly appear out of thin air.
Binding Not-To-Exceed Estimate
Although the term seems confusing, in this kind of estimate, your mover is obligated to stick to the agreed estimate, but must bring down costs if the items reduce on the day of moving. This is beneficial to you as a customer if you have last minute changes and manage to drastically reduce the load, then you automatically pay less, instead still paying the binding quote.
How Much Should You Tip Movers?
When you hire movers it can be tough to gauge how much you should be paying them on top of what you're already paying in the estimate.
We suggest deciding the amount you wish to tip movers depending on the team of people there to help you. If there's a three-person team, consider a tip of $4 for each person per hour. If they all had to put three hours of work, then that's $12 per person. You can choose to leave a higher amount if you like judging on the volume of work.
Other small gestures that show gratitude is to buy some water, Gatorade or buying lunch for your movers.
Other Affordable Ways To Move And Their Costs
DIY or Self-Move
If you choose this type of move, you would be solely responsible for packing, loading, unloading and even driving the rental truck independently. Hiring a rental truck for a day could cost you somewhere between $20 to $60.
You would also need to factor in costs to pay for fuel, mileage costs, insurance, packing supplies and equipment like a dolly to help with loading the truck.
Costs For Hiring A Rental Truck
Lower average – $140
Higher average – $1,800
Best Companies For Hiring Rental Trucks
U-Haul
Penske
Budget Truck Rental
Also Read: Risks Of A Self-Move
Portable Storage Containers
These usually get delivered to your home to pack. You can take your time to load the container and then set up a pick-up time that's convenient for you. If you're not comfortable driving a rental truck, this is a great alternative.
Portable storage containers are an inexpensive option and ideally a great approach for short distance moves.
Costs For Hiring Portable Storage Containers
Lower average – $450
Higher average – $2,500
Best Companies For Booking Portable Storage Containers
U-Pack
PODS
Also Read: 2 Cheapest Ways To Move
Things To Keep In Mind About Moving Company Charges:
When you're provided a 'binding quote', you shouldn't experience an increase in your quote upon unloading.
In the case of unforeseeable additional work at the time of unloading like climbing another flight of stairs, you still cannot be charged more than 15% of the original quote.
The final payment is done only after the goods are delivered to your new home. You would have to pay a small upfront fee at the time of signing a bill of lading.
FAQs
How do movers calculate the moving costs?
Movers calculate costs based on the weight, size and distance of the move. For a long distance move, your quotes are somewhere between $2,500 to $5,000. The average for short distance moves are $500 to $1,500. Labor costs is also an essential part of the quote.
How much can a mover charge for an hour of work?
On an average, movers charge $40 to $60 for an hour of moving work. The more labor you need, the higher this quote would be. For instance, if you hire a team of four people to help you for an hour, the charge would be roughly $200.
How to bring down the cost of a move?
Renting a moving truck or booking a portable storage container are some of the cheapest ways to move. You can also drastically reduce the total estimate of your move by taking charge of the packing. We suggest seeing your move as an opportunity to downsize and try to reduce the weight of your move. Keep an eye for offers and if possible move during off season to take advantage of reduced rates.
How are moving costs calculated?
Generally, the final quote of a move is based on the weight, size, distance as well as labor required for a successful move. Of course, the size, reputation and pricing policy of the moving company also plays a part.
How much does it cost to move a 2000 sq ft house?
Depending on the distance as well as size i.e. number of bedrooms, the cost to move a 2000 sq ft house can vary greatly. For a local or interstate move, the average cost is around $500 to $2500. On the other hand, a long distance trip can cost between $1,500 to $5,000. Assuming you will be paying $14 to $18 per square foot, your cost can be as high as $25,000 if you're moving coast to coast. At the end of the day, the distance and the amount of belongings to be moved will be key.
How much do movers cost for local move?
If you're brave enough to DIY the whole process, the cost will be a bit cheaper at around $200 to $500. While if you plan on getting a full-service move, you can expect to pay $1,000 to $2500. Although, it would depend on the size of your house and the amount of things to be moved. You can consider $700 to $1,000 as an approximate industry average.
How much should a moving company charge?
There is no straightforward answer to this because there are several factors involved here. If you talk about pricing per square foot of house to be moved, then anywhere in the range of $14 to $18 is fine. Similarly, for hourly rates, you can consider the range of $90 to $95 as the ideal pricing. Of course, you should also consider the nature of service you need and the size, distance and weight of your overall move because these can make a huge difference to your final moving costs.
Is it cheaper to buy new furniture or move it?
Quite frankly, it all depends on you. There are particular pieces of furniture or antiques that are too valuable to not take along with you to the new place. But at the same time, it is easier to go out and buy new pieces, depending on whether your new place is not already furnished. Before making the decision, consider the condition of your furniture, its importance (sentimental or otherwise) and whether your new place already has furniture.
Is it worth paying for packing when moving?
When dealing with fragile or valuable items, it is usually best to let the professionals handle the task unless you're quite proficient at it yourself. It is definitely worth paying for packing when you don't have the time, confidence or a conducive space to carry out the task yourself. Although, there's no denying that going the DIY way will save you a fair amount of money. Plus when you have reliable friends, family members or neighbors around to help, it makes all the more sense to do it yourself.
How much does it cost to move 500 miles?
The cost of moving out from a 1 bedroom apartment or house to a new home located 500 miles away is around$1500, the averagecost for moving a 3 bedroom house or apartment is approximately $2600 or more. Again, these amounts will fluctuate depending on the size and weight of your move, apart from the nature of service you opt for.
How much does 2 guys and a truck cost?
Depending on whether you live in a more rural or urban setting, the moving rates and overall local moving costs can vary. Consider $60 to $120 per hour as a broader range that would depend on the amount of stuff, time and of course, labor.
How much does it cost to move a 3000 sq ft house?
The standard cost for a long distance move of 3,000-sq-feet of household goods will range anywhere from $4,000 for a 100-mile move, to over $18,000 for a cross-country move.
Why do moving companies charge so much?
Moving costs usually consist of the transportation, the labor, the boxes, plastic wrap, labels, special equipment and what not! Throw in a crane to lift that 5 person hot tub over your roof and you've got yourself a pretty hefty bill on the way. There's a lot of expertise, heavy lifting and professional equipment involved is why moving companies can charge a lot at times. All in all, it is true that you get what you pay for.
How much does a full packing service cost?
A full packing service usually charges around $200 for a one bedroom house to $4,000 for a 4 bedroom house. Again, these are just estimates, the cost will vary depending on the amount of stuff, labor and time required.
What do movers charge per mile?
On an average, movers charge 79 cents per mile. But once again, the mover could come down on cost per mile the farther away the move is.
Are movers worth it?
Hiring movers has its own pros and cons. First of all, a self move, though a bit risky and anxiety inducing, will definitely be a whole lot cheaper than hiring professionals. It'll be more convenient and allows you to be in charge every step of the way. Unfortunately, this becomes a bit difficult, especially during a long distance move. Let's not forget, not everyone has the experience, expertise, confidence, time, helping hands or conducive space needed to do things themselves. At this time, it will make more sense to hire professionals to ensure the safety and stability of the move.
See also: How to Move on a Budget
---
Conclusion
With so many variables to consider, it can be tough to calculate the cost of your move. Overall, moving companies charge based on weight, distance and size of the move. Because of this it's almost like no two people pay the exact same cost, since quotes would differ from household to household. To get an accurate estimate, it's best to contact a reputable company that you can trust with quotes. We can always help you find some of the best companies to help you have a successful move.