Moving to San Antonio | 2020 Cost of Living and Relocation Tips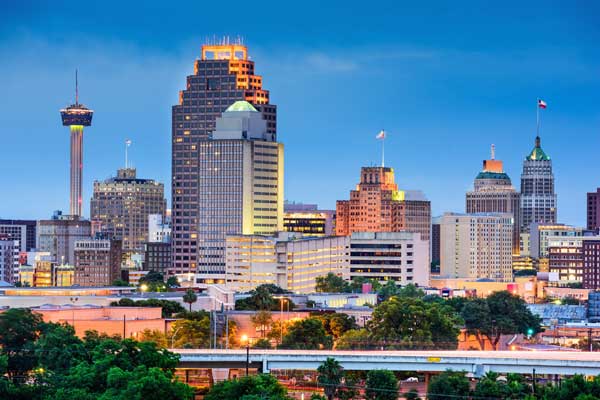 Why should you love San Antonio?
San Antonio is a magnificent city in Texas. From the rich history to the beautiful landscape, it is a natural beauty. Maybe when you think about San Antonio you think about SeaWorld or the River Walk. Whatever you may think of, we can imagine that you conclude that San Antonio is a beautiful city with a lot to offer. If you are moving to San Antonio or thinking about moving to this culturally rich city, we will give you everything you need to know about San Antonio.
Did you know that San Antonio is one of the largest cities in the United States? There are almost 2 million people that live in the city of San Antonio. There is such a rich history that thrives in the city. It became the first settled area in Texas making it the oldest city in the state.
For ten years, San Antonio was the city with the most rapid expansion and growth starting in the year 2000. San Antonio is located at the bottom of Texas; it is considered a part of southern Texas. To give you a better vision of the location of San Antonio, it is located about 250 miles from Dallas. It is located about 190 miles from Houston and 80 miles from Austin.
Residents of San Antonio experience a lower cost of living. The cost of living in this city is lower than the national average. On average, the state income taxes, and housing costs are both affordable. In addition to lower state income taxes, San Antonio is a family-friendly city. Living in San Antonio is appealing to families with all age children.
There is an abundance of things to do in San Antonio. You can explore the River Walk, visit the Alamo, visit historical parks, and partake in great cuisine to name a few great things to do. You will not have a lack of entertainment in this city.
The Housing Market in San Antonio, TX
When thinking of relocating, housing is the priority. The average home value in San Antonio is around $176,000. The median house cost was $243,000 in 2019. The home values in this area have grown by 7% in the last year. The prediction for 2020 is that the market will grow by 3.5%. If you are interested in square footage, last year the average listing price was $122 per square foot.
For the future real estate market in San Antonio, experts predict that positive trends are going throughout the year 2021. If this market prediction is accurate, house values in San Antonio will be higher in the year 2021.
In San Antonio, there are approximately 11,000 houses for sale. Although inventory fluctuates, the prices of these homes range from $3,000 – $13M. On average, houses sell faster in the San Antonio region than other large cities.
The national average median home price is around $215,000. The cost of houses is usually cheaper in the San Antonio area and the appreciation values are higher. In San Antonio, real estate has appreciated as much as 6%.
If you are interested in building your own dream home, the average construction cost is about $400,000. In addition to purchasing homes to live in, the San Antonio market is also great for real estate investments. If you are interested in purchasing an income property, San Antonio is the right place.
Throughout the country, there are real estate markets that are suffering, but this is not the case in San Antonio. The market in this city has been consistent and it has experienced positive price expansion. The San Antonio housing market is still on the rise and very much desired. The city has had continued expansion. Some real estate researchers believe the real estate market is growing in San Antonio due to the climbing job growth in the city.
Renting in San Antonio, Texas
The average apartment rent in San Antonio is $1,170. As of February 2020, there are approximately 1,200 apartments available for rent in the San Antonio area. In 2019, the average rent price was around $1,140, so the current rental price is about a 2.6% increase from last year.
If you are interested in renting a one-bedroom apartment in San Antonio, you can expect to pay around $980 a month. A two-bedroom apartment will have a rental price of $1,250.
Where to live in San Antonio?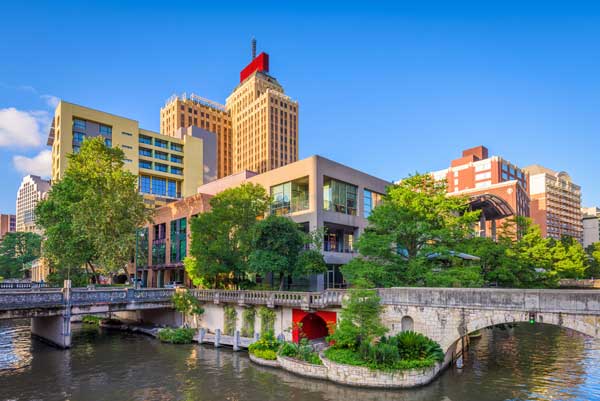 San Antonio is an extremely large city and it is broken down into neighborhoods and regions. If you would like to stay near medical facilities the Northwest area is the best choice. Some refer to this area as the medical district. Many students and young professionals reside in this part of San Antonio.
The downtown area is another popular area of San Antonio. On average apartments and houses are more expensive in this area. South town is known as the art district of San Antonio. The Alamo Heights region of San Antonio is located 5 miles north of the downtown area. This area is also considered a part of the metropolitan area of the city.
If you are looking for more affordable housing options, the Alta Vista neighborhood is great. This neighborhood is located in north San Antonio. Rental rates are low and crime rates are also low in this neighborhood. It is also conveniently located in downtown San Antonio.
If you are looking for a small-town feel in a large city, the Tobin Hill neighborhood may be perfect for you. This is a northern neighborhood and it provides creative and urban appeal. The Beacon Hill neighborhood is located in northwest San Antonio. It is an emerging historic area of the city. This neighborhood provides you with a suburban alternative.
If you would like to live in midtown, consider the Monte Vista neighborhood. This is one of the most luxurious and affluent neighborhoods in San Antonio. This area has the most expensive rent and housing mortgage in the city.
The Lavaca neighborhood appeals to the professional that loves the feel of the suburbs but also enjoys the culture of the city. The King William neighborhood is a historic neighborhood. It is located near downtown San Antonio and has the best architecture in the city. There are several other neighborhoods in the city of San Antonio, the above list is only a few.
Taxes in San Antonio
In San Antonio, the 2020 sales tax is 8.25%. This tax rate includes city, county, and state rates. So, what does this mean? Where do taxes go? In San Antonio, 1% of your taxes go to the city of Antonio. This is what is used to improve the city and to cover other necessary costs. From your taxes, 0.125% is used toward protection and park development projects. The San Antonio pre-k program receives 0.250% of your taxes.
San Antonio Cost of Living
If you are moving to a new place, you may want to know the cost of living in that area. In San Antonio, a four-person family on average have monthly costs of about $2,800. This estimate does not include rent or mortgage payments. If you do not have children or a spouse, a single person can expect to have approximately $800 in monthly costs, excluding rent.
The cost of living index is based on a scale of 100. If there is a cost of living index that rates below 100, this is an indication that the cost is cheaper than the United States average. If the cost of living index number ranges above 100, this is an indication that the place is more expensive to live. San Antonio has a cost of living index of around 65.
What is the weather like in San Antonio?
The climate in San Antonio is humid. If you go further west in the city, the climate can sometimes be arid. The summers in San Antonio can be long, hot, and humid. Winters in San Antonio usually range from mild to cool. Sometimes when we think of Texas, we don't always think of cool temperatures.
The city of San Antonio can be affected by northern cold fronts during the winter months. So, what do cold temperatures mean in San Antonio? In the winter, the nights can have freezing temperatures. Out of the year, you will experience around 12 subfreezing days/nights in San Antonio. It may be surprising, but it can snow in San Antonio although it is rare. The spring and fall months are typically rainy.
Transportation
You will most likely need access to a vehicle in San Antonio. The city is extremely large and spans a wide area. Using a car is the best time-effective mode of transportation. The average commute time in the city is 25 minutes. Because the city is so large and a lot of people inhabit space, traffic can build up.
San Antonio has a public transportation system. You can get to almost anywhere in San Antonio by bus. You navigate the public transportation website to learn more about the different bus lines, bus schedules, and information about fares. Reports say that the downtown area is the most efficient to use public transportation.
Relocation Tips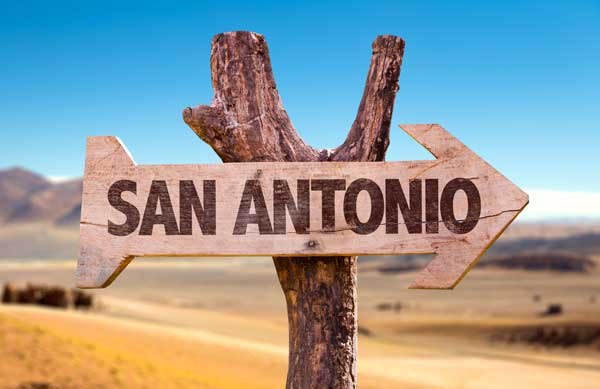 If you have decided to relocate to San Antonio, consider the relocation tips below:
Research moving companies: If you are traveling out of state, you will need to hire a moving service that provides out of state moving trucks. Factor in the amount of time it will take you to pack the moving truck and the time needed to travel to San Antonio.
We recommend you get multiple quotes on moving companies. Choose the company that offers the best deal, but also provides quality.
If you are packing your moving truck, pack smart! Draw out a layout first.
Make sure you have enough moving boxes, tape, and labels. If you know that you are moving in 3 months, consistently stock up on boxes and tape. You do not have to pay for moving boxes. Your local grocery stores and other stores in your community usually give out empty boxes for free.
Create a moving timeline and checklist. This will help you from losing your mind during the moving process. You can create a moving schedule and things to do checklist.
Minimize the number of items you take to your new house in San Antonio. Donate items or sale items that you no longer need.
Contact the water, electricity, gas, and other companies before you move. It is important to have services started before your move-in date. Usually, on the city government site, there is a list of preferred service providers.
You will need to eventually change over your driver's license and car insurance if you are moving from a different state. Contact the local DMV in San Antonio to receive more information about the paperwork needed to complete this process.