Moving to Houston | 2021 Cost of Living & Relocation Tips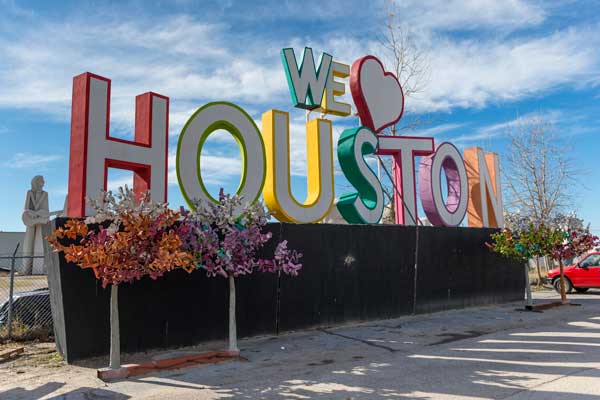 Houston Moving Guide
More than 2.3 million people call Houston home, although the major metropolitan area is home to a population of over 6 million people. As the fourth-largest city in the U.S. with more than 140 great neighborhoods, relocating to the area comes with challenges, none of which are too great to overcome with proper planning. Ease your relocation worries with this moving guide. Read on to learn more about the city you'll soon call home. We'll provide you with useful information concerning the city, cost of living, neighborhoods, and so much more. When you better acclimate yourself with the city, it's easier to 'fit-in' which always is important.
Moving Tips
It is beneficial to hire a moving company when relocating to Houston. Movers can accommodate both short and long-distance moves, binging skills, manpower and the right tools and equipment to the job. Whether you are moving from Amarillo, Dallas, New York or elsewhere, moving companies ensure a simple and smooth relocation process. Movers also offer a variety of services including transportation, packing, and load/unload service. Research moving companies before choosing a provider. This ensures you find the best company and get the best price for your move.
A few additional moving tips:
Reduce the load by decluttering the home. Ridding the house of things you no longer want leaves you with more room and a less expensive moving bill.
Never wait to start preparing for the move until the last minute. This leads to more frustrations and headaches than necessary. Plan the move well in advance to keep things smooth and simple.
Purchase moving supplies – and plenty of them. Boxes, tape, markers, bubble wrap, etc. are important during a move. Quality boxes reduce damage to your most prized possessions.
Set a budget for your moving job. Going broke to relocate is the last thing that you want to occur.
Never do it alone. Ask a friend or family member to help pack boxes, clean, etc. rather than attempt to DIY. Its always better with two and things go by much smoother, too.
Secure housing and employment in Houston before the move. Friends and family in Houston can be a great help at this time. The web also provides useful tools that help you come into contact with resources ahead of the relocation.
Prepare kits to keep with you during the move that includes items such as snacks, bottled water, etc. Kids should get kits with entertainment options. Don't forget your furry friends, when preparing the kits.
Don't forget to transfer all of your services before you move, including electricity, cable, internet, cell phones, magazine subscriptions, car insurance, etc.
With a good moving company and the tips above in mind, relocating to Houston is easy and simple, just the way that it should be!
Cost of Housing in Houston
Houston offers an assortment of great homes for rent and for sale throughout the city. Both rental and purchase prices are well-below national average. Anyone who appreciates city life can certainly value the low prices in this city.
Housing in the city center is more expensive in Houston than in other areas of town. A one-bedroom in the city center averages a monthly rental rate of $1,000 while a one-bedroom in another neighborhood averages $700 monthly.
Home-buyers can score a two-bedroom house for an average cost of $290,000. Keep in mind homes priced both lower and higher than this amount can be found throughout the area. Look to the outskirts of town in areas such as Katy and The Woodlands for more affordable home prices.
River Oaks is a great neighborhood for wealthier residents while Montrose offers a Bohemian setting. The East End, once an industrial area, now offers affordable housing for families and others.
Best Neighborhoods in Houston
Roman Forest, downtown, River Oaks, Montrose, Midtown, and River Oaks are among the most desired, safest neighborhoods in Houston. Each area boasts immaculate scenery, low crime rates, and great amenities. Some of the neighborhoods are considerably more expensive than other areas of town, however. Of course, this list includes only some of the great neighborhoods scattered about this huge city.
Worst Houston Neighborhoods
Some Houston neighborhoods aren't as safe as others. Some are crime-ridden and dangerous, in fact. It is important to arm yourself with the knowledge of neighborhoods best avoided before you arrive in town. Worst Houston neighborhoods include Northwest area, Southwest area, Sunnyside area, and Spring Branch.
Your Houston Food Guide
Houston is the perfect place to live if you are a foodie. The city boasts more than 10,000 restaurants offering your choice of fast food, fine dining, casual dining and more. Mexican, American, French, and food trucks are popular in Houston.
BBQ is a popular meal option for residents throughout Houston. Nothing is quite as nice as a rack of BBQ ribs, although Mexican fare certainly holds its weight with Houstonians. With restaurants and food markets offering food choices from over 70 countries, everyone can find the food they love.
The Galleria
The 'Galleria area' will soon become a popular term in your vocabulary. It's the largest shopping mall in Texas with more than 400 stores and 60 restaurants, several of which are exclusive to the city. The Galleria also serves as a popular hanging spot, too. Stores at the Galleria include luxurious names such as 7 for all Mankind, Dolce & Gabbana, Gucci, and Jimmy Choo.
Getting Around in Houston
Houston offers a road and rail public transportation system that operates throughout the city via various routes. A single-fare ticket costs $1.25 and an all-day ticket for unlimited rides costs $3.00. Purchase a Metro Q card for discounts. Taxicab service is available in Houston. The city is served by the West Houston Airport, George W. Bush International Airport, and the William P. Hobby Airport.
Taxes in Houston
Everyone who lives in Houston pays taxes. Sales tax is charged on all items purchased in Houston. The sales tax rate is currently set at 8.25%. This tax is charged to all goods, including food. Homeowners must pay an annual tax on their property as well.
Moving to Houston Alone
Moving is never easy, but added stressors exist if you move alone. Make sure you get to know the city and make new friends when you arrive by attending events in the community. Houston is home to a myriad of nightclubs and bars, museums, art galleries, social clubs, dating services, etc. that make meeting others simple. Online Houston-based meet-up sites also help find others in the area.
Moving to Houston With Family
Briargrove is a popular Houston neighborhood for families. It is quiet and relaxed, has great parks and kid-friendly activities, and affordable rates along with great schools. It is one family-friendly neighborhood in this huge city, of course. Parents should research daycares in the neighborhood if their child(ren) requires this care. Thousands of daycares exist throughout Houston. The average cost for a center-based child care in Houston is $972 per month.
Employment in Houston
Houston is home to numerous Fortune 500 companies, including Kinder Morgan, Waste Management, Inc., and Phillips 66. Walmart is the largest employer in Houston, with just over 34,000 people on its payroll. Of course, many other large employers also offer skilled and unskilled positions to the people of Houston. The median household income in the city is $63,802.
Fun Houston Facts
Learning more about the city you'll call home is always fun. You're in luck when Houston is the city of choice because there is a myriad of fun facts that you can learn. A few fun facts about Houston.
Humidity is a 'mutha in Houston. Get used to it.
The annual rodeo is an event people talk about all year long. It's a 20-day rodeo event that all cowboys and cowgirls will love.
Galveston is soon to become your go-to getaway destination. It's less than an hour from Houston and offers all the beauty, fun and intrigue one could want or need.
Named 'America's Next Best Food City' by GQ Magazine, Houston is a city that is serious about its food. Expect to be swept away when you arrive in Houston and taste the authentic dishes!
Houston is the wettest city in the state, receiving an average of 53" annually. Invest in a good umbrella and make sure you never leave home without it. Sudden rain pours are quite common in Houston.
Speaking of weather, go ahead and toss out the bulky coat (or better, donate it to charity.) January is the coldest month in Houston which averages a low of 53 degrees F. You'll trade that coat in for lots of tank tops and shorts, especially during the summer months.
Y'all should make certain y'all is a word added to your vocab once you relocate to Houston. It's as common in Houstonians vocabulary as sweet tea is to dinner. Few people do not use the word y'all. Go ahead. Look in the mirror and practice curling your lips to say the perfect 'y'all' and you'll fit right in with the crowd.
Plan a visit to the NASA Space Center soon after arrival in Houston. It is one of the most popular attractions in the area, great for both kids and adults. Yo become the astronaut during a tour and excursion at the Space Center.
FAQs about Moving to Houston, TX
Is moving to Houston a good idea?
Yes, moving to Houston is a very good idea. People move to Houston because it is a rapidly-growing, fascinating and advantageous city to live in.
Is it expensive to live in Houston?
The cost of living in Houston for a four-member family is around $2,850 excluding rent. On the other hand, the average cost of living in Houston excluding rent for a single person is $800.
Where should I live in Houston 2021?
The most desired and safest neighborhoods in Houston are Roman Forest, Downtown, River Oaks, Montrose, Midtown, and River Oaks.