Moving From Austin To Houston – Expert Tips & Advice


VanLines Inc
Secure Storage
Easy Booking Process
Fully Trained Employees
GET QUOTE

Colonial Van Lines
Storage Services
Long-Distance Moves
Corporate Relocations
GET QUOTE

Moving APT
Vetting Process
Award-Winning
Available Nationwide
GET QUOTE
Our Take
Price
Rating
Minimum Shipment Size
Storage
Booking Deposit
Cancellation Policy
Quoting Options
Discounts

Best Overall Value


GET QUOTE

2+ bedrooms




Free 30 Days




10%

Free up to 72 Hrs

Phone / FaceTime / Text

Senior / Same day Booking

Best Industry Reputation


GET QUOTE

1+ bedrooms




30 Days




20%

Free up to 72 hrs

Phone / Facetime

Seniors Discount

Best Customer Service


GET QUOTE

1+ bedrooms







Free up to 72 hrs

Phone / Virtual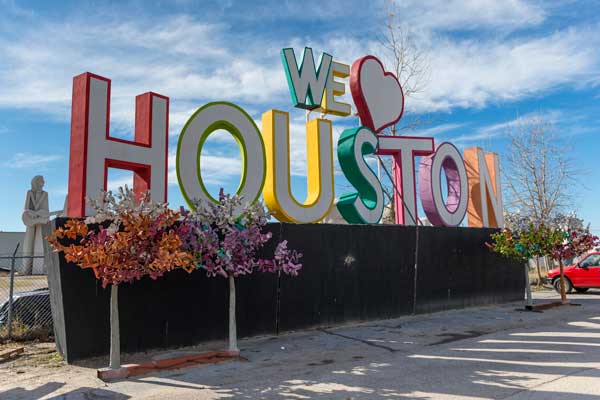 Moving from the live music capital of the nation can be a little less melodic, but a change of genre is what makes music and life in general, all the more exciting. This transition can only be handled by none other than the beautiful city of Houston. Just like the variety in songs, H-town is known to have a diverse culture from all over the world calling it home. So, if you plan on being part of this wonderful community, below are a few things you should know about the city.
Factors To Consider Before Moving From Austin To Houston
Weather Conditions
Since you're moving to a city not more than 170 miles away that too in the same state, you won't find stark differences when it comes to weather conditions. Austin and Houston both have the hots for the warm climates that can seriously test your tolerance at times. But not all hope is lost, the spring and autumn seasons although they last for a short period of time, provide a good escape from the intensity the summers can work up. The winters in Houston are mild and highly tolerable making it a good time for you to plan a getaway. To give you a better idea of the climatic conditions in both these cities, here's a quick comparison of the same.
Here's the difference in temperature that you can expect during peak summers:
Austin in August (the hottest month) – Average daily temperatures range from 73°F to 94°F.
Houston in August (the hottest month) – Average daily temperatures range from 76°F to 91°F.
Though there is hardly any visible difference in summer temperatures between these two Texan cities, Houston is relatively more pleasant than its counterpart. The reason behind this is the city of Houston gets cool ocean breezes at times owing to its closeness to the Gulf of Mexico. You'll still need your pack of Capri-Sun to tackle the dehydration the actual sun might gift you.
Here's the difference in temperature that you can expect during peak winters:
Austin in January (the coldest month) – Average daily temperatures range from 46°F to 66°F.
Houston in January (the coldest month) – Average daily temperatures range from 47°F to 64°F.
Few Things To Bear In Mind About Houston Weather:
Houston experiences about 52 inches annually with June being the wettest month which receives about 5.95 inches of rain on average. So, if you like the image of raindrops dripping down your car window, this month would be a great time for such a road trip.
Being in close proximity to the Gulf Coast, Houston has its fair share of floods and the occasional heavy rains tend to play a part in it.
Having earned a reputation as a warm state, you won't find the snow gods bestowing their gifts in Houston.
Cost Of Living
Not really a proper comparison but unlike the weather, you will see a considerable difference between both these cities when it comes to the cost of living. To back that up with numbers, Houston is about 26.3% less expensive than Austin. The skyrocketing home prices in Austin are the real reason why there is such a distinction. It's a good thing that works in your favor in Houston and makes life a little easier and pocket friendly. Let us look at some of the other aspects of your life in Houston that you might need to know about.
Buying A House
Probably the biggest sigh of relief you'll heave is while signing the sale deed for your house in Houston. Moving from the capital city of Texas to Houston will see you save a fortune on housing costs which is certainly an idea you can get behind. While the median home prices in Austin sit comfortably above the national average, the same is a few notches below in Houston. To paint you a clearer picture, below is a comparison between the two in the same regard.
Median Home Value in Austin: $639,839
Median Home Value in Houston: $252,101
Renting A House
When it comes to renting a house in these two cities, Austin has an even ratio of renter-occupied and owner-occupied apartments. Whereas Houston has only about 40% of renter-occupied houses as more people prefer to buy a house here owing to the significantly low house costs.
If we keep the national average rent of $1,650 as the reference point, you'll be paying about $1,745 in Austin while the same would see you spill $1,275 in Houston. Looking at the numbers, you will have no problem finding an affordable yet wonderful abode in Houston.
Utilities
One of the most important and unmissable aspects of moving to a new house is being aware of what your daily and monthly utility bills will look like. Your average monthly utility bill which includes Heating, Electricity, Garbage, and Water will read $148 in Austin while the same will cost you about $40 more in Houston at $186.
Apart from that, the grocery expenses in both the cities are almost the same with a tiny bit of variations here and there. For instance, a carton of eggs in Austin will cost you around $1.60 in Austin while the same will set you back $1.58 in Houston. A loaf of bread is priced the same at $2.90 in both Austin and Houston.
Another major boost for your pocket comes in the form of healthcare as Houston's healthcare is less expensive than the national average by a good 9%. Whereas, the same in Austin is just about 1% lower than the national average.
Also read: Best Real Estate Markets In 2022
Job Market
If we talk in money terms, Austin has a stronghold in the technology sector which helps drive its economy upwards. Speaking of Houston, the economic car of this city is fueled by the energy industry, specifically the natural gas and oil sector. A household name in the oil industry, Houston Oilfield Equipment, Inc. (HOE, Inc.) is one of the prominent companies in the world to produce high-quality choke products(equipment that control the flow of fluids produced from wells).
Not falling too far back in the line from Austin, Houston has a growing technology and software industry which is helping the city rake up sizable revenues. Healthcare, biomedical research, and aeronautics are also some of the industries which give wings to the city's economy. Houston is often called the "Space City" for its space and science contributions. NASA's Johnson Space Center also finds its residence here. If you wish to seek employment in this diversified economy, consider checking out the below list of companies.
Some Of The Largest Employers In Houston Are:
Baker Hughes
National Oilwell Varco (NOV)
Walmart
Memorial Hermann Health System
Data
Schlumberger
Halliburton
Quanta Services
Shell Oil Co.
Moving on to yet another aspect of the economic magazine of these cities, the unemployment rates here paint an interesting picture. Keeping the national average unemployment rate of 3.60% in mind, Austin does a good job at maintaining it at 3.20% whereas Houston has a rate of 5.10% which is quite higher than the national average. But Houston is taking long strides in improving this given the fact that it has bettered the long-term average of 6.30%. Before we get to some more interesting insights about your future life in Houston, below is a quick overview of the median annual income in Austin and Houston.
Median annual income in Austin (According to BestPlaces)- $74,000
Median annual income in Houston (According to BestPlaces) – $45,750
Transportation
The two Texan cities have been known to be reliant on private vehicles for the longest of times. Interestingly, Houston has been taking notes and expanding its horizons when it comes to public transportation. The Metropolitan Transit Authority of Harris County (METRO) has been the frontrunner in binding the entire city via bus and rail routes. To know a little more about the options available to you in terms of transportation, refer to the below list.
METRORail: This ever-expanding light rail system is been constantly adding miles within its reach and helping the city to mitigate the traffic congestions it faces from time to time. It is the most common transport option used by Houstonians.
METRO Bus System: Quite possibly the lifeline of H-town, the robust network of bus routes provided by the METRO bus system keep helps make life of residents easier a couple thousand at a time! Its park-and-ride facility is something Houstonians find very convenient.
Taxis: If all else fails, you always have the cabbies to depend on. The city's taxi system is expansive probably owing to its stronghold in the oil industry.
Cycle: With a bike score of 78, Houston lets its residents rejoice in the old-fashioned calorie-burner method – cycling. You can avail of the services of the Houston B-Cycle in various parts of the city and pedal across town.
Also read: Best Moving Companies In Austin 2022
Houston's Strong Points
Texans enjoy the no-income-tax policy.
The city is fast becoming a hub of high-tech industries.
Thriving energy and oil sector.
Most diverse metropolitan area in the entire state.
Houston is often regarded as the world capital of space exploration.
Top Neighborhoods To Move To In Houston
Midtown Houston
If you are the jumpy kind who constantly seeks adventure and entertainment, there is no better place for you than Midtown Houston. Nightlife, food culture, lavish lifestyle, unique art culture, you name it! Midtown Houston has it all. The neighborhood is also one of the most walkable parts of the city which only makes it easier for you to access all the major attractions this place has to offer. Its closeness to the other vibrant parts of the city like Downtown and Montrose make it an even more popular relocation spot for many.
Median home value: $348,100
Monthly rent: $2,020
Montrose
How often do you find a place that has mansions and architecture that date as far as the early 1920s, and still be counted in one of the hippest and most modern neighborhoods in the city? This neighborhood has a high concentration of top-notch restaurants and night bars that will always make you want for more. The live music scene will keep you grooving at all times no matter which part of this neighborhood you choose. The cherry on top, it is also a lodestone for the LGBTQIA community!
Median home value: $340,000
Monthly rent: $2,040
Museum District
If you are one for the culture and have a peculiar taste in art, Museum District will steal your heart away (might even keep it in a museum of sorts). We all know how difficult it is to get front row tickets for any play, show, or any art play for that matter. However, with this neighborhood's vibrant and numerous entertainment programs, you are bound to get the best seats for sure! The neighborhood also ranks as one of the greenest parts of the Houston area.
Median home value: $460,000
Monthly rent: $2,015
Downtown Houston
Your job hunt will most likely come to an end in Downtown Houston thanks to the booming business hub here. All the major attractions in the city find their residence here. One of the most vibrant and hustle-bustle of a place, this neighborhood has something for everyone. So, doesn't matter if you are a bachelor or a family of five, Downtown's doors are open for everyone!
Median home value: $268,500
Monthly rent: $2,079
Greater Heights
Owing to its name, this neighborhood is indeed scaling great heights in modernity while also managing to keep its historic essence alive. Primarily a residential neighborhood, you will find a plethora of quirky shops selling unique items that are sure to pique your interest. The place also excels at providing a multitude of recreational activities. So, if you are looking for an elegant neighborhood that is family-friendly and has just about all the amenities, then Greater Heights, also known as "The Heights" is the perfect spot for you.
Median home value: $528,125
Monthly rent: $1,782
Also read: Best Neighborhoods In Houston For Families | Popular Neighborhoods in Houston for Singles and Young Professionals
Things To Take Care Of When You're Moving From Austin To Houston
The distance separating Austin and Houston is just about 170 miles. So, this is one of those times where you have the option to choose between a DIY move or hiring a professional moving company to handle your relocation.
Should you go ahead with the safe bet of hiring a moving company, you need to know that getting at least 3 moving estimates from various companies is important and is something that will help you get up to speed with the market rates.
Once you narrow down your search, do a complete background check on the company right from their licensing, registration, and the most crucial factor – reviews! This can basically make or break your entire moving experience.
After shaking hands with the company of your choice, decide the time of your move and make preparations for the same well in advance.
Implementing cost-effective methods during the entire moving process will go a long way in saving you tons of money.
Austin To Houston Moving Costs
A move of nearly 170 miles is a relatively easier and quicker move as compared to an interstate move that comes with a load of stress. However, precautions and preparations never hurt anybody so, knowing about the average moving costs for starters, will certainly help your case. The average cost for moving from Austin to Houston will fall anywhere around $1,850 to $2,550. This cost can vary significantly depending on the location, the services you avail of, and the space your belongings occupy.
To stay on top of your expenses, make sure you prepare a robust moving budget right at the beginning and stick to it diligently. Selling unwanted items will also earn you some much-needed extra bucks which could be spent on some other utility costs. Moving during off-peak season will prove to be a boon for you and your wallet. You may use our Moving Cost Calculator to help you.
Conclusion
So, future Houstonian, now that you have gone through the summary of how your life is going to be in H-town, it is time to start preparing for a move as soon as possible. The strong community of Houstonians is something you will find yourself becoming a part of in no time and trust us, there is no better feeling than a sense of belongingness.
Also See: Moving to Houston | Moving From Dallas To Houston | Moving From California To Houston | Leaving Austin? 5 Best Places To Move From Austin
FAQs About Moving From Austin To Houston
How Much Does It Cost To Move From Austin To Houston?
An average cost of moving from Austin to Houston will put you down about $1,850 to $2,550 depending on a bunch of factors.
Is Houston Or Austin A Better Place To Live?
If affordability is one thing you consider a factor for a place being an ideal place to live, then Houston comfortably sits well above Austin.
Is Houston A Friendly City?
The community of Houston is something that is talked about even outside the state's boundaries and only goes to show that Houstonians are welcoming and friendly in nature.