Moving from Houston to Dallas – Expert Tips and Advice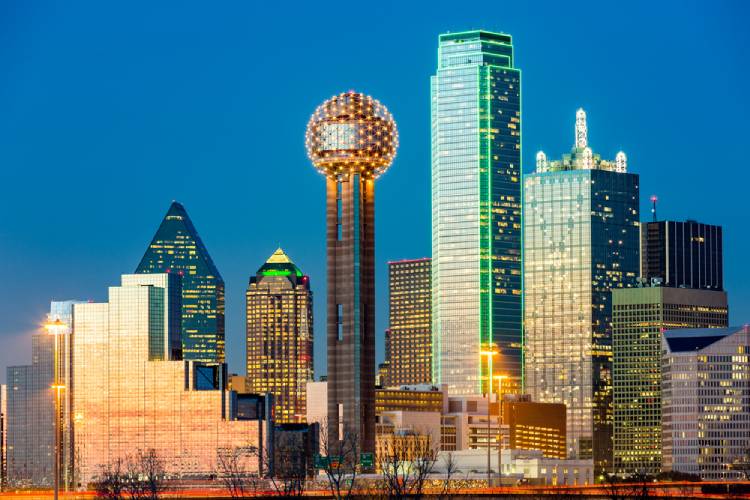 Moving to a different city can be an exciting but also stressful experience. Although moving has its challenges, the good news is that Dallas is a fantastic city with a thriving economy, friendly people, and great food and sports. You would find hundreds of reasons to relocate from Houston to Dallas, including a new job, adventure, or a desire to be closer to family. Additionally, you may be looking for work, schools, or simply figuring out your way around a new city by buying and selling a home. To assist you with your relocation, we have compiled a list of things to consider when living in Dallas and a few relocation tips.
The Advantages of Relocating from Houston to Dallas
Although Houston and Dallas are large metropolitan areas, Dallas has a distinct flavor because it provides big-city excitement and quiet suburban living. This thriving metropolis in northern Texas provides residents access to arts, entertainment, sports, and a growing economy. With an increasing number of corporations located in the Dallas-Fort Worth area, job opportunities abound, and young professionals and families are relocating here to call Dallas-Fort Worth home. Dallas has consistently ranked among the best cities to live in in the United States, owing to its growing popularity in recent years.
Thriving Economy
Dallas ranks second in the country for the most Fortune 500 companies headquartered in the city, with more than 20 establishing roots here. Toyota, FedEx, Liberty Mutual, and 7-Eleven are just a few household names that call Dallas-Fort Worth home. These large corporations have boosted the local economy by creating thousands of new jobs, making Dallas a great place to work.
Affordability
Everyone in the Dallas-Fort Worth area has something for whether you prefer a single-family home in the suburbs or an upscale downtown apartment. While the city's popularity has caused housing prices to rise, this metro area still has one of the most cost-effective urban housing markets, with prices remaining lower than the national average. When you combine affordable real estate with the fact that Texas does not have a state income tax, you end up with more money in your pocket!
Great Schools
If you are relocating with a family, you will be relieved to learn that Dallas-Fort Worth has excellent educational options. There are around 40 school districts within the metro area, and Dallas is home to two of the country's top ten public high schools. Residents of Dallas have access to excellent higher education as well. Southern Methodist University, located in Dallas, is ranked third among Texas universities, alongside Texas Christian University, ranked sixth.
Sports
Football season is something that all Texans look forward to! Football is one of the most popular sports in Dallas, whether it's high school, college, or professional. In the heart of this football-crazed city, the Dallas Cowboys, also known as "America's Team," almost always sell out. There are also the Texas Rangers, who bring baseball to the people of Dallas. Basketball fans can root for the Mavericks, while hockey fans can support the Dallas Stars. One of the many things to do in the Dallas-Fort Worth area is cheer on local sports teams.
Desirable Climate
Dallas residents are treated to more than just hot weather because they live in northern Texas. Although temperatures do rise, Dallas enjoys a change of season and average temperatures in the 70s. This fantastic climate allows for a wide range of outdoor activities all year.
Plenty to Do
You do not have to be a sports fan to have a good time in Dallas. Dallas has more restaurants than any other city in the United States. The city has a huge variety of restaurants and some of the best BBQ brisket in Texas. Dallas also has the nation's largest urban arts district, including Klyde Warren Park and the Dallas Museum of Art. There are also many green spaces where residents can go biking, jogging, or relaxing in the park.
Moving from Houston to Dallas Cost
Whether driving a large family home or a small apartment, moving to a different city can be costly. Moving from Houston to Dallas typically costs $2,137.04. Of course, many factors will influence the final price, such as the number of items being carried and additional services such as packing and unpacking.
What you should know before relocating to Dallas
Dallas is one of several large, thriving Texas cities, including Houston, Austin, and San Antonio. If you're thinking about relocating to Dallas, you should know a few things.
Dallas is a massive city.
Everything is bigger in Texas, especially true of Dallas' population, growth, and size. The DFW metroplex has gained over 1,206,599 new residents. Only Chicago, New York, and Los Angeles have a larger population. Dallas has a total area of 343 square miles. To put that in context, Chicago has a land area of 234 square miles. Manhattan is located on a 34-mile-long sliver of land. That is less than the area served by the Dallas/Fort Worth International Airport (DFW).
There are many exciting places to live around Dallas
Researching neighborhoods can be overwhelming as there are so many different points of view and numbers! You want to find a reasonably priced place while still allowing you to enjoy the advantages of living in one of the best cities in the United States.
You can check out some of the top Dallas neighborhoods to start your search before moving to Dallas. Then, from there, narrow it down.
The cost of living in Dallas is rising
Do you intend to rent after relocating to Dallas? Overall, home values in Dallas have increased by 2.4 percent, and this trend is expected to continue as more people seek a connected, urban lifestyle. In the Dallas/Fort Worth area, the median home value is $256,000. Highland Park and its surrounding suburbs and Frisco and Plano are among the most desirable and expensive housing markets in the DFW area. A one-bedroom Dallas apartment can cost up to $1,234 per month, while a two-bedroom apartment costs an average of $1,430, with higher rents in popular neighborhoods and suburbs.
Rental prices in Dallas are lower than in Austin, and they pale in comparison to rental hellscapes in New York, Los Angeles, and Boston, where $2,000 per month is not uncommon.
Traffic
Traffic is one of the most significant disadvantages of living in Dallas. Because the city is so spread out, DFW residents have to endure longer commutes than residents in many other cities.
Dallas has some of the state's most congested highways. According to a recent INRIX report, Dallas ranked 20th in the United States for cities with the most traffic in 2017, with an average of 63 hours per year spent in traffic. Even though workers have a longer commute time than the national average, it could worsen. Heavy traffic is expected on the Central Expressway (U.S. Highway 75), certain sections of the LBJ Freeway, the George W. Bush Expressway, and the North Dallas Tollway, particularly before and after work hours.
Public transportation is available
There's no denying that Dallas is a car-centric city. On the other hand, Big D is home to the country's most extended light rail system, Dallas Area Rapid Transit, which allows you to navigate Dallas via 72 miles of light rail and 120 bus routes. The Trinity Railway Express connects downtown Dallas and Fort Worth, with stops at DFW airport and in the Mid-Cities — places like Grapevine, Southlake, Trophy Club, Irving, Grand Prairie, and others — between the two metropolises.
If you want to see a concert or a show in the Arts District, eat at Trinity Groves, or watch a hockey game at the American Airlines Center, rideshare services like Lyft and Uber are readily available. They will help you avoid traffic and high parking fees in certain areas.
Taxation in Texas is a little different
You might be surprised to learn that residents don't have to pay state or local income taxes if they're new to Texas. Nice!
When you get your first property tax bill, you may experience sticker shock. Property taxes in Texas are among the highest in the country. On the other hand, Texas residents pay personal property taxes on their homes and automobiles and sales tax.
Texas levies a 6.25 percent sales tax at the moment.
The Dallas job market is brimming with opportunities
Even though the historically significant oil industry has struggled in recent years, job growth in Texas has been consistent, and wages remain competitive.
As per the Bureau of Labor Statistics, Dallas has the highest percentage of job growth year over year at 2.4 percent and the second-most jobs added (up 115,800) among the country's 12 largest metro areas.
Excellent schools can be found in and around Dallas
The Dallas-Fort Worth Metroplex has a wide range of educational options, from private to charter to public. DFW is home to some of Texas' best public school districts, including Grapevine-Colleyville, Plano, Frisco, and Highland Park ISDs. According to U.S. News & World Report, there are 355 elementary, middle, and high schools in the Dallas-Fort Worth area and 401 private schools. Sixty-nine high schools are listed on U.S. News & World Report's list of the Best. In addition, according to a recent Bureau of Labor Statistics report on local job growth, the education and healthcare sectors are the fastest-growing in the country.
Conclusion
If you're moving from Dallas to Houston or Houston to Dallas, you're going from big city to big city, and you'll need to hire professionals to get the job done correctly. These are two of the country's largest metropolitan areas, three and a half hours apart by car through the heart of Texas.
See also: Best Moving Companies in Houston | Popular Neighborhoods in Dallas for Singles and Young Professionals | Popular Neighborhoods In Dallas For Families
Frequently Asked Questions
Is it better to relocate to Houston or Dallas?
Dallas is known for its full-on Southern charm and has a lot to offer. It has excellent schools, a thriving job market, and a fantastic food scene. You would enjoy living in Dallas and decide to stay. On the other hand, Houston is excellent for ethnic diversity, with a wide range of cultures to offer and explore.
Is it worthwhile to relocate to Dallas?
Dallas is an excellent place to relocate because it has so much to offer, whether you want to launch your career or have access to some of the country's best museums, restaurants, and nightlife venues.
Is it true that Dallas is hotter than Houston?
The weather in Dallas is slightly milder than in Houston. However, the summer heat can be oppressive, as it is in Houston. Travelers would be wise to visit in the spring, either in March or April. This is also a good time to drive outside town to see the famous bluebonnets.
Is it true that Dallas is drier than Houston?
Houston has 204 sunny days per year on average. The average number of sunny days in the United States is 205. Dallas, Texas, receives 39.1 inches of rain per year on average. Houston, Texas, receives 53 inches of rain per year on average.
See also: Moving from Houston to Seattle | Moving from Houston to Austin | Moving From Seattle To Dallas – Expert Tips & Advice