Moving from Houston to Seattle – Expert Tips and Advice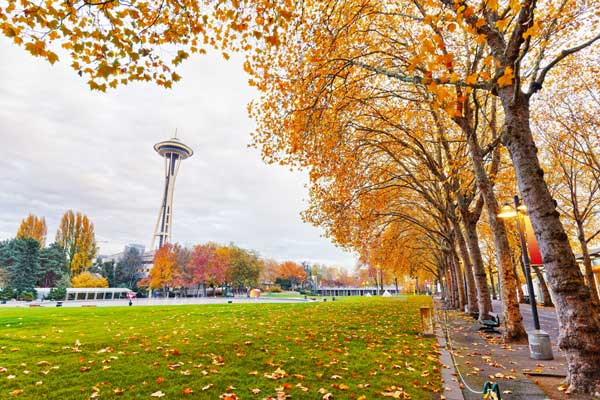 Whether you're relocating for work or want a change of scenery, there are plenty of reasons to love life in Seattle. Seattle is known for its vibrant economy and "green" lifestyle, but it also has a beautiful landscape, plenty of interesting things to see and do, and incredible coffee! As you prepare to depart Houston for Emerald City, here is some information to help you navigate your new life in Seattle.
The Advantages of Relocating from to Seattle
Thriving Job Market
Seattle is an excellent place to work and find work, particularly for those interested in a career in technology. Indeed, Forbes ranked it second among the highest-paying cities for tech jobs, with an average salary of around $100,000. Seattle is known to locate some of the most powerful technology companies like Amazon, Microsoft, and Expedia Group. Maritime, biotech, health care, shipping, and manufacturing are also popular industries in Emerald City. Of course, Seattle is home to the coffee behemoth Starbucks.
Access to Nature
The breath-taking scenery and proximity to nature contribute to the city's healthy lifestyle. Residents have no shortage of spectacular views because mountains and water surround them on two sides. The beautiful Puget Sound can be found to the west, and Mount Rainier can be seen on the southern horizon. Residents can escape the city in less than an hour and enjoy wineries, ski resorts, hiking trails, and incredible national parks such as Olympic National Park, Mt. Rainier National Park, and North Cascades National Park. Seattle is also ranked fourth among America's greenest cities, with many tree-lined streets and local parks and gardens. Nature lovers will appreciate the intertwining of nature and vibrant city life.
Weather
Despite its reputation for rain and gloom, Seattle has a pleasant climate. Seattle receives 37 inches of rain per year, 10 inches less than New York City. Summers in Seattle are lovely, even though they can be misty at times, with average temperatures in the 70s. The summer climate will undoubtedly be more tolerable than the extreme heat in Houston.
Excellent Education
Seattle is regarded as one of the smartest cities in the United States. More than half of the city's population holds a bachelor's degree, and the city is home to Washington State's largest public school district. Top universities in Seattle include the University of Washington, Seattle Pacific University, North Seattle College, and Seattle University School of Law.
Coffee Lover's Paradise
Seattleites adore their coffee! With over 843 coffee shops, Seattle does have a coffee shop on almost every corner, allowing you to get your caffeine fix! It is, however, not the only coffeehouse to choose from. Starbucks, the world's most well-known coffee company, started right here in Emerald City.
Great Transportation
Seattle is known for being one of the most walkable cities in America, and this high level of activity contributes to the city's status as one of the healthiest. It is also one of the most bicycle-friendly cities, with hundreds of miles of protected bike lanes and greenways. If walking or biking isn't your thing, you can take the light-rail system, monorail, bus, streetcar, cab, or even a ferry to your destination.
What You Should Know Before Relocating from Houston to Seattle
Are you ready to trade Houston's high humidity for the northwest splendor of Seattle? Give yourself the advantage of knowing what Emerald City is all about before setting up moving services.
Taxes
Individual income tax is one thing you won't have to worry about in Houston. And the same can be said for Washington State! The (slightly) bad news is that Seattle has a slightly higher sales tax. Whereas Houston gathers a minimum combined sales tax of 8.25 percent, Seattle collects a minimum combined sales tax of 10.1 percent.
Are you looking to buy a house? You'll be pleased with the results. The average county tax rate in Seattle is 0.953 percent. In Houston, the rate is more than double, at 2.090 percent. In Seattle, for example, an $800,000 home would cost $7,624 in property taxes per year. The annual property tax bill for that same house would be $16,720.
See also: 15 Cheap Cities to Move to – The Lowest Cost of Living Cities in the U.S.
Economy and Job Growth
Seattle is one of the top 25 fastest-growing cities in the United States, and it is home to many large corporations. Amazon, Boeing, and Microsoft are among them. Not too shabby! On the other hand, Houston has one of the largest city economies in the United States. The tech industry primarily fuels Emerald City's thriving economy, but large employers such as the University of Washington and Providence Health & Services call Seattle home.
So, how does the future of job growth in Seattle look? Fantastic! The city is expected to grow by nearly 44 percent over the next ten years. On the other hand, Houston will experience a less vigorous 30.9 percent growth during the same period. Seattle is on fire!
Weather and Climate
Are you tired of being soaked in sweat in Houston? Is the humidity far too oppressive? With an average temperature of 93°F during summers, it's no surprise you want to get out of there! One thing to remember is that the Seattle metro area has two seasons: summer and rainy season. When you arrive in Seattle, you'll find a much more pleasant summer high of 76°F. In the winter, average temperatures aren't all that different. In January, Seattle can expect temperatures of around 37°F. The average winter temperature in Houston is 43°F.
Geography
Relocating from Houston to Seattle is quite a feat; the drive can take nearly 40 hours. But once you get there, it will take your breath away. Thus Prepare yourself for the majestic beauty of the surrounding mountains, Lake Washington, and Puget Sound if you're only used to Houston's gulf coastal plain and Buffalo Bayou.
Housing and Cost of Living
The West Coast is notorious for its exorbitant prices, and Seattle is no exception. It's not as expensive as, say, San Francisco – the Bay Area city has a staggering index of 269.3; however, it's a little more than you're used to in Houston. Houston's price of living index is 96.5, lower than the national average of 100. The current cost of living in Seattle is 172.3.
Now let's talk about housing prices. You may want to take a seat for this information. The median list price in Houston is currently $283,000 (with a median rent of $1,500 per month). It's a little more in Seattle. The current median list price is a whopping $767,906 (with a monthly rent of $2,600). Ouch! It's not the most expensive housing market on the West Coast, but it's certainly more than you're used to in Space City. However, this may not be a deal-breaker with all that Seattle has to offer.
Culture, Diversity, and Demographics
Seattle is less racially and ethnically diverse than neighboring King County and other major cities when it comes to diversity. According to U.S. News, Houston is one of the top ten most diverse cities in the United States.
Seattle has a population of 67.4 percent White, 11.6 percent Asian, 8.9 percent Hispanic & Latino, 5.6 percent Black, and 6.5 percent mixed. As you can see, despite having a higher proportion of Asian and mixed/other residents, Seattle has a much higher proportion of White residents than Houston.
Crime Rates
When it comes to public safety, Houston does not exactly have a stellar reputation. It is, in fact, one of the most dangerous cities in the country. When it comes to violent crime, Seattle has a much lower rate than H-Town (with an index of 32.3 versus 50.4). However, both cities' property crime rates could undoubtedly improve.
Are you looking for the safest areas in Seattle, Washington? They all provide some of the most family-friendly living options in the city.
Food
Houston may be popular for its barbecue and Tex-Mex cuisine, but Seattle takes the cake for variety! There's something for everyone from seafood to Vietnamese to fresh organic produce (courtesy of the city's numerous farmers' markets).
Do you like pho? One of the best cuisines in the Northwest can be found at Pho 99. Pike Place Chowder is a must-try at Pike Place Market if you like clam chowder. Dick's Drive-In is the place to go for the best burgers and shakes in town. Fran's Chocolate (a favorite of Barack Obama) will enchant you with its handmade chocolates, salted caramel, and chocolate-covered fruit if you have a sweet tooth.
Seattle Attractions
You will always find some fun activities in Seattle! The Emerald City is waiting to show you exciting ways to spend your free time, from great nature adventures to arts and culture to nightlife! Yes, it can be a little cloudy at times, but you shouldn't be bored here.
Do you like food? Pike Place Market is a great place to start, second and third. Over 100 vendors will be present, selling everything from super fresh seafood and organic produce to artisan cheese and bread. For coffee connoisseurs, there's also the Starbucks Reserve Roastery.
Those interested in arts and culture will want to visit the Seattle Arts Museum (SAM) for its collections and several annual events such as dance parties and film screenings. Do you enjoy nature? There are 485 parks within city limits and surrounded by beautiful Puget Sound and a slew of majestic mountains. Popular nightlife and live entertainment venues include Neumos, The Crocodile, and The Tractor Tavern.
Conclusion
You may not be ready to move all of your belongings into your new home when you first move in. Whatever length of time this takes you to complete your move from Houston to Seattle, a professional packer and mover can provide short- and long-term storage solutions that meet your needs and budget.
See also: Best Moving Companies in Houston | Moving From California To Seattle | Top 8 Neighborhoods In Seattle For Families
Frequently Asked Questions
What is the cost of moving from Houston to Seattle?
Although long-distance moving can be expensive, the average cost of moving from Houston to Seattle with Allied is $3,947.80. Of course, many factors will influence the final price, including the actual distance of the move and additional services like packing and unpacking.
Is it more expensive in Houston than in Seattle?
Seattle, WA, has a 47.4 percent higher cost of living than Houston, TX. To maintain your current standard of living, you would need to earn $88,468 per year. Seattle, WA employers, typically pay 6.7 percent more than Houston, TX.
Is it worthwhile to relocate to Seattle?
For a good reason, Seattle is consistently ranked as one of the top ten best places to live in the United States by U.S. News. Lush evergreen forests surround Seattle, but it is also environmentally friendly. Furthermore, its residents have higher-than-average incomes.