Moving From California To Seattle – Expert Tips & Advice


VanLines Inc
Secure Storage
Easy Booking Process
Fully Trained Employees
GET QUOTE

Colonial Van Lines
Storage Services
Long-Distance Moves
Corporate Relocations
GET QUOTE

Moving APT
Vetting Process
Award-Winning
Available Nationwide
GET QUOTE
Our Take
Price
Rating
Minimum Shipment Size
Storage
Booking Deposit
Cancellation Policy
Quoting Options
Discounts

Best Overall Value


GET QUOTE

2+ bedrooms




Free 30 Days




10%

Free up to 72 Hrs

Phone / FaceTime / Text

Senior / Same day Booking

Best Industry Reputation


GET QUOTE

1+ bedrooms




30 Days




20%

Free up to 72 hrs

Phone / Facetime

Seniors Discount

Best Customer Service


GET QUOTE

1+ bedrooms







Free up to 72 hrs

Phone / Virtual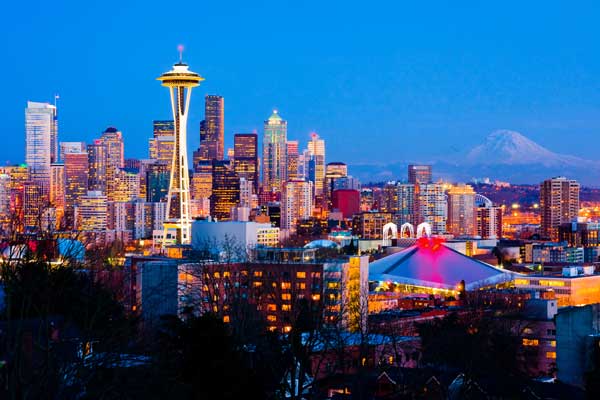 There are not many places in the world that are worth giving up a life in California for. And it's quite obvious why. The state has the highest GDP in the US, the heavenly Golden Gate Bridge, the historic cable cars, and it is the center of entertainment with the biggest movie studios the world has ever seen. Sure, leaving California is going to be difficult. But the good news is that Seattle is just as majestic if not more. With a population of just under 800,000, Seattle is the largest city in the state of Washington and the Pacific Northwest.
It's located between Puget Sound and Lake Washington with mesmerizing views of the mountains and a lot of lush greenery, due to which it is often referred to as the Emerald City. One of the fastest-growing cities, Seattle's flourishing job market is the biggest reason why thousands of people move in every year. Whether that's also the reason for your move or not, here we have listed down all the major factors that are likely to affect your decision of moving from California to Seattle.
Factors To Consider Before Moving From California To Seattle
Weather Conditions
Most part of California experiences a Mediterranean climate. This means that the winters are mild and wet while the summers are warm and dry. Also, the weather conditions are different in different parts of California as it is the third-largest state in the country. The northern part of the state is generally wet and cool as opposed to the warm and sunny weather in the south. Most parts of the state often have to bear the brunt of natural calamities like droughts, earthquakes, and fires.
On the other hand, Seattle city experiences a sub-oceanic climate with mild and rainy winters along with mild and sunny summers. The entire country gets a total of 205 days of sunshine in a year. While California enjoys 258 sunny days, Seattle gets only 152 days of sunshine annually. When it comes to rainfall, Seattle is at par with the national average of 38 inches but California falls short with just 22 inches. And finally, Seattle and California receive 5 and 7 inches of snowfall each year, respectively.
The summer season in Seattle lasts for around three months from mid-June to mid-September. The weather remains pleasant during the daytime but unusual heat waves can sometimes push the temperature to around 95°F. Since you're already moving from a state that majorly experiences warm weather, summers in Seattle wouldn't be as tough to deal with.
Here's the difference in temperatures during peak summers:
August is the hottest month in California and the average high temperature is 86.9°F.
August is the hottest month in Seattle with an average high temperature of 76.3°F.
The winter season in Seattle lasts for more than three months from mid-November to February. Although winters are not severe usually, you'll experience frequent rains and if there are cold waves, temperatures can go down to 14°F and further below. While Seattle is cooler than most of California, there isn't a drastic difference between the average temperatures of the two locations.
Here's the difference in temperatures during peak winters:
December is the coldest month in California with an average low temperature of 38.8°F.
December is the coldest month in Seattle and the average low temperature is 35.9°F.
Few Things To Bear In Mind About Seattle's Weather
Since Seattle receives rains about 50% of the time, it is highly recommended to carry an umbrella as much as possible.
The three-month period from June to August is considered the best to enjoy the outdoors since the chances of rainfall are low. Also, these months are packed with some amazing events like the Seattle International Film Festival, Seattle Pride, Seattle International BeerFest, Capitol Hill Block Party, etc.
The weather in the spring season is also unpredictable and hence, you must carry at least one jacket or sweater along with your lighter clothes.
Cost Of Living
Cost of living is usually the biggest factor that has the power to overturn someone's decision to move or not. Although the state of Washington scores lower in the cost of living index (118.7) than California (149.9), Seattle has a very high cost of living with a score of 172.3. All these numbers indicate that most of the cities in both states have a higher cost of living than the national average of 100. To get a better understanding of what your living expenses are going to be like when moving to a new city, let's have a look at a few essential parameters.
Buying A House
According to Zillow, the median home price in Seattle has seen an increase of almost 15% from February 2021 to February 2022. Currently, it stands at $932,382 which is nearly three times the average in the US ($331,533). California, on the other hand, has a median home value of $758,360. However, these figures are an average of the entire state of California and your prices could very well differ based on which city you choose to live in. Houses in some Californian cities like Los Angeles and San Francisco are even more expensive than in Seattle.
Renting A House
Given the high housing prices in Seattle, it's totally understandable that you might not be ready for homeownership yet. And in this case, you can become a renter in the city. Rent prices in Seattle are somewhat close to that in popular parts of California. The average monthly rent for a studio apartment in Seattle is $1,754 whereas for a 1-bedroom apartment, a 2-bedroom, and a 3-bedroom apartment, it is $2,325, $3,437, and $3,927, respectively. A few of the best places to rent apartments in Seattle are Capitol Hill, Ballard, Greenwood, Fremont, and Northgate.
Utilities
After your housing costs, the other big chunk that constitutes your living costs is your monthly utilities. Water, gas, groceries, electricity, Internet, cable TV, and any other basic service that keeps your home or business running smoothly will come under the category of utilities. The average bill of utilities in the US is $238. California, being among the states with the highest cost of living in the US, is also expensive when it comes to monthly utilities. But when you're moving from California to Seattle, you might not get relief from high utility costs because the average cost of utilities in Emerald City comes up to around $292 per month.
As per Numbeo, a single person's monthly costs in Seattle could come up to $1,232, excluding rent or other housing expenses. Transportation and healthcare costs are also on the expensive side in this Washington city. Overall, your pockets might not get much of a breather when moving from California to Seattle.
Job Market
With a GDP of $667.57 billion in 2021, Washington is the tenth highest contributing state to the economy of the US. As far as creating jobs is concerned, Seattle is among the top ten cities in the country, and according to Forbes, it is the best city for technology-related opportunities. The unemployment rate in the city is 2.5% which is lower than the country's average while the median household income is $102,500 which is significantly higher than the national average.
While technology drives Seattle's robust job market, the other successful sectors where you can easily get work are healthcare, tourism, marketing, engineering, higher education, aerospace, entertainment, and retail. The city is home to many Fortune 500 companies. A number of tech giants with headquarters in Seattle are Amazon, Microsoft, PayScale, Alaska Airlines, and Expedia Group. Job seekers have got nothing to worry about as the biggest employers include Boeing, Google, Facebook, Adobe, Apple, Starbucks, Joint Base Lewis-McChord, Providence Health & Services, Fred Meyer, and the University of Washington.
Transportation
If you depend on your private vehicle to commute, you'll have to deal with a lot of traffic jams, especially during peak hours. Got no car? No problem. Seattle is a great place with multiple options for public transportation for you to move around at your convenience. In fact, the city is the best in the country with regard to public transportation, leaving behind New York City, Washington DC, and Boston. A bike-friendly city, Seattle also gives you abundant options like car-sharing, taxis, and rental cars. Let's look at the major services that the city has to offer.
King County Metro Transit provides bus services and is one of the most important means of transit in the city. It serves Downtown Seattle and goes all the way from Mountlake Terrace in the north to Federal Way in the south.
Sound Transit is the regional transit authority that offers services of light rail, express buses, and commuter rail in the Central Puget Sound area. The light rail lines run from the north of the city to the south and you can also reach the international airport.
Ferries and water taxis help you reach areas where neither trains go, nor cars. Washington State Ferries is the second-largest ferry system in the world and the largest in the US. Residents don't use ferries just to get to work, but also to enjoy the spellbinding view of the Seattle skyline. While ferries allow you to even drive, the water taxis permit only walk-on passengers.
Seattle's Strong Points
No state income tax: Washington is among the only nine US states that don't have a state income tax. This means that you'll be able to keep more of your own money.
Green spaces: Seattle might be the only city that attracts people to live in it just because of the access to nature and the outdoors. After all, it takes a special city to be named the Emerald City. The 535-acre Discovery Park is the biggest one in Seattle where you can spend all day and still not get bored.
Career Opportunities: Seattle is among the top ten cities to easily find work as the number of opportunities continues to grow. With the technology sector being the most successful, there are employers like Apple, Amazon, Facebook, Google, Microsoft, Adobe, etc. Plenty of jobs are also available in other industries such as healthcare, entertainment, education, tourism, etc.
Top Neighborhoods To Move To In Seattle
Capitol Hill
Located northeast of Downtown Seattle, Capitol Hill is home to more than 40,000 people. You get different housing options like luxurious apartments, old and new homes, and condos. Since the early 1960s, this neighborhood has been known for its friendliness and acceptance of the LGBTQ+ section of people. Everyone from young professionals, college students, and families is well-settled in Capitol Hill which has more than just something for everyone. A paradise for food lovers, the neighborhood is full of top-class restaurants, cafes, pubs, music venues, gay bars, and nightlife. Some of the public attractions in Capitol Hill are Volunteer Park, Seattle Asian Art Museum, Elliot Bay Book Company, and Cal Anderson Park.
Median Home Value: $724,500
Monthly Rent: $2,063
Belltown
Belltown is home to 27,051 people and is located within walking distance of Downtown Seattle. It's one of the most walkable neighborhoods in Seattle and has easy access to public transportation. Therefore, students and the younger workforce can easily move around even if they don't have a car. As far as housing is concerned, Belltown offers you high-rise condos. Belltown is located close to Puget Sound, Pike Place Market, and South Lake Union. The highlights of the neighborhood are its entertainment and nightlife options. Additionally, there's plenty for you to do with countless restaurants, bars, boutiques, live music, shops, and galleries.
Median Home Value: $549,000
Monthly Rent: $2,694
Fremont
With a population of 21,000, Fremont is located northwest of Lake Union and has opted out of any kind of transformation to retain its charm. The neighborhood has high-rise apartment complexes and single-family homes as housing options. If you're a fitness enthusiast, there's good news for you. The famous Burke-Gilman Trail is a 27-mile long trail for walkers, runners, joggers, cyclists, and skaters, and it passes through Fremont. Families look forward to settling in Fremont as it is home to a number of brilliant schools and three beautiful parks too. Public transportation ensures that you can easily move around without owning a car. You'll also get to enjoy the fancy restaurants, cafes, nightlife, etc.
Median Home Value: $897,000
Monthly Rent: $2,114
Ballard
Ballard is under ten minutes away from Downtown Seattle and is home to around 28,000 people. What was originally found as a separate city, Ballard is among Seattle's biggest neighborhoods today and it's highly desirable among youngsters and families. As far as housing is concerned, there are new condos, single-family homes, old apartments, and luxury homes as well. Ballard is suitable for walking and cycling, and with the kind of views you get in the neighborhood, it makes your day enjoyable. You have the luxury of the beautiful beach from where you get to experience the stunning views of the Olympic Mountains. Once you've gotten enough of the natural beauty around you, head to the awesome bars, places to eat and drink, enjoy the nightlife, breweries, etc.
Median Home Value: $825,000
Monthly Rent: $2,121
Also Read: Where Should I Move After Leaving California | 8 Best Neighborhoods In Seattle For Families
Things To Take Care Of When You're Moving From California To Seattle
When you begin researching moving companies, keep in mind that you'll need a long distance mover and not a local one since you'll be moving across states. Ideally, spend a lot of time reading customer reviews on the Internet. It's recommended that you get quotes from at least three moving companies so that you can compare and choose the best one.
Get rid of any heavy items that you don't need because your moving company is most likely to charge you based on the weight of your shipment. Prepare an inventory of all the items you're getting moved, no matter how small or large. When your cargo arrives at your new house, check if each and every item is there or not.
Since Seattle receives a lot of rainfall during most parts of the year, make sure to account for that and make arrangements accordingly when moving from California to Seattle.
California To Seattle Moving Costs
Being the third-largest state in the US, California's distance to Seattle will depend on your location. You could be just about 500 miles away or 1,255 miles away from the city in Washington. The point is that you'll have to choose your moving company carefully. Do not compromise on the quality of your mover to save a few dollars.
Here is the approximate cost of moving a two-bedroom apartment from California to Seattle:
Professional Moving Company: $3,028 to 6,832
Moving Container: $2,200 to $2,974
Freight: $1,675 to $2,374
Rental Truck: $931 to $1,257
Summing Up
If you've reached this section, we're pretty sure that you're now convinced that Seattle is the place to be. Barring traffic, there are not many negative points to the city. It has got everything from a booming job market and education institutions to great weather, restaurants, music, nightlife, open spaces, etc. No matter what age group you belong to, you will definitely fall in love with Seattle.
FAQs About Moving From California To Seattle
How Much Does It Cost To Move From California To Seattle?
Hiring a professional moving company to move a two-bedroom apartment from California to Seattle will cost somewhere between $930 and $6,850. Note that this amount does not include any additional services you might want like packing, unpacking, junk removal, and packing materials. Additionally, the timing of your move and the total distance would also affect your final costs.
What Is The Crime Rate In Seattle?
Seattle does have a comparatively high crime rate. It has a violent and property crime rate of 6.60 and 52.50 per 1,000 residents, respectively. You can compare it with the national average which is 4 for violent crimes and 19 for property crimes. However, some parts of Seattle are definitely safer than others, so choose the neighborhood you want to live in wisely.
What Are The Different Schools And Universities In Seattle?
The city has top-quality education options. The institutions for higher education are the University of Washington, Argosy University, Antioch University, and Seattle Pacific University. In addition, Seattle has hundreds of excellent public and private schools.