8 Best Neighborhoods In Seattle For Families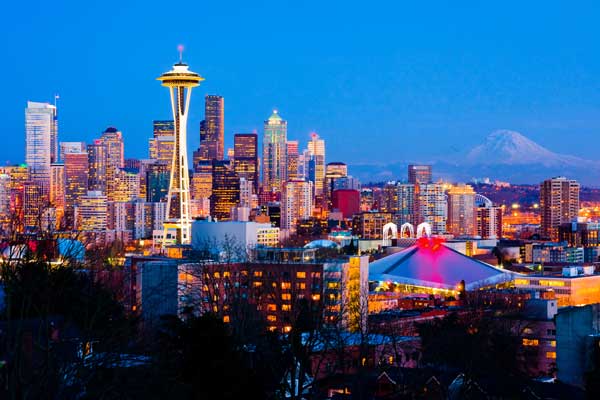 The Emerald City of the Pacific Northwest – Seattle has certainly earned this nickname in every manner possible. From its scenic beauty to its booming economy, no wonder the city is equated to being a coveted jewel. Seattle is a gorgeous metropolis, surrounded by a vast cover of luscious evergreen trees and the majestic Olympic mountains looming in the background. This cohesion to nature is one of the major reasons that people consider moving to Seattle – to get away from the hustle and bustle of dry city life and deserted landscape. The refreshing cool winds and invigorating greenery immediately enliven your spirit and mind!
But the picturesque scenery is not the only reason people consider moving to Emerald City. How can we not mention the skyrocketing economy and booming job opportunities in the tech industry? Seattle consistently ranks as one of the top 10 cities in the country for an expansive job market that is primarily tech-centric. Home to Amazon, Starbucks, Nintendo, Microsoft, and many more companies, it comes as no surprise that Seattle's job game is Pro Level! To add to this, Seattle is a safe city. In comparison to other major metropolitan cities that have soaring high crime rates, Seattle is doing much better in that regard. The city also has some of the best food scenes in the country.
No matter what your home city has, the right neighborhood makes all the difference. And it can get overwhelming and even a little confusing to finalize a neighborhood that fits you like a glove. So, we bring you the best neighborhoods in Seattle to choose from and decide where to set your roots in Seattle!
Best Neighborhoods In Seattle For Families
1. Fremont
2. Capitol Hill
3. Ballard
4. Queen Anne
5. West Seattle
7. Lake City
8. Magnolia
Fremont
Fremont is located just north of downtown and is an eclectic and artistic neighborhood. The neighborhood is known to have some of the quirkiest and off-the-wall street art, which adds to its charming vibrant culture. Fremont has an indie-bohemian vibe going, with swanky shops, hip bars, and majestic outdoor sculptures. The iconic troll statue underneath the Fremont Bridge is a sight to behold. The neighborhood is popular among tech workers, single families, and art enthusiasts. Other than its artistic streak, Fremont is also home to several major companies like Adobe, Google, and Getty Images. It has good public and private schools too.
There is a lot that Fremont offers to its residents, from local bookstores dedicated only to cookbooks and food-related literature to quintessential coffee shops and awe-inspiring art galleries. Fremont also offers a variety of outdoor activities and events like the Summer Solstice Parade, Oktoberfest, outdoor movies, and Friday Artwalk. You can take in the magnificent views of Magnolia and Salmon Bay areas, hang out at the Fremont Canal waterfront, or you could explore the canalside Burke-Gilman trails. With its quirky quintessential vibe and plethora of activities and events to enjoy, Fremont is certainly a lively place to live in.
Median Home Value: $885,000
Monthly Rent: $1,825
Median Household Income: $103,958
Capitol Hill
Capitol Hill is quite a paradox of a neighborhood. Having both a high-end mansion life and a diverse and culturally rich community, the neighborhood may seem like an odd combination of flavors but the transition is seamless. Truthfully, this contrast makes the neighborhood quite enigmatic and attracts flocks of visitors and newcomers alike. The area came to life in the 1970s when several artists and musicians moved here, and gradually enough, the area began developing rapidly financially. Though Capitol Hill became a sort of premium and exclusive neighborhood, it never lost its multicultural charm keeping it alive. The neighborhood is an ideal location if you work in Downtown Seattle or study at the University of Washington.
The Volunteer Park, which is a terrain of lush greenery and features a reservoir offers an expansive space for walking, cycling, and jogging. The hidden I-5 Colonnade bike park, along the hill's western slope, is a local secret spot and goes unacknowledged by many newcomers. The iconic Asian Art Museum is worth a weekend visit and is sure to take your breath away! Besides its rustic charm, the neighborhood is a center for diverse nightlife and epic food scenes. From premier cocktail bars to delicious food truck lanes, the nightlife in Capitol Hill is by no means bland. Lively sidewalk cafes and vibrant rooftop bars during the summers set the bar for this neighborhood. One of the few year-round farmer's markets – the Capitol Hill Farmer's Market – is a local favorite.
Median Home Value: $767,000
Monthly Rent: $2,063
Median Household Income: $109,881
Ballard
Ballard initially was a fishing village and had an influx of Scandinavian migrants that moved there. And even today, you'll see Scandinavian heritage and culture that resonates within the neighborhood. Today, Ballard has all the makings of a quiet, residential suburb yet has a lively big-city vibe due to the bustling Town Center and numerous eateries and cafeterias. The neighborhood is a world of its own, with most amenities within short distances and easily accessible. Ballard is also just a short drive from Downtown Seattle. While recently the area has become popular amongst young families and professionals, the Scandinavian roots are still alive. You can see it in the yearly Norwegian parade that takes place here and the sleek new Nordic Museum that pays tribute to their Norwegian heritage.
The neighborhood boasts quaint tree-lined streets and beautiful rural parks. One of the iconic attractions is the Ballard Locks, where the salt waters from Puget Bay and freshwater from the Washington Lake meet. You'll find a myriad of commercial and private boats that travel the locks daily and the migration of wild salmon fascinates visitors and locals alike. If you're a beer lover, then this cozy neighborhood has numerous craft breweries to indulge in. The neighborhood is pedestrian and bike-friendly, and you'll find most of the residents here cycling to their work or running errands. For prospective homebuyers, consider the 65th street where you'll find craftsman, Tudor, and rambler-style homes. The waterside apartments along Puget Sound offer a gorgeous view of the Olympic Mountains.
Median Home Value: $962,000
Monthly Rent: $2,121
Median Household Income: $102,436
Queen Anne
As the name suggests, Queen Anne is a luxurious neighborhood and borders the Northern tip of Downtown Seattle. The neighborhood derives its name from the numerous Queen Anne-style homes that dot the hill. Queen Anne is situated on a steep hill and offers a picturesque view of the surrounding natural scenery. This makes it a sought-after and expensive neighborhood. The neighborhood is divided into two parts – Upper and Lower Queen Anne. The Upper part of the neighborhood consists of stunning mansions while the Lower neighborhood is the urban center. In Lower Queen Anne, you'll find grocery stores, coffee shops, and brunch spots around every corner.
The neighborhood is known for the iconic Space Needle, the observation tower that is a trademark image of Seattle. And Queen Anne's elevated terrain provides some of the best views of the surrounding neighborhoods. The Kerry Park which sits atop the hilly neighborhood provides both locals and visitors with a panoramic view of the beautiful Seattle skyline. The neighborhood is definitely an Instagram-worthy area. Delving a little into the neighborhood's history, many of the houses here take on the architectural design brought in by the English Queen. Now, you'll find a beautiful amalgamation of historic homes and new-age apartment complexes.
Median Home Value: $929,975
Monthly Rent: $2,100
Median Household Income: $95,398
See Also: Best Neighborhoods in Seattle for Singles and Young Professionals
West Seattle
Another neighborhood that offers some of the best views in the city, West Seattle comprises multiple laid-back residential areas. The neighborhood is a prime choice of residence due to the stunning view of the Olympic Mountains and Cascade Ranges that West Seattle offers. Add to that the gorgeous waterfront scenery of Puget Sound for a stunning, picturesque neighborhood. But commuting can be slightly tricky due to the closure of the West Seattle High Bridge. But fear not, you can avail of a ferry or water taxi service and enjoy a scenic commute. The neighborhood's tree-laden slopes with numerous townhomes tucked around them make it one of the most desirable residential areas in Seattle.
West Seattle offers its residents the tranquility of the outdoors and the convenience of the urban amenities. The neighborhood houses the well-known Alki Beach that hosts fun bonfires during the winter months and turns into a summer getaway in the other half of the year. A hidden gem of the neighborhood is Jack Block Park, which is an oasis of tree-lined walkways and beach entrances. Further southwest, you'll find the Lowman Beach and Me-Kwa-Mooks Park which feature an expansive grassy coastline, that is ideal for impromptu picnic plans! West Seattle is a popular neighborhood, thanks to its expansive waterfronts, suitability for raising a family, and distance from the hustle and bustle of the noisy city without sacrificing urban living etiquettes.
Median Home Value: $762,750
Monthly Rent: $1,890
Median Household Income: $82,784
Columbia City
Columbia City is one of the most desirable neighborhoods in Seattle due to its diverse yet tight-knit community. The development of the city began with the growth of the lumber industry in the area, and eventually fast-tracked into a bustling town. It was in the 1980s that the neighborhood saw an influx in the diversity of the community with new professionals, artists, and members of the LGBTQI+ community setting roots here. Today, Columbia City prides itself on its diversity. In the past few decades, the development of the neighborhood has grown immensely and numerous luxury and affordable housing have added to the richness of the area. The neighborhood also boasts its collection of craftsman bungalows, luxurious multi-level townhomes, and beautiful condos, making Columbia City a desirable housing market.
Columbia City exudes a small-town charm with global flavors. The business district that runs along Rainier Avenue hosts a plethora of local shops and diverse culinary options including Ethiopian, Senegalese, Japanese, and Caribbean cuisines. To add to this, the Columbia City Farmer's Market offers a wide variety of farm produce and daily essentials. The Genesee Park provides tons of green landscapes for walkers, bikers, joggers, and kids. Columbia City brings historic homes, international cultures, and diverse communities together – a combination that seems dreamlike!
Median Home Value: $817,000
Monthly Rent: $1,950
Median Household Income: $74,036
Lake City
Lake City is located in the northeast region of Seattle and is a rather undiscovered neighborhood. This makes Lake City a sought-after reprieve against all the city hustle-bustle and constant urban noise. The quiet streets of this neighborhood will bring only peace and calm and is a great place for new families, retirees, and elderly people. Lake City comprises several smaller neighborhoods like Victory Heights, Meadowbrook, Matthews Beach, Cedar Park, and Olympic Hills. In the last few years, plenty of houses have gone on the market, ranging from modern mid-rise condos to spacious apartment complexes, along the main street of the neighborhood.
Though the neighborhood may exude a suburban vibe, it still has numerous local shops, diverse dining options, and small businesses, with many more popping up every other day. You can enjoy the local craft brews and scrumptious food from the local eateries. The neighborhood has access to beautiful outdoor spots like Matthews Beach, Burke-Gilman Trail, and Magnuson Park for the outdoorsy ones. Fun fact: Matthews Beach is the largest freshwater swimming beach in the city. Lake City is bordered by Lake Forest Park, Lake Washington, Wedgwood, and View Ridge making it a residential hub embedded within nature. To add to this, Lake City is within commuting distance from major neighborhoods like Downtown Seattle, Bellevue, and Redmond.
Median Home Value: $777,495
Monthly Rent: $1,550
Median Household Income: $97,185
Magnolia
If you are looking to live at the waterfront unique to the Pacific Northwest, look no further than Magnolia. This sprawling waterfront oasis with its northwestern tip tucked into the Puget Sound has established itself as a top-tier neighborhood in Seattle. While it may seem that the luxurious waterfront properties would go up to millions of dollars, considering the diversity in the housing market, you'd find better options that fit your budget! This neighborhood is loved by its residents due to the breathtaking views of the surrounding Salmon and Elliot Bays. This picturesque waterfront residential neighborhood is worth visiting, even if you only decide to stroll through the area. Magnolia is home to the largest park in Seattle, the Discovery Park, which stretches over 534 acres, with several forested trails great for hiking, walking, and jogging.
Being a waterfront neighborhood, it comes as no surprise that Magnolia is a haven for seafood lovers. The Fishermen's Terminal, a full-sized seafood market where commercial fishing boats dock and sell fresh seafood, comes to life here. Other events like the Magnolia Farmer's Market during the summers and the annual Summerfest are must-visit neighborhood events. The residents of this quiet neighborhood mingle in the Village, which has a cluster of upscale restaurants, cafes, salons, boutiques, bakeries, and local shops. While the neighborhood exudes a sense of peace and calm, if you wish to crave some entertainment then you have immediate access to the heart of Seattle – Downtown Seattle – for a variety of fun recreational activities.
Median Home Value: $1,099,250
Monthly Rent: $2,008
Median Household Income: $134,709
Things To Look Out For Before Deciding To Move To Seattle
Seattle is, by no means, a cheap city and the cost of living and housing market of this metropolis is a major aspect to look out for. Make sure you've been saving well in advance for your move to Seattle. Because it will not spare your pockets in any way!
While the cost of living is expensive in Seattle, it is balanced out by the well-paying jobs that the city has to offer. The average pay scale in Seattle is higher than the national average. But with good pay packages and amazing job opportunities, you're bound to face fierce competition in the job market. So, buckle up, folks!
Seattle is known as a rainy city, and though it might not rain as often as people believe, Seattle does witness a lot of gloomy days. The gray cloud-covered skies are an everyday thing and make the winters seem to drag along. So, keeping an umbrella handy is not a bad idea.
With all the gray, gloomy days that Seattle sees, the summers are a welcome season in the city. With mild temperatures and unfiltered sunshine, never take the summers for granted. Enjoy brunch picnics in the open parklands, go for nature walks and hikes through winding trails, and take full advantage of the summers!
Seattle is a city with extensive public transportation system, but it has not been the most efficient. Service shortages, heavy traffic, and delayed buses and trains are not uncommon.
Seattle has not been spared from one of the major problems that every metropolis faces – traffic. Seattle ranks as one of the worst cities in terms of traffic, and the city turns into a complete gridlock during rush hours. So, stock your car with your favorite playlists and podcasts for you're bound to spend some time in traffic sooner or later.
Summing Up
The Emerald City is a great place to move to. With all metropolis amenities, booming job market, gorgeous scenic views, and of course some of the best coffee you'll ever have, Seattle makes it hard not to want to live here! Seattle has a lot to boast about and you'd have a lot to experience and enjoy in the Emerald City. So, without further ado, narrow down on your favorite neighborhood and get started with your move!
Also See: Top Interstate Movers in the USA | Best Moving Companies in Seattle
FAQs On Best Neighborhoods In Seattle For Families
How Much Money Should I Save Before I Move To Seattle?
It is a good idea to save at least 6 months of average salary before you move to Seattle. To put that in perspective, having at least $10,000 to $15,000 in savings is required to cover your basic living expenses since even a one-bedroom studio apartment in Seattle would cost you a minimum of $2,000 per month as rent. However, having a bigger safety cushion is always better.
Is Seattle Cheaper Than New York?
Surprisingly or perhaps not, Seattle is cheaper than New York! The cost of living in New York is 33.0% higher than in Seattle. So, if you're moving to Seattle from the Big Apple, you're bound to save on a few bucks!
Do You Need A Car To Live In Seattle?
While Seattle does have an extensive public transportation system in place, it's not the most efficient. There have been instances of service shortages, traffic congestion, and delayed buses and trains. Having a car would save you from these public transit hassles for sure, but no one can escape traffic! Irrespective of whether you have a car or not, you'd still be able to commute within Seattle.
Does It Snow A Lot In Seattle?
Seattle, Washington gets an average of 5 inches of snow every year. The U.S. average is 28 inches of snow per year. So, in totality, Seattle does not see a lot of snow. Instead, Seattle sees quite a bit of rain. Seattle receives 38 inches of rain annually which is equivalent to the national average.