Best Moving Companies in Houston


VanLines Inc
Secure Storage
Easy Booking Process
Fully Trained Employees
GET A QUOTE

Colonial Van Lines
Storage Services
Long-Distance Moves
Corporate Relocations
GET A QUOTE

Moving APT
Available Nationwide
Award-Winning Movers
Extensive Vetting Process
GET A QUOTE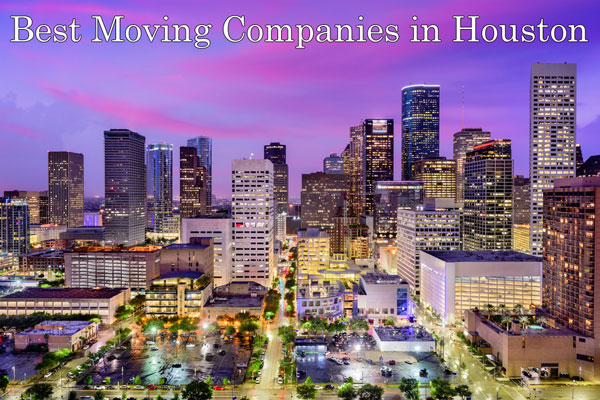 Need Help With Your Houston Move? These 5 Companies Can Help!
According to research undertaken by journalist Brandi Neal for the website Bustle.com, "moving is more stressful than divorce." True, it's been on "top ten" lists of stressful situations for years, but the topic seems to have moved into the #1 reason people freak out. Our society isn't alone. Brits also place it atop their lists.
Because this subject is so important, you have probably found no shortage of articles eager to tell you how to survive this experience—especially if the kids are imploding, you're trying to juggle your job responsibilities and even the cat is on a tranquilizer.
When being put into a coma for the duration of a move seems the only solution to surviving, we urge you to take a deep breath and practice the Zen of relocation. Our tips for finding a moving company are designed to reassure and comfort you and it couldn't hurt to have your favorite wine on ice, either.
How to find a moving company without losing your sanity
You've heard the tales. Movers who book your date and don't show up. Guys who must have been hired that morning off the street because they've no idea how to lift your grandma's curio cabinet. And dare we add the piece of workout equipment that mysteriously goes missing on the ride from your old to your new address?
You need reliability, trust and a name that hasn't received so many negative comments on Chamber of Commerce and Better Business Bureau websites, it's a wonder they're still in business. The good news is that Houston is home to many up-and-up moving companies; folks who look upon moving your treasures with as much respect and care as they would their own possessions. Find these gems by using these five criteria.
Tip #1: It's true what they say about hiring local resources
These people are your neighbors and are likely to feel more responsible than most for the safety of your home's contents. Browse as many websites as you can to see which meet your personal criteria, read online reviews and testimonials and Houston Better Business Bureau and Chamber of Commerce recommendations. Visit the American Moving & Storage Association website (https://www.moving.org/), too.
Tip #2: Get three written estimates, say experts at "Consumer Reports"
No degree in higher mathematics is required to help you compare and contrast all three, so you spot suspicious signs as well as unique services. Beware of estimates that seem too good to be true. Sadly, there are many creative scammers out there, just waiting to capitalize on a family's vulnerabilities.
Tip #3: Credentials are everything
You wouldn't choose a pediatrician whose degrees and hospital affiliations remain a mystery, right? The U.S. Department of Transportation is in charge of regulating, monitoring and keeping tabs on moving companies (your tax dollars at work). You have a perfect right to ask every mover you interview for their credentials. Read this information to back up your request: https://emovingstorage.com/states-moving-rules-and-regulations/texas-moving-regulations/.
Tip #4: Keep your wallet in your pocket
One of the biggest moving scams of all involves companies asking for huge down payments before they will reserve time for your move. Legitimate movers never ask for a deposit that represents more than 20-percent of the estimated move's cost. Some don't charge a penny until the day they deliver your goods at your new home. It's wise to put deposits on credit cards so you have recourse if needed.
Tip #5: Don't be shy
If, despite all of your due diligence, you have a bad moving experience, speak up. Pull out the big guns. Contact Ken Paxton, the Attorney General of Texas (https://www.texasattorneygeneral.gov/consumer-protection/file-consumer-complaint) and any other consumer portal you can find to file a complaint. Movers can't afford to be dogged by bad reviews, so don't be reticent to act if you experience problems and unfair practice that contradict conditions agreed upon on the day you signed your moving contract.
5 Houston Moving Companies to Consider in 2021
Best Houston Movers of 2021
1. Power Movers

A visit to the home page of the Power Movers website is enough to instill confidence in a mover seeking the right resource. This reputable, trustworthy moving company was launched by a proud member of Houston's police force who sought more ways to serve his community after hearing one too many stories about people getting ripped off by scam artists. Services include both long-distance and local moves–and include relocating both residences and commercial properties.
As a fully licensed, insured and bonded entity, Power Movers customizes experiences to suit individual moves and include all the extras premium movers use to keep items safe, no matter how vast the distance between locations. They include full or partial packing, shrink wrapping, padding, assembly and reassembly in addition to signature "Moving Kit" options that allow you to bundle only the services you need.
Ask customers what they find most compelling about Power Movers and expect to hear heaps of praise lavished upon friendly crews who are eager to go the extra mile to get precious possessions where they need to go and in a timely matter. They'll even remove and remount wall TV hardware and relocate peripheral devices.
Fed up with cardboard boxes that were the bane of your last move? Forget about that. Power Movers deliver five 27- x 17- x 12-inch heavy-duty plastic reusable totes (more available for a small fee) in the company's signature red color so you can kiss the days of cardboard box nightmares goodbye. Get your free quote by calling (832) 940-6683 to make an appointment with Power Movers "power estimators."
2. The 150 Movers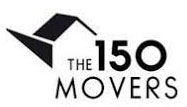 150 Movers has specialized in moving household goods for years and prides itself on offering competitive, affordable rates that align with State of Texas guidelines, licensing and insurance mandates. In fact, the company website goes out of its way to inform site browsers of the importance of visiting the Texas Department of Motor Vehicles Household Goods Moving website (https://www.txdmv.gov/motorists/consumer-protection/dont-make-a-move) to verify the fact that 150 Movers comply with all recommendations.
Expect a wide range of services from this resource: apartment and house moves, delivery-only options, professional crews for loading and unloading and a variety of auxiliary services that include furniture moving, disassembly and re-assembly help. Commercial moves are not mentioned on the website, so if that's your objective, 150 probably isn't for you. Because this company doesn't want site visitors to get ripped off when they pick a mover, the 150 website posts information about scams perpetrated by unsavory movers.
Professionalism is stressed by 150 Movers, thus you are assured of only professional moving crews (no day laborers), the most efficient moving equipment on the market to speed the process and keep everything safe and a commitment to transparency when giving potential customers fair and easy-to-understand quotes. Offering some of the lowest rates in Houston, the company says that, on average, their moving rates are about 20-to-40-percent cheaper than competitors, reason enough to call (713) 492-5599 to get your free quote.
3. 3 Men Movers

Consumers attracted to longevity when they look for help of any kind, the fact that 3 Men Movers, a family-owned company, has been in business for almost 35 years, gives this Houston-based concern lots of credibility. Better Business Bureau-accredited since 1997, customer service professionals answer the phone every day (weekends included) and employees are required to undergo background checks and annual physicals before they join the crew.
This moving company has offices in San Antonio, Austin and Dallas. Further, moves are not limited to residences. Whether you need your apartment or house packed up and moved or you're responsible for relocating your business, 3 Men Movers have been there and done that. Services include packing, unpacking and storage (facilities are secure and climate-controlled). Many of the most often asked questions consumers ask are posted on the website's FAQ page (https://www.3menmovers.com/faq/).
Claiming credit for 30,000+ successful moves every year, 3 Men Movers is proudest of the company's commitment to community, family values, ethics and transparency, but if you're in the midst of packing, you may be more impressed by extras this mover offers that include crew leaders with at least five years of moving experience, no add-on fees for gun safes, pianos, pool tables and the like, free floor and furniture protection plus disassembly and assembly services. Book online or call (713) 636-5461 for a free estimate. Oh, and despite the name, women work at this company, too!
4. Dedicated Movers

If websites have "looks" that appeal to specific demographics, you'll notice something different about the Dedicated Movers site: It looks very different than the other four movers on this list. Even the "welcome" text is warm and empathetic as visitors are invited into the portal where the rules of the road are laid out in easy-to-read blocks. Despite its contemporary vibe, Dedicated Movers has been around for 10 years and crews offer a full menu of services to both home and business owners.
In the spirit of a family owned-and-operated concern, you're invited to peruse information on the company's main page that outlines the legal rights and industry rules and regulations that can be reassuring to read. You're offered an easy-to-read list of "what not to pack" tips that could be especially helpful to first timers. For those who skip lengthy explanations because they've been there and done that, Dedicated Movers gives you a "quick glance" option that takes you straight to the job detail menu filled with fields that can help you get an online quote.
Fill in the usual fields (when, where, how big, etc.), add your contact information and make sure you fill in the box that lets you leave a question, message or an "emotional outburst"! Humor is not easy to come by in the moving industry. This field alone could prompt an inquiry. To reach a Dedicated Movers representative, call (832) 598-2426.
5. Morris Moving and Storage of Houston

First thing you notice when you visit this mover's website is the fact that the company serves Metro Houston, surrounding areas and if you scroll down to the bottom of the Welcome page, you'll find Atlanta, Chicago, Detroit, Los Angeles, New York, New Orleans and St. Louis mentioned, too. This could strike a chord if yours will be a long distance move.
Morris is a family owned-and-operated enterprise eager to show clients their vast array of services. Included on the list are interstate, long distance and international moving; packing, wrapping and customized packing; a vast array of unpacking services that include contents removal and labor and all types of storage accommodations (overnight, short and long term). Special services homeowners may seek include crating of items like pianos and grandfather's clocks, so if you have bulky, oversize items to move, the Morris crew has you covered.
Morris Moving emphasizes treating every customer like family and provides testimonials from families who wouldn't think of using another mover. They also provide a list of moving tips located on the company website and a promise that no other company offers: "We guarantee a positive and smiling crew every move." If you are reassured by that happy perspective, call (832) 562-5666 to ask about getting your free estimate.
See also: Leaving Houston? 5 Best Places to Move from Houston