Leaving Houston? 5 Best Places to Move from Houston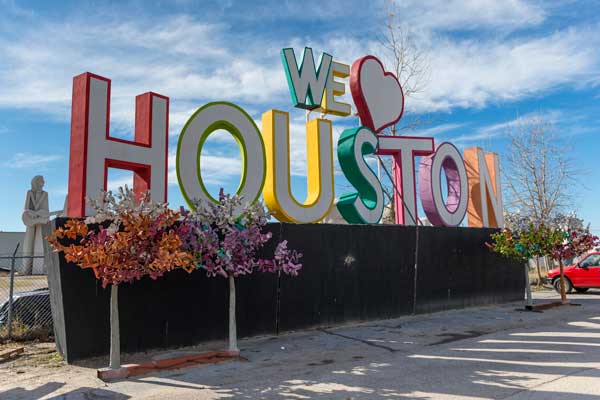 Houston, Texas is the fifth-largest metropolis in the country and has been ranked as one of the fastest-growing states. Houston shows tremendous diversity in terms of people, food, culture, music, and even job opportunities. With hundreds of foreign-based businesses moving into Houston, the job market of the city has grown immensely. Houston is also a food lover's paradise. From smoking barbeque joints and delicious Mexican restaurants to fresh seafood and fusion cuisine food trucks, Houston has it all! Finally, Houston has a lot of sports fans. Whether it is football, baseball, or basketball, the residents have their Houston teams to cheer for!
But as with every major city in the world, Houston faces the same challenges, especially that of traffic! While the city's Metro Rail does alleviate the problem to some extent, you're bound to see some traffic congestion from time to time. Also, due to Houston's lack of or rather underdeveloped public transportation system, the traffic scenes of the city are an obvious by-product. Finally, the climate of the city can get exceptionally hot and humid during the summers. This muggy climate brings with it masses of mosquitoes – and big ones at that! And along with this intense heat comes the risk of hurricanes, cyclones, and other tropical storms. For a state like Texas, hurricane season typically runs from June to November.
So, where do you move from such a lively and happening city? Look no further as we bring you the best places to move from Houston! These places are just as exciting and perhaps, come with even better amenities than Houston. Read on to know more about the 5 best places to move to from Houston.
5 Best Places To Move From Houston
Austin
Dallas
Fort Worth
Beaumont
McAllen
1. Austin
Austin is, by no means, a small city! The city is a hot spot for millennials and newer workforce employees due to its growing job market and work opportunities. And let's not forget the extra perks of the great food scene, exhilarating nightlife, and variety of options for cultural and outdoor activities. Austin has miles of hiking and biking trails, kayaking, canoeing, and swimming opportunities, so there's no point in staying indoors during the weekends!
It is known for being one of the food truck capitals of the country. With numerous food pods stretched across the city with some of the most delicious meals, make sure to grab a bite here every weekend upon moving! Finally, locals are known to be genuinely warm and welcoming towards newcomers, so the transition wouldn't take much time at all.
Downsides: With all that being said, Austin does have its struggles. Austin is a car-centric city. While the city does have a public transportation system, it is not the most efficient and you would definitely need your own vehicle to commute. This means that traffic is a problem too. Unfortunately, the city's road infrastructure hasn't been able to keep up with the growing population. So, if you're moving to Austin, make sure that your residence and workplace are within city limits. And, just like every city in Texas, Austin's summer heat is off the charts! And with this hot and muggy climate come rampant allergies.
Population: 1,028,225
Median Home Value: $676,077
Monthly Median Rent: $1,564
Median Household Income: $102,876
Unemployment Rate: 3.2%
Best Neighborhoods To Live In: Old Enfield, Gateway, Downtown, Triangle State, Hyde Park, and West Lake Hills.
2. Dallas
Dallas is an attractive county to virtually all ages. And why wouldn't it be? The city is family-friendly, business-savvy, and an artistic metropolis. Since Texas has no state income tax, the cost of living in this state will generally be more affordable in comparison. But the cost of living in Dallas is even more economical in comparison to other major cities, and this is one of the main reasons the city attracts a big crowd.
It is also extremely lush and quite welcoming to new families. Some of the spots that make Dallas so special to its residents are Dallas Arboretum and Botanical Gardens, the Dallas Museum of Art, the George W. Bush Presidential Library and Museum, and the Bishop Arts District, among many others! 'The Big-D' has amazing diversity in terms of people, art and culture, and outdoor activities. You'll never feel singled out in Dallas, with its diverse population. The city has something for everyone. Whether you're an art geek, a music lover, an avid sports fan, or an outdoor buff, Dallas has it all!
Downsides: Dallas, in comparison to other cities, is essentially a county since it has a lot of territory and area to cover and govern. It is quite spread out and this may be a pro or a con depending on where you live and work. Make sure you look for specific neighborhoods that meet all your needs and that the commute isn't too far. Also, like every big city, Dallas has its fair share of traffic problems owing to an exceptionally fast-growing population. While the problem may not be as bad as compared to major cities – especially if you're coming from smaller cities – you're still in for a slow ride. Dallas is known to have some of the worst-congested highways in Texas!
Population: 1,348,886
Median Home Value: $310,959
Monthly Median Rent: $1,440
Median Household Income: $86,393
Unemployment Rate: 4.4%
Best Neighborhoods To Live In: Coppell, University Park, Preston Highlands, Frisco, Campbell Green, Prestonwood, etc.
3. Fort Worth
Fort Worth is a major city in Tarrant County. The city has a 19th-century western cowboy allure. One of the major reasons that people are flocking to the Dallas-Fort Worth area is because Fort Worth is equipped with a diverse job market and is, in fact, the 4th-strongest job market in the U.S. If this is not good enough, know that Fort Worth is at a commuting distance from Dallas and there is no shortage of jobs in Dallas either!
This city has a lot of outdoor space, and even with an ever-growing population, there is enough space for the residents to enjoy long walks. There are several parks, jogging trails, and even land for new homes. Fort Worth has options for a lot of activities. The city has a great taste for art and culture. You can enjoy amazing music, museums, food options, and festivals celebrated here from time to time.
Downsides: The cost of living in Fort Worth is rather expensive. While the cost of living is only slightly higher than the national average, every penny matters. Furthermore, the costs for recreational activities are a little on the pricier side. Since Fort Worth has a number of residents who have to commute to Dallas and vice versa, traffic congestion is bound to be an issue. Finally, the summers in Fort Worth are just as in any other city in Texas – hot and humid! Another Texas special that this city faces is its proclivity to tornadoes and hurricanes. So, make sure that you get insurance for everything!
Population: 958,692
Median Home Value: $311,106
Monthly Median Rent: $1,240
Median Household Income: $82,977
Unemployment Rate: 4.4%
Best Neighborhoods To Live In: Southlake, Colleyville, Trophy Club, Keller, Mansfield, etc.
4. Beaumont
Beaumont is a coastal city and is surrounded by the River Neches and the Pine Island Bayou. The Texas oil boom propelled Beaumont's economic growth considerably. So, it comes as no surprise that the region has a number of oil and gas companies. But, apart from these, Beaumont also has leading industries for energy, healthcare, and education. It has an incredibly low housing cost, which is one of the most attractive pros. In fact, here's even better news: the cost of living and the housing costs of Beaumont is lower than the national and state averages.
Finally, Beaumont has an incredible collection of museums, beautiful botanical gardens, and exquisite food joints to enjoy – namely the Art Museum of Southeast Texas, the McFaddin-Ward House Historic Museum, Beaumont Botanical Gardens, Big Thicket National Preserve, Edison Museum, etc.
Downsides: Beaumont's crime rate is higher than the national average. This is probably the only unattractive characteristic of the city. Having said that, it's important to mention that the numbers are mainly centered around certain neighborhoods alone. Many of the safest neighborhoods in Beaumont are on the Western side of the city. Also, the city's declining population and overall environmental health are also raising concerns, but it is mainly due to the city's dependence on the energy industry.
Population: 114,299
Median Home Value: $141,508
Monthly Median Rent: $730
Median Household Income: $70,579
Unemployment Rate: 6.9%
Best Neighborhoods To Live In: Nederland, Port Neches, Lumberton, Bridge City, and Winnie.
5. McAllen
McAllen is a beautiful metropolis located near the Texas-Mexico border. This vibrant city is a major center for tourism and international trade. One of the most attractive things about McAllen is its extremely low cost of living. The prices are lower than the state average and virtually all basic amenities are quite affordable. Furthermore, McAllen's low crime rate only adds to the livability standards of the city as the city's crime rate is lower than the national and state average.
Also, McAllen has turned into a commercial hub with a growing economy and incredibly promising job opportunities. Linguistically, the majority of McAllen residents are Spanish speakers followed by English. Finally, the city also has an excellent public school system with highly rated schools like IDEA McAllen College Preparatory, Achieve Early College High School, South Texas High School for Health Professions, etc. All these points make McAllen a great place to live.
Downsides: McAllen is the 5th-most populous metropolis in Texas. Irrespective of the recent economic boom, the city's poverty rates are still high. Furthermore, the divide between the rich and not-so-rich is quite visible here. Finally, if you're moving here from a cooler state, then the summers of McAllen might be a rude awakening for you because of its intense heat!
Population: 145,482
Median Home Value: $193,368
Monthly Median Rent: $650
Median Household Income: $69,053
Unemployment Rate: 5.4%
Best Neighborhoods To Live In: Palmhurst, Edinburg, Mission, Weslaco, Pharr, North Alamo, Perezville, etc.
Conclusion
While Houston must have definitely made an impression on you with its jovial energy and fast-paced city life, the above-mentioned cities are no less! Each with its own allure and peculiarities, these cities will definitely make you feel right at home. Make sure to research your specific needs and whether these cities offer them or not. After all, the city you decide to move to must be the right fit for you.
Related: Best Moving Companies in Houston
FAQs On Best Places To Move From Houston
Is Houston A Good Place To Live In 2022?
Just like any other major metropolitan city, Houston has an above-average crime rate and moderate cost of living. Yet, the city is still one of the best places to live in Texas, mainly due to its quality of life and growing economy, along with its job market.
Which Part Of Texas Is The Best To Live In?
The Dallas County, Fort Worth metropolitan area, the suburbs of Irving and Plano, the coastal city of Corpus Christi, and the city of El Paso are some of the best places to live in Texas.
Is Moving To Texas Worth It?
Moving to Texas is definitely worthwhile! With great job opportunities and a booming economy, Texas is one of the fastest-growing states in America. Furthermore, with a reasonable and affordable cost of living and no state income tax, moving to Texas is most definitely a pocket-friendly affair.