Moving to Forth Worth | 2022 Cost of Living and Relocation Tips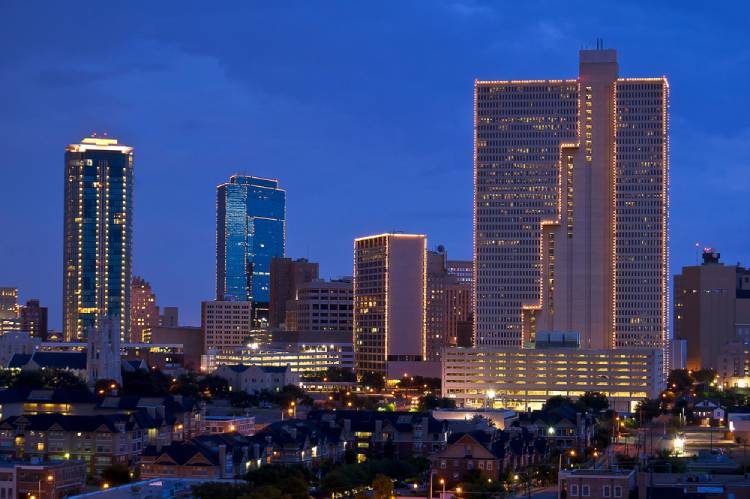 The idea of living in Texas is selling like hot cakes. The low cost of living and tax-friendly nature of the state is something that's drawing more people towards it. And the first region that residents pick to live in is the Dallas-Fort Worth-Arlington area.
These three cities are where all the action is concentrated in North Texas. Together, they form the cultural and financial hub of the state. If you have your eye on Fort Worth from the three, we'll be covering more details that determine the worth of moving to Fort Worth.
Weather In Fort Worth
Texas in general is well known for its hot climate. If you've chosen to move here you must be ready to handle the heat. The heat at times doesn't even take a breather or time off during the night.
About Fort Worth Summers – It's going to be hot with temperatures ranging in the 86°F (30°C) to 98°F (36.7°C) zone for days during the summer. So if you're a huge fan of summers, then you'd be delighted to know that it is the dominant weather in Fort Worth. It's also the perfect time to go boating, hiking, or cycling.
Be prepared for the warmer temperatures from June to September. If you're moving from a region where winter was the ruling one, you should give yourself time to get comfortable with Fort Worth summers.
About Fort Worth Winters – The cooler months in Fort Worth start from roughly mid-November and last till mid-February. The winter temperatures are mild and fall in the range of 37°F (2.7°C) and 57°F (13.8°C). Winters are a great break from the humid and subtropical climate that is associated with Fort Worth and Texas in general. Winters in Fort Worth are wet and overcast. So, keep a light rain jacket and umbrella ready.
Just a heads up that winters in this city are super windy and icy too. The city gets an inch or two of snow, it's never an incredible amount but every 3 years or so the snow could be heavier than usual. It's unpredictable in that sense.
About Fort Worth Fall – Fall is the most gorgeous season of the year. Visit the Botanic Garden, Oakmont Park, and the River District to get a beautiful view of the fall foliage. For the higher average you can expect temperatures to be in the range of 73°F (22.7°C) to 84°F (28.8°C). On the other hand the lower average is in the 54°F (12.2°C) to 63°F (17.2°C) zone.
Few things to bear in mind:
The city is prone to tornadoes and hurricanes in the late spring. Watch out for weather warnings about the same.
Thunderstorms are also an occasional visitor during the summers and spring so be mindful about them.
On an average, year round temperatures fall in the 37°F (2.7°C) to 97°F (36.1°C) zone in Fort Worth.
Transportation
Fort Worth is doing exceptionally well when it comes to public transportation. We make this statement because of how easy it is to get around even without a car, thanks to the great coverage of the important points of the city via public transport.
To begin with, we'd like to mention that Trinity Metro is the organization that is in charge of the operations of the bus and train system of the city. Now let's go over all the choices you'd have for commuting within the city limits.
The Trinity Metro's Bus Service – This helps residents connect to the Downtown area uptil the Stockyards (business center). An entire day pass on the bus would cost you $5.
TEXRail – This is a rail line that connects residents to Dallas Fort Worth International Airport.
Trinity Railway Express – This is another commuter rail line that conjoins the Downtown Fort Worth area with the Downtown Dallas region. It also passes via the Dallas Fort Worth International Airport.
Besides this, you can also use services like Uber and Lyft. After all, Fort Worth is a metropolitan area so it doesn't lack carpool services. You can also opt to take the bus service, known as Molly The Trolley, that makes rounds of the downtown area.
Keep in mind that the city can seem spread out and not every part is exactly walkable so it's best to invest in a car or use the above modes of transportation to get around.
Job Market In Fort Worth
The job market in Fort Worth is extremely diverse and this makes it a steal deal. There's not just one type of sector dominating the economy but there's a whole variety of companies to choose from. This will certainly make you marvel at the number of job opportunities you'd have upon moving here.
The Dallas-Fort Worth-Arlington area is also the fourth most populous metro in the entire nation. When you explore this extremely populated metro, you'd find there's a place for every type of company to make it big. The city is home to multinationals like Bell Textron, American Airlines, BNSF Railway, and Chip 1 Exchange. At the same time, it's also easy to spot tall buildings that belong to national firms and local independent companies.
To get an idea of some of the best companies presently having a huge presence in Fort Worth, we suggest that you refer to the list of names below –
ExxonMobil (multinational oil and gas company)
Southwest Airlines (one of the largest carrier airline)
Tenet Healthcare (multinational healthcare services)
Kimberly-Clark (personal care manufacturing company)
Texas Instruments (semiconductor manufacturing)
AT&T (telecommunications company)
Charles Schwab (financial services)
Alcon (medical company)
The list of the largest companies in Fort Worth reveals that there's a whole range of companies dotted throughout the city. Healthcare, finance, marketing, and manufacturing are generally the top dogs that have a larger turn up. This should help you understand the type of jobs that are in demand.
Key Takeaway
Dallas-Fort Worth has 24 Fortune 500 companies, now doesn't that speak about the strength of the market? All in all, you'd probably not have a difficult time finding white collar jobs because of the large number of established companies in the city. But once you've decided to move here, ensure you have a job lined up because the competition can be testing.
Renting
When you begin to hunt for apartments to rent in Fort Worth, expect the prices to fall in the bracket of $1,060 to $1,200. Things could be more expensive depending on the area you pick. The property value will go up if you pick apartments in Trail Lake Estates or Weatherby Farms. For a fairly new home, rent costs could upto $1,500.
Some affordable and popular neighborhoods for rent are Arlington Heights, Fairmount, Rivercrest, and Westcliff.
Cost Of Living In Fort Worth
Fort Worth is to an extent a pricey place to live, but it all depends on where you're living currently. If it's California or New York, you'd find that Fort Worth is less expensive. To understand more about the expenses you'll incur by moving to this city, let's look at one aspect at a time beginning with housing costs.
See also: Cheapest Cities to Move to
Housing Costs
The median value at which homes are sold in Fort Worth stands at $230,504. The national price at which homes are sold in the nation is somewhere between $284,600 to $340,000. This proves that real estate prices in Fort Worth are pretty below the national average and can be termed as affordable housing.
Some of the most expensive neighborhoods to live in Fort Worth are Wheatland, Rivercrest, Mira Vista, Westover Hills, and Montserrat. In these neighborhoods the median value of the homes could be in the range of $339K to $589K.
Median Household Income
According to Niche, the median household income in Fort Worth is $62,187 and this is almost on par with the national average which stands at $62,843. When it comes to income, you should expect to earn in this bracket. You could probably earn even more, if you've nailed a job in one of the bigger Fortune 500 companies in the city.
Something else to keep in mind is that a single person reeling in an annual income of 62K to 65K can live more than comfortably in one of the largest metropolitan areas in the nation.
Cost Of Utilities
It's true that it gets very hot in Fort Worth so you should expect your energy bills to be on the higher side, since you'd most likely be using the AC unit way more than usual. In the summers, bills could go upto $200 and the lower average is $150 if the house is not that big.
When it's not summer, your electricity bill should be roughly $80 a month. Internet costs are approximately $40 and gas $45 per month. These are just small figures to help you understand what your bills would look like. All in all, a single adult could see expenses total upto $900 to $1,000 every month for utilities.
Also Read: Moving from California to Texas: Expert Tips & Advice
Top Schools And Universities In Fort Worth
Top 5 Best Rated Universities
Texas Christian University
University of Texas at Dallas
Texas Wesleyan University
University of Texas at Arlington
UTA Fort Worth
Top 5 Best Rated Schools
Tanglewood Elementary School
Better Perot Elementary School
Independence Elementary School
Kay Granger Elementary School
Basswood Elementary School
Best Neighborhoods In And Around Fort Worth
Keller
Keller is one of the best suburbs to live in the Fort Worth area. It's family friendly, clean, and has plenty of parks around. It's also just 20 minutes from Sundance Square which is the main entertainment hub in the downtown area of the city. This suburb practically enjoys a great location and this makes it the perfect residential space. It's not too noisy and perfect for families because of the fantastic schools in the vicinity. Keep in mind that the real estate rates here are on the higher end.
Median Value Of Homes – $386,200
Median Rent – $1,405
Southlake
Southlake is another family-oriented suburb with upscale homes. It lies extremely close to Keller and residents here enjoy gorgeous views of the Grapevine Lake. There's several well manicured parks surrounding this city like Meadowmere Park, Chesapeake Park, and Bob Jones Park. This place is extremely green and on the quiet side of Fort Worth. The schools are also amazing here, so if you're moving with kids and need a place where there are more than average school systems, this is it.
Median Value Of Homes – $676,900
Median Rent – $1,367
Coppell
Coppell is a neighborhood that enjoys a prime location. It's situated smack dab in the middle of the Dallas and Fort Worth metropolitan area. It's ranked to be the best place to reside in the state. The region is diverse and right next to the international airport. Coppell is just the right place to live in if you want to be close to all the places of interest. It's a lively suburb that's filled with several eateries and surrounded by small lakes that are perfect for recreational activities.
Median Value Of Homes – $388,800
Median Rent – $1,450
Dalworthington Gardens
Dalworthington Gardens is situated extremely close to Arlington Lake and is a very scenic town. It sits at a convenient location and is home to the Six Flags amusement park. There's also a golf course, clubs, and innumerable gardens in the area. If you ever miss the city noise and buzz, you can easily plug into Downtown Fort Worth which is just 15 to 20 minutes away.
Median Value Of Homes – $427,500
Median Rent – $1,225
Flower Mound
Flower Mound is a little away from the Fort Worth downtown area, so if you're looking to live in a place that's cut off from the sprawl of the city, then this could be it. The adjective peaceful does justice to the atmosphere of this place. Something that is missing or nonexistent here are entertainment options that are open till late night. You'd have to connect to the downtown area of Fort Worth for that.
Median Value Of Homes – $361,900
Median Rent – $1,731
Also See: Top Neighborhoods In Fort Worth For Families
FAQs
Is Fort Worth a good place to live?
Fort Worth is a well connected city. You can easily plug into the main cultural and business hubs of the state which are Dallas and Arlington from here. The city is quiet and extremely green. If these are things you resonate with, you can consider moving here.
Fort Worth is one of the most popular metropolitan areas in Texas where you get to experience some of the best restaurants, art museums, music, and the most popular cowboy culture of the city. One of the best things about living here is that you can easily drive to Dallas and Arlington from here. Another plus point of moving here is that you get to choose to live in the most amazing and affordable neighborhoods in the city.
See Also: Best Neighborhoods in Fort Worth for Singles and Young Professionals
Is it expensive to live in Fort Worth, Texas?
Fort Worth is less expensive than Dallas to live in. The median average cost of housing is at $230,504, which is well below the national average of $295,300. The cost of living is certainly worth the price for a city its size.
Fort Worth is expensive to live in but it depends on which part of the city you're residing in. Your average housing cost in the city would be around $230,504 which is less than the national average of around $281,370. Also, your energy bills will be costly in the city. To give you an insight into your average cost of utilities as a single adult, you'll be paying almost $900 to $1,000 per month. As you can see, the cost of living here is expensive but definitely worth the amenities the city offers you.
How much do you need to make to live in Fort Worth?
A salary of $50k annually will help you meet your basic living expenses in Fort Worth. But the city's cost of living is high and so you'll need a little more than that for a comfortable living. You'll need around $70k or more for a comfortable living in Fort Worth.
What should I know before moving to Fort Worth?
Fort Worth is the best of both worlds where you get to see world-class museums at the Cultural District and explore many restaurants, sensational music, and shopping centers at Sundance Square. Some of the best neighborhoods like Arlington Heights and Dallas are in close proximity to Fort Worth. It's also home to several Fortune 500 companies and so you can definitely explore jobs here. If you're tired of living in a place ruled by winter, you'll surely be comfortable with the sunny weather in Fort Worth.
Is Fort Worth dangerous?
According to the research conducted by NeighborhoodScout, the city has a violent crime rate of 4.48 per 1,000 people which is slightly higher than the national median of 4. The property crime in the city is 27.18 which is higher than the national median of 21. To give you an insight of your chances of being a victim of violent crime, that would be 1 in 223 people whereas for property crime it would be 1 in 37 people. To sum it up, crime is something you need to look out for when you're moving to Fort Worth.
What are the bad areas of Fort Worth?
The areas with the highest crime rate can be considered as the bad areas of Fort Worth. The one that tops the list is Southside which has around 907 violent crimes per 100k people as per the data shared by Areavibes. The other dangerous areas in Fort Worth are Southeast, Western Hills-Ridglea, and Eastside.
Is Dallas or Fort Worth Better to live?
Both Dallas and Fort Worth are the popular commercial and economic centers of Texas. In terms of neighborhoods, cultures, restaurants, and business centers, both cities can be considered on par with each other. The only thing that differentiates the two is the overall cost of living. Your median house cost in Dallas would be around $254,439 which is more than $230,504 in Fort Worth. So if you want affordable living then you should consider Fort Worth. Otherwise, the high cost of living in Dallas is totally worth the city's amenities.
Does it snow in Fort Worth Texas?
Yes, Fort Worth experiences snowfall to a certain extent which on average would be 1 inch of snow annually which is much less compared to the national median of 28 inches of snow annually.
How much does it cost to live comfortably in Fort Worth?
A salary of around 65k to 70k annually would be more than enough to live comfortably in Fort Worth but for a single resident. This high salary requirement can be attributed to the city's high cost of living.
How much is the average water bill in Fort Worth?
You'll have to pay around $2.25 per day for water and wastewater service if you reside in Fort Worth.
Is Fort Worth safer than Dallas?
The crime rate in Dallas for violent crimes is 8.78 per 1,000 residents whereas in Fort Worth it is 4.48. The property crime rate in Dallas is 34.39 whereas in Fort Worth it is 27.18 (per 1,000 residents) as per the data shared by NeighborhoodScout. As you can see, both violent and property crime rates are higher in Dallas which makes Fort Worth safer compared to Dallas.
Is downtown Fort Worth Safe?
Downtown Fort Worth is a vibrant and economically active and booming city. It is somewhat safe to live compared to most areas in Fort Worth.
According to the data shared by Areavibes, Fort Worth has a violent crime rate of 211 people and a property crime rate of 1,278 per 100k people. The national median for violent crimes is 379 whereas for property crimes it is 2,110 per 100k people.
What is Fort Worth famous for?
Fort Worth or Cowtown as most people call it, is known for its rich and vibrant culture along with flourishing commercial businesses operating here. You'll get to experience the historic architectural buildings, entertainment centers, and amazing food at Sundance Square. Other than that, the city is famous for its botanical gardens and rich wildlife at Fort Worth Zoo. There's also the Stockyards Historic District where you'll be amazed by the world-class museums, live music shows, and shopping centers.
---
Our Take On Fort Worth
Fort Worth is a great place to reside in especially if you're looking for something affordable. It's easy to connect to both Dallas and Arlington from here. The city isn't too spread out so you can make your way around unlike Dallas, which is much larger. It's also much more family-centric with ample green spaces. Now that you have all the information on moving here, we'd be happy to help you pick the right moving company too.
See also: Best Moving Companies in Fort Worth