6 Best Moving Companies in Fort Worth


VanLines Inc
Secure Storage
Easy Booking Process
Fully Trained Employees
GET QUOTE

Colonial Van Lines
Storage Services
Long-Distance Moves
Corporate Relocations
GET QUOTE

Moving APT
Vetting Process
Award-Winning
Available Nationwide
GET QUOTE
Our Take
Price
Rating
Minimum Shipment Size
Storage
Booking Deposit
Cancellation Policy
Quoting Options
Discounts

Best Overall Value


GET QUOTE

2+ bedrooms




Free 30 Days




10%

Free up to 72 Hrs

Phone / FaceTime / Text

Senior / Same day Booking

Best Industry Reputation


GET QUOTE

1+ bedrooms




30 Days




20%

Free up to 72 hrs

Phone / Facetime

Seniors Discount

Best Customer Service


GET QUOTE

1+ bedrooms







Free up to 72 hrs

Phone / Virtual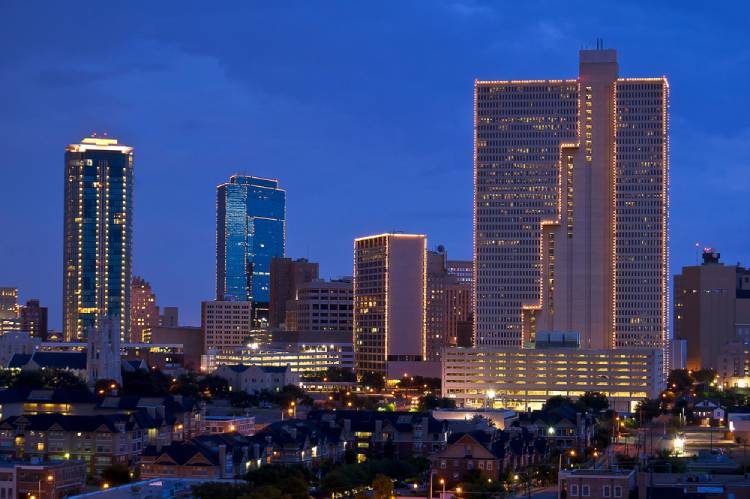 The fifth largest city in the Lone Star State, Fort Worth is steadily rising up the ranks of great cities in Texas. There's loads going on in this seemingly inconspicuous city, from a growing job market and art scene to great food. But under all the shiny gloss of a city lies the everyday hustle and bustle that only the residents truly know and experience.
And as residents looking to make a move, whether local or long distance, you need to be able to find a moving company to handle it all. Luckily for you, we've narrowed down on a bunch of the best moving companies in Fort Worth. Plus, there's a handy guide on the knack of choosing the best company to go with.
How To Pick A Moving Company In Fort Worth?
Before you're buried in open Google tabs, you need to know exactly what you're looking for in a moving company. Knowing your move helps you narrow down on moving companies, culling the ones that don't offer what you need.
Answer each of these questions to understand how to go about selecting a moving company that meets your needs.
Are you moving within Fort Worth (local), within Texas (intrastate), to another state (interstate) or across the US (cross-country)?
Will your move go over 100 miles, or will it be a local move (within that distance)?
How big is your current residence and what type is it i.e. a studio, 1 bedroom or 2 bedroom apartment, or a 3 – 4 bedroom house?
Will you have another person or people (roommate/friend/partner) accompanying you or are you moving alone?
Are any children or seniors moving with you?
How big is your moving inventory?
Do you only need basic moving help (loading and unloading + transportation) or do you need additional services like packing, crating or specialized packing, or storage?
Answering these questions is the first and most basic step to knowing your move, after which you can look for moving companies. Approaching the search for a moving company this way saves you time; since you already know details about your move, you can thoroughly research the companies you come across instead of messily pooling companies together and then trying to work your way forward.
Of course, there's also other criteria that a moving company must meet, the most basic of which is being registered with the DOT (Department of Transportation). This legitimizes the company – a company without a license isn't one you can trust. Additionally, a company that does interstate moves needs to have an MC (Motor Carrier) number which gives them authority to cross state lines. Look the companies up online and go through their customer reviews as a hygiene measure. If you happen to spot an A rating from the BBB (Better Business Bureau), that's a great sign of a reliable, efficient company.
6 Top-Rated Movers In Fort Worth
1. Secured Moving Company LLC
Secured Moving Company works with a priority on their customer service, reflected well in their slogan "Rest Assured with Secured!". Secured Moving Company has local moves within the Dallas-Fort Worth Metro region, and local movers have the added benefit of opting for their packing services as well. Their crew will come equipped with material like packing tape, boxes of all sizes, bubble wrap and more. Plus, they also do interstate and long distance moves.
Secured Moving Company makes sure their slogan delivers by following certain set principles. These include providing a full service move, professionalism, and attention to detail with every move. And of course, their competitive rates give them an automatic edge over their competitors. Moving with Secured Moving Company means having the convenience and reassurance of an all-inclusive quote. This automatically gets rid of the worry that last-minute additional charges bring, always hiking up your final price by a fair bit.
You won't be charged any fee for using packing materials like tape and shrink wrap, and unlike several other moving companies, they don't charge you a stair fee. This is a great benefit for people with apartments or multi-storeyed houses! Plus, no extra charge to haul any heavy items, whether it's your oversized wardrobe or your huge couch. With their extensive range of knowledge on packing and moving the right way, it sure seems like they can follow through with their slogan.
Secured Moving Company LLC Contact Details
Email Address – securedmovingcompany@gmail.com
​Contact Number – (817) 812-6176
Address – 4500 Mercantile Plaza Suite 300, Fort Worth, TX 76137
Operational Hours – Monday to Friday 8am to 9pm, Saturday 9am to 9 pm, Sunday 10am to 7 pm.
Website – securedmoving.com
Secured Moving Company LLC Reviews
Google Reviews – 4.9/5
2. Great White Moving Company
Great White Moving Company wants to "take a bite out of your moving expenses", which explains their name. They're a family owned company, locally based and servicing the Dallas-Fort Worth area for over 15 years. Great White has services for apartments, residential houses, and offices. They also handle long distance moves.
But this isn't all. They also have packing supplies, and their trucks are all equipped with top-notch moving supplies and equipment like dollies, moving blankets, furniture pads, straps to secure all kinds of items, walkboards, and more. Great White also has packing services; need only a few items to be packed while you handle the rest? They can do it. Need them to handle packing every last thing in your house? They can do that too! The cherry on top of the cake is that they can also move large or specialty items like pool tables, organs, and pianos.
When it comes to pricing, Great White's hourly rates start at $105 an hour. Their prices can differ depending on a range of factors though, like your location, how many things you have to move and whether there's stairs to navigate. That's why it's best that you get in touch with them yourself.
Great White Moving Company Contact Details
Email Address – Info@greatwhitemovers.net
​Contact Number – (817) 858-6500
Address – 3520 Bernie Anderson Ave #200, Fort Worth, TX 76116
Operational Hours – Monday to Sunday 7am to 8pm.
Website – greatwhitemovers.net
Great White Moving Company Reviews
Google Reviews – 5/5
3. Firefighting's Finest Moving And Storage
Firefighting's Finest started all the way back in 2001, when two off-duty firefighters began to move household and commercial goods on their days off from firefighting. After some time in the military, both men turned to moving furniture while trying to re-establish their firefighting careers. Before they knew it, they turned to moving furniture full-time and founded Firefighting's Finest Moving And Storage. Taking their professionalism and learnt values to their business, their company is one of the best in Fort Worth.
Firefighting's Finest has residential moves, for both local and long distances. Whether you need to move a block away or across the nation, Firefighting's Finest can help you out. They also give you the option to get a free quote from their website so you can get an estimate of your move even before you finalize it with them. They come armed with protective padding, stretch film, appliance dollies and a range of other equipment, and they also have full service moves.
When it comes to unloading, don't worry about having to haul half-opened boxes into their right rooms, since Firefighting's Finest will unload things according to your preferences. Their website also gives you not one, but two options to receive quotes; you can get a quick estimate that's calculated according to the distance and type of house, or a full estimate that has a lot more detailed form to fill out.
Firefighting's Finest Moving And Storage Contact Details
Email Address – fortworth@firefightermovers.com
​Contact Number – 844-715-6625
Address – 3101 Reagan Dr, Fort Worth, TX 76116
Operational Hours – Monday to Friday 8am to 5.30pm. Sunday closed.
Website – www.firefightermovers.com/fort-worth/
Firefighting's Finest Moving And Storage Reviews
Google Reviews – 4.8/5
4. Small Move Same Day
Most moving companies have a slew of services to offer movers, but one group of movers that stand to lose are the smaller, local moves. The bigger companies simply don't do local moves or have the equipment your tiny apartment needs. Luckily for the residents of Dallas-Fort Worth, Small Move Same Day can come to your rescue.
As their name suggests, these guys don't do full scale moves, but can help you out with all other moving-related jobs in the blink of an eye. Small Move Same Day is most beneficial for DIY movers, but are also perfectly equipped to take on small moves, whether residential or office.
For one, their crew is well-trained in loading and unloading services, whether you're dealing with U-Haul, PODS or a rental truck. Plus, they also have packing and unpacking services, so you don't have to deal with the underestimated hassle of a task that it is. Just done with a move, but surrounded by disassembled furniture and garbage? The Small Move crew will turn up with all the necessary equipment and tools to assemble it all properly, arrange the furniture to your liking, and clean up all the trash moving supplies.
Undoubtedly their biggest selling point is the fact that they show up on the same day as your services are required. Very few moving companies offer same or next-day services, simply because of the hassle it is. Small Move steps in where others step out, ready to help where help is needed.
Small Move Same Day Contact Details
Contact Number – 972-997-5647
Address – 4200 South fwy Suite# 2425, Fort Worth, TX 76115
Operational Hours – Monday to Saturday 7.30am to 8pm. Sunday closed.
Website – smallmovesamedayfortworth.com
Small Move Same Day Reviews
Google Reviews – 5/5
5. Two Men And A Truck
When brothers Brig and Jon Sorber began helping people move with their pickup truck, they wouldn't have guessed what the future had in store for them. That was back in the 1980s, and today, Two Men And A Truck is one of the big names in the moving industry. It's one of the fastest-growing franchised moving companies in the USA. With over 300 locations in America and some even in Canada, you know you can trust these guys to get you where you need to be.
Two Men And A Truck services local and long distance moves, and has a range of services like delivery, packing, loading and unloading, junk removal, furniture rearrangement, and storage facilities. With over 2,800 sturdy trucks in their fleet, they're your go-to moving company for a convenient long distance move. Their crew members are all well trained, and know the lay of the land no matter where you are. Plus, with a franchise in Fort Worth as well, your local move will be in safe hands. Whether it's a full service move or just a few of their services, whether you're moving just an apartment or a huge piano as well, Two Men And A Truck is sure to handle it.
Two Men And A Truck Contact Details
Contact Number – (817) 631-9514
Address – 9800 Hillwood Pkwy #140, Fort Worth, TX 76177
Operational Hours – Monday to Friday 8am to 5pm, Saturday 8am to 12pm, Sunday closed.
Website – twomenandatruck.com
Two Men And A Truck Reviews
Google Reviews – 4.2/5
Yelp – 3/5
6. Veterans Moving America
Veterans Moving America wasn't started by a veteran, but by Zach Freeman, a young man in his last semester of a BBA in Entrepreneurial Management and Supply Chain Management at Texas Christian University. Started with the aim to 'provide opportunities to as many veterans as possible', Veterans Moving America is a 100% veteran workforce with a focus on customer and employee-oriented services.
Veterans Moving America has local and state-wide moves, along with packing services, labor services, and storage facilities. Their local moving services can also be full-service, which means you don't need to worry about a thing, and are available to families, individuals or businesses within their local service areas. These areas include Dallas, Fort Worth, and several others in Texas. The best part? Their pricing.
Veterans Moving America has an all-inclusive hourly rate and simple pricing policy, created with the intention of being as simple and straightforward as possible. With no extra fees or pricing that hike your final cost up, your estimates are binding and stay that way. Plus, returning clients and veterans get a 5% discount on their move. With great customer reviews and the much-respected A+ accreditation from the BBB (Better Business Bureau), Veterans Moving America is giving other moving companies a run for their money.
Veterans Moving America Contact Details
Email Address – booking@VMAFamily.com
Contact Number – (817) 989-6362
Address – 6815 Manhattan Blvd, Suite 104, Fort Worth, TX 76120
Operational Hours – Monday to Saturday 8am to 6pm, Sunday closed.
Website – veteransmovingamerica.com/
Veterans Moving America Reviews
Google Reviews – 4.8/5
Yelp – 4/5
FAQs
What Is The Cheapest Moving Company?
There are several cheap moving companies that can handle your move at lower rates than otherwise. Some of these are Two Men And A Truck, United Van Lines, American Van Lines, and Moving Squad, joined by many others you can read about here. But remember, make sure you do your research and go with a reliable company that remains affordable.
How Do I Find A Good Mover?
If you don't know where to start your search for a good moving company, begin by asking neighbors and friends for their recommendations. Make sure you Google moving companies based on your move (local, interstate, cross country) and further narrow down on them by looking through their website and their online customer reviews. Finally, get moving estimates from your top three choices and close the deal with the one that offers the services you need at a price that works for you. If you want to cut to the chase, simply let 9kilo Moving find the top movers for you!
Are Pods Cheaper Than Moving Companies?
Overall, yes, a portable storage unit or a Pod is cheaper than hiring a moving company. But hiring a Pod and doing everything else on your own costs time, dedication and money. If you run out of time and are frighteningly near your moving date, you might just have to spend more than normal to hire packing supplies, packing services and labor to load your things.
How Much Is A Local Moving Company?
The average cost of a local household move is around $1,250. Local movers charge local moves by the hour, and rates per hour can be anywhere between $60 to $150.
See also: Moving to Fort Worth TX | 8 Best Neighborhoods In Fort Worth For Families