Moving from Houston to Austin – Expert Tips and Advice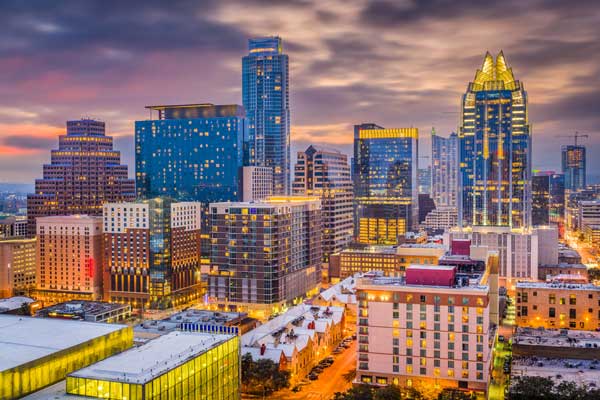 You are not alone if you intend to relocate from Houston to Austin. Austin is the nation's fastest-growing city, with more than 150 people moving there nearly every day. This state capital city, located in the heart of Texas, has a thriving economy and a plethora of exciting things to do. Austin is ideal for young professionals and growing families, with many live music venues, eclectic restaurants, and quirky nightclubs.
Here are the reasons why people adore this one-of-a-kind location:
The Advantages of Relocating from Houston to Austin
Employment Opportunities
It's no secret that Austin's economy has grown in recent years, attracting thousands of young professionals each year. It has experienced consistent job growth in recent years and is expected to increase by 40% over the next ten years. It has one of the nation's most vibrant tech startup scenes and is home to several well-known consumer brands, including Yeti Coolers, Whole Foods, National Instruments, and Dell, to name a few. It has been renowned as the best city for young entrepreneurs and the best city for job seekers.
Affordability
Austin has been recognized as the fifth most affordable large city in the United States. The overall cost of living is lower than the national average, and the housing market has been stable over time. There is a mix of low-rent apartments and higher-priced homes, so there is something for everyone's budget. And, because the economy is so strong, residents can enjoy a high quality of life at a low cost of living. The average rent of an apartment here is about $1,690. Rent prices vary depending on several factors, including location, size, and quality. The average rent for Austin apartments has risen since last year.
While statewide median home prices increased 15.7 percent from 2020 to $300,000, Austin-Round Rock median home prices increased nearly 31 percent to $450,000 since 2020, according to the report. Since 2018, the median home price has risen by $145,000, implying that the median home price four years ago was $305,000.
Excellent Schools
Austin has some truly excellent education for those moving with a family. Austin area high schools are ranked among the top 500 in the country and the University of Texas is ranked among the best value colleges by Princeton Review. The Longhorns also play NCAA Division I football, attracting large crowds at every home game.
Outdoor Activities
Austin's perfect mild climate makes it an ideal location for outdoor activities. It is known as Texas's greenest city, both environmentally and geographically. There are more than 200 parks, 30 unique swimming holes, lakes for water sports, and plenty of running and biking trails to get outside. It has even been named the best bike-friendly city in America.
Live Music and Festivals Galore
You have come to the right place if you enjoy music. Austin is known as the "world's live music capital." In Austin, you could hear live music every night of the week if you wanted to. Almost every bar and restaurant in the city hosts live music at least once a week. Austin hosts several music festivals every year, including the well-known SXSW (South by Southwest) festival. Tens of thousands of people attend this art, film, music, and technology festival every year.
Food Lover's Paradise
If there's one thing that Austinites adore, it's good barbecue. Austinites take their barbecue very seriously, and it can be found on almost any menu in the city. Aside from barbecue, Austin has excellent dining options, ranging from eclectic food trucks to world-class restaurants. The city has over 1500 registered food trucks, each distinct cuisine.
Best Neighborhoods in Austin
Downtown
It is a great place to rent, especially if you don't mind staying on the city's outskirts. There are also numerous job opportunities. Museums, art galleries, and restaurants can all be found here. Downtown Austin is well-known for its culture and 6th Street, a historic street and an entertainment district. The average rental price of a one-bedroom apartment in Downtown Austin, Austin, TX, is $2,543. This represents a 28% increase over the previous year, with the median house sale price hovering around $577,000.
Hyde Park
A popular hangout for those connected with the nearby University Campus. There are a lot of professors, students, and young professionals. It has a lively atmosphere and many historic structures. Hyde Park is well-known for its architecture and historical significance as Austin's first planned suburb. Among Austin's many historic structures are several treasures that are one-of-a-kind or rare in the city. The current average rent for a 1-bedroom apartment in Hyde Park, Austin, TX, is $1,040. This represents a 5% increase over the previous year. The median home sale price is around $700,000 in this area.
Barton Hills
Thanks to the abundance of green spaces and proximity to some of Austin's best amenities, Barton Hills is a popular place for many people to live and hang out. An excellent place for outdoor enthusiasts. Zilker Park, a 350-acre park nearby, has sculptures and botanical gardens. The cost of living is also lower. The average rent for a one-bedroom apartment in Barton Hills, Austin, TX, is $1,649, and the median house sale price is around $574,450. A studio apartment will cost you less than $1,000.
East Austin
This is one of the city's fastest-growing neighborhoods. It has an excellent blend of modern condos, bungalows, and cocktail bars. Some of the best places to live have water views, parks, and open spaces. East Austin has become a popular destination for great food, opulent lounges, and fantastic educational museums. Discover the best restaurants, bars, museums, live music venues, and more in East Austin. The average median rent for a 1-bedroom apartment in Central East Austin, Austin, TX, is $2,157, and the median house sale price is around $695K.
South Congress
This neighborhood is also known as SoCo; this neighborhood is home to many live music venues, boutiques, and award-winning restaurants. There is nightlife as well as many historical venues. You can quickly get downtown from here. The rent, on the other hand, can be pretty high. South Congress (abbreviated SoCo) is a neighborhood in Austin, Texas, located on South Congress Avenue. It is also a nationally recognized shopping and cultural district known for its diverse small retailers, restaurants, music and art venues, and, more recently, food trucks. The median monthly rent in South Congress, Austin, TX, is around $1,759, and the median house sale price is about $771,667.
Mueller
This ideal neighborhood is for families and young professionals who prefer a quieter area with more space. It has both single-family homes and apartments. Lake Park is a 30-acre park with an open-air amphitheater and jogging trails. The Thinkery Children's Museum is also nearby. Mueller, Austin's Mueller neighborhood, is a vibrant hub with popular restaurants, family-friendly activities, shopping, etc. Mueller, Austin, TX, has an average rent of $1,627 and a median house sale price of around $871,000.
North & South Lamar
Rent and housing costs are low. The North is one of the most affordable neighborhoods in the city. It takes only fifteen minutes to get downtown. The South is home to many galleries, grocery stores, and trendy restaurants. Just south of downtown, Austin's vibrant South Lamar neighborhood is one of the city's burgeoning renter hotspots. North Lamar in Austin is known for its affordability and is home to both single-family homes and apartments. The current average rent for a 1-bedroom apartment in South Lamar, Austin, TX, is $1,806, while the average rent in North Lamar, Austin, TX, is $1,371. South Lamar has a median house sale price of around $799.5K, while North Lamar has a median house sale price of about $398K.
Also read: Best Neighborhoods in Austin for Singles and Young Professionals
Need more reasons to move to Austin? 
1. People are relocating to Austin from all over the country these days. We've recently seen a significant influx of newly-minted Austinites from Houston! Have you ever wondered why so many people have relocated from Houston to Austin? We have a few ideas:
2. The weather is ideal. We can't say Austin doesn't get hot in the summer, but we don't have the sticky Gulf Coast humidity that causes your hair to frizz and your makeup to melt in seconds. We're also far enough away from the coast to avoid the hurricane-related bad weather that Houston is subjected to.
3. You will not have nightmares as a result of the traffic. For some reason, street names in Houston are constantly changing. And we'll never know why the drivers there are so fast and aggressive. In comparison, Austin is easy to get around. It's simple to get back on track if you take a wrong turn.
4. A river crosses it. Austin, which is located on the banks of the Colorado River, has Houston beat when it comes to the scenic beauty. Experience yourself when you go down to the river—and don't forget to say hello to Congress Ave. Bridge bats! Don't miss out on the Hill Country of the suburbs, Mount Bonnell, Zilker Park, and more while you're in town. We could go on about the natural beauty that Austin has to offer.
5. It is one of America's most walkable cities. Austin is infinitely more walkable than Houston, from the 6th Street District to South Congress. Exploring Austin on foot (or by bicycle) is one of the best ways to find some fantastic off-the-beaten-path spots.
6. The music scene is out of this world. Thanks to incredible festivals like SXSW and Austin City Limits and dozens of local venues hosting bands on any given night. Although there are some exciting shows in Houston, Austin is the best place in America to be a music fan.
7. The Hill Country is stunning. Austin's scenic and diverse area looks like no other place in America, surrounded by the rolling Texas Hill Country. Houston is pretty flat, which is cool if that's your thing, whereas Austin has a unique landscape.
8. Austin is an impressively outdoor-focused city. Making it ideal for anyone looking to maintain an active lifestyle in the great outdoors. Kayak or stand-up paddleboard down the river, go fishing at Lake Travis, or hike, bike, or jog through the 350-acre Zilker Metropolitan Park.
9. It's big, but not too big. Houston is a massive city, and while Austin isn't exactly small, it has the friendly feel of a small town. It's simple to get around, and there are numerous distinct districts and neighborhoods to discover.
10. The food is delicious. Austin is Texas's unofficial food capital, from Tex-Mex and classic Austin BBQ to world-class cuisine worldwide. We also have more fantastic vegan, vegetarian, and gluten-free eateries than anywhere else in the state.
11. While Houston is fast-paced and can feel all business. Austin is where CEOs wear flip-flops. It is friendly and low-stress, and Austinites are the type of people who realize how fortunate they are.
How do you plan a move?
Creating a moving plan before relocating from one city to another is critical. The nature of your move will determine the nature of your chore list, timeline, and other information. When moving with the family, you should allow yourself enough time to find a new home. Also, keep in mind that packing everything you own may take longer than a week. Here are things you should consider while planning your move to Austin.
See also: Best Moving Companies in Houston
Locating a new residence
It would be best to start searching for a new home as soon as possible after relocating from Houston to Austin. If you intend to purchase a new home, it is best to work with a professional real estate agent. With everything you need to do and organize, hiring someone to help you buy a new home will be the best option.
Prepare your belongings for the relocation
Packing your household belongings may take up the majority of your time. Depending on the size of the inventory, packing can take several weeks. You should start looking for quality packing supplies if you intend to move.
Make a moving budget
Relocating from one city to another will not be cheap, especially if you have a large family. Keep in mind that professional moving services may be the most expensive item on your budget, so creating a moving budget is a good idea.
Prepare to relocate to a new city
Relocating from one city to another will bring significant changes, whether driving alone or with a large family. Apart from the fact that these two cities are different in size, there will be some differences in the community.
Obtain professional assistance
After you've sketched out your moving strategy, you should begin looking for reputable movers in Austin, TX. Moving from Houston to Austin can be easier if you hire professional movers. In the case of relocating a large household, moving last-minute, or moving a business, hiring movers can be a necessity.
Conclusion
Whether it's a new job, relocating to Austin to start a family, or relocating your business, moving to Austin, Texas, can be an excellent new chapter, especially if you make the shifting process as stress-free as possible. So, start making plans, do your research, and hire dependable professional help!
Frequently Asked Questions
What is the cost of moving from Houston to Austin?
Moving from Houston to Austin typically costs around $2,440.41.
Is it better to stay in Austin or Houston?
While both cities had unemployment rates lower than the national average of 5.2 percent in August 2021, Houston had a 4.9 percent unemployment rate compared to Austin's 3.8 percent. And, with many parts of Houston having higher poverty rates than others, Houston's average income is nearly 20,000 less than Austin's at $52,558.
Is it less expensive to live in Houston or Austin?
Austin, TX, has a higher cost of living than Houston, TX, by 11.2 percent. Austin, TX employers, typically pay -4.0 percent less than Houston, TX employers. To maintain your current standard of living, you would need to earn $66,732 per year.
Is it true that Austin is drier than Houston?
Due to its adjacency with the Gulf of Mexico, Houston's heat feels hotter, whereas Austin's inland location keeps it remarkably dry during the summer months. According to the most recent statistics, Houston outperforms Austin in terms of rainfall, with 48 inches compared to 33 inches in Austin.
See also: Moving from Houston to Dallas | Moving from Houston to Seattle