How to Read a Moving Contract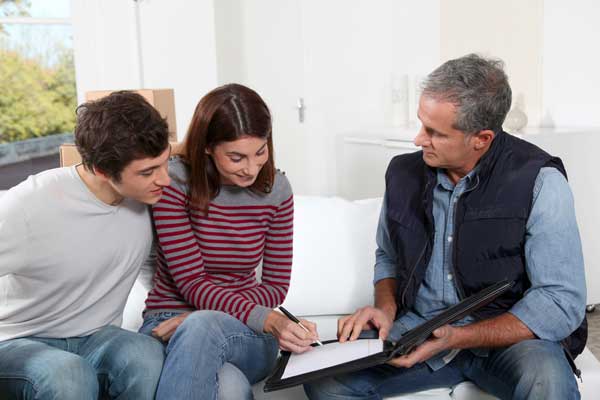 Moving involves more than just packing, loading, and hauling things. A great deal of paperwork is associated with a move as well. Accordingly, you should become familiar with the different documents, one of which is a moving contract. Moving contracts can be quite detailed, but the following guide will help you decipher yours.
Starts with an Estimate
Before any contract is established, a moving company will first visit your home and provide an estimate. There are two types of estimates: binding and non-binding. A binding estimate gives you the exact cost you will pay, even if your shipment weight is more or less than the estimate.
A non-binding estimate, on the other hand, is only a ballpark figure. It can change based upon the exact weight of your shipment and other factors. When providing a non-binding estimate, a mover may list a high and low range rather than an exact amount.
Be sure you know which type of estimate you are getting and why. Find out how a company reached their estimate, and ask what factors might increase the cost of your non-binding estimate. According to the Federal Motor Carrier Safety Administration, a mover may not charge more than 110% of the amount quoted in a non-binding estimate.
Order for Service
After completing an estimate, a mover will then provide you with a contract. Sometimes referred to as an order for service, it will list important details:
Type of services to be provided
Pickup and delivery dates
Estimated weight
Insurance coverage
Cancellation policy
The contract will also contain a few terms that you should understand:
Additional charges – extra services such as piano moving
Agent – a person who is authorized to represent either yourself or the moving company
Bill of lading – a receipt that indicates the carrier has assumed responsibility of your personal belongings
Carrier – the moving company who will transport your shipment
Consignee – the individual who signs for your shipment at its final destination
Consignor – the person who signs paperwork allowing the carrier to transport household goods.
Full value replacement – a type of coverage in which the moving company provides full replacement value for anything over a certain dollar amount.
Gross weight – refers to how much a moving truck weighs after it has been fully loaded
Inventory sheet – a list of everything being moved by the carrier
Released – value replacement-standard coverage that allows for a certain dollar amount per pound in the way of replacement coverage.
Shipper – the person owning the household goods being shipped
Valuation – declared value of your household goods
General Provisions
Generally the first part of any moving contract, the general provisions section describes the services your moving company will provide. It will list specific details such as the beginning and final destinations as well as any other services such as packing.
Scope of Services
Here the contract will go into more detail about each step involved in your move. It may list specific dates (or a date range) for inventorying, packing, loading, and transporting goods. The moving company may also provide instructions for you to follow. For example, if you are not having the mover pack there could be a line that states you will have everything ready by a specific time. The contract will also state that you or a designated representative must be available during the move, and that you will provide access to every area where household goods are being stored.
Liability Provisions
This section will break down exactly what the carrier assumes liability for. It will also list a few exceptions in which they will not accept liability:
Omissions or acts on your part
Acts of God
Spoilage of perishable items
Mechanical failure of items such as grandfather clocks, appliances, computers, etc.
Claims Provisions
This section will outline the process to follow should you wish to file a claim. It will spell out the time-frame for doing so as well as the terms. As an example, the contract may state that you have 30, 60, or 90 days from the delivery date to file a written claim. If not filed within that time-frame, the carrier is therefore released from any liability.
Payment Provisions
This section will list how and when you will provide payment. It may contain a sentence that reads "the shipper agrees to pay freight charges immediately upon delivery to the final destination." The mover will likely include a disclaimer that payment in full is required before any claims will be considered.
The payment section will also list the accepted forms of payment. Many moving companies do not accept personal checks. If that is the case, they will normally state this in the payment section. If personal checks are allowed, the company will likely list any fees or actions they may take in the event of a returned check.
Provisions for Shipments not Delivered
Moving companies often find that their clients are unavailable to assume delivery. So that they are not left holding onto someone's household goods, most will include a provisions for shipments not delivered. What this means is that you authorize the carrier to place your items into storage in the event you do not take delivery as agreed upon. You will then assume the cost of the storage facility as well as any future moving costs associated with removing your goods.
This section should list the conditions under which your goods will be placed in storage. It should also let you know how you will be notified where your things have been taken.
In some states, the carrier may authorized the sale of your household goods at public auction if you fail to claim them by a certain date. If that is a possibility, the mover should list the allotted time-frame you have in which to claim your goods as well as the type of notice you will receive before doing so.
Severability
This section contains a disclaimer that states if any provision stated in the contract happens to be illegal, invalid, or unenforceable by law that the entire agreement is therefore dissolved. It may also provide instructions for cancelling a contract in the event you no longer require their services.
Additional Documents
Some additional documents will be attached to your moving contract. So that you can fully understand them, we are providing the following information about each one.
Bill of Lading
The bill of lading is a mandatory document that authorizes the moving company to transport your goods. It will contain demographic information such as the date, name and address of the shipper, method of transportation, and unique shipment number.
In some cases, the company who delivers your goods will be different from the one that loaded it. If so, you'll find the name and address of the delivery carrier listed on the bill of lading as well.
The bill of lading will specify the type of insurance provided. This is something you should have agreed upon when receiving your binding or non-binding estimate. Read over the insurance information carefully to ensure you know exactly what type of coverage you are receiving.
Other information may include total weight, declared value, and charges. Check this information carefully to see that it matches what is stated in your moving contract or estimate. You will be asked to sign this document along with the carrier's representative. Insist on getting a copy of this for your own records.
Inventory Sheet
As movers load things, they will tag each item with a numbered sticker. That number in turn will be listed on an inventory sheet. That way, you can check off items as they are removed as well as when they are delivered to your final destination.
Double check to see that all inventory is tagged and recorded properly. Upon delivery, you will sign and return the inventory sheet once you have verified all goods have been received. By signing the inventory sheet you are not stating that none of your belongings were damaged. Instead, you are simply agreeing that everything that was placed on the truck at your original destination has been delivered to your new one.
High Value Inventory Sheet
High dollar value items are those that generally have a replacement value of more than $100 per pound. These items are listed on their own separate inventory sheet. Some examples of high value items include jewelry, artwork, antiques, or collectibles. Note that items of sentimental value are not normally included on a high value inventory sheet unless they also meet the monetary thresholds.
As with other inventory, the goods will also be tagged with a sticker before being listed on the sheet. They may also require special packing methods to protect them during transit. Items on your high value inventory sheet should be inspected very carefully upon delivery to see that no damage occurred.
Don't allow moving contracts to make your relocation more difficult than it has to be. Use this guide to help you understand the various types of paperwork involved. By doing so, you can alleviate a great deal of stress associated with your move.