Moving From Los Angeles To Dallas – Expert Tips & Advice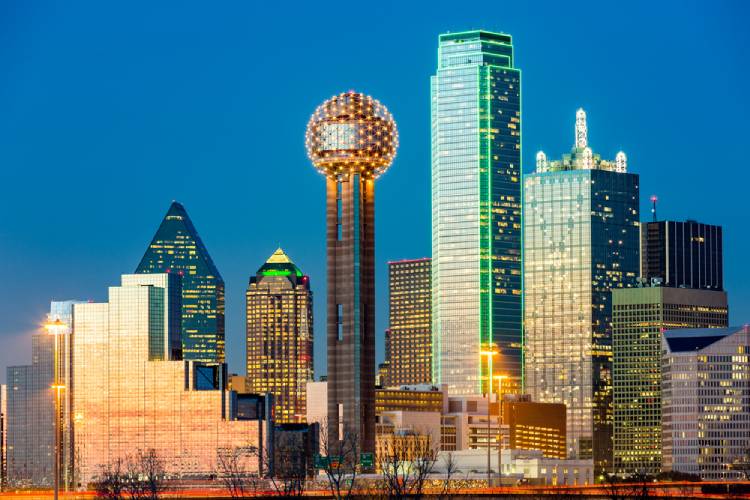 Los Angeles, popularly called the City of Angels, is the heart of the state of California. Known for its legendary Hollywood sign and sometimes referred to as La-La-Land, because of its magical, movie-like quality, Los Angeles is rightly referred to as the city where your dreams come true. But if a dream or two of yours remains unfulfilled in this magnificent city, you could always turn to the Big D–and no, get your head out of the gutter–we mean, Dallas.
Home to America's cowboy culture and the historical spot where President John F. Kennedy was assassinated, Dallas might not be as glitzy as Los Angeles, but it sure does have many redeeming qualities that make it perfect to start a new life in. In fact, many are of the belief that Dallas is the best Texan city – and for good reason! Dallas has neighborhoods that are perfect for all kinds of residents; from the artsy, whimsical kind, to families and students. It also has a fantastic food culture with frozen margaritas and Tex-Mex burgers as its biggest hits.
If you're someone who has decided to step out of Los Angeles and has decided to embrace the cowboy in you, here is a complete guide of everything you would need to know before moving to Dallas, Texas.
Factors To Consider Before Moving From Los Angeles To Dallas
Weather Conditions
It's no secret that Los Angeles can get warm, considering California is known for its sunshine. If you've lived here even for a little while, you already know that Los Angeles is classified as having a Mediterranean climate. Summers tend to be quite hot and humid with temperatures ranging from 70°F to 90°F. Winters in La-La-Land are temperate and lovely, lasting nearly 3-4 months. Your resistance to the heat that you've acquired after your time in LA is only going to benefit you in Dallas because the city has a humid subtropical climate. Summers tend to be humid, long, and exceptionally dry, with an average high of 96°F. You would also witness intense heat waves and brittle, hot winds in the summer, so be warned if you're someone who doesn't deal well with heat.
Winters in Dallas are quite pleasant and beautiful, as it does not get unbearably cold and you are gifted with brief spells of chilly, comfortable weather. The temperatures average around 25°C, with January being the coldest month. The region witnesses brief snowfall for a day or two every year. One of the best things you'd witness upon shifting to Dallas is the transition across all four seasons, spring being particularly beautiful.
One thing that you'd have to look out for is the fact that Dallas is known for its vulnerability to natural disasters like tornadoes, storms, hurricanes, hail, and droughts. It is a high-risk city and you'd have to take all the necessary precautions and gain as much knowledge about the same, before making the move.
Cost Of Living
While it doesn't reach New York City's exorbitant living expenses, it is no secret that nothing about the lap of Hollywood comes cheap. In terms of living expenses, the city has a cost of living index of 173.3 (of which a score of 100 represents the national average) and is said to be one of the most expensive cities to live in. However, why retain the focus on LA considering you're planning on moving out of the city anyway? Let's get to the news we all know you're looking forward to hearing: Dallas has significantly low living expenses when compared to Los Angeles. While LA's cost of living is around 43% higher than the national average, Dallas' is only 2% higher. Forget everything else, your finances are definitely going to thank you for the shift to D-Town.
Buying A House
Good real estate options play a huge role in making your move financially efficient. And we can say with conviction that buying a house in Dallas is going to prove to be easier on your bank account than being a homeowner in Los Angeles. While you'd have to pay around $788,384 to own a house in LA, the median home value in the city of Dallas is only $364,003. This means that in less than half the amount, you can own property and settle into your new life in this gorgeous Texas city.
Renting A House
If you're not yet ready with the trials and tribulations it takes to be a homeowner in America, we completely understand. If renting is more your thing, get ready to be blown away because the rental costs in D-Town are less than half of what it is in the City of Angels. According to PayScale, the median monthly rent in Los Angeles is $2,470, while you would only have to pay roughly around $1,140 in Dallas. While rental costs in the city have seen a 9% hike since 2021, the numbers are still low enough to give your monthly rental budget–the one that's used to LA's exorbitant rental costs–a considerable respite.
Utilities
Remember how we said that nothing about glamorous Los Angeles is cheap? This holds true for utilities too. While the cost of utilities in LA is around 8% higher than the national average, it is only 4% higher in Dallas. While this still means that you'd be forking out more for your monthly utilities in Dallas than you would in most other cities, it would still reflect only positively as you'd be paying significantly less for utilities in Dallas than in Los Angeles.
To give you a clearer picture, let's break it down, shall we? Numbeo tells us that for one month of basic utilities in Dallas, including electricity, heating, cooling, water, and garbage, you'd have to pay around $159.63. According to Payscale, the average monthly rates for electricity, phone bills, and gas per gallon in Dallas are $174.87, $186.40, and $2.59, respectively. While the rates might differ based on your usage of these utilities, this should give you a better idea of how much of your monthly budget you'd have to dedicate to monthly utilities in the city of the Dallas Cowboys.
You may also read our article on Utility Bills 101.
Job Market
We can say until our throats are hoarse that money does not matter. But money makes the world go around, for you and for us. It's what makes your fabulous lifestyle possible and what defines your comfort level in any city. To attain that comfort level, you need a well-paying, solid job in the field of your choice. While we all know that Los Angeles' economy depends heavily on tourism, international trade, telecommunications, entertainment, fashion, healthcare, and transportation, Dallas' economy is slightly less glamorous, with more focus on engineering, technology, and telecommunications. Financial services, defense, and pharmaceutical industries are the other fields that sustain Dallas' thriving economy.
In terms of finding a job, it is said that the Dallas-Fort Worth area has a massive concentration of some of the top-most Fortune 500 companies and is also regarded as among the top 5 metropolises for employment opportunities. Some of the big fish in terms of job opportunities in the region include:
AT & T
Tenet Healthcare
Southwest Airlines
Bank of America Corporation
Dean Foods
Texas Health Resources
Holly Frontier
Jacobs Engineering
While it is true that Los Angeles is the place to be in order to be launched into fame and showbiz, high levels of competition often make it impossible to land the position of your choice. This is probably exemplified by the fact that the unemployment rate in LA is nearly 6.3% while it is only 3.7% in Dallas, Texas.
Transportation
Sure, Dallas has a lot of sights to see and places to explore. But how do you get to these places? If you don't own a car, public transportation is often the answer to many of your prayers. And thankfully for you, Dallas has a pretty good public transportation system that is accessible and quite user-friendly.
If you're someone who flies a lot – for work or pleasure, we don't judge – you'll be happy to know that Dallas has two main international airports; the Dallas-Fort Worth (DFW) and the Dallas Love Field (DAL), which are both centrally located with regard to the city. The airport also has affordable shuttle services called SuperShuttle, which operates on a ride-share system, to ensure that you don't end up paying a whole lot to reach your desired destination upon landing. If you're someone who enjoys people-watching on train journeys, we've got some great news for you: Dallas has the country's longest light rail system in the entire country!
The Dallas Area Rapid Transit System (DART) has 14 bus transfer facilities and 64 DART Rail Stations. They operate every day of the week from 5:00 am till 12:00 am. This, paired with the affordable ticket prices, makes this an ideal mode of commute for those who work or study within the city. You could opt for the day passes, single ride, AM/PM passes, midday passes, or monthly passes, based on the nature of your travel requirements. For a slightly more offbeat mode of travel, you could also avail of the McKinney Avenue Trolley which would take you to Dallas' historical and artistic spots of interest. Keep in mind that this is more for tourists rather than everyday commuters.
Dallas is considered a car-friendly city and is known to have its fair share of traffic. However, if you're someone whose favorite mode of travel is by road in a car, you could always avail of the plethora of taxicabs that ply in the city regularly or use Uber, Lyft or Curb to book a cab online.
Dallas' Strong Points
Great live music scene
A lengthy sports legacy
A thriving job market
Experiences all four seasons quite pleasantly
Strong educational infrastructure
No income tax
Reliable and widespread public transportation
Top Neighborhoods To Move To In Dallas
Deep Ellum
If you're a fan of the vibrant music scene in the city, then Deep Ellum is the place for you! Perhaps the best part about Deep Ellum is the variety of residential options available for you. From highrises and futuristics lofts to quaint historic buildings and brick buildings, you could quite literally tailor-make your residential setting to your heart's content. Originally called Deep Elm, this neighborhood was once the commercial hub that saw the origin stories of many African-American and European immigrants.
The area houses multiple spots of immense historical significance including the first cotton gin factory, Henry Ford's automobile plants, etc. It was once an abode for multiple jazz and blues singers including Blind Lemon Jefferson, Lightnin' Hopkins, Alex Moore, Bessie Smith, Robert Johnson, etc., and continues to hold their musical and artistic roots in the surroundings. If you're an artsy person who loves a great neighborhood, then Deep Ellum is going to be your next muse.
Median Home Value: $650,000
Monthly Median Rent: $1,968
Uptown Dallas
Once again, a place that's as chic as it is accessible. Uptown Dallas is the concentration of everything that is cool about Dallas, in one neighborhood. It has a fantastic restaurant scene featuring high-end as well street cafes that cater to people of all walks of life. The music and artistic scene of Uptown Dallas too is worth the envy and is known for its wide range of hotels that this neighborhood is home to. If you find yourself bored on Sunday afternoon, you could take the McKinney Avenue trolley and visit the Dallas Museum of Art or follow the Katy Trail if you're in the mood for something a little more adventurous. Either way, you'll never encounter a dull moment in Uptown Dallas.
Median Home Value: $545,000
Monthly Median Rent: $1,845
Oak Lawn
Relatively quiet but still one of the best neighborhoods in the D-Town, Oak Lawn is the perfect blend of quiet outdoor activities and flourishing nightlife. The area is known for its lively gay bar scene and is connected to a wide range of museums, galleries, and hotels. It's a haven for those who love to explore the outdoors as there are plenty of picturesque hiking trails including the Katy Trail, the Oak Lawn Park as well as Turtle Creek. Oak Lawn is going to embrace you with wide-open arms and will prove to be an unforgettable home, if chosen.
Median Home Value: $461,000
Monthly Median Rent: $1,876
Preston Hollow
Home to multiple political figures including George W. Bush, Laura Miller, and Top Leppert, Preston Hollow is a slightly high-end neighborhood with a legacy of its own. If you want to live in the quieter part of Dallas, then you could buy yourself a Century ranch-style house in Preston Hollow with your family or partner. If ever you find yourself in the mood to go bar-hopping, then don't forget that Downtown Dallas is just 6 miles away! Preston Hollow is also located quite close to Walnut Hill Lane, the Perot Museum of Nature and Science, the Dallas Museum of Art, and the Dallas Arboretum, to keep yourself (or your little ones) occupied and intrigued!
Median Home Value: $2,000,000
Monthly Median Rent: $2,900
Things To Take Care Of When You're Moving From Los Angeles To Dallas
While Dallas does not have income tax, the city does have a high property tax rate of 22.8 cents per $100 of assessed property value.
You'd have to pay a sales tax rate of up to 6.25%. This rate could see an increase of up to 2% if you live in a metropolis or special-purpose district.
You'd face high traffic upon moving to Dallas. Most days, public transportation is your best bet.
The Texas city experiences higher than normal temperatures. Summers in Dallas can be quite uncomfortable for those unused to heat.
Dallas has higher than state average violent and property crime rates at 7.76 incidents (per 1,000 residents) and 33.57 (per 1,000 residents) respectively.
See Also: Best Moving Companies in Los Angeles, CA | Moving From New Mexico To Texas | Moving From San Antonio To Dallas
Los Angeles To Dallas Moving Costs
Moving from one city to another is no easy matter. This difficulty is only multiplied when the cities are across different states. While moving from one state to another can prove to be quite expensive, due to the high volume of items and the sheer distance, your safest bet would be to entrust a licensed, insured moving company to do the job for you. While the exact moving cost will depend on the weight and nature of your goods and the distance to be covered, it would cost anywhere between $2,200 to $4,500 to shift from Los Angeles to Dallas.
Since the distance is larger, the stakes are also higher. Always make sure to pick a moving company after thorough research and comparison across reviews and ratings.
Summing Up
Moving is never easy. It typically involves a hundred aspects that need to be considered and is often stressful and a cause for a great deal of financial (and general) anxiety. But in order to simplify this complex process, the only thing you can do is ample research and survey. Anybody who has spent time in the City of Angels can tell you that it is an unforgettable city full of the magic of entertainment. However, there are many downsides to living in Los Angeles that could possibly be rectified by shifting elsewhere – Dallas, Texas, in this example. Dallas is one of the best cities, both in Texas and the entire country. It has a solid school system, comparatively low living expenses, and good housing options.
We hope that your move goes as smoothly as you hope it to do and wish you a great life in D-Town!
FAQs About Moving From Los Angeles To Dallas
What Is The Distance Between Los Angeles And Dallas?
The two cities are separated by a distance of nearly 1,436.4 miles. While a road journey could take you around 22 hours, it is wisest to just fly into one of the two international airports in the city of Dallas.
What's The Worst Part About Dallas, TX?
As great a city as Dallas is, it is not without flaws. Dallas has considerably high violent crime and property rates. The city is known for having traffic, and the property and sales tax rates can be quite sky-high.
Is Texas Cheaper Than California?
While Texas is not inexpensive by any means, moving to the state from a state like California could be quite beneficial financially because Texas is around 21.1% cheaper than California. Both in terms of utilities and housing, Texas has more opportunities and options for less than half the cost. If you like the cowboy culture and can weather the Texas summers, then shifting to the state could prove to be a financially wise decision.