7 Best Moving Companies in Atlanta


VanLines Inc
Secure Storage
Easy Booking Process
Fully Trained Employees
GET QUOTE

Colonial Van Lines
Storage Services
Long-Distance Moves
Corporate Relocations
GET QUOTE

Moving APT
Vetting Process
Award-Winning
Available Nationwide
GET QUOTE
Our Take
Price
Rating
Minimum Shipment Size
Storage
Booking Deposit
Cancellation Policy
Quoting Options
Discounts

Best Overall Value


GET QUOTE

2+ bedrooms




Free 30 Days




10%

Free up to 72 Hrs

Phone / FaceTime / Text

Senior / Same day Booking

Best Industry Reputation


GET QUOTE

1+ bedrooms




30 Days




20%

Free up to 72 hrs

Phone / Facetime

Seniors Discount

Best Customer Service


GET QUOTE

1+ bedrooms







Free up to 72 hrs

Phone / Virtual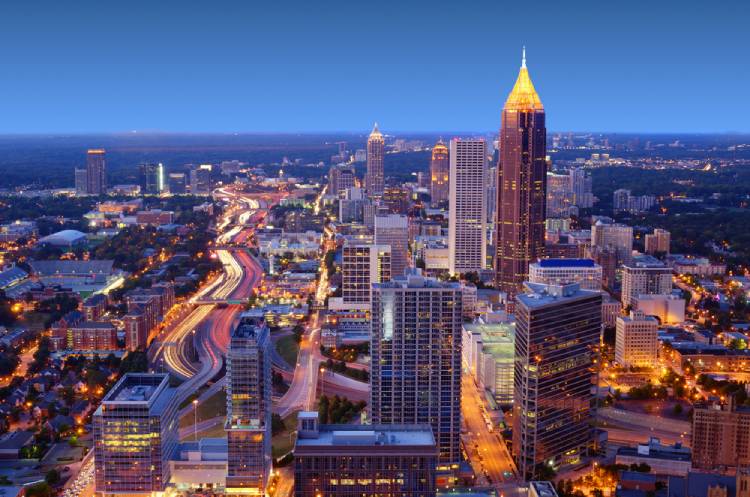 The city of Atlanta enjoys the limelight in the state of Georgia. It's an alpha city with a population nearing 6 million people! It's no wonder that some areas are getting more crowded than they were in the past. It's common for people to shift to less cramped up communities and movers are making the switch possible for residents.
If you're unfamiliar with the names of these movers, we've compiled the top ones for you below. Before we head towards giving a short overview of them, let's look at the approach to take when picking a moving company in Atlanta.
How To Pick A Moving Company In Atlanta, GA?
When you pick a moving company, you want someone who'd take care of your belongings as if it's their own. With the number of rogue movers out there, moving companies don't really have the best image out there. Things can quickly go south if your mover can't accommodate your needs.
To help find the movers that are most compliant to your requirements, we suggest pre-deciding your wants. You can do this by trying this exercise where you answer the following questions:
Will you be moving within Atlanta city, outside city outskirts, or beyond the state lines?
How far away is the new home you're moving into? Is it situated more than 200 miles away or less?
Do you presently reside in an apartment style place with stairs, a studio, or a big home?
Will there be others moving with you? Such as family members, roommates, or colleagues?
Are pets, small kids, or senior citizens also moving along with you?
Would you be taking everything along with you or have you considered downsizing?
Besides help with hauling your belongings, will you need additional services like property clean up, furniture assembly, and packing?
Once you prepare answers for these in your headspace, you'll have a clearer idea of which mover will suit you best. There's a few other things that you should keep in mind when picking a mover.
The first and most important aspect is double checking if your mover is licensed and insured. Don't just take their word for it but actually verify if they have a US Department of Transportation (USDOT) number with them. If it's not displayed at the bottom of the website, you can bother your movers and ask them for it.
Another good course of action is to look them up on Better Business Bureau to ensure they have a good rating there. These are just a few precautions you should take while researching your mover. Don't forget to also look up reviews against the company name to get an idea of how they treat their customers.
Our last tip that we'd like to share is that we suggest getting estimates from at least 3 different moving companies before you pay a deposit to the organization you'll be using. Moving companies offer free quotes and by exploring quotes in different price ranges, you're safeguarding yourself from paying more.
Now that you have an overview of how to pick your mover, let's share the names of some of the best movers in Atlanta with you to save your time and energy.
7 Top-Rated Movers In Atlanta, Georgia
1. 24/7 Moving
24/7 Moving has been in the moving business for over 15 years. Something that's remarkable about them is that they have over 1000 plus Google reviews and still managed to get a full 5 star rating which is unusual for a moving company. Majority of the reviews linked to the company are also overwhelmingly positive, which is why it deserves the first place on our list.
Their services are in the affordable bracket and they can assist you with packing, storage, and moving. They're an ideal company for residential style moves. So if you want an accommodating crew to take care of things when you move within Atlanta, these guys could be the ones to call.
They tick all the boxes in terms of legitimacy as well. The company's USDOT number is displayed on the website and they also have an A+ rating on Better Business Bureau. These are both indicators that the company is registered and licensed.
24/7 Moving Contact Details
Email Address – info@247moving.net
Contact Number – 404-668-0677
Address – 1130 Donald Lee Hollowell Pkwy NW, Atlanta, GA 30318
Operational Hours – 8am to 5pm from Monday to Friday. 10am to 2pm on Saturday. Closed on Sunday.
Website – 247moving.net
24/7 Moving Reviews
Google Reviews – 5/5
Yelp – 4.5/5
2. Mark The Mover, Inc
Mark The Mover has been serving communities in the Atlanta area since the year 1978. This is an established moving company so it's safe to say that they do have a loyal customer following.
The company has aged like fine wine and are experts at household moves and other demanding types of moves like office or commercial space moving. Mark The Mover also sells packing supplies so you'd most likely find everything related to your move under one roof. You can reach out to them if you need to move within the larger metropolitan area of Atlanta or even relocate outside Georgia.
Also, if you hired someone to do a background check on this company the findings would come out clean as a whistle. They are members of the Georgia Movers Association and American Moving and Storage Association (AMSA). It goes without saying that they're also accredited with Better Business Bureau and licensed with the Georgia Department of Public Safety.
Mark The Mover Contact Details
Email Address – customerservice@markthemover.com
Contact Number – 404-351-0018
Address – 1500 Carroll Dr NW, Atlanta, GA 30318
Operational Hours – 7am to 5pm from Monday to Friday. 7am to 4pm on Saturday and 7am to 12pm on Sunday.
Website – markthemover.com
Mark The Mover Reviews
Google Reviews – 4.2/5
Yelp – 4.5/5
3. Falcon Moving Atlanta
Falcon is another local Atlanta based moving company and you'd probably hear about them from people in your community if you ask for recommendations. They have won the hearts of many residents in the city through word of mouth since the owner is also a local. This is probably why they have a large number of good things being said about them on platforms like Thumbtack, BirdEye, and Top Rated Local. They also partner with several realtors so chances are that your real estate agent suggests them to you.
Keep in mind that they can help you move anywhere within the state of Georgia itself. So if you're leaving or moving into Atlanta from another region in Georgia, they'd be able take control of your move.
In terms of their pricing, they have flat rates displayed on their website. If you just need 2 professional movers and a 26 feet truck, the price is $120 an hour. From Friday to Sunday this cost is hiked by $10. It would cost $50 for an additional mover. If you feel this fits the price range you have in mind, you can consider hiring them.
Falcon Moving Atlanta Contact Details
Email Address – falconmovingatl@gmail.com
Contact Number – 678-276-6044
Address – 3014 Shallowford Rd, Atlanta, GA 30341
Operational Hours – 9am to 5pm from Monday to Friday. 9am to 4pm on Saturday and Sunday.
Website – falconmovingatl.com
Falcon Moving Atlanta Reviews
Google Reviews – 4.9/5
Thumbtack – 4.7/5
4. Atlanta Home Movers
Another full-service moving company that can help you specifically with residential moves in Atlanta. This company strives to be the first choice for residents in Atlanta when they think of moving and it certainly looks like they've got there.
It's also a fairly young company since they only began operations in 2014. But don't be taken aback or think of them as novices because they've already taken a position on the list of 4 reputable review websites that display the best moving companies in Atlanta. This proves that in a short span of time they have managed to become one of the above average movers in the city.
A great perk about using them is that they provide and use all the equipment necessary to haul your belongings into the truck at no additional cost. This is a hint that you could strike a good deal on costs, so do give them a thought and ring them up for an estimate.
Atlanta Home Movers Contact Details
Email Address – infor@atlantahomemovers.com
Contact Number – 678-403-6242
Address – 3020 Canton Rd #216, Marietta, GA 30066
Operational Hours – 8am to 6pm from Monday to Saturday. Closed on Sunday.
Website – atlantahomemovers.com
Atlanta Home Movers Reviews
Google Reviews – 4.6/5
Yelp – 5/5
5. Eddy's Movers LLC
Looking for a company that's all ears to your demands? Then Eddy's Movers could be it. They have an amazing customer service team and you'd probably give them a high rating for consultation and communication. The personnel at their office are super friendly and we suggest having a quick word with them to understand how they can handle the burden of your move.
The sales representatives would be able to get you up to speed and provide you with inventory lists, insurance documents that will help you get an accurate estimate. There's no doubt that this company has their processes in place and should be a go-to option for a well-oiled organization that's been serving Atlanta since 1988.
Eddy's Movers LLC Contact Details
Email Address – eddysmoversatl@gmail.com
Contact Number – 678 309 3807
Address – 6350 McDonough Drive, Suite D Norcross, GA 30093
Operational Hours – 8am to 4pm from Monday to Friday. 8:30am to 12pm on Saturday. Closed on Sunday.
Website – eddysmoversllc.com
Eddy's Movers LLC Reviews
Google Reviews – 4.3/5
HomeAdvisor – 4.7/5
6. Georgia Home Movers
Georgia Home Movers are considered to be a premier moving company in Atlanta. They have 3 branches within the state, this makes it super convenient for those of you who want to visit the team in person. You can pick an office that's in close proximity to you.
The 3 types of moves they are equipped to handle are residential, commercial, and corporate. Besides this they also help get rid of junk from your estate.
Whether you're clearing your basement or garage, they'd be able to haul things out so the place is sparkly clean. They accept a whole range of products like bikes, washers, tables, or some old furniture units. The bigger the amount of the junk, the higher the cost you'll need to pay. For a small load, the cost is $150 and the price can go upto $1,400.
Georgia Home Movers Contact Details
Email Address – info@georgiahomemovers.com
Contact Number – 404-536-4545
Address – 3510 Roswell Rd NE,Atlanta, GA 30305
Operational Hours – 8am to 7pm from Monday to Saturday. 8:30am to 4pm on Sunday.
Website – georgiahomemovers.com
Georgia Home Movers Reviews
Google Reviews – 4.9/5
Yelp – 5/5
7. Sebastian Moving Atlanta
Sebastian Moving are the guys you ring up when you're looking for labor-only services. They can send professionals to do the heavy lifting to load a portable storage container or a rental truck. These movers are budget-friendly and this makes them the perfect fit for those of you taking the self move approach.
In most cases you can consider these movers to be your friends who think of it as helping someone of their own. Many reviews also mention tales of the owner himself personally visiting customers' homes to ensure the move runs smoothly.
Sebastian Moving Atlanta Contact Details
Email Address – info@sebastianmovingatlanta.com
Contact Number – 404-447-3227
Address – 3000 Shawnee Industrial Way Suite 104, Suwanee, GA 30024
Operational Hours – 8am to 7pm from Monday to Saturday. 10am to 6pm on Sunday.
Website – sebastianmovingatlanta.com
Sebastian Moving Atlanta Reviews
Google Reviews – 5/5
BirdEye – 5/5
HireAHelper – 4.9/5
FAQs
How to choose a reliable moving company?
Few ways to check the reliability of a moving company is to ensure they are licensed and insured. You could also look up Google reviews to understand how well they treat their customers.
What are the 3 best moving companies in Atlanta?
24/7 Moving, Mark The Mover, and Falcon Moving Atlanta are the top 3 local moving companies based in Atlanta. You can also consider hiring Atlanta Home Movers, Georgia Home Movers, and Eddy's Movers.
Also See: Moving From Chicago To Atlanta – Expert Tips & Advice
---
Conclusion
In the list above we compiled a good number of friendly local professionals in Atlanta. To gauge whether the mover would be able to meet your needs, it's best to ring them up and start a conversation. You'd definitely have a head start by referring to this list to find the perfect mover. Also, it's best to lock down on a company 2 months in advance so that they can accommodate your requirements.
See also: Leaving Atlanta? 5 Best Places to Move from Atlanta