Moving to Asheville NC | 2022 Cost of Living & Relocation Tips


VanLines Inc
Secure Storage
Easy Booking Process
Fully Trained Employees
GET QUOTE

Colonial Van Lines
Storage Services
Long-Distance Moves
Corporate Relocations
GET QUOTE

Moving APT
Available Nationwide
Award-Winning Movers
Extensive Vetting Process
GET QUOTE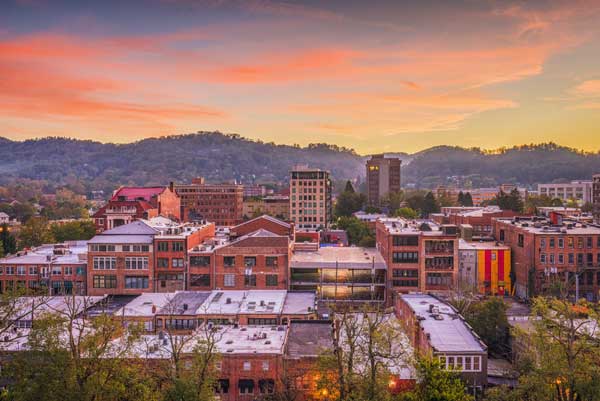 Are you considering moving to Asheville North Carolina?
If you are considering moving to Asheville NC, the following information will be helpful to guide your move.
Asheville is the largest city in western North Carolina. It is the 12th most populated city in the state of North Carolina. In 2018, the city's population was 92,452. The geography of Asheville is beautiful, it is located in the Blue Ridge Mountains. Asheville is known for its liberal attitudes, welcoming approach for LGBTQ residents and visitors and art deco. The city has elegant architecture, art and crafts. In addition, the arts, Asheville has literary history, farm-to-table restaurants, quaint B&Bs and interesting old hotels and craft beer.
The People in Asheville
Who lives in Asheville? Asheville is a large city. During the last census there were about $31,000 households of which 22% had children under the age of 18. The average median age of people in Asheville is 39 years old. For every 100 females, there are 88 males. More specifically, for every 100 females over 18, there were 85 males. As for diversity, Asheville is lacking in this area.
Asheville Weather
The city of Asheville has a humid subtropical climate. Because the city is located in the mountains, it sometimes has noticeably cooler temperatures. Summers in Asheville are comfortable and warm. The average temperature in July is approximately 74 degrees.
The temperatures in Asheville are not as hot as other cities in NC, but they can get up to 90 degrees. Rainy days are seen more commonly during the summer months. Snowfall is sporadic in Asheville. On average there is about 9.9 inches of snow per winter season.
Cost of Living in Asheville, NC
The median income for homeowners is $62, 312 yearly. This salary would allow for a maximum of $1,454 per month to be spent on housing costs. The median monthly income for renters is $33,454, allowing for a maximum of $781 to be spent on rental costs.
In 2019, the living wage in Asheville was set at $13.65, up from $13 in 2017. The living wage salary per year is $28,392. The minimum wage rate for workers is $7.25 per hour. As for cost of living, Asheville is cheaper than the U.S. national average.
Moving Costs?
Moving costs can range based on where you are moving from. Asheville has a number of local moving companies that can assist with local and in-state moves. The cost of local residential movers (in-state) range from $97 – $ 112 per hour. Asheville does not have any moving companies that service out-of-state relocation. You would need to contact a company that provides services for out-of-state moves. Moving truck rentals vary by distance and size. Asheville has moving companies that provide both a moving truck and movers. The lowest price for a moving truck rental is approximately $25 per hour and go as high as $150 per hour in Asheville, NC.
Renting Apartments
As of January 2022, the average rent in Asheville for a one-bedroom apartment is $1075. For a two-bedroom apartment the price rises to $1,230. A consideration to think about in housing prices is Asheville's rapid growth. The population growth in Asheville exceeded the national average of 1.5%. The average apartment rent over the prior 6 months in Asheville has decreased by $11. One-bedroom units have increased by $26- and two-bedroom apartments have decreased by $85.
Buying a House in Asheville NC
The median home value in Asheville is $303, 814. The home values have increased over the past five years. The median sale price last year was $297, 600.
Are you pondering whether to rent or buy a home in Asheville? If you finance a house for around $320,000 at 4% interest rate, taking into consideration property taxes, homeowners insurance and a 20% down payment on a 30-year fixed rate mortgage, your monthly payment would be approximately $1600 + per month. This price is slightly higher than renting a two-bedroom apartment. The difference is, homeownership builds equity and apartment renting does not.
Taxes
The minimum combined sales tax rate for Asheville, North Carolina is 7%. This is the total of state, county and city sales tax rates. The North Carolina sales tax rate is currently 4.75%.
Property taxes are calculated by taking the mill levy and multiplying it by the assessed value of your property. The assessed value estimates the reasonable market value for your home. It is based upon prevailing local real estate market conditions
The City of Asheville property tax rate is 0.4289%.
Types of Homes in Asheville
Many homes in the city are built into a mountainside because of the terrain of the area. Most home in Asheville are made of wood and they are less likely to be built with brick. In the Asheville real estate market, bungalows seem to be one of the most popular property requests. New buyers in Asheville will notice that newer and larger homes are being constructed to maximize mountain views. Central air is uncommon in most homes in Asheville. This is because the city experiences a fairly mild climate due to the elevation.
Additional Costs of Living in Asheville
Due to the location of Asheville in the mountains, certain homes are susceptible to the threat of wildfires. If you are purchasing a home in a heavy wooded area, you should check to see if your homeowner's insurance covers wildfire damage. If your insurance does not cover this cost, you may want to set aside funds for emergency disasters.
Many homes in Asheville are on a well or septic system. This will lower the costs of some utility bills. Although your utility bills will be lowered, you should set aside funds for the maintenance of these system. It is recommended to budget approximately $450 each year for septic system maintenance and $600 for the water filtration system maintenance.
Education System
For working parents and students, Asheville offers more than 20 childcare facilities. There are opportunities for younger kids to have access to educational centers and schooling through daycare. Asheville has child development centers and Montessori schools for younger students.
Asheville has a high achieving public school system. The school system operates two high schools, two middle schools, five elementary schools and one preschool facility. The academic curriculum is rigorous, hands-on, and technology based. There are also private and faith-based education options in Asheville.
There are multiple higher education institutions in the city of Asheville. Asheville-Buncombe Technical Community College helps boost the business community by supplying a pool of highly skilled works for new and existing industries. The college offers more than 60 disciplines including technology and information systems. The college also offers continuing education courses and career/business development services.
Asheville is also home to several public and private four-year colleges and universities.
Transportation
Asheville Regional Airport is the closest airport. The airport is located in Fletcher, NC. Asheville Rides Transit consists of sixteen bus lines that provide service throughout the city of Asheville.
Sports
The city of Asheville has its own local sports teams including a basketball team, baseball team, soccer team, and ice hockey team. These teams compete against other local cities. In addition to the local sports team, there are college sport teams as well.
Things to do in Asheville
Downtown Asheville
Asheville has a vibrant city center. The downtown area is a walkable neighborhood with a wide array of independent shops, craft breweries, and great dining options.
Explore the Great Outdoors
The Blue Ridge Mountains are beautiful, and they lure travelers from around the world to the Asheville region every year. Explore the Blue Ridge Mountain area and cherish the national forests in the area like Pisgah and Nantahala. You can also drive the Blue Ridge Parkway. It is a 469-mile scenic road passing through Asheville.
Enjoy the Food
Asheville has a number of food tours that will allow you to explore the city while tasting great food. There are also guided foraging expeditions that will allow you find your own food. Visit local farms to buy fresh meats, vegetables, and cheese. There are multiple creameries in Asheville that have award-winning cheese. Asheville also has many specialty wineries.
Mountain Culture
Asheville is home to some the best artists, writers, musicians, and architects. A guided history tour will teach you more about Asheville's array of Art Deco buildings. The childhood home of literary legend Thomas Wolfe is a popular historical attraction.
The River Arts District
The River Arts District is along the riverbank of the French Broad. Former industrial warehouses are now filled with hundreds of working artist studios. There are live exhibits and hand-crafted pieces of art for sale. Asheville is home to some classic museums. The Asheville Art Museum and the Pin Ball Museum are among the popular museums in the area.
Music
One of America's greatest music cities, Asheville has a great live music scene. The city is full of intimate music halls and neighborhood bars that highlight local musicians. On any given day, downtown Ashville is full of musicians performing live music. Throughout the year, Ashville hosts music festivals that are attended by people from all around the world. The Orange Peel is one of Asheville's iconic music venues.
The Asheville Beer Scene
Craft-brew is a staple in the area. The filtered water from the mountains makes Asheville one of the most sought-after places in the southeast for ales, stouts, and sour beers. Asheville has more breweries per capita than any other city.
Entertainment
The city of Asheville has a family entertainment center that includes indoor and outdoor go-carts, indoor mini-golf, multi-level laser tag, climbing wall, bumper cars, arcade, and bowling. The city has virtual reality arenas and escape adventures. Asheville has alternative movie cinemas and theaters.
FAQs about Moving to Asheville
Is Asheville A Safe Place To Live?
Like any other city, Asheville has its bad neighborhoods and areas. The rate of violent crimes in Asheville per 1,000 residents is 7.48, higher than the national median of 4. More worrying is the property crime rate per a thousand residents, which at 63.78 is considerably higher than the national median of 21. Overall, Asheville has one of the highest crime rates when compared to other cities its size. It certainly has plenty of safe neighborhoods, but data shows that crime levels make it less safe than other cities.
Is Asheville Dangerous?
Within North Carolina, more than 96% of the communities have a lower crime rate than Asheville. But it isn't dangerous in the sense of violent crimes like murders and rapes. According to data, you have a 1 in 16 chance of being a victim of property crime but your consolation is that these are often less harmful crimes like burglary, larceny over 50 dollars and arson. Most residents across online forums state that you should install a security system and avoid straying into unfamiliar places at night in order to live quite a regular, crime-free life in Asheville.
What Celebrities Live In Asheville?
Singer Luke Combs, actress Bellamy Young, Zelda Fitzgerald (wife of F. Scott Fitzgerald), and American Idol winner Caleb Johnson are some of the celebrities and personalities that live or have lived in Asheville. Actor Steve Martin and famous singer Gladys Knight reside just outside the city limits.
Is Asheville A Good Place For Singles?
The average median age of people in Asheville is 39 years old, and if you put yourself out there, you're bound to find luck. Though Asheville does have a good nightlife and social scene, it may not be as bustling and vibrant like those in bigger cities. Online forums seem to suggest that the dating scene is better for men than it is for women, but the consensus remains the same: how you approach the scene determines your success.
What Is The Best Part Of Asheville To Live In?
Lakeview Park is perfect for families and retirees, especially those who would enjoy the man-made Beaver Lake. Biltmore Forest is an established neighborhood that is also expensive, and may not be too appealing for the young folk looking for activity. Young professionals and young families are better off in Kenilworth, while Downtown is perfect for young professionals. Together these are some of the nice neighborhoods in Asheville.
Where Should I Retire In Asheville NC?
Asheville is steadily becoming a prime location for retirees looking for a nice city to call home, and it has several retirement communities. Some of the best ones are French Broad Crossing, Givens Estate, Reynolds Mountain, Smoky Mountain Retreat, and the Creston Community.
What Is Asheville Known For?
Asheville is known for its proximity to nature, subtropical climate, and great music scene. It is most notably known as "Beer City USA", and has over 25 different craft breweries in the city.
What Is The Crime Rate In Asheville NC?
Over 96% of communities in North Carolina are safer than Asheville. But keep in mind that Asheville is the biggest city in the state, and like any other big city, it attracts crime. The violent crime rate in Asheville is 7.48 per 1,000 residents, higher than the national median of 4. 63.78 is the rate of property crimes per 1,000 individuals, notably higher than the national median of 21.