6 Best Cities For Music Lovers


VanLines Inc
Secure Storage
Easy Booking Process
Fully Trained Employees
GET QUOTE

Colonial Van Lines
Storage Services
Long-Distance Moves
Corporate Relocations
GET QUOTE

Moving APT
Vetting Process
Award-Winning
Available Nationwide
GET QUOTE
Our Take
Price
Rating
Minimum Shipment Size
Storage
Booking Deposit
Cancellation Policy
Quoting Options
Discounts

Best Overall Value


GET QUOTE

2+ bedrooms




Free 30 Days




10%

Free up to 72 Hrs

Phone / FaceTime / Text

Senior / Same day Booking

Best Industry Reputation


GET QUOTE

1+ bedrooms




30 Days




20%

Free up to 72 hrs

Phone / Facetime

Seniors Discount

Best Customer Service


GET QUOTE

1+ bedrooms







Free up to 72 hrs

Phone / Virtual



Do you find yourself to be a person who is looking for a city with good transit systems, clean neighborhoods, but above all else, a good music scene? Let's face it, being close to venues that play live music is as important as picking a safe neighborhood for some. We're not judging and completely get where you're coming from, especially if you're a music aficionado.
When the love for music runs deep in your blood, we also get how it can be slightly disappointing to live in a city where that feeling isn't mutual or celebrated. This is probably why you're on the hunt for a music city, so sit back and relax because we've got you covered. We've picked out 6 of the best cities for music lovers and you can consider these as you look for the city that wins your heart.
Top 6 Cities For Music Lovers
1. Nashville, Tennessee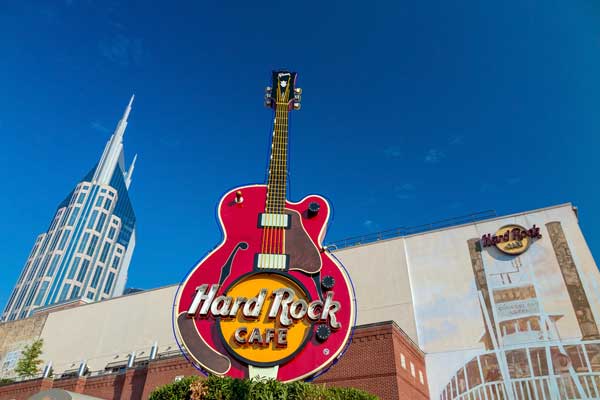 When you think of a city with a large percentage of passionate musicians, you think Nashville! It is dubbed to be the 'Songwriting Capital of the World' and 'Music City', making it earn the first spot on this list. If you want to discover fusions or originals of rhythm and blues, this is the place to move to. What's great is that there's a strong presence of country music and even venues where you can catch musicians in their element.
You'll certainly love the lights and atmosphere at Broadway which is a strip in downtown Nashville where you catch artists playing live music. There's also Honky Tonk Highway on Lower Broadway where there's plenty of pubs and bars you can hop to enjoy music till 3am.
Interestingly, Willie Nelson, Kris Kristofferson, Gretchen Wilson and Dierks Bentley are few of the legendary singers with Wikipedia pages dedicated to them, but first began their careers on these streets. All we're saying is that it's possible to meet a legend or someone who will be a legend soon at a song writer's club, festivals and concerts.
There are also various iconic sets dotted across town where you can see a show and chill with like minded people who also love music. We'd like to mention that Tennessee itself is a great state to consider moving to if you enjoy music. Besides Nashville, the state is home to the city of Memphis, which is the birthplace of rock and roll.
Upside
You get to live in a fast paced growing city where companies like Apple and Amazon are also setting up their headquarters. Another plus is Nashville is diverse and has an active entertainment energy, so you should have a great audience.
Downside
The atmosphere of certain pockets is extremely touristy, so the traffic can be excessive and to an extent an annoying factor for residents who live in Nashville.
Quick Facts
Median Value Of Home – $239,000
Median Rent – $1,100
Also See: Moving From NYC To Nashville – Expert Tips & Advice
2. Chicago, Illinois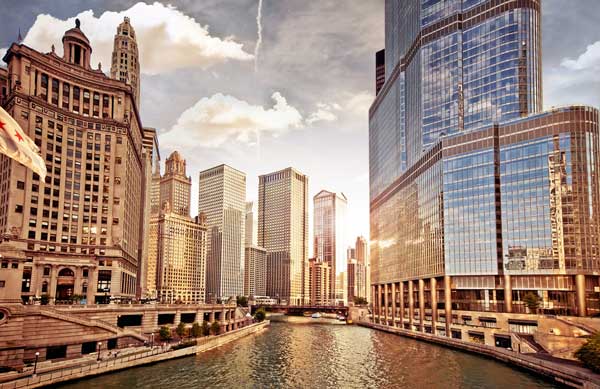 Most cities carry a distinct theme and if you ever visit Chicago, you'll certainly believe that it's rock and roll. Music is an integral part of the fabric that makes up the culture of Chicago. The city has some of the most fascinating music neighborhoods that can make a musician fall head over heels in love with the place. For instance, Riviera Theatre, Aragon Ballroom and The Metro are great places to catch live music.
There's also no shortage of jazz clubs and venues where you can catch live bands playing past midnight. A great positive aspect is that as a resident, you would get to attend world-renowned music festivals, without having to book flights. Besides music, the other pro is you get access to a world-class cosmopolitan city. The job market and cost of living is pretty decent so this allows you exposure to other ventures too.
Another big perk is that if you live here, you may not need a car to get around. You can use the Chicago Transit Authority (CTA) or the Metra which is a commuter rail line that connects you the largest suburbs in the city. Many parts of the city are walkable too. These are the mix of reasons you should consider moving to Chicago.
Upside
It's an affordable metropolitan in comparison to other cities it's size. The amenities offered are great for the cost you pay.
Downside
Lacks mountains and the winters can be brutal. The cold winds during winters are strong and the abundance of snow can make it difficult to get out. At times the temperature remains at 0 F for days and even drops below that.
Quick Facts
Median Value Of Home – $258,000
Median Rent – $1,112
3. New Orleans, Louisiana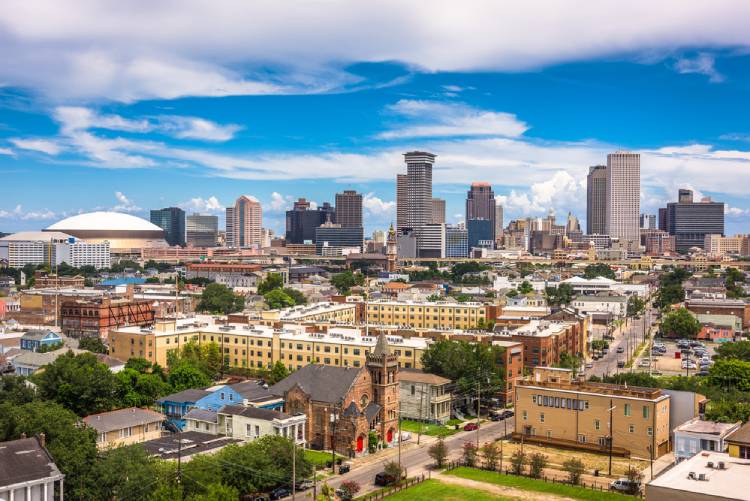 Want to meet musicians on the street? Well, the probability for that to happen is pretty high in the city of New Orleans, be it at 1am or 2am! Yes, you can think of leaving your home at these odd hours and find 24 hour music clubs open for your entertainment.
Like Chicago, you can also count on New Orleans for festivals and multicultural events. It possesses quite a lively spirit and the atmosphere here is experienced during the Mardi Gras season too. All in all, New Orleans has lots in store when it comes to food, drink and music.
Many musicians tour the city in search for inspiration, so there's a mix of locals and tourists playing at live venues. Bourbon Street and the French Quarter are some of the best places to immerse yourself in the liveliness of New Orleans.
We'd also like to mention that SmartAsset, a personal finance website, once stated that New Orleans is the number 1 city for those drawn to creative jobs. This makes it a great city to consider if you're a singer-songwriter or an artist of any kind.
If you'd like to move here, we'd highly recommend checking out these 5 neighborhoods –
Bayou St. John
Marlyville-Fontainebleau
Audubon Park
Garden District
Faubourg Marigny
Overall, it's hard to get bored in New Orleans because the city has a strong personality.
Upside
The city has a diverse and cosmopolitan character. It also lies right next to the Mississippi river so you would always have a spot for recreational activities.
Downside
The weather year round in New Orleans is pretty decent, but at the same time you have to worry about floods when there's a heavy downpour.
Quick Facts
Median Value Of Home – $231,500
Median Rent – $998
4. Austin, Texas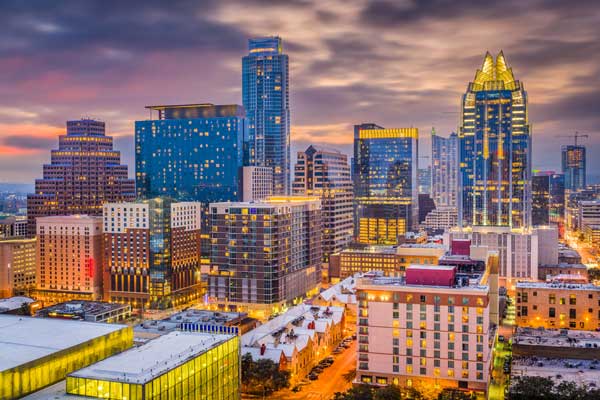 Austin, like the others on this list, is far from a droopy town when it comes to live music. There's end number of live music venues for a city this size because of which Austin even earned the title of 'Live Music Capital of the World' in 1991. So, if you want to expand the network of people you know in music, this would be a good city to consider. The music scene is way more active at the various pubs and bars in the heart of downtown Austin.
The city is also a great hub to find well paying jobs. If you're considering keeping music as a side gig, you can take advantage of the diverse job opportunities in Austin. The city is home to a good number of jumbo sized companies like Hewlett Packard, Google, Dell, Apple, Facebook and Oracle.
Since the campus of the University of Texas also lies here, it happens to be a top pick for students and young professionals. You'll probably find the chance to excel at both a creative line of work and a job that gives you a steady income in a place like Austin.
Upside
The commute time in Austin is incredible and the spirit of the city is as lively as New York or a city like San Francisco.
Downside
The city is flooded with people and the increasing population is making prices competitive than before.
Quick Facts
Median Value Of Home – $231,500
Median Rent – $998
5. NYC, New York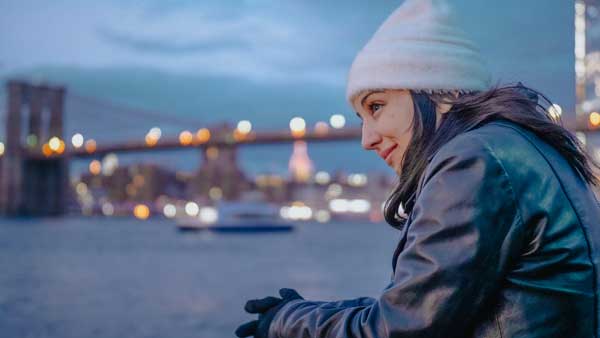 NYC is among the top tier cities to get considered a music city. You can say that the fan base here is large and it has been an epicenter for music for donkey years. The city also has a huge population, so the potential for a bigger audience is always more than small sized cities.
You may have to work harder to get through the music industry since the competition in New York can be tough, so that equals to more hardship. However, you can count on fellow musicians to have support to grow, and you'd also be living in one of the most desirable cities in the nation. Sounds like a win-win situation to us.
The city is also home to various private schools of music and the prestigious Juilliard School, so it's great for those of you looking to learn music as well.
If you wish to get a taste of the actual music scene in New York, we highly recommend going to Greenwich Village if you can possibly visit the place before moving. Bowery Ballroom, Madison square garden and Radio City Music Hall are other notable music venues. There's countless bars and outdoor dining areas where you can always catch live music as well.
The biggest plus point is that New York is a 24 hour city and the energy of a New Yorker is unparalleled with any other city.
Upside
Great options for commuting, you may not require a car and can easily take the subway to make your way to different venues frugally. You also get to try all kinds of cuisines and meet interesting people since New York is culturally diverse.
Downside
Rents can be unreasonable for the size of the apartment, plus taxes are also among the highest in the nation.
Quick Facts
Median Value Of Home – $606,000
Median Rent – $1,443
6. Asheville, North Carolina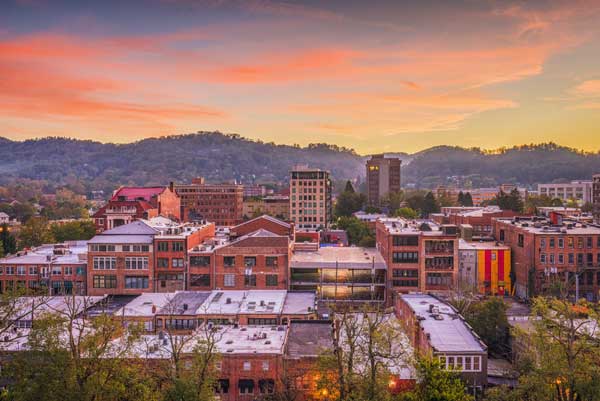 Now Asheville comes last on this list since it is still an up and coming music city. It's among the new cities that are slowly getting recognition to be oriented towards musicians. This is why most people also point out that Asheville could be the next Nashville.
The music community in Asheville is unique, you'll find the hotspots in the most odd spots, like a garage or even a church. The music isn't as large as Nashville or New York, but like we said earlier, it is slowly growing.
Also, if you pick Asheville, you'll be surrounded by the breathtaking vistas of the Blue Ridge Mountains. This could probably also be inspiration for a song you're writing. Art, music and food are also essential parts of this city's personality. It's common to find art exhibitions showcasing local artists in various parts of the city, so there's no doubt there's a special place for artists in Asheville.
A possible advantage in this city is that the music venues aren't as clustered as the others on this list, so there could potentially be less competition. Overall, music is a major part of life in Asheville, so it's a safe place to set foot if you're inclined towards meeting like minded people from the industry. Also, note that Asheville is a smaller sized city, so the pace of life has less of the 'hustle and bustle' patterns.
Upside
You get to live in close proximity to the glorious Blue Ridge Mountains, it's roughly an hour away from downtown Asheville. So, if you love nature equally and like activities like hiking, swimming these opportunities won't be too far from home.
Downside
The ever-growing tourist industry makes few hubs more crowded than it used to be. The consequence of which is things like increasing traffic and peak in real estate rates.
Quick Facts
Median Value Of Home – $270,400
Median Rent – $1,043
---
Final Thoughts
The health of the music industry in these 6 cities are unlike any other. All these have multiple venues where you can catch live music from legendary artists as well as upcoming. What we mean by this is that music doesn't go unnoticed and isn't saturated here. You'll probably be able to find recording studios, agencies and management companies in large numbers. So why not be in a city where you can increase the odds of making it big in an industry like music?
Overall, if you're a budding musician or a pro, we believe your passion for music will most likely be embraced with open arms in these cities in comparison to other cities. So, if you're thinking about which cities to pick, we highly recommend considering these cities. Also, keep in mind that location is just a small factor that helps you accelerate your career in music.
FAQs
Which cities have the best music scene?
Nashville, Chicago, New Orleans, Asheville, Austin and New York are some of the best cities to move to for the music industry. They could be considered as the most musically inclined cities.
Where should I move to pursue music?
Los Angeles and New York are some of the top tier cities that have a ton of reputed music schools. Nashville, New Orleans, Chicago, Austin and Asheville are some of the other cities that allow you to grow as a musician. All these cities are home to several record labels that draw more musicians and this ultimately helps you cultivate your passion for music and build a career in it too.
Which city is considered to be the live music capital of the world?
The city of Austin earned the title of the 'Live music capital of the world' in 1991. This is because the number of live music venues per capita was extremely high.
What city has the most live music?
Austin has the most live music with almost 1,007 live music venues. The city takes pride in it, and is thus named the 'Live Music Capital Of The World.'
Which city is considered the music capital of the world?
The city of Austin in Texas is considered the music capital of the world. One of the many reasons for earning this title is that the city has a large number of music venues.
What is the music capital of America?
Nashville can be considered the music capital of America because of the great country music deeply rooted in the city along with the best live performances, festivals, and songwriting. New Orleans is also a great music place as it's the birthplace of jazz music.
What city is known for blues?
The city of Chicago is known for its blues. This style of music came into being after the Second World War when several African-Americans were moving for employment towards the north.
Where do the most musicians live?
New Orleans is known to have the most musicians where you'll greet musicians on the streets regardless of what time you wander in the city.
What city is known for funk?
Dayton is known for funk music as it has contributed greatly to 90s rap music. Along with that, the city boasts of its great history in music, museums, exhibitions, and movies.
Is Austin a Music City?
Austin is a great music city with a large number of music venues and concerts all through the day.
Where should a musician live?
New York City is one of the best places where a musician can live as the city has a variety of genres, music venues and has musicians of all kinds. Nashville, Chicago, New Orleans, and Asheville are other great music cities for musicians to live in.
See also: Tips to Pack Your Entire Art Studio