Tips to Pack Your Entire Art Studio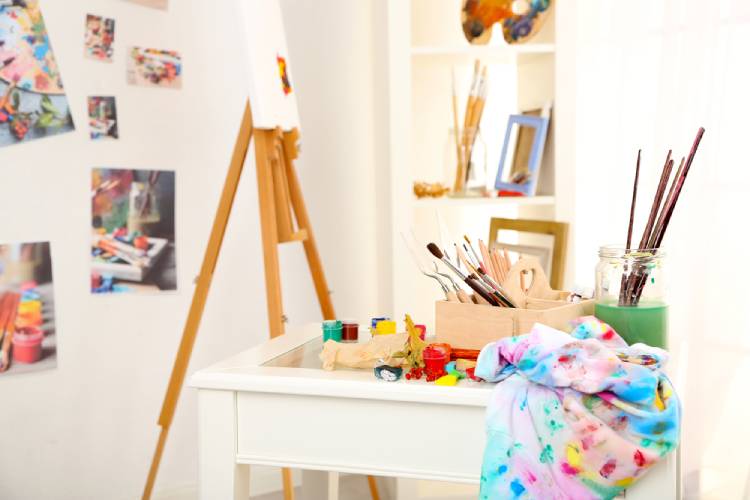 Whether you're revamping or leaving your art studio, packing it all up is a mammoth task. Things can go down south if you're not careful enough. You don't want to reach your new studio only to find paint all over your art supplies, let alone on your pieces of art. No amount of insurance coverage is going to bring back a priceless artwork.
You can trust the movers with loading and shipping your studio items. But only an artist knows how to pack valuable belongings since belongings of an art studio include artwork worth years of hard work. By artwork and artist, we don't just mean paintings and painters. Even photographers, sculptors, musicians, architects, graphic artists have art studios. Basically, any workroom where an artist creates their art pieces is an art studio. So let's jump right into how to pack an entire art studio.
Things You Will Need
Go to the store and grab some high-quality packing material. Moving an art studio is completely different than moving a household. You can use recycled moving boxes for other moves but not when an art studio is in question. Artwork is fragile and valuable, so you must invest in quality packing supplies. Regular packing boxes are too thin to protect your delicate art supplies. Pack them up in heavy-duty cardboard boxes for added safety. Use ample bubble wrap or packing peanuts to act as a buffer between your artwork and the box. Only adding newspapers in between is not enough.
Here are some things you'll need:
Stretch wrap
Blue painter's tape
Cardboard tubes
Custom wooden crates
Heavy-duty cardboard boxes
Packing paper
Bubble wrap
Packing peanuts
Permanent marker/color pens
Glassine paper
Eliminate Things You No Longer Need
Downsizing lessens the weight of your shipment and lets you start afresh at a decluttered new studio. You need to keep sentiments aside and let go of your old artwork. Surely your work must have evolved over the years. So old artwork that isn't in line with your current style can go. Sell it off at a discounted price or donate it to charities or hospitals. Such organizations will be more than happy to hang up artwork donated with love on their walls.
Then comes your art supplies. Check for paints that have dried and dispose of those glass bottles. Brushes with brittle bristles too can go. Don't hold on to things you hardly use, like pumice. Many artists add pumice powder to paint to give their art a matte look. But if you don't use it that often, better eliminate it. Likewise, go through your belongings, and start downsizing.
Pack Chemical And Flammable Supplies Separate
Some of your artwork or supplies need to go in the cold storage. Certain things like chemical substances and flammable supplies should not be sent with the movers. Here's the reason: many moving companies have rules set against shipping flammable materials. They are set in place keeping the safety of their equipment and professionals in mind. If you try to camouflage any item that's flammable with other items and ship it, it can be illegal.
For instance, almost every other artist has turpentine oil paint in their studio which is used to thin oil paint and clean brushes. It might look completely harmless to you. But when in the moving truck, the high temperatures inside the storage can cause toxic substances to leak. If the fumes enter your mover's body, it can be dangerous. So better dispose of such chemical substances or flammable supplies. You can even give it off to another artist who lives in your town.
See also: What Will Mover Not Move
Roll Up Loose Artwork In Cardboard Tubes
If you think you can just pack up those loose sheets of artwork in a cardboard box, you're mistaken. Doing so can cause their edges to bend and tear. A better way to pack loose artwork is by rolling them up and storing them in cardboard tubes. You'll find dozens of such tubes easily in the market at cheap prices. Look for tubes that have a diameter of a minimum of 3 inches. This ensures that your artwork doesn't get folded into little rolls to fit small tubes.
Try to allocate one cardboard tube per loose artwork. But if you are short of tubes and have too many flat files, you can pack multiple sheets in one tube. Just remember to place glassine paper in between two loose sheets, so as to prevent the sheets from sticking to each other. Finally, pack all these tubes into cardboard roll files. Never toss them directly into the moving truck.
Protect Framed Paintings Like Mirrors
Your framed paintings are the most fragile pieces of your art studio. Look at them like delicate glass or a mirror that can shatter at the slightest impact. This is why it becomes so important to pack them up properly. Get your hands on some painter's tape and create an 'X' on the glass. The same way you put masking tape on a mirror. A trivial step like this can keep the glass together in case there is breakage during the bumpy ride. Once that's done, generously wrap the framed painting in stretch wrap. Securely place some extra bubble wrap around the edges and corners of the frame. Before packing it up in a box, fill the box with packing paper or packing peanuts for added security.
Never Use Newspaper To Pack Canvases
Wrap an artwork painted in oil paint in the newspaper, and you'll see your painting replaced with abstract art when you unpack it. We're almost kidding. By abstract art, we mean the funny patterns that the newspaper ink will leave on your painting. If your artwork is dear to you, which it obviously must be, wrap them in stretch wrap first. This ensures nothing sticks to the oil paint, not even packing peanuts that have the tendency to do this.
Stretch wrap also protects your artwork from moisture and heat. Plus, it absorbs the impact of shock during moving. Be extra careful with a painting that is still wet. Finally, pack it in heavy-duty cardboard boxes, cushioned against packing peanuts—the same as you would pack framed paintings.
Pack Ceramics And Sculptures In Crates
If you're a sculptor or have any 3D models in your art studio, you need to pack with caution. Any amount of bubble wrap cannot hold sculptures in thin packing boxes. You need custom-made crates for the sculptures. If they have built-in padding, then that's the cherry on the top. Wooden crates ensure nothing breaks during shipping or moving. You can ask a moving company to build custom crates for you.
Many companies send over professionals to measure your larger sculptures and then build crates to accommodate them. This is going to be expensive, but surely your artwork is more valuable than any fat bill by a moving company. If you have a sharp hand at carpentry and have the needed tools, you can make custom crates yourself. Just don't hurt yourself in the process!
Give Brushes And Paints Separate Places
Don't pack paints with other art supplies. You can never rely on paints, they can spill any time despite all the packaging. Seal all paint bottles with stretch wrap. Be extra careful with oil paints and paints with flammable substances. If you leave them in the heat for long, they can get ignited. So keep them away from direct sunlight once you're done packing. Tie brushes together with rubber bands on their handles before wrapping them up in a stretch wrap. For larger items like a pottery wheel, follow the same process you did for artwork. Stretch wrap, packing foam, and then a box.
Sort And Label Everything
Trust us, it's going to be a mess. You'll be dealing with everything that you accumulated over so many years. The longer you've been in that art studio, the more things you need to pack. Sorting is going to solve half your problems. Let the finished artwork go to one end of the room, the rough sketches can go to another corner. In the finished artwork, bifurcate the canvases and the framed paintings. Then come to the art supplies, divide the oil paints, acrylic colors, and watercolor. Pack everything separately and then fetch for color pens.
Start labeling everything in different colors; you can use a permanent marker if you like. This will help you while unpacking. It also tells you which items to load last in the truck and unload first upon reaching the destination. Like, if you're carrying flammable materials or chemicals in the car, the label will tell you to unload it first.
Packing Art Studio For Other Professionals
As we mentioned above, an art studio isn't meant for painters alone. There are many other creative professionals who work in their art studios. Packing the items they use is a tough ride too. A quick look at how to pack an art studio designed for other artists:
Be Careful With Architectural Models
Packing your studio as an architect can be a pain. But patience will make things easier. You don't have to worry about the T-square, mechanical pencils, and other tools. Pack them the same way we asked you to pack art supplies. When it comes to the drafting board, pack it like you would pack a canvas board.
The peak of your challenge comes when you pack an architectural model. One wrong move and all your efforts are down the drain. Better to research companies that build custom crates for architectural models. You can ask your movers if they can arrange for a custom crate. While packing the model in such a crate, leave no room for it to move inside the crate. Cushion it with ample packing foam so it stays put.
Take Special Care Of Camera Gear
If you're a photographer, your camera equipment is surely dear to you. Packing up an art studio means packing everything from lights to reflectors. While packing all this equipment is easy, it's the camera body that needs attention. Pack the camera body and lenses separately. Wrap them up in several layers of clothing or shirt, an old sweater too works. Then, pack them in bubble wrap. And add layers of bubble wrap to the sides, top, and bottom of the box you are placing your camera and lenses in. If you're shipping camera gear over a long distance, buy extra insurance above the basic coverage.
Protect Your Musical Instruments
We know musicians value their instruments, and packing them is entirely different than furniture or appliances. You must not worry about packing a piano, since there are movers who specialize in moving pianos.
Guitars and other string instruments need special care. Strings for such instruments need to be loosened before packing. Before keeping them in their hard case, add crumpled paper for cushioning against sudden movements. Avoid packing peanuts for cushioning since the peanuts can get stuck between strings.
For drums, detach the rims and heads of all drums. Then proceed to place them one inside the other, pack the drums and their rims separately. Tension rods, spurs, legs should all be packed in bubble wrap and secured with packing tape.
Also See: How to Pack a Drum Set for Moving
Double Box Electrical Equipment
Are you a graphic designer, animator, or filmmaker? We have a solution for you too. We know every artist needs an art studio, a creative space to work in. Surely packing up the entire electrical setup you work on is a giant task. Prepare well before you pack.
Keep a backup of all your data before you pack anything. Take pictures of your current setup so it is easier to assemble it later. This is particularly important for wires and cords and the devices they connect. If you're packing a printer, remember to remove toner or ink from the machine. Pack this ink separately, seal it with stretch wrap and tape. Don't use packing peanuts while packing electronics, since they fail to protect electronics against static electricity. Use packing paper or crumpled brown paper to pack electronics in a box. Try to double-box equipment that is fragile, adding ample padding between the two boxes. This will give maximum protection to your electrical equipment.
Conclusion
After you've packed and moved, unpacking after reaching your new destination will be tiring. You can ask your movers to help you with unpacking or just call up your friends to help you set up. Keeping your creative spark burning during packing and moving is necessary. Carry a sketchbook, a camera, or a notepad during the move to keep the artist in you alive. Because the inspiration for art can strike anytime.
FAQs
Are There Special Moving Services To Move An Art Studio?
Yes, you can avail white glove delivery service to move your studio. This is a premium service offered by many movers. It includes special care while shipping and moving valuable items. This luxury service is carried out by professionals trained for conducting special moves. They move heavy items, oddly-shaped belongings, fragile items, artwork, and so on. White glove services do cost $115 to $200 more than normal moves but are worth the charges.
See also: Furniture Companies with White Glove Delivery Service
Can I Set Up An Art Studio At Home?
Yes, you totally can! If a room in your home has access to a sink and water, daylight, electric sockets, and storage space, it is ideal for an art studio. A spare room with a north-facing window is great for a studio since there will be natural light falling on your easel. If you don't have a spare room within the house, you can create an art studio in – a garage, in the basement, or under the stairs. Utilize attic space to store art supplies.
See also: Cheap Movers for Your Relocation | Best Places Online to Buy Art for New Home