How to Finance a Move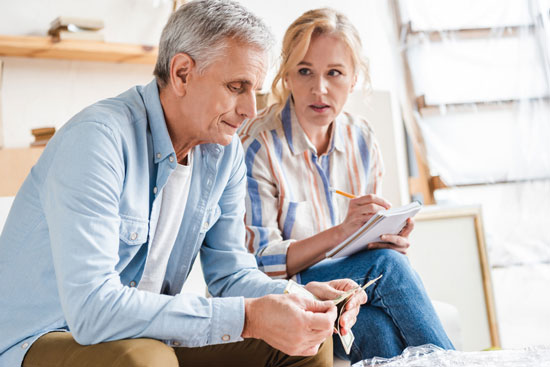 We face several financing decisions during the course of our lives. For example, how much of a down payment on a new car do I need to make for lowering my monthly debt payments? We also have to figure out how much we can afford to pay monthly on a home mortgage loan. One financing decision that most of us never consider involves one of life's least liked events.
We typically do not consider how to finance an out of state relocation.
Whether you plan to move across town or to the other side of the United States, moving is a costly life event that requires plenty of financial planning. The average move within your state is around $2,300. Moving out of state can double the amount to nearly $4,600.
Why is the cost of a move so high? The answer is several financial variables. You have to pay for expensive moving equipment, as well as cover the wages of highly skilled professional movers. Tack on the cost of insurance and the expense of paying for fuel and your moving bill will prompt you to think about how to finance a move.
Top 7 Ways to Finance a Move
Let's review the seven most popular ways to finance a move.
Cash is King
The benefits of paying cash for a move include not having to deal with onerous interest charges. You also take care of the entire moving bill at one time, which means not sending a lender monthly payments to finance a move. Paying cash for a move requires careful financial planning. If you find out about relocation because of a professional reason, your employer might not give you enough advance notice to plan financially for the move. If you pay cash to a moving company, make sure you receive a receipt confirming the financial transaction.
Put the Moving Bill on a Credit Card
Putting the entire amount of a moving bill on a credit card might appear to be counterintuitive. After all, many credit card agreements include restrictive monthly interest charges for receiving the credit issued by a credit card company. Moreover, putting the entire cost of a move on a non-revolving credit card such as an American Express account seems to defeat the purpose of charging your moving expenses.
Not so fast
Most moving companies, especially the companies that specialize in conducting expensive long-distance moves, gladly accept credit card payments, and for a good reason. Outside of cash, a credit card payment quickly appears on the income side of a moving company's balance sheet. You benefit because you delay making a payment on your move, as well as spread out payments, instead of having to fork over a considerable amount of cash.
Just make sure you have a large enough credit card balance to cover an expensive move. You also should consider how long you expect to pay off the cost of a move charged on a credit card. Interest charges can keep your credit card account way above what you want for stabilizing your finances.
Apply for a Personal Loan
Taking out a personal loan is an excellent option for how to finance a move. Your interest rate will much lower than the interest rate attached to your credit card accounts. Personal loans also have fixed payments that can last more than two years, which means your monthly payment on a personal loan will be much more affordable than what you have to pay as a minimum on a credit card balance.
Taking out a personal loan is a good idea for people that plan to spend thousands of dollars on the move. If you need to borrow less than $1,000, then applying for a personal loan does not make sense. Personal loan applications take considerable time to process, and if you apply for a personal loan too late, you might be left holding the lint in your pocket, instead of the cash you need to finance a long-distance relocation.
Hold a Garage Sale
One of the tasks on your moving to-do list should involve deciding what stuff to take with you and what stuff to leave behind. By "leave behind," we do not mean leaving your things on the curb. You should derive a little cash from your discarded things by holding a yard/garage sale. In fact, holding a yard or a garage sale can cover the costs of a move made across town.
You need to organize the yard or garage sale weeks in advance of your move to ensure you have enough cash to finance a move. Of course, weekends are the best time to generate money by holding a yard or a garage sale. The key is not knowing when to hold a yard or a garage sale, but how to publicize your event. Multiple day yard and garage sales can bring in a significant amount of cash; may be enough to finance a more expensive cross country move.
Have Your Employer Pay for the Move
Many moves are made because of professional reasons, from receiving a promotion to work in another city to landing a dream job across the nation. Whatever the professional reason for a move, your employer should foot at least some of the moving bill. Many employers sweeten compensation deals for new employees by offering to take care of entire moving bills. How to finance a relocation can require as little work as having your employer ask you to submit every invoice that is directly related to your move.
Liquidate Financial Assets
We already talked about liquidating discarded possessions into cash to finance a move. Apply the same principle to your financial assets. For example, an interest bearing Certificate of Deposit (CD) can be quickly liquidated into money that finances a move. You have to consider financial assets that are easily converted into cash. On the other hand, you want to avoid tapping into your retirement account or any long-term securities that penalize you financially for liquidating the financial assets.
In a perfect world, you want to pay for a move with as much cash as possible. By paying in cash, you avoid costly interest charges, as well as not have to deal with budgeting for monthly debt payments.
You should also know there is not one correct solution to finance a move. Your decision on how to finance a relocation can involve using two or more of the six popular ways to finance a long distance move we have listed in this article. For example, you can take out a personal loan to pay for most of the cost of a move, and then pay off the moving bill by putting a small amount of the bill on a revolving credit card.
If you are planning for a long distance or cross country relocation, then 9Kilo Moving website can help you get free moving quotes from best moving companies in USA! It is recommended to also try the online moving cost calculator!