Moving to Rhode Island | 2022 Cost of Living and Relocation Tips


VanLines Inc
Secure Storage
Easy Booking Process
Fully Trained Employees
GET QUOTE

Colonial Van Lines
Storage Services
Long-Distance Moves
Corporate Relocations
GET QUOTE

Moving APT
Vetting Process
Award-Winning
Available Nationwide
GET QUOTE
Our Take
Price
Rating
Minimum Shipment Size
Storage
Booking Deposit
Cancellation Policy
Quoting Options
Discounts

Best Overall Value


GET QUOTE

2+ bedrooms




Free 30 Days




10%

Free up to 72 Hrs

Phone / FaceTime / Text

Senior / Same day Booking

Best Industry Reputation


GET QUOTE

1+ bedrooms




30 Days




20%

Free up to 72 hrs

Phone / Facetime

Seniors Discount

Best Customer Service


GET QUOTE

1+ bedrooms







Free up to 72 hrs

Phone / Virtual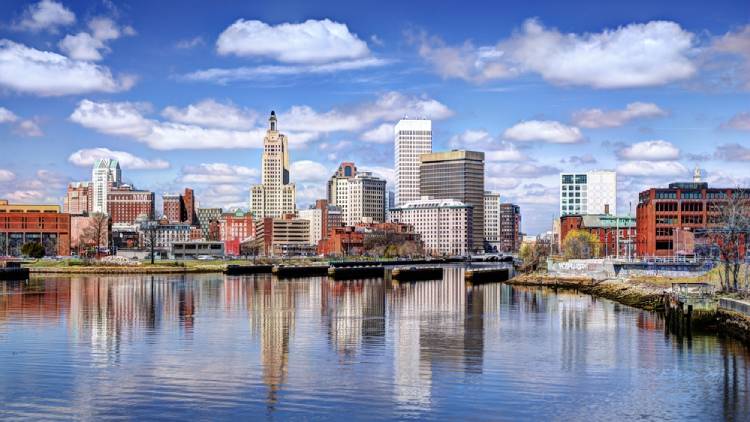 You know how they say that it's often the little things that make a huge difference? Well, it sure can apply to Rhode Island. This little island on the east coast is not just the smallest state in the nation, but it also happens to be the seventh least populated region. It's true that even the second smallest state (Delaware) is twice the size of Rhode Island. You may have to squint your eyes to find it on the map, just like you do to read fine print. But the incredibly compact size is just one of the interesting factors of living in Rhode Island.
Since you'll be moving from a bigger state into the tiniest one, chances are that you'll find things to be reasonably close here. So much so that you perhaps run into familiar faces often. The state is also appealing to many for its scanty traffic, close proximity to big cities like New York and Boston, small town charm, miles of unspoilt beaches and quaint islands. Another aspect that newcomers find impressive is that you can reach anywhere within the state in less than an hour.
In all honesty, it would truly take you roughly an hour to cover the state from the north-south direction, while it's even lesser if you drive from east to west. It shouldn't be shocking to hear that anything beyond an hour is considered to be a long drive in Rhode Island! We know that reading a miniature version of the state's profile isn't going to cut it if you have to uproot your whole life to move here. Therefore, let's delve into other practical aspects to help you form a better perspective about moving to Rhode Island.
Weather in Rhode Island
As a transplant, you may have to get used to the fact that the temperatures in Rhode Island can swing in every direction. Weatherwise, things are pretty inconsistent and could be termed as 'moody'. You could have days when it's unreasonably cold during the summers too, even though ideally it should be hot. But on an average, the state enjoys roughly 200 days of sunshine, while the rest is a mix of bitterly cold days and moderate precipitation. Overall, the quote by Mark Twain, 'If you don't like the weather in New England now, just wait a few minutes' truly applies to the climatic conditions of Rhode Island. Having said that, below is a gist of the estimated temperatures you can expect throughout the year.
Winters (Mid November to Mid March) – Winters in Rhode Island are cold, snowy and far from being mild. It is necessary to be prepared to battle the icy conditions of the season. Average temperatures fall in the range of 15°F (-9.4°C) to 20°F (-6.7°C) for most of the winter months. Things are slightly warmer in the coastal regions at 25°F (-3.9°C). If you're a fan of snow, you'll enjoy the fact that the state receives roughly 8-14 inches of snow in a month, which is approximately 22-55 inches of snow annually.
Spring (Mid March to May) – During the transition from winter to spring, snowfall decreases to roughly 4-12 inches. Do note that early spring tends to register the most amount of rainfall, so you have to factor in the unpredictable rains. In spring, average high temperatures could be anywhere between 63°F (17.2°C) to 70°F (21.1°C). While low temperatures could drop to 45°F (7.2°C) to 50°F (10°C).
Summers (June to August) – Summers in Rhode Island switch between warm to hot. At times, temperatures do cross the 90°F (32.2°C) mark. But on most days, you can expect it to come under the 73°F (22.8°C) to 78°F (25.6°C) zone. The coastal areas tend to be cooler during the summers. Keep in mind that you have to watch out for the occasional thunderstorms especially in the month of August.
Autumn (September to the beginning of November) – Fall is when the weather turns around and it gets pleasantly comfortable. You can expect temperatures to come under the lovely range of 52°F (11.1°C) to 75°F (23.9°C) range. Yes, at times it can get cold, so it's necessary to carry a light jacket. Bristol, the tree-lined streets of Providence and the small village of Jamestown are some of the best places to catch fall foliage.
Transportation In RI
Intra City Travel In Rhode Island
Buses
Public transportation in Rhode Island primarily consists of bus services operated by the Rhode Island Public Transit Authority (RIPTA). Major hubs and roughly 38 cities and towns are connected to each other via the bus service. The most convenient fixed bus routes fall in the downtown Providence area, Pawtucket and Newport. A huge percentage of the population depend on the RIPTA to get in and out of the Providence area.
Bicycle paths
Apart from the bus, Rhode Islanders also have the option to make use of the East Bay Bike Path. This is a railway track that was no longer in use and hence got converted into a 14.5 mile path for cycling. The path begins at Providence and travels up to a point in Bristol County. The trail never disappoints and is used annually by over a million residents.
Highways
Rhode Island also has an extensive network of well-connected roadways. And you'll probably find yourself using the highway almost everyday to get around the state. Some of the primary roads are:
Route 4 – This is a freeway that runs in the north-south direction connecting big cities like Warwick and Providence to beach communities in the South.
Route 10 – This roadway plays an important role to connect all the urban centers of the Providence region. It's also called 'the urban connector'.
Route 37 – Another freeway, but this one runs in the east-west direction and merges with interstate 95.
There are also several bridges that connect the islands on the bay to the mainland. The Claiborne Pell Newport Bridge and the Jamestown-Verrazano Bridge are two of the most commuted bridges among the rest.
See also: RI DMV Change of Address
Railways In Rhode Island
Amtrak, which is the passenger railroad service that serves most of the cities in the United states, has 2 train lines running through the state of Rhode Island. In total, the whole state has 3 Amtrak train stations. Below is a short snippet of these two train lines:
The Northeast Regional – This is a convenient route for those looking to explore the entire east coast. It's not necessarily an option for intra city travel, but is an option for those who wish to travel to cities like Boston, New York and even Washington D.C.
The Acela Express – This rail line travels between Boston and Washington D.C. multiple times a day. Residents of Rhode Island can board this train at the station in Providence.
Airways in RI
Some of the primary and most extensive airports of the state of Rhode Island are:
Theodore Francis Green State Airport – A public international airport that is easily accessible from the city of Warwick, situated in the Providence area of the state. This is also the largest and most used airport.
Block Island State Airport – Within arm's reach for those residing in the Washington county.
Westerly State Airport – Serves the town of Westerly, which is once again part of the Washington county in Rhode Island.
We'd also like to mention that residents in Rhode Island have easy access to the Logan International Airport that's actually situated in the city Boston, Massachusetts. It can take you just 45 minutes to drive to Boston. And since there's a wide variety of flexible flight options at the Logan International airport, many residents do take that extra step to drive up to Boston to get a better flight deal.
RI Job Market
Health services, manufacturing industries and tourism are few of the vital sectors contributing to the health of the economy of Rhode Island. In addition to this, the finance division and tech industries are equally growing into high-profile sectors, providing lucrative job opportunities for residents.
Some of the notable companies that are part of the prestigious Fortune 500 and Fortune 1000 list have their headquarters set up in the state. Below is a list of the top corporations so you can glance at the top performing sectors.
Citizens Financial Group – stands as the 14th largest bank in the United States
CVS Caremark – a pharmacy and health service provider
Textron – one of the world's best known multi-industry company
FM Global – a mutual insurance company with a multinational presence
GTECH Corporation – a gaming technology company
American Power Conversion – a manufacturer of power supplies and electronics
Amica Mutual Insurance – a mutual insurance company
In a nutshell, the industries that are showing a significant presence in the job market are the healthcare industry, financial services and manufacturing. Newport, Woonsocket, Warwick, East Providence, Cranston and Pawtucket are few of the top cities where most of the largest employers of the state are concentrated.
Renting In Rhode Island
According to reports by HomeSnacks, the average median rent of houses in Rhode Island is $2,000, while the national average is roughly $1,650 (so that's a 21% difference in cost). The state has been ranked as one of the highest rental costs in the nation several times. This is mainly because of the widening gap between the rental prices and wages. However, you can always browse for affordable apartments for rent in desired neighborhoods. Since this is just an average, it is still very much possible to find places on rent below the $2000/per month mark.
Having said that, here is a list of areas where the rent costs are relatively high:
Melville (average rent $2,233)
Hope Valley (average rent $1,546)
Kingston (average rent $1,369)
Narragansett Pier (average rent $1,286)
Newport (average rent $1,245)
Bradford (average rent $1,227)
You can choose to look at this list as places to avoid, depending on the budget you have kept in mind. Like we said earlier, you don't necessarily need to be taken aback by the high rent, since there is a wide range of rental options available.
Cost Of Living In Rhode Island
Since housing is the biggest factor to consider while calculating the cost of living, let's address that first. When it comes to housing, the average median value of homes in Rhode Island is $325,805 (according to Zillow). To give you a price point, this means you would be paying roughly $285,200 in RI, while the national average for the same house stands at $231,200. This huge margin makes home ownership an expensive affair for residents and transplants.
In regards to utilities, a single person's estimated monthly cost falls in the range of $1,000 to $1,200 (without rent). Depending on your lifestyle habits and family size, monthly expenditure could go way above this cost. This makes the cost of living in Rhode 22% higher than the national average. However, on the plus side, the average median household income is roughly $63,296 (according to Niche). That's certainly relatively higher than the national average which stands at $55,322.
The annual figure suggested to live comfortably in Rhode Island for a family of 2 adults and 2 children is $77,839. Do note that we're sharing a rough price point to give you a better perspective into the cost of living. Depending on individual lifestyle patterns and the neighborhood you reside in, costs could turn out to be affordable or more expensive. For instance, the further you move away from the Providence area, the more affordable things begin to look.
RI Top Schools And Universities
Top 5 Best Rated Universities:
University of Rhode Island in Kingston
Brown University in Providence
Providence College
Bryant University in Smithfield
Salve Regina University in Newport
Top 5 Best Rated School Districts:
Barrington
Jamestown
East Greenwich
Exeter
West Greenwich
Top Cities To Move To In RI
1. Barrington
The city of Barrington ranks as the number one place to live in the state of Rhode Island (according to Niche). It also tops the chart for best places to raise a family in the state. Barrington is mainly recognised for its excellent school systems and exceptionally low crime rate. Boat clubs, golf courses, well-maintained cycle paths and a great sense of community are few of the other things that makes this city extremely appealing. The city is also extremely green and has scenic waterfront views, since it's situated right next to the Providence river.
Median price of homes sold: $418,900
Median rent: $1,350
2. Providence
Providence is the capital and the most populated city of the state. It lies in close proximity to big cities like New York and Boston. A large percentage of Rhode Islander's are concentrated either in central areas of this city or occupy the suburbs here. Providence also has an extremely rich history, since it is one of the oldest cities in the United States. 7 of the state's top universities are situated in this city. International college students and young professionals definitely contribute to the vibrant atmosphere of Providence. The city is known to be extremely diverse and business-friendly.
Median price of homes sold: $192,100
Median rent: $972
3. East Greenwich
East Greenwich is one of the wealthier and more affluent parts of the state. Housing costs here are relatively high in comparison to other cities. But on the plus side, the city boasts of a low crime rate, family oriented atmosphere and an excellent location. Residents here enjoy waterfront views and have easy access to the North and South Providence areas, the beach and walking trails. But like we said, all the fantastic amenities and perks of living in East Greenwich come at a luxurious price.
Median price of homes sold: $429,600
Median rent: $874
4. Kingston
If you're looking for a city that is on the quieter side of things, Kingston would be your best bet. The town is made up of small villages, rural landscape and close knit communities, where most of the residents own houses. If you seek the city bustle, you can always choose to head to Providence, which is just 30 minutes away from Kingston. The city is also home to the main campus of the University of Rhode Island. A strong sense of community and the fact that everything is within walking distance are few of the attractive aspects of living in Kingston.
Median price of homes sold: $353,000
Median rent: $1,371
5. Cranston
The city of Cranston is located just 10 minutes away from the hustle and bustle of the Providence area. It's a great little town to escape the city crowd. But you can always plug into big cities and have enough access to all of its amenities. The neat streets, low crime rate and variety of parks encourage residents to walk and bicycle here. Overall, this city is extremely convenient, since you get a mix of both big city life and small town charm. Residents here have the best of chain restaurants and local small businesses.
Median price of homes sold: $228,300
Median rent: $1,021
FAQs About Moving to RI
Is it cheaper to live in Massachusetts or Rhode Island?
You will definitely be saving a few extra bucks when living in Rhode Island as compared to living in Massachusetts. As per Numbeo, a comparison between Boston in Massachusetts and Providence in Rhode Island, shows that all prices in Rhode Island are cheaper than those in Massachusetts.
While rent prices are around 64% higher in Boston than in Providence, restaurant prices and groceries are also pricier in Massachusetts. In other words, you would be needing around $6,548 in Boston, MA, to maintain the same standard of living that you could have with $5,100 in Providence, RI.
What is bad about Rhode Island?
Like all other states, living in Rhode Island also has its own upsides and downsides. Few of things that do not work in favor of Rhode Island include poor infrastructure, high population density and extreme weather conditions. Another thing worth mentioning are the high taxes in the smallest state of the country. State and local taxes in Rhode Island seem to be around 25% higher than the US average.
Can you walk across Rhode Island in a day?
Being the smallest state in the country, Rhode Island seems to be a place which you can easily navigate across, in a short spell of time. Now, depending on your fitness level, it is possible for you to walk across the entire state of Rhode Island within 2-4 days. If you're planning to go from the east to west end, that would be around 37 miles and if you're in great shape, then it is even possible for you to walk across Rhode Island in a day or two.
How do I change my residency to Rhode Island?
Rhode Island considers you to be its resident, if you are domiciled in Rhode Island or have at least been spending more than 183 days in the state. You will be required to file taxes in the state to establish your Rhode Island residency.
---
Our Take On Rhode Island
The state of Rhode Island has an appealing mix of small and big cities. Even though it is the smallest state in the nation, it has a cultural character that's big enough to surprise you. If you're particularly seeking a strong sense of community and a slower paced life, you may actually fall in love with everything Rhode Island has to offer. There are many little things that make up the identity of the tiny state of Rhode Island. And if you resonate with most of it, there's a high chance that you'd like to call it your new home.