Moving To Massachusetts | 2022 Cost of Living and Relocation Tips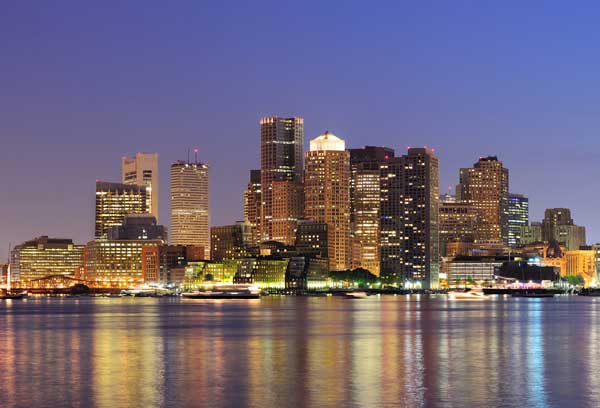 The state of Massachusetts is the most populated state in the New England region of the United States. People are drawn to the state for its world-renowned educational institutions (Harvard), healthcare systems, beautiful skylines, massive sport energy, diversified culture, history and of course, the most-loved aspect is the beautiful Boston! This city is the capital without which the picture of Massachusetts remains incomplete.
Well, Boston does get a lot of the attention just like the Eiffel tower would in Paris. We're not saying it doesn't deserve the attention. There's no question that Boston does have a lot to offer to residents. This is probably the reason why half of the population is concentrated in this world-class city. If you ask us to give you figures, that's around 4.3 million people calling Boston home, while the entire state's population is 6.7 million.
Besides falling in love with Boston, by moving to Massachusetts, you'll basically be opening your doors open to a whole bunch of other good things too. Such as mind-blowing seafood, astounding scenery and stunning old-world architecture. The state also has a great number of geographical features. By living here, you can expect to be just a drive away from iconic coastal towns, mountain towns, active beaches, clear water lakes, vacation islands, ski areas and several other dramatic natural spots.
However, moving homes is a huge decision and we're sure that an overview of Massachusetts is not convincing enough to get you to pack your bags and relocate here. Hence, we'll be covering several of the other aspects you should learn about before moving to Massachusetts.
Weather In Massachusetts
The state of Massachusetts enjoys four distinct seasons year round. Spring, Summer and Autumn are beautiful, warm and humid, while the winters are bitter, cold and snowy. The cold winters here are a main concern for a majority of people considering moving here. So let's understand how cold it really gets and also give you a gist of what the temperatures look like all throughout the year.
Winters (November to February) – The winters in Massachusetts are far from mild and there's no way that residents take the winters lightly. Winter boots, clothing and other gear is highly recommended to survive these months. You would also need to invest in shovels and winter tires. If you'll be coming from a sunny state, you would need to get acquainted with having less sunlight and dark skies for days. Overall, temperatures in the state vary significantly across regions. But to give you a rough estimate, the average low temperatures lie in the 17°F (-8.3°C) to 31°F (-0.6°C) zone.
In the month of January, however, things start to get more severe. The state begins to receive roughly 15-20 inches of snowfall. And in Boston, the temperature could be between 22°F (-5.6°C) to 36°F (2.2°C). Massachusetts in general would have freezing temperatures for most of winter, but relatively, the sub-zero days would be fewer in this state. The oppressive snow in January and February can make it difficult to move out. However, on the plus side, you get to enjoy winter activities like skiing and ice skating.
Spring (March to May) – Spring is the most awaited season of the year, especially after a few rough winter months. It's a relief for most residents to see clear skies bringing back the state to life. Temperatures range from 42F-66F in the daytime. But nights can at times be chilly (32F). Although springs are warm and beautiful, the state also registers 3-5 inches, especially during the transition from winter to spring. However, residents always appreciate the spring because it's a great time to stay outside, have a picnic or simply take long walks.
Summer (June to August) – Summers bring in bright clear skies and lots of sunshine. The humidity is high in regions close to the coast. However, it's pretty pleasant in the rest of the state. On peak days, temperatures could range from 85F-95F. But the climate rarely turns into scorching heat status that's truly unbearable. Summers are great for outdoor activities, sunbathing, hiking, cycling and jogging. Basically it's time to do all the things you enjoy while the sun shines.
Autumn (September to October) – Fall is considered to be the most pleasant time of the year. The temperature ranges from 46F-76F and you can catch peak foliage in your surroundings around mid-September. Leominster State Forest, Forest Hills Cemetery, Towle Land and Boston Public Garden are few of the best places to see the changing leaves in the Bay state.
Transportation In Massachusetts
Overview – The transportation system in the Boston area and most other municipalities is overlooked by the Massachusetts Bay Transportation Authority (locally called 'The T'). The basic role of the MBTA is to make a commuters life easy and help residents get from point A to B by non-car methods. It provides 1.3 million trips every single day throughout Greater Boston. The service is made up of extensive bus systems, 4 subway lines, a commuter rail system and a handful of ferry services. Below is a gist of these 4 modes of transportation.
1. Subway Lines Of Boston
The Subway is the largest public transit system connecting residents to areas within and near the city. It takes more than 700,000 trips each weekday, so let's touch upon where the four lines take residents.
Blue Line: Takes you to beaches, Old State House, and Logan International Airport.
Green Line: This line travels along a series of parks known as 'Emerald Necklace'. You can get to Faneuil Hall, Boston's North End neighborhood, Museum of Science, the Museum of Fine Arts and Symphony Hall with the green line.
Orange Line: Popular stops of this line are Boston, Jamaica Plain, Malden, Medford, Mission Hill, Roxbury and Somerville
Red Line: Takes you to Harvard University and Cambridge, Massachusetts Institute of Technology (MIT) and the JFK Library.
Regarding fees – A one way fare on the subway is $2.40 with a CharlieCard. 1 day pass is $12.75 and the monthly LinkPass is $90.00
2. MBTA Commuter Rail
This is a great option if you need to get to work or travel outside the surrounding areas of Boston city. It is also the most reliable way to get to know all the beautiful parts of the state. In its entirety, the MBTA Commuter Rail links residents to neighborhoods in eastern Massachusetts, Rhode Island and downtown Boston, with 137 stops throughout the region. Popular stops are Boston, Providence (Rhode Island), Salem, Gillette Stadium, Wachusett Mountain and Cape Cod.
Regarding fees – A one way ticket costs between $2.40-$13.25.
3. MBTA Bus Service
This could be your go-to option to get around Boston and all its neighborhoods. Most of the vibrant hubs, communities, work spaces, college campuses are tied together by the bus system in Boston. The advantage of the T buses is that it doesn't just connect you to Greater Boston, but links residents into surrounding cities like Bedford, Medford, Saugus and Salem. The bus service definitely has a far reach and has more than 170 routes with 8,000 stops. Another plus factor of using the bus is that you can get off at stops that are linked to the MBTA subway, commuter rail, Amtrak stations and regional bus stops.
Regarding fees – A one way trip costs between $1.70-$5.25.
4. MBTA Ferry Service
If you're considering residing somewhere close to the North or South shore, you can easily access the ferry either to commute to work or just enjoy the scenic landscape of Massachusetts. The downtown areas of Charlestown, Logan International airport, Salem, Winthrop, Hingham and Hull are the popular destinations you can access by ferry.
Regarding fees – Depending on where you travel till your fare could fall in the range of $3.70 – $9.75 each way.
Apart from the services provided by 'The T':
The state of Massachusetts also has a massive network of interstate highways.
It is also home to Logan International Airport which is one of the largest airports in the USA.
The Bay state even has its share of Amtrak train services like most states in the United States.
Among the Amtrak operating rail lines, 'The Acela Express' is the most frequently used service that gets passengers from Boston to New York in 3.5 hours. Do note that the Amtrak operates passenger rail service travels to and from major northeastern cities. Overall, it is safe to say that the state of Massachusetts has a variety of public transportation systems and this is a huge perk of residing here.
Also read: Masschusetts DMV Change of Address
Job Market In Massachusetts
In the past, the sectors that fueled the state's economy were the oil, steel and automobile industry. However, in today's time retail, universities and health care are the sectors dominating the growth of the economy. And these are the exact sectors that are vital to the health of the Massachusetts economy. In addition to these, biotechnology, information technology, finance, tourism, manufacturing, and defense are the industries dominating the job market of the state.
Below is our version of a directory of some of the top employers of the state. This is just to give you a glance of the top performing industries so you have a fair idea of the sectors playing an important role in providing lucrative jobs to residents.
The largest employers of Massachusetts are:
Harvard University – academic institution
General Electric – a multinational corporation dealing with aviation, healthcare, renewable energy, digital industry and more
Liberty Mutual – a global insurance company
University of Massachusetts – academic institution
TJX – leading multinational retailer
Raytheon – a major US defense contractor
Biogen – multinational biotechnology company
Global Partners – an energy supply company
State Street Corporation – financial services company
American Tower – a real estate investment company
In a nutshell – The industries that are seeing the biggest growth in Massachusetts are technology, healthcare and higher education. Keep in mind, these are just the sectors having a significant presence. There are certainly up-and-coming startups in the food and garment industry also thriving in the state. In addition to these, tourism definitely has a huge mark on the state's economy with Boston and Cape Cod being the most visited regions.
Renting
According to reports by HomeSnacks, the average median rent of houses in Massachusetts is $2,500, while the national average is roughly $1,650 (so that's a 51% difference in cost). However, don't be taken aback. The salaries are also higher, so most people in the state can to an extent afford to arrange funds in this price range for rent. Also, on the plus side there are areas where the cost of rent could be moderate.
Having said that, there are a few neighborhoods where the rent is extremely high. Such as Cambridge, Newton, Watertown, Somerville, Medford and Waltham.
Cost Of Living In Massachusetts
When it comes down to cost of living, it should be no surprise that things are on the high end of the spectrum. The reason for this? The short answer is that you get the value that you pay for. The state has huge educational institutions like Harvard, good infrastructure, great healthcare, urban lifestyle, beautiful landscapes and the strength of diverse communities.
That being said, let us get down to rough estimates for you so you have more insights on how expensive the state really gets. Now, if you're considering housing, the median value of homes in Massachusetts is approximately $462,110! We hear you, this is pretty expensive. However, don't let this stop you from taking the plunge. Like we said, it is possible that your salary would be able to afford the housing costs of Massachusetts. On an average, a good annual salary for most jobs in the state is roughly 65k-70k. And to live comfortably, the median household income should be approximately $77,378 (according to data from Niche). And a single-person estimated monthly cost is $3,727. So depending on the lifestyle choices you make, you can either break your bank account, or experience the joy of learning to live within your means.
Now, in regards to the utilities costs, this is also way higher than the national average and this is solely because Massachusetts is among the most expensive places to live. Taking into account your heat, hot water, gas, and electricity bill, you would approximately be paying $150 to $450 per month.
The last thing you would need to factor in is taxes that's locally referred to as 'Taxachusetts'. A term specifically dedicated to defining the Bay State's reputation for having the highest tax rates in the country.
See also: 7 States with Lowest Taxes
Education
Top-Rated Massachusetts Colleges
1. Massachusetts Institute of Technology, Cambridge
2. Harvard University, Cambridge
3. Tufts University, Cambridge
4. Williams College, Williamstown
5. Amherst College, Amherst
6. Wellesley College, Wellesley
7. Boston College, Chestnut Hill
8. Northeaster University, Boston
9. Boston University, Boston
10. Smith College, Northampton
Top-Rated Massachusetts Schools
1. Hopkinton Public School District, Hopkinton
2. Wayland Public School District, Wayland
3. Weston Public School District, Weston
4. Wellesley Public School District, Wellesley
5. Westwood Public School District, Westwood
6. Westford Public School District, Westford
7. Public Schools of Brookline, Brookline
8. Newton Public Schools, Newton
9. Westborough Public Schools, Westborough
10 Lexington Public Schools, Lexington
Top Cities To Move To In Massachusetts
1. Boston
Like we harped on before, Boston is one of the best cities in America and is just hands down the best city in Massachusetts. There's a whole wealth of reasons why people choose Boston over any other city in the state. Few of them are the view of the skyline, the education systems, the nightlife, diversity and its extensive public transit options. Charleston, Chelsea, Medford and Dochester are few of the best neighborhoods of Boston. In its entirety, it is a city that is wealthy and wise (literally).
Median price of homes sold: $487,300
Median rent: $1,539
See also: Moving to Boston, Massachusetts
2. Worcester
The city of Worcester is the second most populous city in the state. It's a relatively quiet and residential area of the state where housing is also not exorbitant. This city boasts of historic architecture, wonderful restaurants, tight-knit neighborhoods, a decent nightlife and loads of parks. It is located an hour away from Boston and other hubs, so you can easily get connected to different areas you prefer. For instance, a 2 hour drive could get you to the stunning Berkshires mountain range and a 3.5 drive gets you to New York city.
Median price of homes sold: $220,700
Median rent: $1,064
3. Brookline
The city of Brookline ranks as the number one place to live in Massachusetts (according to Niche). Things that draw people to this city is that it is extremely safe, you get access to a ton of great restaurants and locally owned businesses. However, do note that Brookline is a more affluent part of the city and housing here is extremely expensive. But then on the plus side, you get to enjoy living in a well-kept safe neighborhood with friendly families and young professionals.
Median price of homes sold: $885,700
Median rent: $2,194
4. Northampton
Northampton is part of the Springfield metropolitan area. The city is most appealing to those looking to settle down in a small town area away from the crowds. It offers residents a community atmosphere and supports local stores. A sustainable lifestyle is followed by most and Northampton also has a thriving arts community. The state is filled with greenery, highly walkable paths and nature trails. The town is on the smaller side but you can easily plug into the big cities if you're looking for a more lively atmosphere.
Median price of homes sold: $321,900
Median rent: $1,098
5. Newton
One of the biggest perks of living in Newton is that you would be in close proximity to the efficient form of transportation. You can get direct access to downtown Boston, Cambridge and Brookline. The city is also centrally located from a couple of commercial hubs, restaurants and cultural centers. The neat streets of the city encourage residents to walk and cycle. Overall, it is a neat little town to call home but it is less affordable. However, if you're looking for that balance of good schools, safe neighborhoods and easy commute, Newton is a safe bet.
Median price of homes sold: $886,100
Median rent: $1,829
FAQs about Moving to Massachusetts
Is it expensive to live in Massachusetts?
Massachusetts is among the most expensive places to live in the United States. It's no secret that the economy of Boston is the driving force behind this. 65k to 75k is considered to be a comfortable salary for an individual in Boston. The high cost of living is possibly the price paid for great public transit systems, good infrastructure and excellent educational facilities. The state of Massachusetts also ranks third for healthcare in the nation, so you do get a certain standard of living in exchange for the high costs of living.
How long do you have to live in MA to be a resident?
To obtain residency in Massachusetts, you would have to live here for 183 days. This is how long it would take to become a resident. In addition, you'd also have to comply with all the residency requirements, such as filling out your voter registration form, changing the address on your license and getting your car registered with the state.
How long do I have to change my License after moving to Massachusetts?
You would have 30 days post your move to Massachusetts to visit the DMV and get the address on your license changed. We recommend that you set aside a day for the DMV visit, since you would have to personally visit a 'Massachusetts Registry of Motor Vehicles' (RMV) branch to verify your documents.
Where should I move to in Massachusetts?
Boston, Worcester, Brookline, Northampton and Newton are some of the popular spots to move to in Massachusetts. Boston is usually the first choice for new residents. The city has the buzz for jobs, culture, excellent educational institutions and great transit options.
What is the cheapest city to live in Massachusetts?
A popular choice for affordable housing in Massachusetts is the western portion of the state. Also, the further you move away from hotspots in Boston, the lower costs are going to get. Areas surrounding Worcester or Marlborough are good options. Franklin, Bellingham and Westfield are few of the cheapest cities to live in Massachusetts.
How do you prove residency in Massachusetts?
There are several ways to prove residency in Massachusetts. The most common way is to change the address on your driver's license and get your vehicle registered with the state. You can also show your updated voter registration card. Your mortgage documents or rental agreement obtained in Boston also does the job of proving residency in Massachusetts.
Can you drive in Massachusetts with an out of state License?
You would have 30 days to change the address on your out-of-state license after you become a resident of Massachusetts. If you are caught driving with your out-of-state post 30 days of the move, you could be fined for carrying an invalid license. To avoid the fine, we recommend heading to the 'Massachusetts Registry of Motor Vehicles' (RMV) to complete the necessary paperwork in order to get the right address displayed on your license. The RMV could take nearly 7 to 10 days to send the renewed license, so it's best to tackle this task in a timely manner.
What should I know before moving to Massachusetts?
Massachusetts is a great place to live, but it can be expensive depending on where you'll be moving from. On the plus side, you do get a higher standard of living. You get great options for public transit, healthcare and even educational institutions. Something else that you must be prepared for when you move here is the winters. Take your time to adjust to the bitterly cold temperatures especially in January and February. If you love hiking or being outdoors, you can always turn to the Berkshires and Cape Cod. These are the natural wonders of Massachusetts. There's always something interesting to do in Massachusetts, so it would be tough to get bored here.
Do I need a new driver's license when I move to Massachusetts?
Once you relocate to Massachusetts, you would need to visit the nearest 'Massachusetts Registry of Motor Vehicles' (RMV) to get the address changed on your driver's license. It is necessary to renew the address on your former license so that it reflects your new residential address in Massachusetts. You would have 30 days to complete the necessary paperwork post the move to Massachusetts.
What is the poorest city in Massachusetts?
Springfield, New Bedford, Lawrence, Brockton and Fall River are few of the poorest cities to live in Massachusetts. The wages here are poor and there's a large percentage of individuals earning considerably lesser than the state household median income which is at $77,378.
What's the worst place to live in Massachusetts?
Springfield, Brockton, Webster, Tisbury and Holyoke are some of the worst places to live in Massachusetts. These are just a few of the neighborhoods that are rough in comparison to others.
What is the most dangerous town in MA?
Few of the towns that get a bad rap and are termed dangerous are Springfield, Brockton, Fall River, Holyoke and Tisbury. These towns are the most dangerous based on the latest FBI Data report. In general, statistics point out that Massachusetts is among the safest states to live in the US since it even has strong gun laws.
---
Our Take On Massachusetts
Massachusetts has the best sport teams, it's got the stunning Cape Cod for beaches, the Berkshires for mountains and artsy seaside towns at Cape Ann. Overall, you have the best of all worlds. You have socially progressive cities and world-class universities. Massachusetts is also within short driving distance from a majority of other states. However, all the goodness of the state comes at a cost. It is expensive to live in. In any case, like we said earlier, you can possibly take the plunge here because there will be several neighborhoods where prices are relatively moderate. Overall, like the saying goes Massachusetts is just a wicked cool place to be!
See also: 6 Largest Cities in Massachusetts