How to Move a Piano


VanLines Inc
Secure Storage
Easy Booking Process
Fully Trained Employees
GET QUOTE

Colonial Van Lines
Storage Services
Long-Distance Moves
Corporate Relocations
GET QUOTE

Moving APT
Available Nationwide
Award-Winning Movers
Extensive Vetting Process
GET QUOTE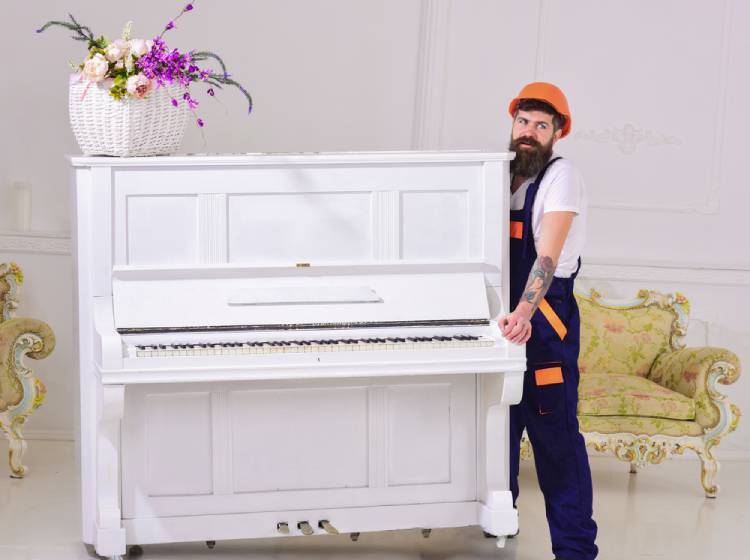 Getting your piano into your new home can bring a sense of familiarity and of course, bring back the sound of what your house always sounds like. But shifting a piano from its place can be a chore, the level of difficulty with this task is pretty high because of how heavy it is. If you try to move it without enough planning, you could damage the piano itself or even worse, your back.
This is why most people choose to leave the task in the hands of professionals, which is ideally a good path to take. However, if you're considering doing this yourself, we've got just the tips to help you successfully move it like movers would. So keep reading our comprehensive guide on how to move a piano to know more!
The Planning
Work Out The Navigation
Before you even pick the piano, we highly recommend planning out the pathway. Take measurements of the door through which the piano will pass. If there's a table or any other furniture that could potentially block the way, make sure you move it from there. You don't want to lose balance simply because something was in the way and then ultimately damage the piano.
Don't forget to do the same at the new house you're moving the piano to. Keep in mind that the length of a piano could be 5 feet or even 9 feet. So make sure you measure the piano you have, and then think about the easiest way to maneuver it out of the house. You could also decide the points at which you will take a pause or break from wheeling the piano.
If you notice any paths that are rocky and would make it difficult to wheel the piano, make sure you place some flattened out cardboard planks on it.
We also suggest visualizing the spot at which the truck would wait. Also, pre-decide the room where you want it to be placed in your new house. A piano should not be placed against direct sunlight or a place where the temperature is high. So keep this in mind and chalk out the room and place where it will sit.
Ask For Help
Moving a piano is not a one man's job, just like it's not humanly possible to lift your couch out of your home solo. Moving a piano is a duet for sure, meaning that you need two people for the project to be in sync. If you don't take help, there's a potential of damaging your back physically as well as the piano.
If you own a smaller sized piano, the weight is most likely going to be somewhere between 300 to 400 pounds (approx 130 to 180 kg). Grand Pianos are way heavier and can weigh upto 1,200 pounds (540 kg), while a medium sized piano would be 500 to 800 pounds (220 to 360 kg). We are intentionally mentioning the weight so you more or less know the weight you're dealing with. To give you perspective, you would probably feel like you're lifting up something that's twice the weight of a refrigerator.
This is why we stress on the fact that you need to have 2 to 3 people around to help. If you can't get friends, family or colleagues to get onboard, let professionals step in to assist, but don't think about handling it yourself.
Also, just a heads up that having lots of helpers around is not ideal. When there's a crowd such as more than 4 people in the house, things could start to get chaotic. Like it's said, 'too many cooks spoil the broth'. So if you have too many people hovering around to help, the task could get more complicated than it actually is.
Another point that goes without saying is to keep kids and pets out of the picture. They shouldn't be casted into moving the piano, but instead, need to be kept away for obvious reasons.
See also: Risks of a Self-Move
Packing Materials Needed To Pack The Piano For A Move
Now during the planning phase, you're going to need a ton of equipment. A professional moving company would have these for sure, so it saves you the trouble of finding them. But if this is a 'Do It Yourself' type of move, you should either consider hiring these equipment or buying them at a Home Depot. All these materials are essential for this moving project. They make the task easier and saves you from putting in lots of mental and physical energy to move the piano.
1. Four Wheeler Furniture Dolly
Like we said earlier, the piano is going to be heavy, no doubt there. But at no point should you or your helpers be taking the weight of the piano on yourselves. The smarter way to work is to get a four wheeler dolly so that you're always wheeling the piano. This is the most essential equipment. At Home Depot, it could cost you $21 to buy a standard furniture dolly and the more advanced one is priced at $53.
2. Moving Straps
Once you successfully get the piano in the truck, you're certainly going to need this to keep it in place. It helps secure the piano and prevents it from skidding or sliding in the back of the truck. It should cost you somewhere between $20 to $30 if you're getting a brand new one.
3. Loading Ramp
A rental truck would not be on ground level, so you're going to need a ramp to roll the piano into the back of the truck. You can ask your mover for this. Choose a ramp that isn't too sleek but steady enough to take the weight of a piano. You don't necessarily need to purchase a loading ramp but you can always hire it from a Home Depot or get access to it from a moving company.
4. Moving Blankets
We highly recommend getting your hands on some moving blankets since this is the material you'll use to cover the piano. It will protect it from attaining scratches and is the most reliable padding for the piano. If you choose to buy a moving blanket, it will cost you $7 to $12 for one piece. Depending on the size of your piano, you'll most likely need more than one piece.
You could also rent moving blankets for a day. To give you a rough estimate, it could cost $15 to $25 to rent per day. But the price would vary depending on the brand of blanket you pick.
Your best bet to either buy it or hire the blankets from local moving companies or local home improvement stores.
5. Plastic Wrap
To secure the moving blanket and keep it in place, you're going to need sufficient plastic wrap. Get the large stretch wrap roll so that you can bundle up the blanket better.
6. Back Support Belt
We suggest getting a back support belt for times when you need to lift the piano with the help of others. When you put this on, you'll be maintaining a better posture at the point when you need to hoist the piano (with the help of others).
7. Moving Gloves
If you feel that you're getting a good enough grip, we suggest that you wear moving gloves while lifting the piano.
8. Bubble Wrap
You're going to need bubble wrap to protect the pedal portion of the piano, so ensure you have a sheet or so around at home.
9. Foam Sheet
A foam sheet would ideally be the best type of padding to safeguard the keys of the piano. Take a long enough sheet so you can place it on the keys and prevent it from getting scratches. Packing Tape
Lastly, you're going to need some packing tape to hold the bubble wrap and foam sheet in place.
Also See: Home Depot Moving Boxes
The Execution
Step-by-Step Guide To Pack A Piano For Moving
Before you follow this guide, you should have a pathway figured out and all the necessary equipment with you.
Step 01 – Secure the keys of the piano
Now the first thing you want to do is secure the keys. Your piano would have a fall board or keylid, you can shut that down to protect the keys. Post that, place a foam sheet on the fall board and legs of the piano as well. Place some tape to hold the sheet in place.
Step 02 – Place some bubble wrap around the piano pedal
The next part of the piano that requires some extra padding is the piano pedal. For this part, we suggest using bubble wrap. Cut the sheet of bubble wrap so it's easier to wrap around the pedal. Keep placing strips of tape to secure it.
Step 03 – Cover the piano with moving blankets
Throw over a moving blanket on the piano to cover it. Think about this step as though you're putting a car cover over a car during the rains. You want the whole piano to go under the moving blanket at this stage.
Step 04 – Use plastic wrap to secure the moving blankets
After you place the moving blanket, use the plastic wrap to keep it in place. Take a complete trip around the piano (360 degree turn) with the plastic wrap so that you've sealed it completely.
Step 05 – Secure remaining parts with bubble wrap or foam sheet
Once you've covered it with the moving blankets, there might still be a few portions of the piano that's vulnerable and could get scratched. So, you could either use bubble wrap or a foam sheet to cover these spots.
Step 06 – Lift the piano at an acute angle
Now that the whole piano is secured, you can lift it at an acute angle to place a four wheel dolly underneath the piano. Be extremely careful when it's time to lift and bend your knees so that you don't hurt your back.
Pro tip – Always lift with your legs.
Step 07 – Place the four wheel dolly underneath the piano
When the piano is lifted, ask a helper to push the dolly beneath it so that your piano now has wheels.
Step 08 – Bind the piano and dolly with moving straps
You want to reduce the chances of the piano tripping and losing balance when it's being wheeled out. One way to prevent this from happening is using moving straps. Make sure that they go over the piano and then the dolly. If you don't do this at certain points, it would feel like you're holding a tray with glasses that could tip off at any time.
Step 09 – Start wheeling the dolly to the moving truck
Once you have attached the moving straps, start wheeling the dolly. Follow the pathway you created in your mind earlier in the planning stage. Just a tip here is that if the dolly isn't moving ahead because of a rough surface, place some flattened out cardboard boxes on the floor so it runs on it smoothly.
Step 10 – Hoist the piano on the moving truck
Slowly push the piano on the loading ramp and place it into the truck. Be extremely careful during this step, since the piano can roll backwards if it isn't pushed well enough. Also watch your foot.
Lastly, attach the moving straps. You can follow the X pattern and before you lock the truck, just confirm that the piano isn't shifting in the truck. Do a short test drive to double check if you're not confident that it's secured extremely well. Remember to tune the piano after it arrives at your new place, don't do it immediately but give it a few hours.
Things To Note When Moving A Piano
● Have people to help you with the move. If not, consider hiring professional movers.
● Moving a piano is a complex task, if you're going for professionals you can expect costs to be somewhere between $200 to $400 (for a short local move). If it's a long distance move it can be $700 to $2,000 and even beyond that depending on the difficulty level.
● Wear comfortable shoes – we suggest anything that prevents you from skidding at any point. Sport shoes are ideally best when you're pushing the piano on the loading ramp.
● If you can disassemble the piano pedal and you know how to fix it back, you can consider doing that.
Final Thoughts
Moving a piano is not a child's play, if you don't have the time or energy to plan it well enough, you should consider hiring professional movers. By doing this, you reduce the risk of hurting yourself and the piano.
If you feel confident enough to carry out the move yourself, take things slow and follow the steps we mentioned above. Also, don't try doing this without the right equipment. Overall, we'd say that you should weigh whether it's really less costly to do it yourself and worth the risk. If you can afford to, always get professional help.
FAQs
How much does it typically cost to move a piano?
Cost would vary depending on the level of difficulty, but ideally for a long distance move, costs would fall in the range of $700 to $2,000. If it's a short move, you can expect costs to fall in the lower average of $200 to $400.
Can regular movers move a piano?
Not every moving company is specialized in moving a piano. Just a handful of moving companies help in moving speciality items like a hot tub, pool table or grand piano. You should confirm about the same before confirming a mover.
Can you move a piano by yourself?
It's difficult to move a piano all by yourself because it's a heavy and delicate instrument. You'll need help from professional movers to move it to your new place.
What is the best way to move an upright piano?
It's difficult to move an upright piano so it's better if you get help from professional movers. Here's how you can move it safely:
Make sure you have all your necessary packing supplies (Stair ramp, dolly, moving pads, moving straps).
Secure the piano with moving pads like the corners, keys, and other delicate parts of the piano to avoid any scratches or damage.
Make sure that there is at least 3 feet of space around your piano when you move it away from its place.
Use a dolly to move your piano, it'll make it even easier. Just tilt the piano backward and then move the dolly from underneath.
Make sure that your piano is at the center of the dolly so that the weight on the dolly is equally distributed.
Secure the piano with moving straps by vertically tying them to the piano.
Is it expensive to move a piano?
For local moves, the price to move a piano would be between $200 to $400. But if yours is a long distance move, it would go up to $1,000 to $2,000 depending on the size, distance, and location of your move.
Does moving a piano damage it?
The piano can get damaged while moving if it is dropped, bumped, or mishandled during the move. That's why it's best to tilt or rotate and then move the piano to avoid any kind of damage.
Can you move a piano in a pickup truck?
Yes, a piano can be moved in a pickup truck but you'll have to secure it with moving straps to avoid any kind of damage while moving.
How do you not move a piano?
A piano should not be moved without any secure padding as that may cause scratches or damage while moving.
How do you move an upright piano by yourself?
Moving a piano by yourself is a difficult task. But with careful planning and help, you can move it safely. Here's how you can move an upright piano:
Get the necessary supplies for moving for piano, like piano dollies, straps, padding.
Measure the size of your piano and book a moving truck.
Secure the keys, pedals, and other parts of the piano with a moving blanket.
Use a piano dolly to move the piano to your truck.
After loading the piano on the truck, secure it with moving straps and ropes to avoid any kind of damage.
How much does it cost to move an upright piano?
The average cost to move an upright piano can be between $150 to $350. Do keep in mind that this cost can increase depending on the size, distance, and location of your move.
How do you move a piano without damaging the floor?
You can use caster cups to avoid any damage to your floors while moving the piano. The piano dolly also is the best choice to move the piano without damaging your floors. You can also use moving blankets or pads if you don't have caster cups or dolly to add a protective layer to your piano while moving. Other than that, the best thing you can do is approach professional movers to avoid any unnecessary damage.
Can I move a piano in a uhaul?
U-Haul can connect you with specialists for piano moving via Moving Help, its online marketplace.
What is the average price to tune a piano?
The average price to tune a piano can fall in the price range of $65 to $225. Do keep in mind that this price can change in case your piano needs multiple tuning sessions or any kind of repairs.
Can a piano sit on carpet?
You should avoid centering your piano on a carpet or rug as it may affect the sound quality. But if you need to dampen the sound then you can center your piano on a carpet.