Moving To Colorado Springs – 2022 Cost of Living and Relocation Guide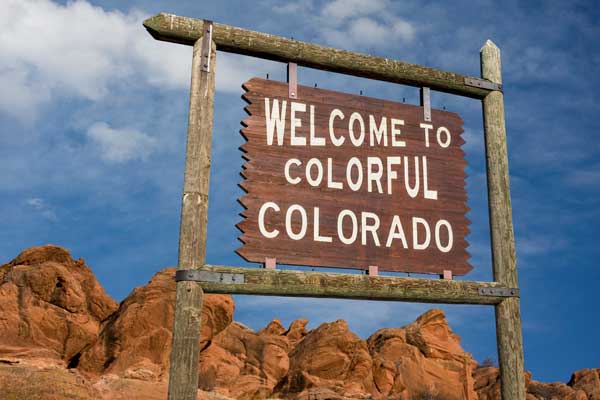 Wouldn't you want to live in a city that has earned its place in multiple lists of the most desirable cities to live in? If the answer is in the affirmative, you will start packing your belongings for your relocation as you reach the end of this article! The city in question is Colorado Springs. Also, it is high time you pay a visit to its much talked about Pikes Peak Mountain Range that everyone has been gaga over the years. Don't worry, there's much more to Colorado Springs than just the mountain range and we are here to help you. To further narrow down your list of places to move to, here are all the details on why Colorado Springs should be your next relocation destination.
Weather In Colorado Springs
Throughout the year, you will witness a varied temperature difference in Colorado Springs ranging from 22°F to 83°F. To get you acquainted with the climatic changes in the state, here is a breakdown of the four seasons the state experiences.
Summers
The summer season in Colorado Springs lasts for about 3.5 months from June to mid-September with July being the warmest month of the year. The average high temperature during this month touches the 78.6°F (25.9°C) mark and an average low-temperature of 54.7°F (12.6°C).
Winters
Unlike Game of Thrones, when someone says "Winter is coming" in Colorado Springs, you might want to take it seriously. December being the coldest month in the state, experiences an average low temperature of 18.3°F (-7.7°C). The state also experiences snowfall for 57 days on an average spread over the months of January through May and September through December.
However, one amazing thing about the winters in Colorado Springs is the lack of humidity. So, as long as you dress in layers, the winter season might actually be one to look forward to.
Spring
Although spring season sets its foot in the state in the month of March, it still is fairly cold around this time. All thanks goes to the winter season that stays a bit longer like that one professor who continues teaching even after the lecture gets over. The actual spring season here is best experienced in the months of April and May. The average daily high temperature in this season ranges from 50°F to 70°F. If you are one for the mountains, the spring season in Colorado Springs will be a delight for you.
Autumn
The pleasant season of Autumn lasts for nearly three months from September to November. You can expect an average temperature ranging from 27°F to 54°F. This is the best time to witness the display of gleaming colors this state puts on.
Few things you should know about the weather in Colorado Springs:
July experiences the most rainfall in this state with an average precipitation of 3.28 inches.
With cloud cover reaching 29% at best annually, Colorado Springs has fairly enjoyable weather all year round.
Transportation In Colorado Springs
Roadways
When it comes to roadways, the city has a bunch of options for you to choose to commute. Here's an overview of the city's prominent transit options.
Mountain Metropolitan Transit
The Mountain Metropolitan Transit provides bus services to about 70% of the city with about 27 local routes under its belt. These buses are more frequent on weekdays than on the weekends, so, you might want to inquire about the timings should you plan a weekend getaway that involves traversing through this bus service.
PikeRide
This city has been a biker's paradise for a while now. The number of on-street bike lanes in the city has risen to more than 100 miles. With the city's very own bike-sharing service named 'PikeRide', exploring the city has become even more convenient. You can choose from multiple pricing options that suit your riding requirements best. So, have a go at it, it takes just about $1 to unlock your adventures!
All in all, public transport will get you around the local and downtown areas, but there are always places like the outskirts of the city where you will have no choice but to opt for a car. So, if you have a four-wheeler at your disposal, no place is unexplorable for you in this city.
Nothing also beats the pleasure of exploring a place on foot. The narrow alleys with wall arts, street music shows, and a bunch of other things that you would probably miss if you are traveling in a vehicle. Walking around in areas like the Old Colorado City and Manitou Springs, allows you to see the numerous shops and galleries.
Airways
You can avail of the services of the famous Colorado Springs Airport for your air travels. It is a joint-use civilian and military airport. The airport is by the likes of Delta, Frontier, American, Southwest, and United Airlines.
Railways
Passenger rail transit is something this city has been working on for a few years now. However, the city does have a cog railway that offers you a once-in-a-lifetime opportunity to witness the breathtaking views of the Pikes Peak Mountain. Apart from this, railroad networks like BNSF and Union Pacific provide freight services across the city.
Also See: Cities With The Best Public Transport In The USA
Job Market In Colorado Springs
The unemployment rate in Colorado Springs remains at 5% which is slightly higher than the national average of 6.4%. In terms of the city's GDP contribution, it stands at $34,003.714 millions. The biggest contributors to the city's economy strength are sectors tied military, high-tech, and tourism.
It's true that Colorado Springs' economy is mainly reliant on the area's military installations, as well as the aerospace and electronics industries. You must know that the military employs one-fifth of the city's workforce and continues to be one of the largest employers in the city.
To name a few big-shot employers, here's a list for the same.
Some Of The Largest Employers Of The City Are:
1. The U.S. Air Force Academy
2. Vectrus
3. University of Colorado, Colorado Springs
4. UC Health
5. Young Life
6. Century Casinos
7. The Navigators
Real Estate In Colorado Springs
Buying A House
The average home value in Colorado Springs comes about to be $461,668. That's an astonishing 26.4% jump over the past year (i.e. 2021). Considering the state's average home value of $546,110, you will find Colorado Springs to be a fairly affordable city to reside in.
Renting A House
Renting an average 850 sq. ft. apartment in Colorado Springs will cost you about $1,480 per month. If the amount seems to go a little above your budget, you can always opt to reside in the affordable neighborhoods of the city. Spring Creek, Knob Hill, and Pikes Peak Park are some of the many budget-friendly neighborhoods with average rent ranging from $1,160 to $1,192. However, if you don't mind spending a bit more to experience the lavish lifestyle this city has to offer, you can consider moving to Trailridge, Wolf Ranch, or Northgate. The median rent in these neighborhoods soars as high as $1,875.
Crime Rate
As per NeighborhoodScout's data, the chances of you becoming a victim of violent crime in Colorado Springs are 1 in 165. The violent crime rate in the city is at 6.05%, which is slightly higher than the national average which is at 4%.
Speaking of property crime, you could fall victim to the same with a possibility of 1 in 29. The property crime rate is at 34.32% while the national average remains at 19%. You must also know that motor vehicle theft in Colorado Springs is pretty high. Your transport buddy has a 1 in 197 probability of being stolen.
To mitigate the odds of experiencing any of the above, you can choose to move to relatively safer parts of the city. Fort Carson, Black Forest, and Gleneagle are among the safer neighborhoods you can reside in.
Cost Of Living In Colorado Springs
According to Payscale data, the average cost of living in the city of Colorado Springs is 6% lower than the national average. Not for a second must you compare these numbers to the quality of living because Colorado Springs has a lot to offer despite the low cost of living.
To give you a rather in-depth detail of what's in store for you in terms of expenses in this city, here is an overview of the same.
Also See: The Lowest Cost of Living Cities in the U.S. | Most Affordable College Towns in The US
Utilities
When we talk about the basic utilities, you can heave a sigh of relief as the average utility prices in this city are a whopping 26% lower than the national average. Your electricity bill will cost you somewhere in the range of $122-$125. Now, unless you have international calling on a daily basis, your average phone bill will set you back $132.
Moving over to regular purchases like groceries, a carton of milk is going to be priced at $1.75 on average. A gallon of milk will see you spend somewhat similar in the range of $1.89.
You might end up giving your doctor $114.20 every time you pay him a visit. No matter how low the cost of living is, it just doesn't feel good in the stomach to be paying a hundred bucks for a doctor's visit, does it?
Median Household Income
The median household income in Colorado Springs is about $57,000. Making it a pretty affordable city to live in, you will find a plethora of amenities that will fulfill all your requirements.
See Also: 6 Largest Cities in Colorado
Education
Top Rated Universities
1. The United States Air Force Academy
2. Colorado College
3. University of Colorado – Colorado Springs
4. Colorado Technical University
5. Pikes Peak Community College
Top Rated Schools
1. The Vanguard School
2. Cheyenne Mountain High School
3. Pine Creek High School
4. The Classic Academy
5. Palmer Ridge High School
Best Neighborhoods To Move To In Colorado Springs
Old Colorado City
The name itself gives you a slight hint of what you can expect from this part of the city. Established in about the late 1850s, this neighborhood has a great historic significance and a multitude of exciting stories to enlighten you with. To experience its true essence, you can prefer walking around this vintage yet attractive part of Colorado Springs. Local bistros, pubs, and restaurants too are fairly accessible and won't require you to break a sweat.
Median Value Of Homes: $404,567
Median Rent: $1,350
Downtown
Conforming to the norms of every downtown area of the country, this city's Downtown welcomes people of all age groups with its diverse culture. This neighborhood is a particularly interesting one for the art aficionados as it has a designated creative district with sculptures dotting its leafy streets!
If you are actively seeking nightlife to make memories that last a lifetime, then this is the place for you!
Median Value Of Homes: $450,023
Median Rent: $1,085
Briargate
Further continuing the trend of providing quality lifestyle at affordable prices, Briargate is another neighborhood you might want to check out. Located in the northern part of the city, this is an ideal place for people looking for a family community.
Median Value Of Homes: $502,000
Median Rent: $1,495
Pine Creek
Though the cost may not sit well with everyone, the kind of luxury this neighborhood offers is unparalleled. You cannot speak about luxury and not mention the sport of golf. The Pine Creek Golf Course with its green carpet for as far as you can see is a sight to behold. The neighborhood is located at such an ideal spot that you can easily access just about anything in Colorado Springs without much of a hassle!
Median Value Of Homes: $810,000
Median Rent: $1,850
Pleasant Valley
Again, as the name suggests, Pleasant Valley is one of the most elegant and calm neighborhoods you will come across. The area is surrounded by famous tourist attractions like Westmoor Park and the Garden of the Gods Park. You can rejoice in the true vintage vibes of the houses that were built as early as the 1950s. In addition to that, this area has a lot of sports fields like tennis courts, baseball fields, etc. So, if you are looking for a decent neighborhood that won't put a dent in your budget, consider the Pleasant Valley neighborhood.
Median Value Of Homes: $412,000
Median Rent: $1,300
Also Read: 10 Best Places to Live in Colorado | Moving to Colorado | Top 5 Neighborhoods in Colorado Springs for Families
FAQs About Moving To Colorado Springs
Is It Expensive To Live In Colorado Springs?
The cost of living in Colorado Springs is 6% lower than the national average, making it quite affordable to reside and spend a decent lifestyle.
What Do I Need To Know About Moving To Colorado Springs?
Among other things, the most pivotal piece of information that you must know is that although the snow might seem like a mammoth task to ward off, dressing in proper layers is all you'll need to do to get past it.
How Much Money Do You Need To Move To Colorado Springs?
The average rent in Colorado Springs is about $1,480 while the median value of homes is $461,668. This should give you a rough estimate of the expenses that you'll need to factor in for a move to Colorado Springs.
Read Also: Instant Moving Company Quotes | Top rated Moving Companies In Colorado | Best Neighborhoods In Colorado Springs For Singles And Young Professionals